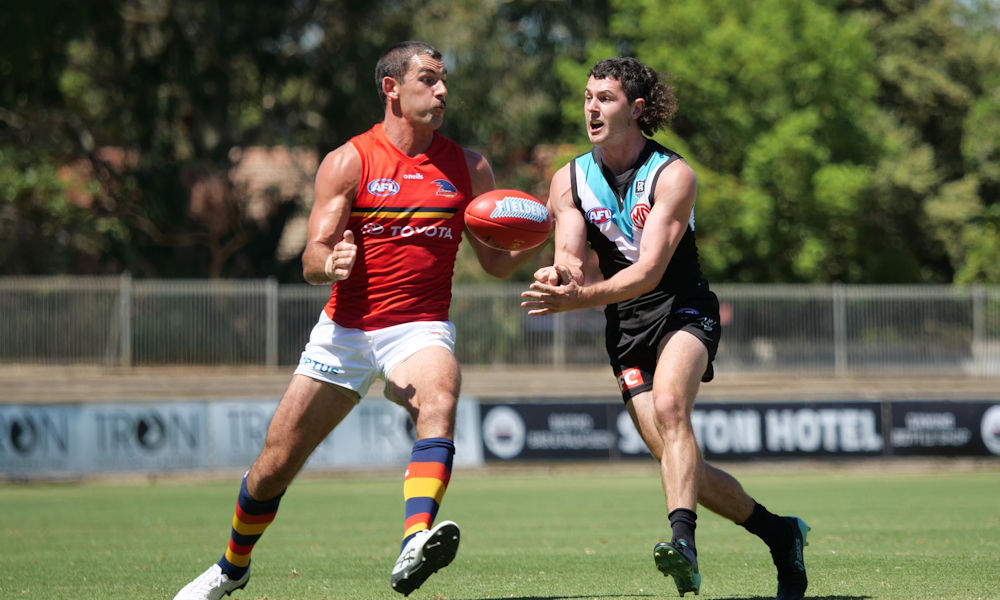 An early start with the two games both being live streamed on the Power and Crows websites. Perfect conditions at Alberton for this game and it would have been great to be there but at least we could watch the live stream of both games. One of the key things I didn't like about this game is the new man on the mark rule! It is a bad look with players with the footy running sideways and being nearly next to the guy on the mark but the ump hadn't called play on so he could only just stand there. Interestingly something else is that we won't see defenders marking the spot and running up to it as I don't think they can do that anymore. I could be wrong though.
It was a tight contest in the first quarter with the Crows kicking the opening two goals but it was all Port Adelaide after that. They really ran away with the game in the second and third quarters to set up the win 18.17 to 11.7.
Click here for the AFL.com.au report.
If you tuned in, add your thoughts in the comments below.
Notable absentees: Tom Jonas (Managed), Sam Powell-Pepper (Hand) and Robbie Gray (stitches in his lip from a training accident)
Before we get into the main game we had a look at the reserves game which started at a very early 8:30am! Playing in this game we saw Jackson Mead, Ollie Lord, Dylan Williams, Boyd Woodcock, Taj Schofield and Jarrod Lienert.
All those guys were pushing to get their way back in to the AFL listed side. A few things that I liked early was the poise and skills of Dylan Williams as he kicked the first goal for the Power and used the footy with plenty of quality when he had it.  Ollie Lord also looked very good too and may find himself in the firsts at some stage during the year. Mead looked good in the midfield and was in and under and got better and better as the game went on as he is still pushing for his first game in the AFL side.
On to the Main Event!
Let's deal with the big issue first.  Connor Rozee's foot. There was so much made of it but if it was bothering him then it certainly didn't show. He had plenty of it, attended centre bounces and was also up forward kicking goals. If he is in your plans then you can select him with confidence. Rozee presents a fair bit of value because of those foot issues.
Zac Butters. This kid is a jet. He also spent a lot of time at the centre bounce and got a heap of the footy around the ground. If you are thinking of paying the price for him I don't think you will be disappointed. His game showed no signs of rust from the offseason at all. He did have what appeared to be some cramp in the very warm conditions at the very end of the game, but other than that he would have been a contender for the 3 votes.
I am more than prepared to put my hand up and say that I am one that thought there was no way that Orazio Fantasia was in the best 22 given his injury history and lack of footy. However, I was pleasantly surprised with his game as he showed plenty of zip around the forward line at the feet of Dixon and kicked a few goals. Although I think that he is going to rely on goals for his points so show some caution in picking him.
A popular rookie for the Power is the manchild that is Lachie Jones. I will be surprised if he doesn't play round 1. He looked every bit at home in the defence for the Power. But don't expect huge scores. He saw some of the footy and what he did was good but I don't think we will see big scores early on, he will be a slow burn and good bench cover. The other popular fantasy rookie selection from the Power is Bergman. He was playing a bit of everywhere (sort of like Westhoff used to) as he bobbed up in the forward line having a shot on goal and then was deep in defence. I am not convinced he will be a regular in the side and if he is I don't think his scoring will be quite at the level you are looking for.
For those looking at Boak to continue his form from last season they wouldn't have been disappointed, but the extra mid time that was going to Rozee and Butters will see his scoring decrease a little. Still a great option in draft through through the middle rounds. Duursma also looked good with a number of goals but didn't get the same level of midfield time that was afforded to the other two young stars.
Ladhams was playing as the second ruck to Lycett as we would have expected but he also spent some time up forward as well. If you are looking for a backup ruck in Draft then you can draft him with confidence.
Other notable performances:
Motlop seemed to be everywhere (the tag of Elite from Champion Data seems to fit well on him) and had a good game.
Amon saw plenty of the footy and his delivery up forward was very good.
Alir has slotted into that defence very nicely.
The pig Rockliff did his job with plenty of the footy in the midfield.
Burton got through the game well and didn't seem to show any of the injury issues we have seen.
Willem Drew spent a heap of time at the Centre Bounces but his spot would be unlikely to be held when Sam Powell-Pepper returns to the side.
Injuries
Marshall copped a head knock in the second quarter but seemed ok and was kept off with some bruising around the eye.
Notable absentees: Daniel Talia (Knee), Tom Doedee (Groin), Matt Crouch (Hip), David Mackay (Concussion)
Just like the Power there were plenty of names to watch in the reserves game including Riley Thilthorpe, Luke Pedlar, James Borlase, Elliott Himmelberg and Sam Berry.
The first thing I noticed in the seconds game were the hands of Thilthorpe. Just after I turned it on he took a great contested mark up forward and kicked straight but it was a big third quarter that showed us why he was pick number 2. Form like this will see him force his way into the AFL side kicking 4 goals for the game. He may yet see himself get an early game at the top level if he can keep that up as he certainly outplayed team mate Himmelberg. Berry also had plenty of the footy and looked solid. Borlase will certainly be a player going forward as he took a couple of good marks and may push for a game at some stage.
Enough of the 2's time for the main game.
If you weren't considering taking Rory Laird in your backs then you man want to rethink that. While on the field he spent time at a number of centre bounces and looked like he will be playing the role that we are all wanting him to. Leave him out of your squad at your peril.
Brodie Smith also had a good start to the game and looked to be taking a lot of the kick ins for the Crows. Having both he and Laird in your starting squad could be a bit much for some coaches but I think he will rack them up across the backline.
Jackson Hately didn't appear to take the field in the first quarter, if he was out there I didn't see him. He got a few good touches in the second quarter when we first saw him but he was reasonably quiet throughout the game. He was attending centre bounces during the game. If you are going to select him I think I would have him on the bench for now.
Another popular choice as a rookie for the Crows was James Rowe. In the SANFL he made his name as a forward kicking plenty of goals. In this game he seemed to find the footy everywhere but the forward 50. He had some good touches and did get a late goal but I am not sure he showed me enough just yet. I won't be moving him out of my side just yet.
Riley O'Brien spent a heap of the time on the field with very little rest. He did what he does best and with Preuss now out, if you can't afford the Gawn Grundy combo then he could just be the man you need.
Fischer McAsey had a good game in defence for the Crows. With both Doedee and Talia out he seemed to really step up his game and if both those guys are missing in round 1 then he could be an interesting selection for you. He had a tough day with Dixon, Ladhams and Georgiades to contend with but showed some patches of good form.
Many people raised an eyebrow when Frampton was preferred in this game over Himmelberg. But he certainly showed us why as he took some good marks early and he was back up ruck on the rare occasions when O'Brien was having a rest. He went back and slotted 3 goals on the day.
Other Noteable performances:
Lachy Sholl had a solid game and should be a good draft selection for you.
Rory Sloane wasn't really sighted a great deal.
Keays would have been best on for the Crows as he had plenty of the footy.
McPherson had a very good game down back. Was unassuming but solid.
Injuries
Unfortunately popular pick Wayne Milera left the field in the second quarter with a serious knee injury which the club listed as a suspected patella tendon rupture which would see him miss a significant amount of time.
Luke Brown took a footy to the face fresh off of Amon's boot in the second quarter. He should be fine though.