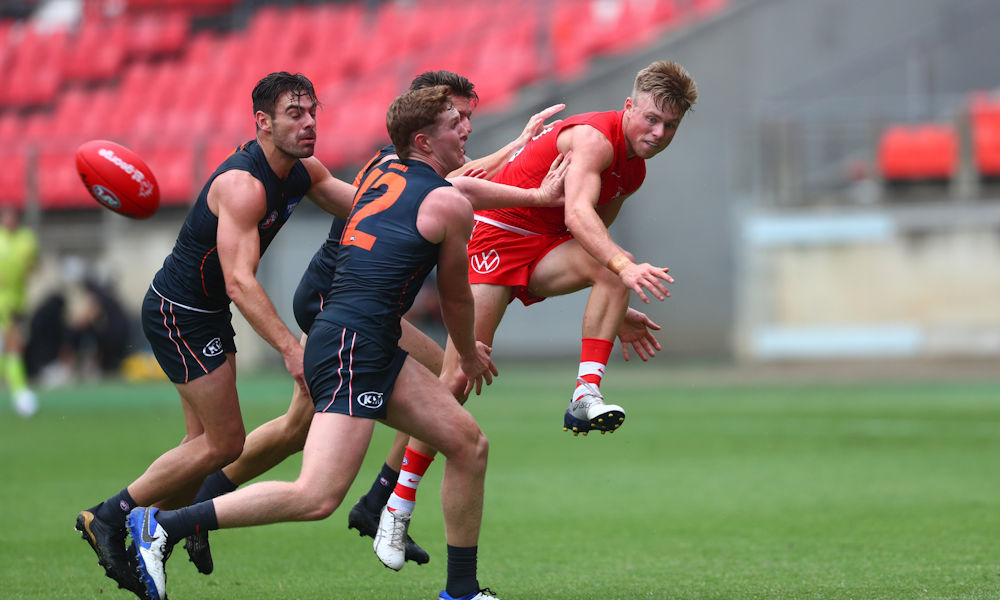 GWS hosted the Swans on a soggy Giant's Stadium on Saturday, in what could be described as a prequel to their meeting at the same venue in eight days' time for the AAMI Community Series. The game was made up of six 'quarters', however, with both club's football departments requesting the final two be played behind closed doors, only the first four were streamed live to fans.
The Giants got off to a great start, and at quarter time it looked like the Swans could be in for a long day, yet to their credit, they hung in there, and at the end of the fourth quarter were ahead by a point. Although the game was a bit of a scrappy affair, there was still a lot to take out of it for fantasy coaches.
Follow @JamieRadford66 on Twitter.
Click here for the AFL.com.au report.
If you tuned in, add your thoughts in the comments below.
Notable absentees: Lachie Whitfield (bruised liver), Braydon Preuss (shoulder), Jesse Hogan (quad)
As has generally been the case for a number of seasons now, the Giant's drive – particularly early, was led by their midfield group. Arguably, the best of which was Tim Taranto, who was prominent throughout the televised four quarters, spending the vast majority of the game in the midfield – unlike the latter part of 2020. Not far behind him was Tom Green. After only the six appearances last season, Green took a big step in adding to that tally in the Giant's season opener against the Saints.
Josh Kelly was prominent early, showing his class in the greasy conditions before coming off at the 'half time' break, Stephen Coniglio was everywhere for about 15 minutes in the second term, but apart from that was fairly quiet. Callan Ward was his usual solid self, and could provide some value in salary cap formats or as a late selection in draft leagues.
Following a breakout season last year, Harry Perryman looks more than capable of reaching an even higher level in 2021. Playing between wing and defence, Perryman was one of the Giant's best over the four quarters, and his class in the wet was a standout.
As was expected Matthew Flynn lined up in the ruck and contested almost all the hit-outs for the Giants in the first four 'quarters'. While he was beaten by Hickey on the day, he showed enough to make him as much of a certainty as one can be as a reserve ruckman in salary cap formats. An interesting aside regarding GWS's ruck set up, was some commentary from Jimmy Bartel in the second term, with him suggesting Jesse Hogan was slated to spend time in the midfield backing up Flynn. No doubt Hogan will slide in draft leagues after news of his quad injury, however if what Bartel comes to fruition, the former Docker and Dee could be a genuine POD for fantasy coaches.
Besides Toby Greene, who played his usual role of a roaming half forward, none of the other GWS forwards stood up enough to pique the interest from a fantasy perspective.
The same can't be said about the Giant's defence though. With the off-season departures of Williams, Corr and company there would be much interest amongst fantasy coaches in how the GWS defence sets up going forward.
After only 10 senior appearances in four years, 2021 looks like it could be the year Isaac Cumming solidifies his place in the Giant's line-up. Cumming took all but a couple of the designated kick ins from Sydney behinds, and was more than solid in general play. Lachie Ash was also very good and did his Round 1 chances no harm, while a dark horse selection in the Giant's opening game side could be 20 year old Connor Idun, who showed some promising signs.
The Giants gave a number of rookies a run, and while some had moments, you can't see any breaking into the senior side for Round 1.
CBA Numbers for GWS – Preseason 2021 Vs Syd:

Greater-Western-Sydney 19 – Matthew Flynn 16, Tim Taranto 15, Stephen Coniglio 13, Tom Green 13, Jacob Hopper 8, Josh Kelly 6, Jeremy Finlayson 3 & Tanner Bruhn 2

— AFLstatsmate (@AFLstatsmate) February 27, 2021
Notable absentees: Lance Franklin (calf), Sam Naismith (knee) Dane Rampe, Harry Cunningham
Arguably, the two most important takes for fantasy coaches from a Swan's perspective, was the performances by a number of their rookies, and the long awaited move of Callum Mills into the midfield.
On today's performance, Mills should be a lock in your AFL Fantasy side and firm target in drafts. He was in and under all day, picking up plenty of disposals and didn't appear to spend a lot of time off the field. While wary of getting carried away from what was really only a scratch match, it would be absolutely no surprise to see Mills amongst the top five fantasy defenders at the end of the season.
Luke Parker and Josh Kennedy were also prominent throughout the four televised quarters and will no doubt be the mainstays of the Swans' midfield again in 2021. Nick Blakey showed enough on the wing to suggest he may be in for a breakout season. His pace and willingness to take the game on was a feature, and with DPP status, could be a real value late draft selection. James Rowbottom showed some glimpses as he did last year and could lift his game to another level this season, while Ollie Florent was serviceable over four quarters.
Tom Hickey won the ruck duel against Flynn and picked up plenty of disposals around the ground, despite the conditions being against him. While he certainly won't match it with the premium fantasy rucks, he could provide some value in both salary and draft formats.
Not a lot to report from the Swan's defence from a fantasy perspective. Jake Lloyd got plenty of the ball – despite some attention from Matt de Boer, who was playing as a negating forward, before coming off for a scheduled rest at the end of the second quarter. Jordan Dawson was a bit disappointing considering he played all four quarters and took up the kick in duties after Lloyd left the field. Although the Swans seem to like it in his hands, it didn't occur as often as owners would have liked in this game.
In good news for Sydney fans and fantasy coaches alike, Isaac Heeney got through his limited minutes unscathed and looked fit and healthy, although a little scratchy at times. However, given his time out of the game, that is to be expected. No doubt he'll get better as the season progresses. Tom Papley was lively throughout the day and a constant danger to the Giants' defence. Had he kicked straight he could easily have finished with a handful of goals, instead of the 2.4 against his name at the end of the fourth term.
Perhaps the most pleasing aspect from this game – at least for salary cap teams, was the number of Sydney rookies who put their hands up for Round 1 selection. The two best were arguably Errol Gulden and Chad Warner. Gulden played as a high half forward and saw plenty of the ball, while his disposal and decision making were outstanding for a player who has yet to make a senior appearance. Warner came on just before the end of the second term and went straight into the middle, making an immediate impact, and was instrumental in the Swan's getting on top of the Giant's midfield in the third term. Logan McDonald and Braeden Campbell also did their chances no harm, with both putting in solid performances.
CBA Numbers for Syd- Preseason 2021 Vs GWS:

Sydney 19 – Luke Parker 15, Callum Mills 15, Tom Hickey 15, Josh Kennedy 9, Oliver Florent 8, James Rowbottom 5, Callum Sinclair 4, Chad Warner 3 & Isaac Heeney 2

— AFLstatsmate (@AFLstatsmate) February 27, 2021