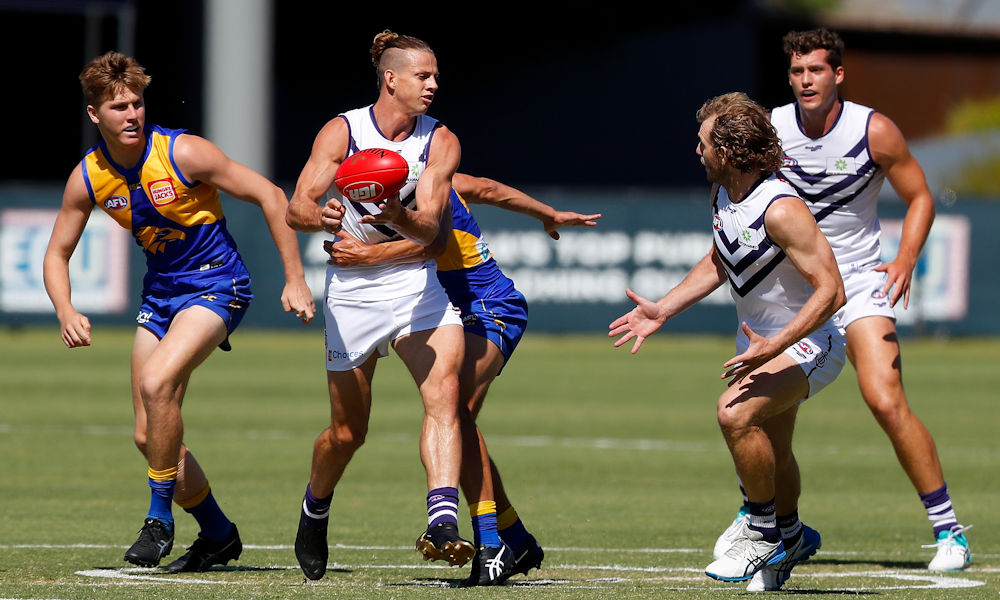 Unfortunately the stream was cut a few minutes into the fourth quarter due to AFL broadcast protocols. I'd recommend reading any official match reports or following @FootyRhino and @NathanSchmook for the sauce on the rest of the game.
Kick-in data was taken by myself and credit to @Empr_X for the centre bounce attendance numbers. Follow @bricemitchell for kick-in data at the end of preseason as I believe he'll be releasing some numbers.
Follow @visolate_ on Twitter.
Click here for the AFL.com.au report.
If you tuned in, add your thoughts in the comments below.
NOTABLE ABSENTEES: Matt Taberner, Sean Darcy
"What's DPP?" asks Nat Fyfe ($720k MID; 42% CBAs) as he dominated the first half with a best on ground performance. Playing entirely in the midfield, Fyfe was everywhere taking marks, tackles and snagged himself a lovely goal after a smother. A stark contrast to the forward role we've been expecting him to play. Next week's derby should provide more insight. Sat out the last half of the match.
The young midfield trio of Andrew Brayshaw ($729k MID; 88% CBAs), Adam Cerra ($631k MID; 38% CBAs) and Caleb Serong ($636k MID; 50% CBAs) all had pretty good games today and were amongst everything. Brayshaw and Serong in particular were outstanding and are firmly entrenched in that inside midfield role. Cerra did not come back on after half time as a precaution after a calf issue. I can see a world where all these guys average 100+ especially with Longmuir's implementation of a more Fantasy-friendly possession game plan.
Michael Walters ($698k MID/FWD; 8% CBAs) played exclusively forward in the first half but had some midfield bursts in the third quarter. Pushed up the ground to grab some easy marks to go along with his bag of goals.
Guess who's back? Hayden Young ($337k DEF; 20% KIs) looked composed out there today and got amongst it in the first quarter when Freo did that chippy-chippy stuff around the backline. Did not look at all hampered by the syndesmosis injury he suffered last year and should definitely be one to consider for our defence. Played on from his only kick-in which was a long kick to Fyfe. The Dockers seemed to just let whoever was closest to the ball take the kick-in but someone gave it off to Young for his solitary one.
Back again in the defence was Luke Ryan ($673k DEF; 20% KIs) whose day ended prematurely midway during the second quarter after a back concern. Like the Young of old (as in the paragraph previous), Ryan too, was involved in Freo's chip-mark game in the defence. His only kick-in was Freo's first and he sadly did not play on. Still a POD worth considering as the recoveries of Joel Hamling, Griffin Logue and Alex Pearce should free him up to intercept more.
NOTABLE ABSENTEES: Nic Naitanui, Elliot Yeo, Tim Kelly, Josh Kennedy
Shuey's back. Hamstring injuries riddled season 2020 for Luke Shuey ($657k MID; 29% CBAs) and he comes in priced at 86; down from his 101 he averaged in 2019. The most important thing for him is he got some minutes in and looked fit. Rested after half time.
Tell a friend, Andrew Gaff ($831k MID; 54% CBAs) picks up thirty disposals against anyone, anytime, anywhere. Was in cruise control the whole game and played a role similar to last year getting into the CBAs as a winger. Keep in mind there was no Tim Kelly or Elliot Yeo who would be mainstays in the middle.
Same age. Same income. Same starting balance. Half a season ago, Liam Duggan ($661k DEF; 38% CBAs) switched to an Eagles midfield role; Alex Witherden ($654k DEF; 44% KIs) didn't. (Which makes sense considering he was a Brisbane player) Compare the pair.
Duggan played mainly in the midfield lining up on a wing, in the guts and some in the defence at times. Didn't seem to accumulate a lot out there but was solid enough and should still be value for his price. Was the target of 3/9 of the Eagles kick-ins which is 18 points right there as he floated back at times.
Witherden played in defence as one would expect and was also pretty good today. Took 4/9 kick-ins but only played on from two of them which is a shame for Fantasy coaches. Promisingly, the Eagles defenders seemed to leave the ball for either him or Shannon Hurn ($617k DEF; 44% KIs) to take after most behinds which suggests the two will share a duopoly of the kick-ins.
CASH COWS
Josh Treacy ($170k RUCK/FWD) got better as the game got on as a forward and kicked a couple of goals. Had a nice moment where he pinged an Eagles player and won the free.
Lloyd Meek ($170k RUCK) took the main ruck responsibilities today and competed well against Nathan Vardy.
Heath Chapman ($244k DEF) played the second half but I didn't see much of him to be perfectly candid.
Nathan Vardy ($268k RUCK) was the main ruckman for the Eagles but this was due to the absence of Nic Naitanui. Hard to see him getting a game.