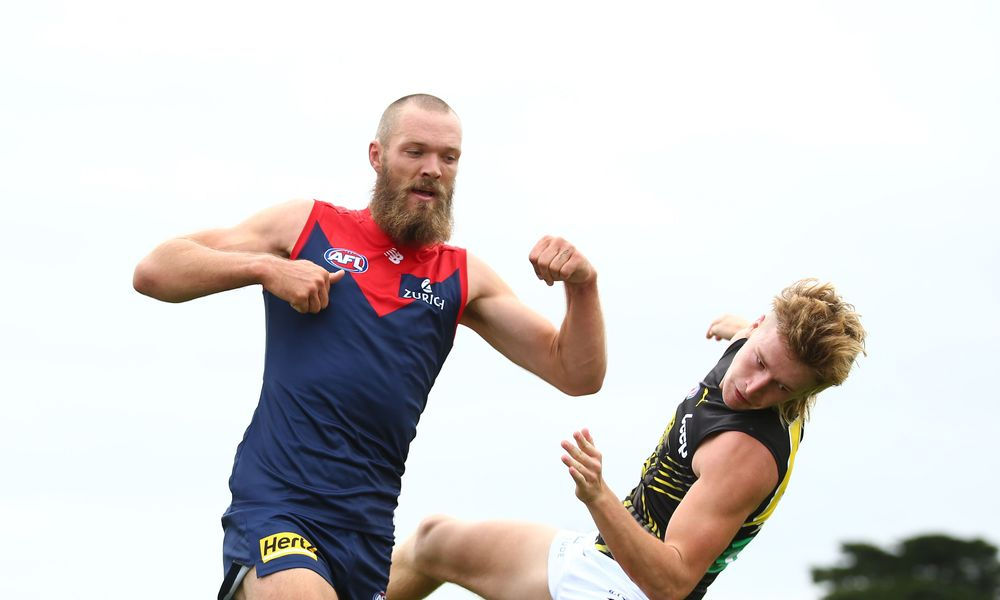 A very solid free flowing see swaying game out at Casey today with some standout fantasy relevant players and plenty of rookie potential. A see sawing mostly free flowing game. Demons had their outs but got the chocolates against a pretty strong richmond side. Could be good things for Melbourne this year.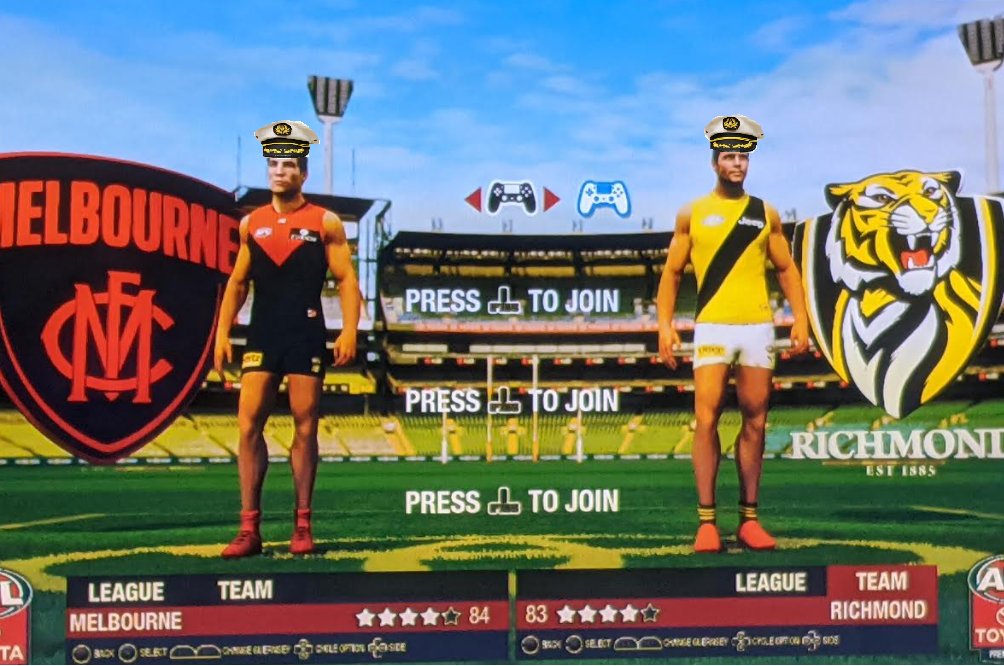 Rapidfire Relevance
If you're in the mood for a far less entertaining but efficient jokeless take these tweets provide an executive summary
Full Time @ Casey Fields
Dusty just getting it done – buy him
Lever marking and controlling back
Harmes ball
Fritch and chandler goals
Oliver and Petracca mid points
Tigs with the kids
Dow and Coleman jones solid
Galluci and pickett quiet
Another good qtr by Hunt and Aarts https://t.co/EQdyIICm9s

— #5-MillarTime 🤠 (@time_millar) February 26, 2021
Half Time @ MELB/RICH
Jackson sharing ruck with Gawn😕
But Gawn Back & Fwd to take important marks 🦾
Big qtr by castanga
Dusty / Petracca quiet – back into it late
Dees kids mid⏰
harmes mid
Will Martyn 👀
Chandler 👀
RalphMalph szn
Choll rux
Huntband ftw
Lever/vlaust/astbury https://t.co/05h9FICsN8

— #5-MillarTime 🤠 (@time_millar) February 25, 2021
Unavailable : Melksham, Hibbered, Viney, Brayshaw, Brown, WeirdyMan, Picket.  Also I think a lot of the draft class ended up playing the the VFL game afterwards
Max Gawn 944K RUCK:   Oddly didn't play as much Ruck as he normally would. Shared it with Luke Jackson, but what he did do was get around the ground and take marks , forward and back , and kick goals.  Just like a PS5 he's overpriced, he's massive, he's ugly, and there's similar cheaper stuff around, but Hot Damn he's good.
Luke Jackson 321K FWD : Took a lot of ruck time off Gawn and looked more than capable around the grounds. It's unclear whether Melbourne would play the double ruck set up in regular season, but if they do he's one to consider for a cheaper FWD option. Almost certain to get DPP as well. Draft sleeper for sure, and a good stash at keeper.
Petracca 825K MID : Racked up possession, took a lot of CBAs and spent a lot of time up forward where he still managed to find the footy At his price there are probably better mids around, but if that role sticks, DPP is a firm possibility.
Harmes DEF 474K : Ran through the middle and looked solid. Didn't set the world on fire but recorded 13 CBAs.  That's enough to be up for serious consideration as a quality defensive mid pricer.
Lever DEF 441K :  Very solid in the back line, controlled traffic and took a lot of intercept marks. If he keeps this up he could be the lever you need to pull in defence.
Jayden Hunt FWD 370K : Back to playing in his old fantasy relevant half back role and the dee's looked for him. Seemed to finish the game sans headband, so points off for that. Old mate FantasyLew has backed him and his role too. What a scoop !
Other mentions
Oliver MID 875k : Slow to start but ended up with a large chunk of possession. Not enough to justify his price, but an upgrade target for sure.
Fritch :  3 Goals
Baker :  I think both bakers did alright. Although I'm honest I got confused between the bakers on both sides and may have gathered stats incorrectly, it's possible both bakers were average
May : Did reasonably well back and took a few marks. Could be draft and keeper relevant. Can't touch him in classic at a 584K
Rivers : He seemed fine, got a bit of ball, looked ok. Kaes boy,I mean you could draft or keeper him without it killing you. Definitely not exciting. If anything more of a tributary.
K.Chandler 321K FWD : Oddly priced for someone who has barely seen footy in years ( 1 game in 2019 scoring a 60 )  so probably not really a cow or rook. But regardless he looked at home in the forward line and kicked 3 goals.
J.JORDON 170K MID : Got some ball, looked comfortable and they reckon a good shot at round 1 ( Sauce's say A LOCK for round 1 ! ) He attended 8 CBA although most early and seemed to fade out of the game. Probably due to Petracca and Oliver's resurgence in the second half.
Unavailable : Rioli, Prestia, Lambert, Houli, Collier-Dawkins.
Dusty Martin : MID/FWD 713K :  Dusty looked FANTASTIC , sure it was patches of brilliance but when he was on he was something else. Back and firing in the mids with 22 CBAs and plenty of pill. They rested him late, but this coupled with the reports of his great intra last week means my team is now dustier than Cal at one of those sunday morning podcasts.
Nankveris : 556k RUCK : Obviously had a lot of CBAs and did most of the ruckwork. Although they did throw Chol – RUCK/FWD 340K ( who also did alright up fwd ) in there and he did ok. I wonder if they'll continue with that. I dont have the hit out counts but by eye he looked to lose them a lot, even to newcomer Jackson, which would have to be a worry for his scoring if you wanted to cheap out on rucks.
Vlaustin looked very solid in defence and took a lot of marks. Short did similar except not quite to the same extent. Not confident there will be big numbers in the Tigers defence this year.
Other mentions
Bolton MID/FWD 625K good and got CBAs. You couldn't pick him, but interesting
FWDs Aarts 415K and Castanga 516K both had good games. Might be draft relevant.
Hugo Ralphsmith / Ralph Malph  MID/FWD 170K : Looks very solid and at home at the level. Did some good things and a decent share of footy. Looking solid for round 1. There's even talk of him filling Houli's role.
W.Martyn MID 170k : Another one that looked good out there , picked up a few CBAs and got a good run in the mids.
T. Dow : MID 192k : They gave him a late run and he looked capable. This time last week all but Hkdos would write him off just for being a Dow. I've a feeling that's changed…. Also he's from footballing mecha Swan Hill ( home to 7 ¾  games reserves ruck great  and senior premiership waterboy N.Millar – Oh and a famous oversized fibreglass fish)  That and my dad reckons the Dow's are good blokes, take that one to the bank.
Other mentions
2020 pre season poster poy Pickett played and did very little
Balta had a gig at ruck for a while ( that's 3 rucks for tigers ). Not with much success
CBAs
CBA Numbers for Richmond – Preseason 2021 Vs Melb:

Richmond 30 – Toby Nankervis 23, Dustin Martin 22, Trent Cotchin 20, Shane Edwards 17, Jack Ross 11, Shai Bolton 8, Jack Graham 5, Mabior Chol 5, Thomson Dow 5, Will Martyn 2 & Noah Balta 2

— AFLstatsmate (@AFLstatsmate) February 26, 2021
CBA Numbers for Melb – Preseason 2021 Vs Richmond:

Melbourne 30 – Clayton Oliver 23, Max Gawn 20, Christian Petracca 18, James Harmes 13, Tom Sparrow 11, Luke Jackson 10, Nathan Jones 9, James Jordon 8, Alex Neal-Bullen 6 & Charlie Spargo 2

— AFLstatsmate (@AFLstatsmate) February 26, 2021
That's all from a solid couple of fantasy days. Good luck out there everyone and maybe the @FantasyAFLGods look favourably on you.