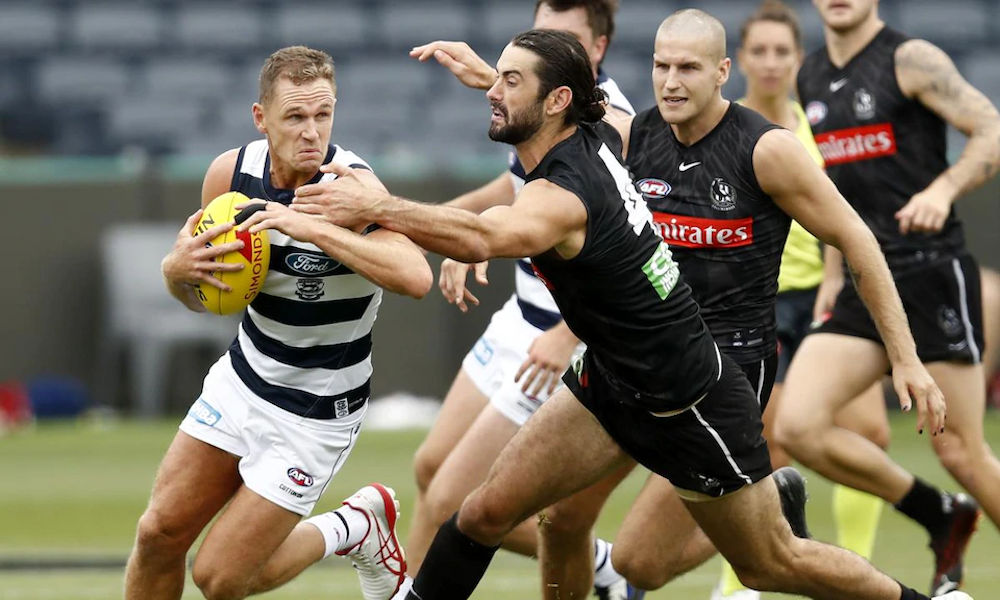 We were very lucky for today's game… at the same time, two legends put their hands up to write a review of the Collingwood v Geelong game at Kardinia Park. Big thanks to Jamie and Dale for their wrap ups!
Jamie Radford's take
Follow @JamieRadford66 on Twitter.
It's been a long while since Collingwood made their way down the highway to Geelong to face the Cats at GMHBA Stadium, and although the home side got off to a flyer in the first term, the Magpies pegged them back in the second to eventually fall short by just two points.
However, for fantasy coaches the match result was meaningless. With both sides chock full of fantasy relevant players, individual performances were far more important in what was both club's first real hit out of the season.
Notable absentees: Mitch Duncan, Isaac Smith
Arguably, the two biggest questions for fantasy coaches from a Cat's perspective in this game would be, how the new recruits fitted in and how Dangerfield's groin – which has seen him miss a large chunk of pre-season, held up.
Well, Patrick Dangerfield owners can rest a little easier tonight. Starting the game in the middle, Danger was everywhere early on, and didn't look at all hampered by his groin. Several times he showed his customary pace as he burst out of packs with penetrating kicks in the first half before coming off the ground for a pre-planned rest in the second.
Of the Cat's three big offseason recruits, Isaac Smith was the only one who didn't take the field after being a late withdrawal with a rolled ankle. However, he should be right for Geelong's next hit out against the Bombers in a week's time. Jeremy Cameron made his presence felt early with a strong mark and goal in the first minute of the game, and while that was one of the few highlights for the former Giant, there were signs that his partnership with Tom Hawkins is going to be a nightmare for opposition defences. With Cameron playing as a high half forward, Hawkins stayed deep, although, when Cameron left the ground at half time, Hawkins roamed up the ground a bit more as he did in 2020.
In his first outing in Geelong colours, Shaun Higgins was one of their best. Spending time on the wing, half forward and in the middle, Higgins showed his usual class, however with Mitch Duncan missing with a hamstring and Smith out, his role going forward should see him spending more time forward as touted by the Cats when he was traded,
For those coaches who have punted on Brandon Parfitt lifting his game to an even higher level in 2021, if this game is any indication you can rest assured, he will. Parfitt was the Cat's best over the four 25-minute quarters, followed by Cameron Guthrie, who after a slow start, gathered plenty of disposals after half time. A question to be asked here is, how much of that slow start was contributed to by Dangerfield's increased time in the centre square? One to lookout for in the Cat's next pre-season outing.
Jordan Clark went a long way to cementing a spot in Geelong's Round 1 side with a strong display on the wing to also be amongst the Cat's best on the day. With DEF/MID status next to his name, another similar performance will see his ownership rise dramatically in all formats.
Another player to catch the eye from a fantasy perspective was Tom Atkins. Although listed as a forward, Atkins played at half back and picked up plenty of possessions throughout the game. Tom Stewart was also very strong in the first half before coming off for a scheduled rest in the second, and with the new kick out rule coming into effect, the mature age recruit could possibly crack 100 average in fantasy this year – as he came so close to doing in 2020.
Francis Evans kicked a couple of goals and Nick Stevens had some moments after coming on late, however, none of the Cat's rookies really put their hand up for a spot in their Round 1 line up.
Notable absentees: Taylor Adams, Jordan deGoey
Those that have written off Brodie Grundy as the number one ruck in fantasy might have to readjust their rankings. The ruck pig played just the three quarters and grew more dominant as the game wore on. His third term in particular would have had owners salivating in anticipation, although that excitement should be tempered by the fact Stanley came off injured just before half time, and the opposition was not of the standard he will be up against in the home and away season.
Scott Pendlebury may be about to embark on his 16th AFL season, although you wouldn't know it watching him run around today. He was by far Collingwood's best player in the first half and while he was quieter in the second half, he showed enough to suggest he will be amongst the Pie's best players again in 2021.
Those coaches looking at Brayden Sier as a value option or late draft pick up might want to keep looking. Sier was given ample opportunity to put himself in contention for a midfield spot, playing the whole game, yet failed to capitalise on that opportunity.
As the most expensive forward in fantasy, a lot will be expected from Steele Sidebottom and while he was quiet early, he got better as the game progressed and was arguably Collingwood's best player in the final term. Given his extended time out of the game, it would be expected he would be a bit rusty early on.
From a fantasy perspective the only other Collingwood forward to show much was Jamie Elliott, who, as he did last year, attended a number of centre bounces, and kicked three goals while playing forward.
Of the Magpie defenders, Jack Crisp was the standout. Having never missed a game since joining Collingwood and after finishing third in their 2020 Best and Fairest, Crisp looks to be picking up where he left off of last season. Unfortunately, the same can't be said about Brayden Maynard, who had a fairly quiet game by the lofty standards he set last year.
Collingwood fans would have been buoyed by the effort of Jeremy Howe, who as a few others, got better as the game wore on, including the obligatory spectacular grab. John Noble was impressive playing between wing and halfback, and on today's evidence would not look out of place as your D4 or D5.
With the rookie dilemma facing salary cap coaches in 2021, the effort from the Magpie's first selection in last year's draft in Ollie Henry, would bring a smile to your face. Although not getting a lot of the ball, Henry showed he is a classy prospect with a few very strong grabs at both ends of the ground and a goal. A similar performance against Richmond next week will see him running out against the Dogs in Round 1.
Geelong v Collingwood

I've gone back through the replay and recorded a couple of players' stats for what I think might be the first (unofficial) supercoach scores of the season.

Stewart and Danger only played the first half, Pendles sat out Q4 #Supercoach #PracticeMatchNotes pic.twitter.com/g6aKCAhr3J

— Empr (@Empr_X) February 26, 2021
Dale Clohesy's look
Here is my take on the game at GMHBA stadium where the Cats won by two points, in a game that was very close after quarter time. The Cats ran with 30 players for the day, though lots of players only played a half or a quarter. With the Pies rotating through a bench of 8, with 26 players used for the day. Both teams seem to play their better players in the first half and then started experimenting after that.
Notable absentees: Mitch Duncan (Calf), Isaac Smith (Rolled ankle)
From the first centre bounce Patrick Dangerfield was everywhere, and back to his midfield fantasy role. Great for coaches wishing to bring him in your forward line with his dual position availability. He only played a half, but was everywhere, with clearances and lots of possessions. Including a nice kick and mark to set up Jeremy Cameron for the first goal of the game in the first few minutes.
Cameron Guthrie had a great game and continued on from his Best-and-Fairest year from last season. He again looked to be around the ball with Branden Parfit. Others floated through the midfield, but these two were at most of the CBA's. Parfit had a massive third quarter and probably had over fifty fantasy points alone in that quarter. But for the game, he would have ended up around the hundred mark. With a full-strength team on the sheet would have to be taken into account, especially as he is mid only.
Jordan Clark (DEF/ MID $422) looked solid as he made the return to the team, and down back he ran of and created space and enjoyed Geelong's kick mark playing style. Another who enjoyed the Cats possession style football was the defender Tom Stewart. He roamed the backline and played well in his first half appearance. Tom Atkins is also been used as a defender down back this season and looked composed.
Rhys Stanley seemed the preferred ruck and Josh Jenkins played the second half as ruck after Stanley copped a slight knock at the end of the first half. Jenkins looked good and kicked a couple of goals as well, including a lovely one from 40 out on a 45 degree angle after the three quarter time siren.
Of the players to yet make a game, Francis Evans (FWD $170k) was solid without being outstanding. He had a few goals on the day and some nice plays. The other for the Cats would be maybe Ben Jarvis, who played forward and provide some good moments. Not high possessions for either player, but I think we may see them at some stage through the year. If any of Geelong's tall defenders go down, a ready-made replacement in Nathan Kruger will be ready to step up. Didn't look out of place. Took some nice defence marks, with good body position and had a composed left foot as well.
Notable absentees: Taylor Adams, Jordan De Goey, Chris Mayne (Concussion) and no Finley Macrae.
For me the best thing that I saw for the Pies was that Brodie Grundy looked back to his Fantasy Pig best. He was everywhere. Creating clearances for himself, tacking, providing link-up play with plus sixes and he rested forward as well. Not sure how that will go, as he does look out-at-sea when he plays up forward. I think there could be upside to Grundy's fantasy output based on last years scores.
Jeremy Howe was a welcome addition to the Pies backline, and he along with Brayden Maynard were the fantasy options in defence. Howe took some nice marks and was eased back into the game, not crashing packs, but getting some run through the legs to hopefully be ready for round 1. If he can get back to anywhere near his peaks of last season, he is very under-priced. Also down back Isaac Quaynor was very solid and looked very good, even out-bodying Gary Rohan several times. John Noble was everywhere for the day, playing off the half back line, but drifting up between the arcs for the entire day. His is neat by foot and the pies like using him in chains down the field.
Everyone wanted to know who was taking the Treloar role in the middle, and it seems to be Brayden Sier. He attended a lot of CBA's for the Pies and looked good all game. At $402k he is a mid-pricer with a big chance of improving on his average of 67. I would suggest about 10-15 points on that.
In the first half Scott Pendlebury was as dependable as ever, and still has so much time, space and awareness of where he wants to put the ball to his team-mates advantage. Others to run through the middle included Josh Thomas, Jamie Elliot who also ended up with 3 goals, Josh Daicos, Jack Crisp and later in the game Trent Bianco. Daicos did some nice things, but wasn't super busy.
Steele Sidebottom was everywhere all game, but definitely more prolific in the second half when he moved into the midfield more full-time. He is still all class and hard at the footy. A great option if you are willing to pay up for him in the forward line.
Of the youngsters, the best was the Pies Oliver Henry (brother of Liam Henry who was playing for the Cats). He took some really nice marks and looked composed as he also slotted a goal. He seems to be firming for a round 1 debut. Trey Ruscoe kicked a couple of nice goals and could be handy if he gets an early season call up as he moved nicely around the front half of the ground. Trent Bianco was reasonable in his limited game time. The Pies rate him, though I am not sure how much exposure he will get this year.