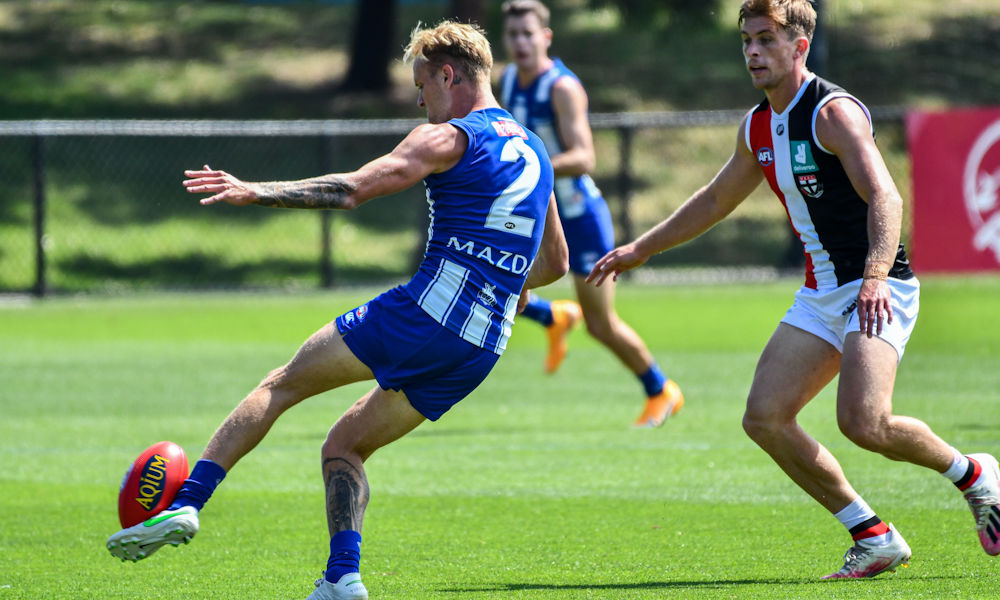 In December last year you'd look at this match up, and watch the saints while gleefully lolling at the roos as they got touched up a bit. But of recent times the Roos have suddenly become relevant. The glut of mid pricers see's Cunnington, Zeiball and Stephenson all interesting watches, throw in evergreen draft ( dont even think about classic ) ruckman and Cal's pet Goldenstien, plus highly rated draftee's like Will Phillips, Keeper leagues mate Tom Powell and Lew's boy Lavazza ( or similar, I really need a coffee )  and suddenly its whirling durbish of fantasy intrigue.
The saints fantasy stocks however have been hit worse than bitcoin after a Elon Musk tweet ( Dogecoin ftw ). Everyone's favourite F1 / backup ruck Rowan Marshal is down, Seb Ross is wandering a warehouse in Moorabbin wondering what crate he stored his form in, and Brad Crouch is busy ironing his short that says "I told you I'm just a fantasy tease". What they really need is cheap and interesting rookie talent. You might say they have a HIGH need for MORE of that right about meow.
Injured / not playing
Saints: Marshal, Geary, Zak Jones, Ryan Brynes, Gresham – Didnt play
Roos : Phillips, Polec, Goldstein not playing – unsure if injured , Comben, Dumont, Bonar, McGuinness. Cunnington out – concussion protocol (Sorry Fantasy Fans – yes, I was saying Boo urns)
Result
Beautiful sunny day down at Arden St. The kind that makes you long for suburban footy. Given this you'd think North would really show up at their spiritual home and give their long-suffering fans some forlorn hope for the season. You'd be wrong. North were, for the most part, pretty insipid, and got smashed. Not that the score matters for fantasy or in the pre-season. But if you're a north fan, well, maybe you're not any more. On to the fantasy!
Oh just before I do, special mention to the camera man. He was no good. So if I missed things, it's because of that. Also Rowan Marshal did not shut up. Yes he had some good yarns and he sold a lot of hope to the saints members, but I would have loved to have known what was happening on the field.
Fantasy Relevance ( or lack thereof )
Jack Higgins (FWD, $563K) – Pretty all round game by the small forward with stints through a middle. He's the expensive side of mid pricing, but if he does it again next week, get your wallet out.
Jack Bytel (MID, $299k) – Really liked the look of Byte's game, I mean he didn't get 1024 possessions, so it wasn't mega (DRUMS), but handy.
Jaidyn Stephenson (FWD, $470k) – Took a while to work into it, but in the end had good mid time and seemed to be everywhere. Get on board. Also, AFL FANTASY runner up and one of the small handful of people who beat me in 2020 @ShaunLessBrown is liking his role, so yeah. I reckon if you put it in your pipe and smoke it, it'll be tasty.
Paddy Ryder (RUC, $575k) – He played weaker opposition, but he looked good, and got ball everywhere including a fair bit forward. Could get DPP, might be a sneaky cheaper ruck option? Don't blame me if it doesn't come off, but I'll take the credit if it does.  He did seem to rotate off the bench with old mate Paul Hunter (RUC, $170k ) – That could well be of interest.
Jack Zieball (FWD, $644k) – His role looked fantasy friendly, but it's all defence, could that mean DPP later ? That'll be handy. Taking kick ins too. Had a good game, but I'm still baulking at his price.
Mason Wood (FWD, $435K) – 4 goals, big presence in the forward line along with Max King. You couldn't do it, though could you? Maybe stream in draft.
Tom Powell (MID, $246k) – Went bang early, tailed off a bit late, but the club rate my highly and he's got to be close to a shoe in for round 1. Throw in a handful of CBAs and some silk and there's a future star there.
Charlie Lazzaro / Lavazza / Lizardo / Lizardman / Big and or Thin Lizzy / The boys are back in town (which in norths case, they weren't, not even in the suburbs, maybe they got stuck in Kyneton, wouldn't surprise, I don't trust VLINE) (MID, $200k) – One to watch, looks like a lot of potential, if he gets named round 1 chuck him in your team or on your bench. Oh, and try to remember what his name actually is, I've struggled with that.
Tom Campbell (RUC/FWD $223k) – He's not a bad ruck. They didn't say why Goldstein didn't play, but if that continues Campbell's a lock for your forward line (Flynn's obviously at R3)
Jimmy Webster (DEF, $316k) – Got a lot of ball, there's talk he's up against a few like Highmore for round 1 though. But I'm backing him in.
Dan Butler (FWD, $575k) – Got a lot of ball late. Stream for draft against the weaker teams?
Dom Tyson (MID, $410k) – He's not dead! He even played a bit in the middle and had some CBAs. I wouldn't buy him in a pink fit, but surely Dom off #3 is a goer.
Cam Zurhar (FWD, $472k) – looking good, bit of midfield clock, can find the ball. There's a lot of guys in the forward line at this price, but you could do worse. Probably more consistent than a key.
Tom Highmore (DEF, $182k) – This kid highly rated in fantasy. Not by this guy! SHOCK! People don't like that, but if Stevie Fizz has taught me anything it's that you're nothing without a hot take. I reckon he's a player, but I'm not convinced he's a fantasy player. Can take an intercept though. All that said, if he's in for round 1 you play him and bank some sweet cash for a bit. Maybe don't touch in draft or keeper though.
Luke McDonald (DEF, $692k) – Looked right at home, got plenty of ball and took a lot of kick ins ( seemed shared between him and Zieball ), and given the Roo's could be bad this year more points are coming his way.  At 692 he's an option if you can't reach your Laird and Stewarts, or if Zac Williams is not everything Roy has sold his house for.
Points of Caution:
Norths mids/fwds – Norths midfielders and forwards got owned. I can't sugar coat that, sure it's only preseason and they had a few out, but it's also only St kilda. It's what Frontline's Mike Moore would call "A worrying trend".
Saints small forwards – Saints have heaps of small forwards, and they seem to be all going alright. Higgins, Billings, Butler, Battle, plus the bigger guys of King and Wood. Those points can't go everywhere. If I owned saints' forwards, and given the rate of change in my side, I possibly will, I'd be very concerned about consistent scoring.
The race for Round one.
Lots of kids in this game, they can't all make round one. I'd be surprised if both ThinLiz and Tom Powell made it in. Tom was better early but then Lazareous did better late. Touch and go, although Tom is higher rated. Next week is a must watch here. There's also talk Highmore isn't in round 1, maybe he'll be in the race with Webster who was also good. Saints spots will be harder than north spots to find so that's a real doozy of a pickle.
Midfield time
There were more decent mids out there than in my fridge when I buy a 30 can box of great northern super crisp (mmm crisp ) . Steele was Steele (he's good but can you pay his uber price ?), Hill and F.T.Crouch looked good and well worth keeping an eye on and Simpkin has not slowed down from his last start burning of Roy.
Medical room
Max King fell hard but seems ok
Bytel copped a finger injury early but returned and got more ball – mmm midfield ball , yumbo
Other maybe less fantasy relevant notes
– James Frawley looks good
– Bytel copped a small finger injury but seems fine
– Souva-Larkey is a tier one nickname
– Max King is a big unit. Can take a mark.
– Seb Ross may have draft value ! Half back role could be interesting
– Aaron Hall is still alive. He had 1 good qtr
– Talk of Hunter clark getting more mid time
CBAs
lots for the usual bunch: Simpkin, Steele, Hill, Crouch etc but a few for the likes of Bytel, Stephenson, Higgins, Powell, Lizardguts etc
CBA Numbers for Nth Melb – Preseason 2021 Vs St Kilda:

North-Melbourne 30 – Jy Simpkin 24, Tom Campbell 23, Dom Tyson 21, Kyron Hayden 21, Aaron Hall 19, Nick Larkey 7, Tom Powell 2, Cameron Zurhaar 2 & Jaidyn Stephenson 1

— AFLstatsmate (@AFLstatsmate) February 25, 2021
CBA Numbers for St Kilda – Preseason 2021 Vs Nth Melb:

St-Kilda 30 – Brad Crouch 20, Jack Steele 18, Paddy Ryder 18, Hunter Clark 15, Jack Bytel 14, Sebastian Ross 11, Paul Hunter 12, Sebastian Ross 11, Jack Sinclair 5, Jack Higgins 3,Jack Billings 2 & Luke Dunstan 2

— AFLstatsmate (@AFLstatsmate) February 25, 2021
Signing off
That's all she wrote friends. Hope you managed to find a nugget, or at least some popcorn chicken ( no tendies here ). Until next time, which I believe is tomorrow in the Melbourne v Richmond game. Hit me up on twitter @time_millar if you want me to follow your boys. Or if you really like fantasy hat #5 selfies. I have one or two of those.