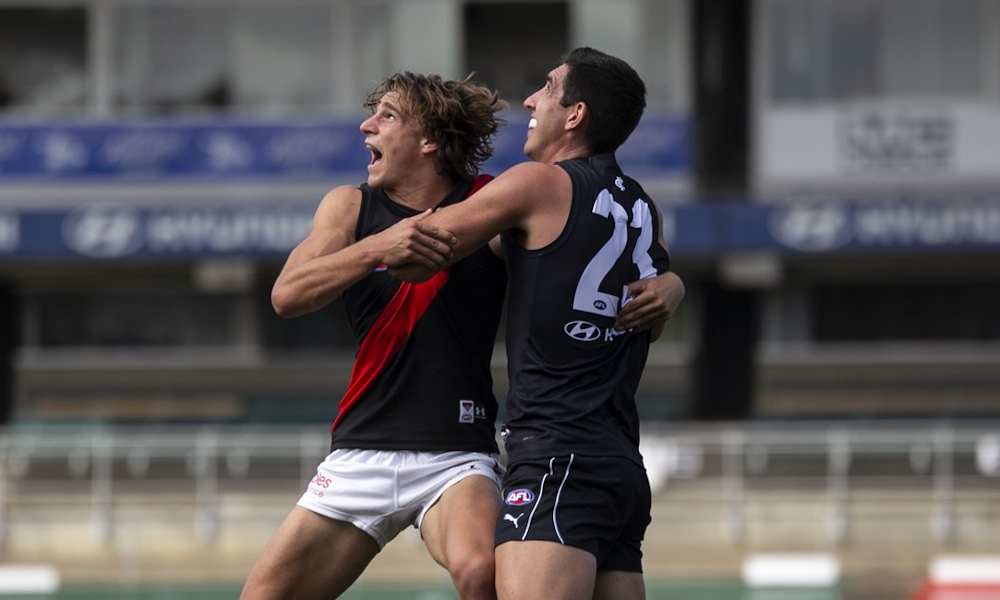 It was a quick dash back from my 3-year-old's swimming lesson this morning to catch the whole match, but it was worth it as there was a lot of Fantasy relevance from the two clubs. Plenty of players will feature in calculations this year due to their value. Blues won by 21, but you don't get four points for that. It was great to watch the stream and get great insight from Riley Beveridge and Callum Twomey.
Click here for the AFL.com.au report.
If you tuned in, add your thoughts in the comments below.
Notable absentees: Charlie Curnow, Levi Casbout, Mitch McGovern, Tom De Koning,
Right from the start you could see that Patrick Cripps is in great nick and is a serious option for your Fantasy Classic side, even with his stints up forward. So big, so strong. He looked like a man playing against boys at times. Cripps started in the middle alongside Sam Walsh (who was also great, racked up heaps… a lock). They'll be used the most through the guts for Carlton.
Zac Williams started in there and was busy, collecting plenty of the ball. Williams spent some time up forward as well as floating back. Basically he did what he wanted. No real stress at his price and with the DEF status in starting him. Williams is definitely more MID than FWD.
The other midfielders rotating through included Paddy Dow who was close to BOG. He was electric in the midfield, kicked a couple of goals and should find himself a few Classic fans this year at $323k. He's in my squad based on that and the fact the Blues were basically at full-strength in the midfield. Jack Martin was also in there as was Ed Curnow when he wasn't on the wing.
Carlton will be loving Adam Saad and his run off half-back. I don't think he's a Fantasy option, but Blues fans will be happy with the acquisition.
Marc Murphy is worth a stash in a draft league as he should gain FWD status based on how he was used. Literally spent most of his time inside F50.
CBA Numbers for Carlton – Preseason 2021 Vs ESS:

Carlton 27 – Marc Pittonet 20, Sam Walsh 19, Patrick Cripps 19, Zac Williams 14, Paddy Dow 9, Jack Martin 9, Ed Curnow 8, Oscar McDonald 4, Callum Moore 3, Lachlan Fogarty 1, David Cuningham 1 & Liam Stocker 1

— AFLstatsmate (@AFLstatsmate) February 25, 2021
Notable absentees: Andrew McGrath (concussion), Michael Hurley (infection), David Zaharakis, Jake Stringer,
Alright, I have to start with Jye Caldwell, not only here in this Essendon section, but in my Fantasy Classic team. He was super in the middle and that's what his role will be. Lock him in the mix of Zach Merrett, Dylan Shiel (half a game), Andrew McGrath (didn't play) and Darcy Parish. The former Giant grabbed plenty of touches, looked comfortable and had an all-round game with numerous tackles.
Parish was outstanding. He appeared as the bloke I picked this time last year… but we all know how that played out. As a MID only, he's not an option… and I don't think I would be going there in draft either… but, he was great with plenty of CBAs.
We saw Sam Draper play the first half in the ruck and then rested for Nick Bryan. Didn't look completely out of place to be honest.
Harrison Jones (FWD, $170k) is a lock to play in round one. He lined up at CHF and didn't really spend a lot of time deep. Harry was allowed to roam up the ground, took a few marks and kicked a couple of snags. Two-metre Peter Wright also kicked two. Four goals, however, was kicked by the big lump of a lad that is Alec Waterman, who should get the SSP call-up after his impressive performance.
I was impressed by Nic Cox who looked to be playing as a high-half-forward and pushing up the wing. While he looked a like a breeze could knock him over, he may just be in the round one plans. With DEF/FWD status, he could be interesting but not sure he's going to score enough to be worth the $256k we need to pay.
Archie Perkins was solid, but not sure he cements a spot for round one just yet.
Awkward price, but Nick Hind was busy coming out of the back line. After playing as a FWD at the Saints, he adapted to the role which he played off half-back for the Bombers' VFL team a few years ago. Dyson Heppell also played in the back-half. No time in the middle at all. He was looked to a lot when the Bombers were moving the ball around which is good signs, but I'm not sure the numbers would have stacked up today. I'll be watching carefully next week in the AAMI game where we will have stats. For those asking, he wasn't taking the kick-ins, this was mostly Ridley from what I saw.
Benched at half-time, Ned Cahill was getting a fair bit of the ball as he played mostly out of the backline, but pushed up the ground most of the time. One to keep an eye on
CBA Numbers for ESS- Preseason 2021 Vs Blues:

Essendon 27 – Jye Caldwell 22, Zach Merrett 19, Darcy Parish 17, Nick Bryan 11, Kyle Langford 10, Sam Draper 10, Dylan Shiel 9, Peter Wright 6 & Anthony McDonald-Tipungwuti 4

— AFLstatsmate (@AFLstatsmate) February 25, 2021