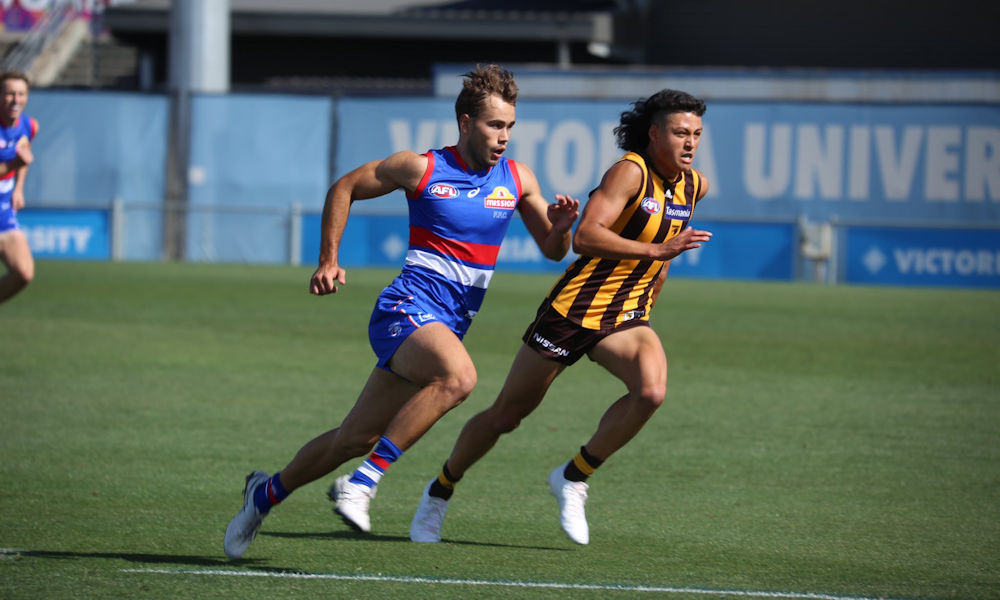 There was plenty to keep an eye on in the first of the AFL sanctioned scratch matches. The stream was available for Hawks and Dogs members. I was able to catch most of the match (thanks Reegs) and picked up some nice info from Mitch Cleary on the ground. For the record, the Hawks won the game by 15 points after the Dogs dominated early.
Click here for the AFL.com.au report.
If you tuned in, add your thoughts in the comments below.

Notable absentees: Treloar (calf), Macrae (lighter week), Naughton (corkie), Hannan (groin), Wood (hamstring), Jamarra Ugle-Hagan (reserves)
Stef Martin did a hell of a lot of the ruck work, as Tim English would have spent a higher percentage of the game as a forward… English into middle more as game went on. He did look really good playing the FWD-RUC role. Looks to be the way the Dogs will go, Stef as No. 1 man, English as a forward. Stef looked fit so this might mean that English owners in keeper leagues (me!!) might need to temper expectations and not expect the 90 average he had last year… but handy to have as a RUC/FWD if he gains FWD status at round six.
The first centre bounce consisted of Stef, Tom Liberatore, Marcus Bontempelli and Josh Dunkley. We saw them, along with Bailey Smith who was one of the best, rotate through the guts. Bont was resting forward as most thought he would.
Lachlan McNeil is a $170k MID taken in the rookie draft out of the SANFL. He looked impressive as a half-forward and could be in the mix for games.
Libba was the only injury concern. In the last minute of the game must have been taken high as he was helped off with blood streaming from his face.

Notable absentees: Wingard (calf), Mitchell (shoulder), Scrimshaw (knee), Gunston (back), Burgoyne (rested), Finn McGuinness
The biggest takeaway was that Connor Downie is a lock for round one based on that performance. He was racking up on the wing – and did some good things throughout the game. Looked confident, found plenty of it and did the little things that showed he was up to AFL standard. Lock him in at M8 or on your MID bench at $202k.
$180k MID/FWD Tyler Brockman is also one that we should keep an eye on if he plays in the AAMI next weekend.
Former Pie Tom Phillips found himself attending more CBAs than he normally would… but that's not a worry, he'll mostly play wing, where he can get the pill, and possibly chop out in the midfield. Mitchell was the main guy missing in the engineroom, with James Worpel and Jaeger O'Meara the major contributors there. Worpel was outstanding. Just watching him, you know he knows how to rack up Fantasy points. Another of note was James Cousins who was busy.
If you were keen on buying some Ben McEvoy stocks, then watching him as a the No. 1 ruck and Jonathon Ceglar primarily playing forward would have pleased you. So much so that Roy picked him in our keeper as his back up ruck (with handy DEF eligibility) in the 21st round. It's a risky play in Classic to have McEvoy, but as the No. 1 ruck… bloody hell, there's some upside at that price. Handy as a bench option with that DPP in draft as well.
Ceglar spent a lot of time forward with Tim O'Brien, Jacob Koschitzke and Mitch Lewis. The Hawks were serviced well up forward with O'Brien, Luke Breust and Ollie Hanrahan kicking three goals each, Lewis two. Koschitzke is available as a $170k DEF. Keep and eye on him.