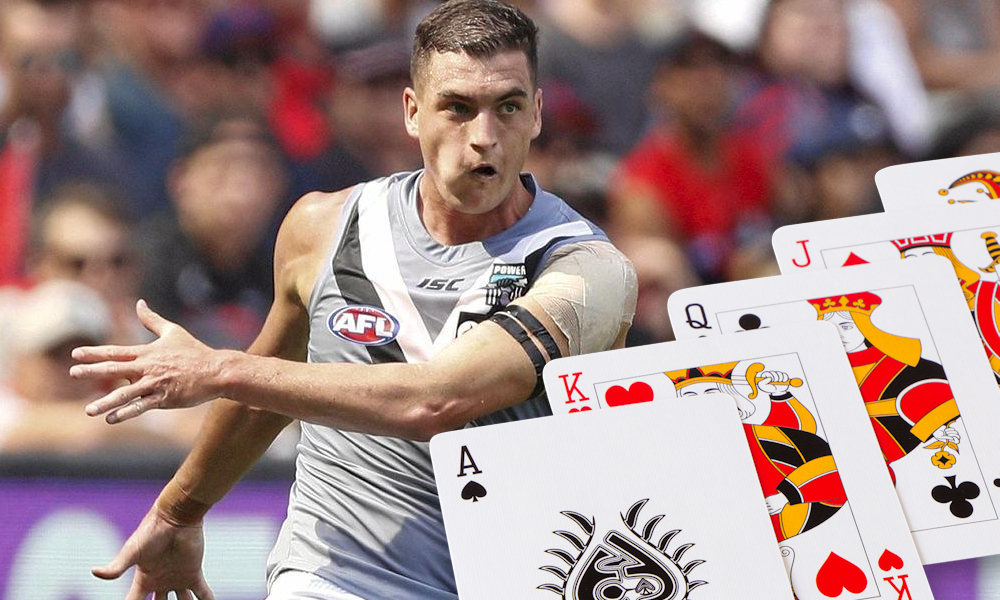 Name: Tom Rockliff
Team: Port Adelaide
Position: MID
Price: $873,000
Bye round: 12
2020 average: 91.4
2020 adjusted average: 113.9
2020 games played: 14
Predicted average: 108
Draft range: 3rd
Click here for 2021 Fantasy prices.
The final card in the Deck of DT 2021 collection, and I couldn't bare end it on anyone other than the Pig 🐖 🐷 🐽 Lower your heads into the trough and enjoy the feast…
Why should I pick him?
Just when everyone thought Tom Rockliff was an irrelevant Fantasy player… Too old, they said… Too injury prone, they said… Not adjusting to his new club, they said… Rocky will be the 7th highest averaging player (for anyone who played 10+ games) across all lines in 2021… Said no one ever.
It's no secret that the first two years of Rocky joining Port Adelaide were nothing shy of underwhelming (by his high standards). Port was a different club, who was not only climbing the ladder, but learning where to play their players to get the most out of them. This resulted in Rocky during his first year at Port reduced to tagging roles for two scores of 43, one in round 4 vs Essendon, 2018, and the other in round 11 vs Hawthorn. Rocky was also tucked away into a forward pocket at times during 2018 and dished out a full game score of 33. Rocky finished the 2018 season with his 2nd lowest seasonal average of his career with an 83. The only season worse than that was his first season with only 1 game and a score a 23 on debut. We can scratch that and basically say it was his worst season (Fantasy wise) ever.
Fast forward to 2020 (where Rocky started the year with a 123 average in his first 2), the team is a little more settled now, and Rocky's average has increased with every year he's been there as a result…
Rocky's averages since being at Port:
2018 – 83, 2019 – 99***, 2020 – 114.
*** There were a few injury hit scores here I wanted to highlight; In round 10, mid-way through the 3rd Rocky went off with a hammy… on 91, midway through the third. Then another in round 20, he was dazed in the 2nd quarter and ended on… 92, the second quarter...
Every year he's been at Port his average has increased by around 15 points. Hinkley realised (fortunately for us), eventually, that Rocky's key and only apparent role is at the feet of the ruckman. And in Rocky's 3rd best year of his career (Fantasy wise), Port pushed deep into finals and only narrowly lost to Richmond (6 points) in a prelim. Yes, yes, Hinkley will look to blood more mid time into that next tier, but look how close they came last year. Port are a genuine challenger for the premiership in 2021 so Hinkley will be playing his players to their strengths. I really don't see Rocky's role changing in the slightest in 2021. I still see him as a 70% CBA player (which is what he averaged in 2020).
We always look at players who ended the year before strongly… Sir. Oinks Alot ended the year, in his last 5, as the highest scoring player in the game (the throne was regained) with a 131 average in his last 5, and a 145 in his last 3… If you don't mind. Scores of 125, 98, 153, 153, 131. Filthy Pig tendencies. And that doesn't even feature his highest score of the year, he pumped a 154 against the Doggies in round 10 where he laid 15 tackles!
Rocky isn't a stranger to starting the year hot either, especially not when he's having a strong preseason like he currently is (playing all match sims ect.). In 2019, Rocky came in fit and famously put up a 178 in that second practise match, and what did he do as soon as the season started? 166 in round 1, followed by a 115, then was unlucky to have a concussed half game score, but returned the following week for a 132. Averaging 138 over those 3 rounds (minus the injured affected round 3 score). Plus I mentioned above how he started 2020 above, a 123 average.
The other positive for Rocky is all the other premos around him are succumbing to pre-season injuries or positional ?'s. Neale's got calf issues, Oliver's still training away from the main group as he recovers from shoulder surgery, Adams' hammy has pinged, Macrae's role is unknown, M.Crouch's hip has delayed him, Gaff's had some tightness (but played match sim), Mitchell's shoulder, Treloar's gone again with more soft tissue issues ect ect. Meanwhile, Rocky sounds good to go!
And as a final point, we all know Rocky's ceiling is elite, but when he's on, he's on. Let's just indulge in the scores he posted in his record breaking (and still the record) average year back in 2014;
Final 8 games; 172, 122, 137, 190, 110, 180, 165, 154 – Average 154………………. Over 8 games!!!
Why shouldn't I pick him?
Rocky goes into Season 13 as a 31 year old.. BUT Travis Boak went in his his 13th season and scored a career best average in 2019. Just sayin'. But yes Rocky is on the wrong side of 30. And, yes, Rocky has had his fair share of injury concerns, having only played 1 full season in his entire career all the way back in 2012. AND Rocky has had his share of concussions, because of the new concussion rule there now a mandatory 12-day break, so he proves a high risk.
Rocky also, potentially loses some mid time to make way for Butters, Rozee ect. But as I mentioned above I just don't see it happening in 2021, 2022, maybe, but not this year.
Rocky enters the 2021 as the 6th most expensive midfielder in the comp so the hesitation is obvious.
Rocky starts the year against his least favourite team in North Melbourne (minus Brisbane with a limited sample size), where he averages 93 points a game on them. Significantly less than any other team on the agenda. So maybe that gives us a round to assess.
Deck of DT Rating.
KING
My gut feel is Rocky has one more amazing year in him. I think it's a combination of the way he finished the year, his trajectory since being at Port, the success Port had whilst Rocky was in form, they've tried him in different roles for zero success, he's up and about this preseason, and what an way to end an amazing career it would be with a flag.
The lesson we all learnt last year was you can never write a Pig off. A few people would have put a line through him, but Rocky proved once again that once a Pig, always a Pig.
I have no doubts that at some point in 2021, Rocky will once again surface as a high-risk high-reward option. It's just about timing. Are you starting with a front row seat, looking at an exit isle, might get a back row or just vetoing a ride all together?
Loading ...
FOLLOW US  ON TWITTER: @DTTALK for all thing AFL Fantasy (and more). Got something to say about the deck or AFL Fantasy in general? Join the conversation and use the hashtag… #AFLFantasy.