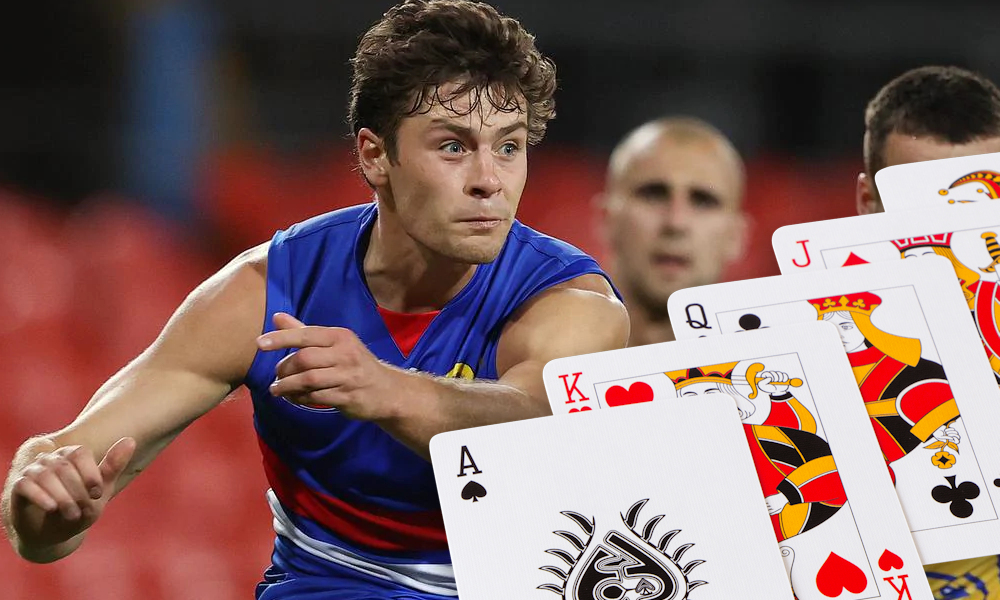 Name: Josh Dunkley
Team: Western Bulldogs
Position: MID/FWD
Price: $741,000
Bye round: 13
2020 average: 77.7
2020 adjusted average: 96.7
2020 games played: 11
Predicted average: 105
Draft range: 2nd-3rd
Click here for 2021 Fantasy prices.
Why should I pick him?
Josh Dunkley comes into 2021 as a super scintillating prospect at a (debatable) undervalued price-tag. The fall from grace after being the 8th highest Fantasy scorer across all lines in 2019 came from being thrown around the field (in typical Bevo fashion) and a bad ankle syndesmosis injury. A clearly frustrated Dunkley even went as far as requesting a trade to cross-town rival, Essendon, flagging more midfield time as his reason. The Doggies held strong, and they'd be foolish to let someone of Dunkley's calibre sulk around, which might result in Dunkley getting his wish of more midfield time. At the very least, we can hope. Dunkley's capabilities as an AFL Fantasy scorer are elite. He's in a rare bracket of players capable of scoring 120+ week-in-week-out… And we can select this player in the forward line.
In 2020 Dunkley was played anywhere from a defensive forward, to a ball winning midfielder, to even becoming a pinch hitting ruckman in the same vein Richmond was running with Grigg back in the day. A ploy to get the ball to ground and gain an extra midfielder around the ball. This is the root of the dilemma faced by Bevo. He's desperate enough to want to get all his midfielders in there that he's going to chuck a 190cm midfielder into the ruck. The most hit-outs he had in a game was 3, for anyone wondering how that went for them… And as a result of Dunkley playing as an undersized ruck, his possession count dropped by 10 a game. A stat line he could easily make-up for in 2021.
Dunkley started 2020 with (adjusted) scores of 74, 135 & 89 for an average of 99.3 before the ankle injury, and was at 81% of the CBA's in that time. So the role was there and things were looking good. When he returned from his 6 week layoff (many other players who've had similar syndesmosis injuries have returned much later), he was moved from that midfield mix, only having 23% CBA's after that. His scoring dropped but not by much, he posted a 104, 83, 86, 96, 79, 128, 126, and a 70 for an average of 96.5. Which shows Dunkley can still (sometimes) find a way to score. Not a bad return for someone playing in a forward/ruck role coming back from a serious injury. Imagine what he'd be capable of after another full preseason and more mid time;
In 2018 Dunkley started forward, then moved to an inside mid role and the points started flowing, averaging 112.4 during that stint. In 2019, Dunkley started forward again, then moved into that same mid role from 2018 and posted the following scores; 145, 127, 77, 119, 119, 158, 118, 121, 120, 189, 123, 71, 113, 123, 150, 106 for an average of 123.7. 3 scores OVER 150. A ceiling unlike many, with a career high 189. 9 scores over 120. 3 scores under 113. These numbers are truely elite, you'd be happy with that from any MID in the comp, and no other FWD is capable of replicating these scores. Over the last 3 years playing that role, Dunkley has averaged 111.8.
Dunkley offers something to that mid mix that Treloar, Bont, Macrae and Smith don't. Dunkley's defensive efforts. Which are maybe only rivalled by Libba. In 2020 Dunkley ranked 4th in the comp for tackles per game, averaging over 6 tackles. This is a pretty vital stat in thinking that Dunkley could still play an integral role in that dense midfield rotation.
Why shouldn't I pick him?
Treloar… One of the trending names of the pre-season. Dunkley's role was volatile before we even factor in what trading Treloar in does to the dynamic. Bevo himself has been notorious for throwing his players around the pitch and I think we can expect much the same in 2021. Here's Bont's take on it;
Western Bulldogs: "Probably the strength of our program.. is that flexibility & the ability to adapt & then change & then play multiple roles"

Marcus Bontempelli providing an insight to playing under Snr coach Luke Beveridge via @RSN927 #AFL | #AFLPreseason pic.twitter.com/PDfJtUtm4F

— aflratings.com.au (@aflratings) February 8, 2021
With this in mind, I have zero confidence in Dunkley playing a consistent inside mid role, and will result in some very yo-yo scores. There's no doubt Dunkley will spend time forward at times. But what does that mean for his scoring?
In 2019 when he played forward for the first 6 rounds he averaged 77.8.
In 2018 when he played forward for the first 10 rounds he averaged 80.8
An average of 79.3 over the last 3 years when playing that forward role. A stark contrast to what he averages (111.8) as a midfielder. A 79.3 average is not worthy of top 6 forward convos and definitely not worthy of the $741k price tag at that point. It's also worth noting that in 2018, and 2019 Dunkley started the year as a forward then moved into a mid role. It feels like it's been a bit of a trend of-late, that Bevo takes the first 8-ish rounds to figure out the mix we've known from the beginning. With this in mind, there might be a dip in scores to begin with before ending the year strong, as he has the past 3 years.
Injuries are also a small concern. Dunkley's only played the one full season of the five he's been around for.
Deck of DT Rating.
KING
Dunkley narrowly misses ACE due to the uncertainty of role. It's one of the great question marks of 2021. He's a 79 averaging forward or a 112 midfielder. Which one shows up?
If you're not starting with Dunkley because you think he'll spend more time forward to begin the year, then you better have a plan to get him in quick if he's playing inside mid. If he's mid, he's the clear cut #1 forward in 2021. If Dunkley posts anything close to the way he ended 2019 with scores like 189 then he's going to really burn you and he'll quickly become unreachable.
Had the trade to Essendon gone through, Dunkley would have been the no-brain selection of the year – but now – there's a lot more to think about.
Big AAMI Community watch. If he has high CBA's in the preseason tuneup matches. Lock it in.
At the moment I don't have Dunkley, but if I get a sniff of something, anything, in that AAMI game, I will open my Fantasy App and restructure my entire team to revolve around him. You don't want to be a non-owner if he gets on an early run. A sure thing for top-6 (extremely probable top 1, 2 or 3) FWD for 2021.
FOLLOW US  ON TWITTER: @DTTALK for all thing AFL Fantasy (and more). Got something to say about the deck or AFL Fantasy in general? Join the conversation and use the hashtag… #AFLFantasy.