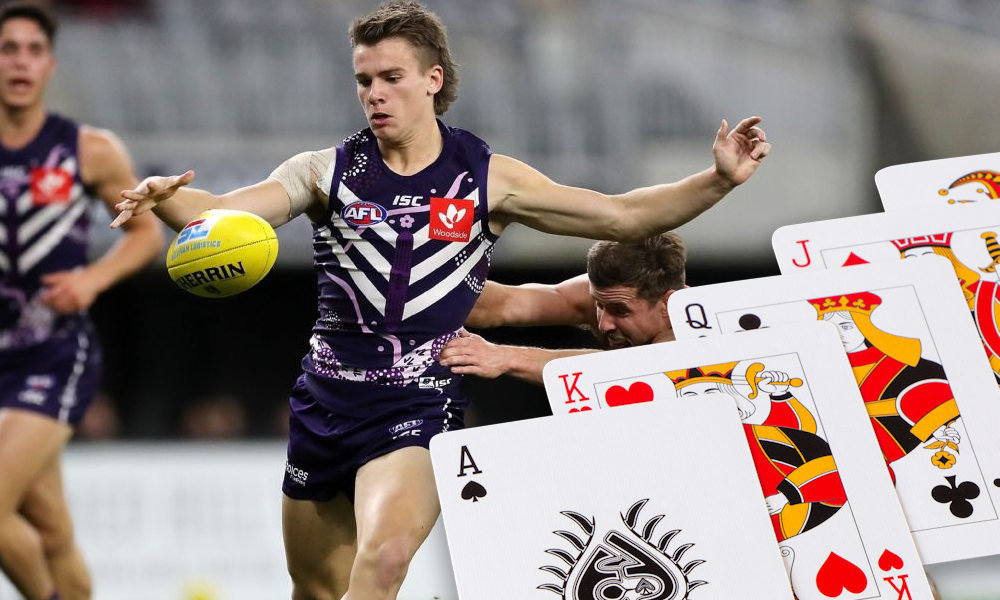 Name: Caleb Serong
Team: Fremantle
Position: MID
Price: $636,000
Bye round: 14
2020 average: 66
2020 adjusted average: 82
2020 games played: 14
Predicted average: 95
Draft range: Could snag him as your 4th mid
Click here for 2021 Fantasy prices.
Why should I pick him?
While he hasn't exactly gone under the radar, winning the rising star last year, Caleb Serong currently only has a 6% ownership among coaches right now. So if you're looking for a POD mid with upside, this is the guy.
It took 4 rounds to earn his debut and then he was eased into senior footy with an average of 60% TOG in his first few games. This resulted in an (adjusted) average of 77 including in there his lowest score of 35 points.
Once his load was ramped up, we saw him given more game time and defensive midfield roles on some of the games best mids, including Dangerfield. This saw his average jump to 85 as he was not only getting his hands on the ball more (in no small part thanks to David Mundy feeding him) but also tackling more, averaging 6 a game once getting more time.
More importantly he became a key part of Fremantle's midfield set up, attending 72% of their centre bounces in that time. His last 5 games saw him average 95 and his highest score of the season was a salivating 126.
Put simply, Serong is ticking every box needed to indicate he'll ignore the second year blues and could average premium numbers this year!
Why shouldn't I pick him?
While I've even sold myself on him after listing the above facts, there are a few things still nagging in the back of my mind.
Fremantle's injury list last year was constant and never ending. Meaning we still aren't 100% certain where Serong fits in a 100% fit Fremantle side.
Their midfield is starting to look quite deep with Acres, Brayshaw, Cerra, Aish, Fyfe, Mundy, Tucker, Valente, Walters, Bewley, Conca, Giro and Blakely all looking to go through there at some point. Plus drafting two more in Western and O'Driscoll at the end of last year.
While Serong should slot in ahead of about 8 of those names still, the competition for spots and uncertainty of the 2021 season means we can't bank on whether he'll be getting the same opportunity as he did in the last half of the year. Even in most projected best 22's for Fremantle this preseason, Serong is usually listed on the bench. Will reduced rotations affect him positively or negatively?
Deck of DT Rating.
KING
I strongly believe that by the end of 2021 we'll be classifying Serong as a king, so i'm jumping in there first! Worst case scenario, Fremantle's bye is in the last bye round, meaning he'll give you good cover up till then before you can upgrade him to an uber premo in round 14.
FOLLOW US  ON TWITTER: @DTTALK for all thing AFL Fantasy (and more). Got something to say about the deck or AFL Fantasy in general? Join the conversation and use the hashtag… #AFLFantasy.