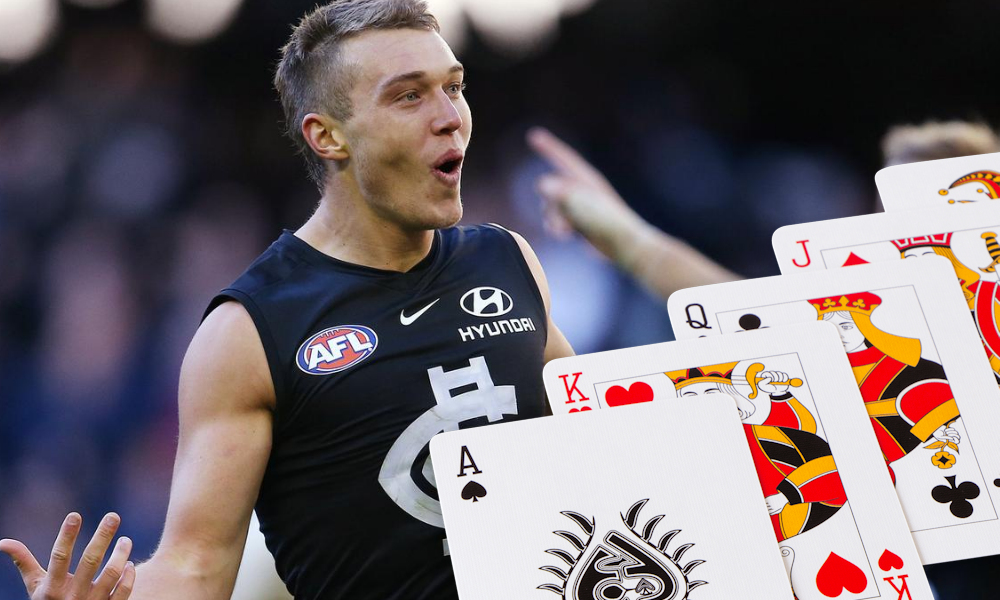 Name: Patrick Cripps
Team: Carlton
Position: MID
Price: $718,000
Bye round: 13
2020 average: 75.04
2020 adjusted average: 93.80
2020 games played: 17
Predicted average: 103
Draft range: ADP of 61 on TheDraftDoctors mock draft site (Round 6-7)
Click here for 2021 Fantasy prices.
Why should I pick him?
Some say that I asked to write the Patrick Cripps article because I wanted that sweet Search Engine Optimisation for promotion of TheDraftDoctors 2021 Draft Kit. Others say it was just to keep Roy away from writing about another Carlton player and mentioning Zac Williams again. In truth, it's far more simple than that. I really like Fish 'n' Chips. This whole article is going to use comparisons to different Fish 'n' Chippery experience and menu items, so I suggest if you aren't too brushed up on your knowledge – head down to your local, get a crumbed bit of barra and some delicious beer battered chips and prepare for yourself for…
FISH 'n' CRIPPS.
Patrick Cripps had a pretty underwhelming season 2021 from a fantasy perspective. It mostly resembled a really expensive piece of salmon at a trendy Fish 'n' Chip joint in Prahran, and when you bite into it, you find a bone. What an expensive (but trendy) let down. He was still immense from an actual footballing perspective – ranking third for clearances across the competition – but it just wasn't translating into the elite tier of fantasy scores.
There were multiple things that contribtued to his poor form, but the main reason.. he was battered (!). I think he'll be the first to say that his whole body was injured the entire season. The main injury of course was to his back, as he tried to carry carlton for another season – but even Cripps succumbed to this weight. This lead to some up-and-down scoring, including a 30 in what would have been the grand final of the majority of competitive leagues.
Going into 2021, what this creates is a massive amount of opportunity – Cripps comes in priced at an average of 93.8, his lowest average since his 2nd year. At an absolute minimum, this has Cripps underpriced by about 6 average points. As i've said in previous articles, you need to find the bargains that are going to gain cash, but also produce a decent score – and he certainly looks like he could do that. The Barrmundi Monday special.
Another element to consider is that the burden should be eased on him, with the supporting cast of calamari (Williams), prawns (Walsh), and mystery stick (Dow) all another year older, and ready to hopefully take some of the load. I feel like i've said that for the last three years… but maybe this time!
The icing on the cake of course is that it's a contract year. He has explicitly asked the Blues to STFU about his contract until later in the season – and that tells me he is keen to gain some upside at the trade table, which usually results in some fantastic fantasy scores.
Why shouldn't I pick him?
Just like when you order two fishermans baskets just for yourself, Cripps is guaranteed to receive a lot of attention. At times last year, teams were dedicating two or more players to take him out of the contest at stoppages, and it worked – with the rest of the Blues midfield unable to take advantage of the space it created. Combined with the injuries, this relentless tagging saw Cripps spend a lot more time forward than he normally would, and unfortunately, he didn't have an overly fruitful time there managing just the 7 goals. Despite the increase forward time, his goals per game reduced year-on-year.
Unfortunately for Cripps, just as you lather tartare sauce on your crumbed cod, the tag will seemingly always be applied until you eventually run out of tartare and have to ask for more tartare but they tell you it's $1 for a tub, and you're like whaaaaaaaat get outta here.
From a fixture perspective, Cripps faces an awkward set of opponents in the Tigers, Lions, and Pies in the first three rounds. It's a bit of a double edged swordfish – none of these teams historically deploy a tagger, but the Lions and Tigers restrict their opponents disposals and subsequently, fantasy scores. The Lions in particular concede  the third least amount of fantasy points from their opposition.
Deck of DT Rating.
QUEEN
I'm one of the 10% of coaches that will be starting Cripps in my side in the classic format – I think he's slightly underpriced, and when considering some of the other premiums that have inflated prices, provides a good balance of points to the dollar. I'm a little concerned about his first three fixtures, but when considering other options in his price range, the only other player that stands out is Brad Crouch – who could also be a cheeky good option – but of the two I have more faith in Fish'n'.
From a draft perspective, he's currently going at an ADP of 61 on the mock draft site (mock.thedraftdoctors.com.au), but there's a very real chance that he slides later depending your league. In the couple of drafts I have done with the fantasy community, midfielders are being prioritised late, in favour for snapping up decent forwards from the thin pool. Anything later than that and it's a steal – like a 60 cent Potatocake from the local.
Buy our 2021 Draft Kit FFS!
FOLLOW US  ON TWITTER: @DTTALK for all thing AFL Fantasy (and more). Got something to say about the deck or AFL Fantasy in general? Join the conversation and use the hashtag… #AFLFantasy.