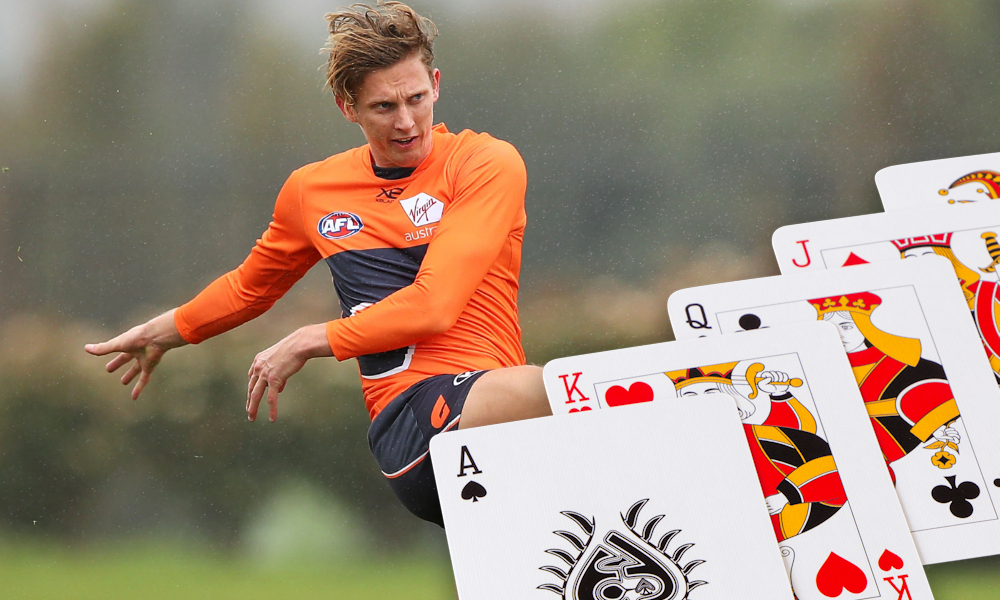 Name: Lachie Whitfield
Team: GWS Giants
Position: DEF
Price: $820,000
Bye round: 12
2020 average: 86.4
2020 adjusted average: 108.0
2020 games played: 17
Predicted average: 110.0
Draft range: 1st round
Click here for 2021 Fantasy prices.
Why should I pick him?
Whitfield made the most of the turbulent season that was 2020 for the GWS Giants, managing an adjusted average of 108. Coming into season 2021 he presents as the second most expensive defender in the game behind only Jake Llloooooyyyd. At the top end of options in any line, fantasy coaches need to be assured of quality scoring potential; Whitfield delivers in spades. Available as a defender only this year, albeit with the scoring of a premo mid, he's got the ceiling and the consistency required to find his way into a starting spot on your AFL Fantasy team. Over the last three seasons, Lachie has gone about his fantasy-friendly game chalking up averages of 100.1, 113.8 and 108 with some monster scores along the journey.
Coaches only need to cast their minds back to 2019 when Whitfield opened the first five games of the season at an average of 126.4, before getting injured in round six. Coaches were torn between holding or moving him on heading into round seven that season. Those with cover who opted to hold were rewarded handsomely when Whitters returned in round nine to play the blues, racking up an obscene 190. His herculean showing was built on the back of 40 disposals, a whopping 18 marks and a rude three snags on top. This left non-owners moving heaven and earth to get him back into their squads. As a non-owner, it was a tough game to watch. He continued to find space with his elite tank and run off the ball. His teammates would scan 360 degrees to try and put the ball in his hands, as has become a hallmark of the Giants game due to his elite disposal by foot. Performances as such are much more enjoyable with him in your squad than without…
Lachie also comes as a fantastic fantasy captain option with his established ceiling. In season 2020, resident pirate Calvin anointed Whitfield as a top ten captaincy option in 12 of the 17 rounds in which he played. Who doesn't love having another (C) option to choose from?! His scores backed up the faith shown in him by Cal, serving up 11 BCV tons, with six being the equivalent of 120+ scores. His demonstrated ability to rack up strong scores over the course of a fantasy season, courtesy of his balanced scoring line, reiterates his claim to be either D1 or for those splurging, D2 in your 2021 squad.
As briefly touched on earlier, the Giants just love getting the ball into Lachie's hands. Those who've watched him play can attest that his teammates genuinely try to dish it off to him whenever possible like he's the popular kid in the schoolyard. The vision of Whitfield gliding around the back of a teammate, waiting for the inevitable handball/kick receive is well and truly burnt into my mind. It's a role that is super friendly for fantasy footy, often resulting in some great junk time touches towards the back end of quarters. Lachie's footy nous for junk time has helped him rank top five in the league over the past two seasons for marks per game, don't miss out on the ride in 2021 and join the 25% of coaches currently starting with him.
Why shouldn't I pick him?
The biggest concern with Whitfield coming into season 2021 is a recent knock copped in a match simulation drill, resulting in a bruised liver. Giants coach Leon Cameron has been quick to rule him out of the clubs preseason fixture against the lions on 07 March. The extent of the injury has been difficult to establish, with club medicos stating his return is dependent on how long the injury takes to heal.  This comes as quite the concern for those looking to see Whitfield in action prior to the season proper, with no opportunity to watch him play before determining whether he's a fantasy starter this year. Like most coaches, I for one like to see my prospects have a bit of preseason game time, getting the legs turning over and racking up some cheap touches. There's just something soothing about knowing that the bloke you want to select at D1/D2 is at least out there involved in match practice, even if the stat lines account for little when it comes to premos.
Of additional concern is the lack of value in starting with Whitfield. Over the years, it's become evident that one of the ingredients to go well in a fantasy campaign is to identify value in your starting squad. That is, where a player's starting price is significantly cheaper than coaches expect them to perform. I for one believe Whitfield has a 110.0 – 112.0 average in him this year, falling just short of his 2019 season average of 113.8.  Priced at an average of 108, this leaves little value on the table to justify starting with the 26-year-old Giant. This distinct lack of value leaves Whitfield looking more like a midseason upgrade target as opposed to a bonafide fantasy starter.
Finally, concern remains around Lachie Whitfield and his ability to play out a complete season. The Giants star has an uncanny knack for finding ways to miss footy games in a season. Of note, he's only managed to play every game in a home and away season in merely two of his eight seasons as a Giants player. This, unfortunately, is not the type of stat coaches are looking for in a premium defender who's going to set you back an eye-watering $820,000.
Deck of DT Rating.
Queen
Although Whitfield is an elite fantasy player, its hard to offer him a rating above a Queen with his interrupted preseason and lack of value. These factors could be overlooked if he had shown durability in the past but he simply hasn't. I'll personally be keeping a close eye on him throughout the season with Whitfield firmly insights as a desirable upgrade target and top-six defender lock come seasons end.
FOLLOW US  ON TWITTER: @DTTALK for all thing AFL Fantasy (and more). Got something to say about the deck or AFL Fantasy in general? Join the conversation and use the hashtag… #AFLFantasy.