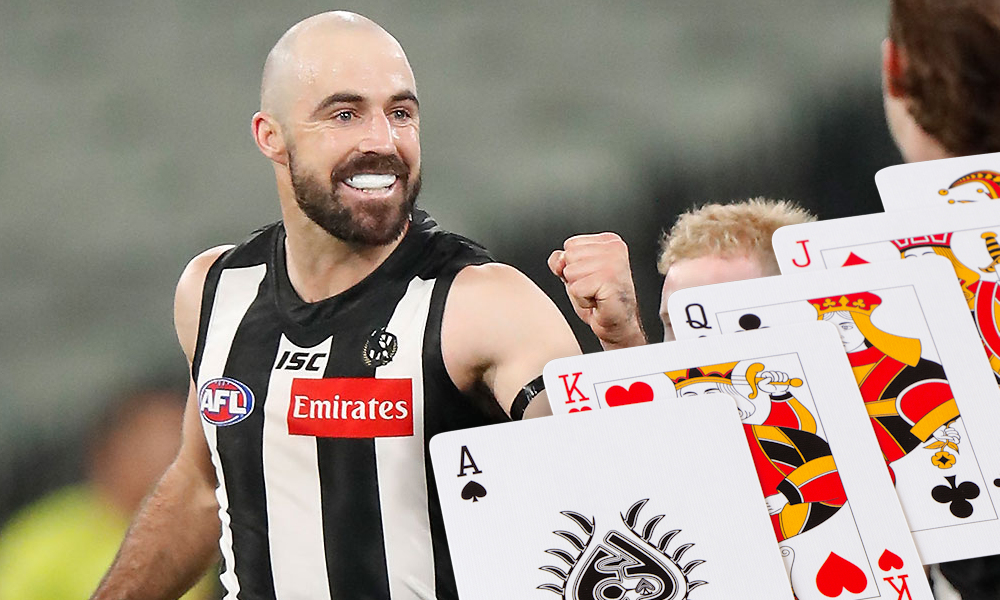 Name: Steele Sidebottom
Team: Collingwood
Position: MID/FWD
Price:$841,000
Bye round: 14
2020 average: 90.9
2020 adjusted average: 113.2
2020 games played: 9
Predicted average: 105+
Draft range: 1st round
Click here for 2021 Fantasy prices.
Why should I pick him?
Before I start the write up, a disclaimer, I might be obsessed with Steele Sidebottom. I have been writing about Sidebottom since 2018.  As an AFL Fantasy coach, I admire his ability to score consistently and quickly, over the course of the season. Steele is a premium midfielder and is quite capable of scoring consistently high averages with a decent ceiling. Over the last 3 years, Sidebottom has been starting the AFL Fantasy season as a pure midfielder.  This year, Sidebottom starts the 2021 season as a MID/FWD.  That makes Sidebottom a relevant player even at a hefty price of 841K. But enough of that, let's look at Sidebottom's numbers.
With the departure of Adam Treloar and Taylor Adams being sidelined with injury concerns, Sidebottom will have a greater role in the rotation of players in the Collingwood team.  Since 2014 to 2019 his average scores are 108, 102, 103, 106,103, and 99.   Last year Sidebottom averaged 90.90 (113 adjusted) with scores of 107, 83, 126, 60, 101, 86, 61, 105 and 89. With the AFL going back to 20-minute quarters, I would expect Sidebottom to average about 105+.  Steele Sidebottom produces consistent scores in AFL Fantasy. Having a look at his AFL Fantasy scoring history, he is capable of scoring 100 fantasy points, a staggering 62 % every time he enters the field. You want more?  Sidebottom, as history suggests, is capable of scoring 120+ fantasy points 28% of his games.
Last year was an anomalous year for most AFL players and Sidebottom playing 9 out of 19 games. However, from 2017 to 2019 Sidebottom has missed only 1 game from 66 outings. If you are looking for a set and forget forward, Sidebottom would certainly fit that mould.
Why shouldn't I pick him?
The biggest question mark that most of us will ask regarding Sidebottom is in relation to his price tag. Starting at $841K, Steele Sidebottom is the most expensive forward available in AFL Fantasy followed by Dangerfield ($780K), Zorko ($753K), and Dunkley ($741K). Good company surrounds Sidebottom, and others will see value in the likes of Dunkley which certainly looks set to have a decent run in the midfield. There is no doubt that Sidebottom at $841K represents a fully priced player. Can you find a salary cap space for Steele?
Let's talk about the pink elephant in the room. Sidebottom can stink it up when he is tagged. If you look at his AFL Fantasy points from 2014 to 2020, his low scores are mainly the result of tags, and his lowest scores are always attributed to hard tags. From 2017, in a regular home and away season, his average fantasy scores drops to 74 when tagged by opposition teams. At $841K, is this enough to say no to Sidebottom this year?  If the answer is yes, will Sidebottom be on your radar as an upgrade target?
Deck of DT Rating.
ACE
At his current price of $841K, Sidebottom comes close to a fully priced player.  Many will be turned off by his price and look elsewhere for value. However, as coaches structure teams, a number will be looking for consistent, fit players that can be 'set and forget'.  Sidebottom fits this mould with an extra kick of high fantasy scores ceilings.  What makes Sidebottom a tempting player is that this year, he is also available at the start of the season and a forward.  By end of season, Sidebottom's scoring history would suggest that he will be in the top 3 forwards. Conservatively, I predict that he will score 105+ this year. Is that enough for a forward? This is the question.  Currently owned by 16% of the coaches in 2021, there are certainly enough of us that think he is.
I have entered an AFL Fantasy League (Ricontop 100 – Invitation Pin: NMNVUW62), see you there!
FOLLOW US  ON TWITTER: @DTTALK for all thing AFL Fantasy (and more). Got something to say about the deck or AFL Fantasy in general? Join the conversation and use the hashtag… #AFLFantasy.