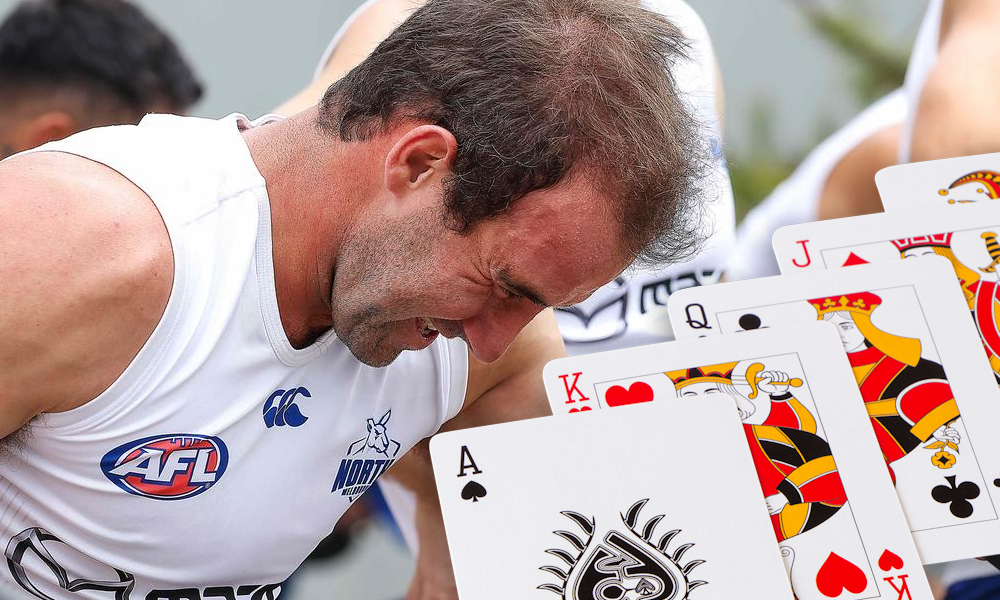 Name: Ben Cunnington
Team: North Melbourne
Position: MID
Price: $503,000
Bye round: 12
2020 average: 66.6
2020 adjusted average: 83.3
2020 games played: 3
Predicted average: 87
Draft range: 20th+ round
Click here for 2021 Fantasy prices.
Why should I pick him?
A hefty discount due to playing just three games last year puts Cunners in the group of under-priced midfielders that have to be considered.
Priced at 66, the 29-year-old North Melbourne veteran hasn't been priced this cheap since his second year. With his best Fantasy return being back in 2018 (93.9 average from 22 games), his run from 2017-2019 saw him average 88 to be a relevant Draft selection in deeper leagues with 60+ midfielders being drafted.
Cunnington has never been a Fantasy Classic pick, but that all changes this year.
In round one last year, Cunnington scored 117 (23 disposals, 4 marks, 7 tackles, 2 goals) which was super-impressive in 16-minute quarters… that's 146BCV for the record. Months later, he was tagged by de Boer the following round for 57 (71BCV) and didn't play the next week due to a back complaint. He returned in round five and played up forward for half a game before being put on ice (26 points to his name). A bad call to play him again so early and then he was done for the year.
Prior to last season, Cunnington played all but six games from 2013-2019 making him a durable pick. We can't call him durable now after a back injury that limited him to 3 games, but he has been doing everything (and more) this pre-season without any hiccups.
I'm not going to predict him to break any Fantasy PBs, but I'm expecting a mid-to-high-80s return given his history. This would put him in the frame of a 20+ point increase from where's he's priced at which is enough to call it a win.
Why shouldn't I pick him?
Despite looking good this pre-season, there has to be some doubt on his body. If you watched that round five game where he was put on ice, eventually for the rest of the season, he looked like an old man. It was horrible to watch.
There is upside but Cunnington is never going to be a keeper. Even if he's hitting a PB, eclipsing his 94 average, it's still not enough to have him in your team long-term. He can be a low-priority upgrade, but looking at his bye round, it doesn't work that nicely knowing he's going to be in the group sitting out the first week of the MBRs.
Also, a rest would be bloody annoying.
It sounds like Cunnington will rest forward as the Roos work out the best way to manage the 75 rotations. This isn't necessarily a bad thing as being on the ground means more opportunity to score points, but how the MID/FWD mix will look for him may have an impact on the ceiling of his scoring and therefore average/price increase.
Deck of DT Rating.
QUEEN
At this point I'm on board with the 11% of coaches who currently have Cunners in their team. It feels like a fairly low-risk play. He's cheaper than Heppell and you'd be feeling more confident in Cunnington over the Bombers' skipper at this point. Plus, based on history, you'd back him in over Jackson Hately for under-$20k more … and with half the ownership.
For the Cunnington selection to be a win, we need that 20-point improvement on where he's priced at. I think he can do that relatively easily. It will be about making sure his primary role is in the midfield. I think this will be the case even though the Roos are rebuilding and have a few bodies to go through the engineroom these days. They're going to keep their trusted inside midfielder as the main man at centre bounces (95% and 83% in his first two games last year, 14% in his return from injury game).
FOLLOW US  ON TWITTER: @DTTALK for all thing AFL Fantasy (and more). Got something to say about the deck or AFL Fantasy in general? Join the conversation and use the hashtag… #AFLFantasy.