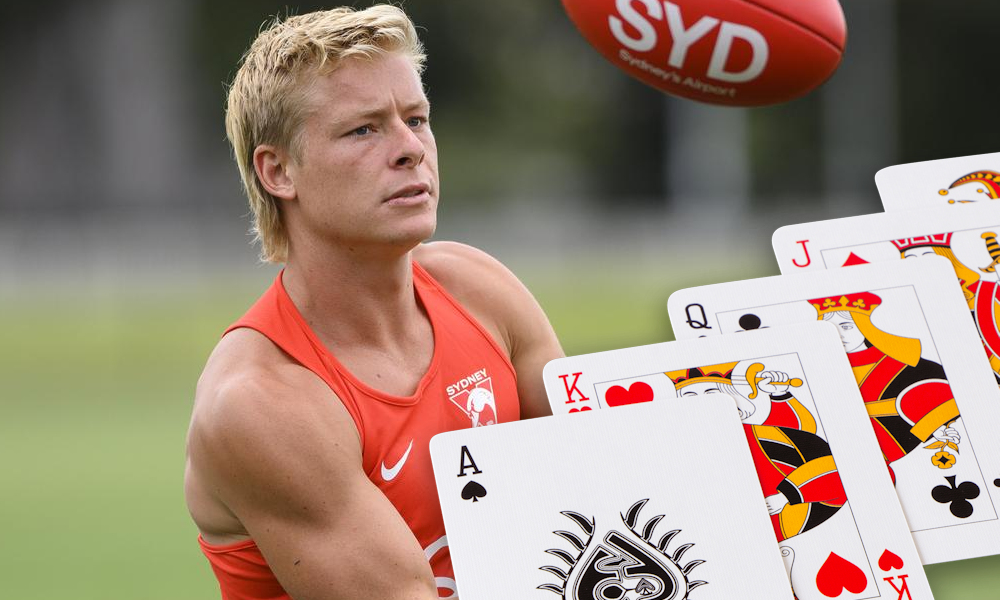 Name: Isaac Heeney
Team: Sydney Swans
Position: FWD
Price: $603,000
Bye round: 14
2020 average: 70.7
2020 adjusted average: 88.2
2020 games played: 6
Predicted average: 85
Draft range: 5th round
Click here for 2021 Fantasy prices.
Why should I pick him?
Isaac Heeney suffered a double injury to his ankle in Round 6 and was ruled out for the rest of the year. He managed to dislocate it AND rupture his medial ligament – ouch! It was bad news for the coaches who owned him, but at least he receives a 12% discount this season and is priced at just 79.0 points.
This means that Heeney is value. Safe value, most importantly. He's a consistent 90 average, managing 88.2 in 2020 and 89.8, 90.7 and 92.2 in the three seasons prior. You can pick him and spend the extra $100,000 on the rest of your squad.
Coaches might also be betting that Heeney finally tons up this season and pushes his average 21 points more than he's priced at. The Swans drafted elite key forward Logan McDoanld with pick four so perhaps he's no longer needed in the forward fifty and can light up the midfield instead.
Why shouldn't I pick him?
Heeney isn't a Petracca, Brayshaw or Smith from 2020. He isn't a forward who'll move fulltime into the midfield, breakout and pump out a 100+ average. Unless we see solid midfield time in the AAMI preseason game, he's going to be 90 at best. I'd rather invest $600,000 in a player who's more than 10 points underpriced.
I'm not a fan of Heeney's role off the half-forward flank either. He relies on contested marks and goals, both of which are volatile and inconsistent in a team struggling for wins. There'll also be extra competition this year – Nick Blakey will be pushing further up the ground following the addition of Logan McDonald, while Braeden Campbell will have an early impact at half-forward while he develops as an inside midfielder.
Coaches also have to be wary about Heeney's preseason. He hasn't joined the main group yet and isn't a guarantee for Round 1. This could make him an upgrade target during the year after he regains his fitness and pumps out some decent scores, but there's no way you could start with him if he doesn't make an appearance in the AAMI game.
Deck of DT Rating.
QUEEN
Heeney's been in and out of my team but I don't expect him to still be there after we know which forwards are shifting into the midfield.
Locking him in for a slight bump to 85 or 90 is a safe plan but I'm hoping better value reveals itself.
He's an absolute no go if he doesn't suit up for the AAMI preseason game though – I can foresee a slow start to the season and a Deck of DT 2022 article raving about his late form.
FOLLOW US  ON TWITTER: @DTTALK for all thing AFL Fantasy (and more). Got something to say about the deck or AFL Fantasy in general? Join the conversation and use the hashtag… #AFLFantasy.