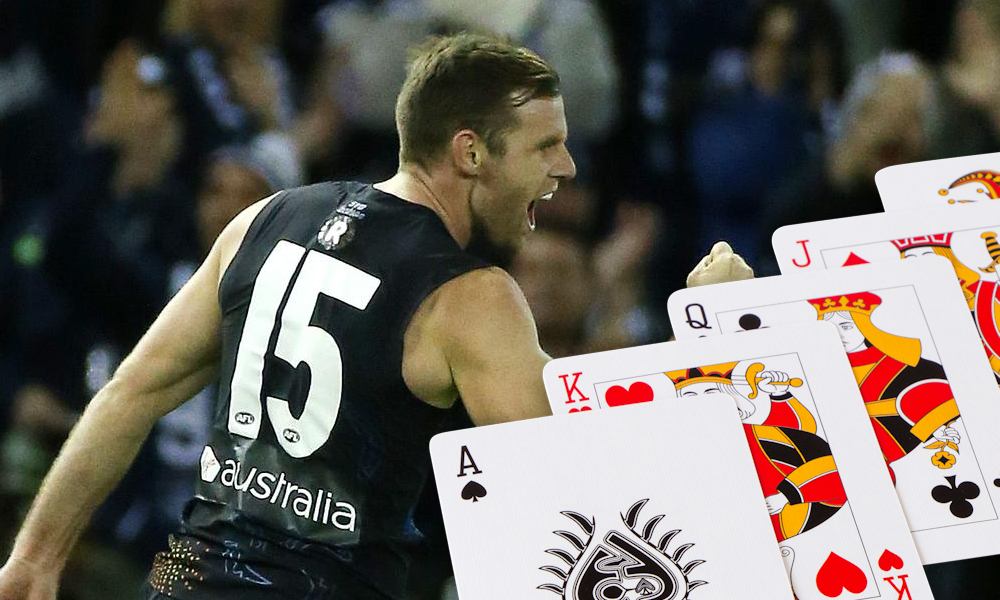 Name: Sam Docherty
Team: Carlton
Position: DEF
Price: $676,000
Bye round: 13
2020 average: 70.6
2020 adjusted average: 88.3
2020 games played: 16
Predicted average: 105
Draft range: round 2/3
Click here for 2021 Fantasy prices.
Why should I pick him?
Doch could be considered one of the bargains of the competition. The Blues courageous Co-Captain returned last season following a horrid run of injury, missing back to back years of knee reconstructions to average an impressive 88 (adjusted) which given the circumstances was amazing considering players are usually given a leeway period of 12 months to return to form following on reco.
He hit the ground running in 2020 before understandably fatiguing, as well as copping some attention from the opposition such was his instant impact on games. The fact he started this well shows that despite the serious nature of his injuries, the Doc still got it. He opened the season with adjusted scores of 119, 110, 121, 138 and 100 for an average of 118.
As I mentioned earlier, negative attention from the opposition was one reason for Doc's drop in form and the inclusions of Zac Williams and Adam Saad will take some of the pressure off him being such an identifiable target off the Blues half back line (even though Z Will is a mid). This will obviously give him a bit more freedom to pick up the odd cheapie as opposed to working so hard for his possessions.
His best is as good as anyone back there and yes, I am talking about those guns Jake Lloyd, Lachie Whitfield and Rory Laird… Only difference is the price. Back in 2017 we saw what the running machine is capable of with an average of 117 (pretty close to his first five games of the season hey) and that was his second season averaging triple figures.
Another reason I have labelled him under priced is the fact he was injured in his last game of the season on a score of just 11. Now I'm sure Cal would allow me to take that number out of his yearly statistics which gives him an average of 94.
Why shouldn't I pick him?
The former number 12 pick continued his hard run of luck on the health front after having a testicular tumour removed in the off season. Thankfully, the surgery was successful and he is expected to make a full recovery. If that wasn't enough, he also underwent minor ankle surgery but has returned to training earlier than expected and is expected to return to full training shortly.
As I mentioned earlier, the acquisition of Saad and Williams who have both played outstanding footy off half back, could in fact lessen Doc's responsibilities with more sets of capable hands back there.
Back in 2017, if the ball was in All Australians hands, it meant the opposition wasn't kicking a goal. It was basically a form of harm minimisation. Now the Blues are much improved and trying to win games in more attacking fashion, lots of the points that assisted his career high average won't be available as they are expecting the ball to be up the other end a little more.
Deck of DT Rating.
KING
Given the fact Z Will is at the club to play midfield, Doc and Saad will take a flank each and while Doc is the better accumulator, Saad will most likely attract more attention given the leagues unhealthy infatuation with run and carry… especially when a bounce is chucked in every couple of steps. The game plan and improved competitiveness of the club wont allow him to reach previous highs although that is not going to stop him being one of the elite defenders. The Blues Director of High Performance Andrew Russell is pleased with the way he is going and confident Doc is in a great position to hit the season running. That's enough for me given a fit Doc is as good as it gets down back and the bonus is he is currently only owned by nine percent of the competition.
FOLLOW US  ON TWITTER: @DTTALK for all thing AFL Fantasy (and more). Got something to say about the deck or AFL Fantasy in general? Join the conversation and use the hashtag… #AFLFantasy.