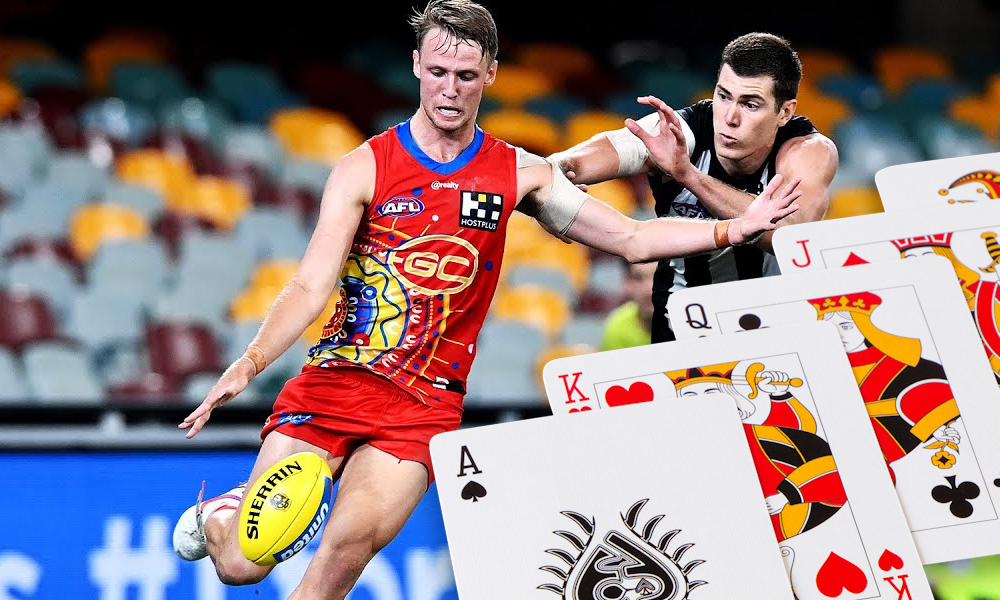 Name: Jack Lukosius
Team: Gold Coast Suns
Position: DEF
Price: $595,000
Bye round: 12
2020 average: 62
2020 adjusted average: 77.5
2020 games played: 17
Predicted average: 85
Draft range: Late round steal
Click here for 2021 Fantasy prices.
Why should I pick him?
This former number 2 pick is entering his 3rd year and showing all the right signs to break out.
Drafted as a key forward, Lukosius played his first year all over the ground, starting as a lead up forward, then playing on the wing before eventually settling down across half back in defence.
Last year he continued to play as a defender and showed us glimpses of what he's capable of.
While he was able to keep an opponent quiet his biggest strength is his elite kick and decision making out of defence.
While efficiency isn't generally something worth noting for AFL Fantasy, it's interesting to see that Lukosius ranked 15th in the AFL last year for metres gained and went at 70% efficiency by foot.
This is all down to his willingness and desire to look for the damaging kick coming out of defence.
Because of that he's become the Suns designated kick out specialist (meaning lots of cheap +3s) and has earned the confidence from his team mates who look to get the ball into his hands at any opportunity.
He also still loves to sneak forward for a cheeky goal which is always a nice boost for your score.
With a ceiling of 107 (adjust to 133) hit last year against Richmond, Lukosius has shown us that he has the potential to score well on his day.
Why shouldn't I pick him?
There are about 595 thousand reasons not to pick Lukosius!
Ok, that's definitely an exaggeration but his price is the biggest turn off.
Unfortunately while he showed us enough to peak our interest last year, he also showed enough to bump his price into an expensive midprice range.
He's currently sitting just shy of popular picks like Saad and Williams while being more than players like Scrimshaw and Day.
While we're hoping that an extra year under his belt will smooth out his consistency, a lot of coaches would be put off by his roller coaster scoring from last season.
Lukosius good and bad are poles apart meaning while he averaged a healthy adjusted score of 77, he was equally as likely last year to score a 50 as he was to score a 100.
Deck of DT Rating.
JACK
If Lukosius continues on his current scoring trajectory then an 85 average isn't out of the question.
If he benefits from the mythical '3rd year breakout' then we could see him averaging over 90.
With that natural development in mind it's also worth noting that he will continue to develop along side his team mates who've been drafted around the same time as him.
As Ben King, Izak Rankine, Matt Rowell, Noah Anderson and the rest of these young, highly talented draft picks at the Suns develop we should be able to expect more consistent performances both on field and in AFL Fantasy scoring across the board.
That's my philosophy this year in picking Suns players and that is why I think Lukosius is ripe for the picking!
At a current ownership of only 2% Lukosius could be the perfect POD in defence.
FOLLOW US  ON TWITTER: @DTTALK for all thing AFL Fantasy (and more). Got something to say about the deck or AFL Fantasy in general? Join the conversation and use the hashtag… #AFLFantasy.