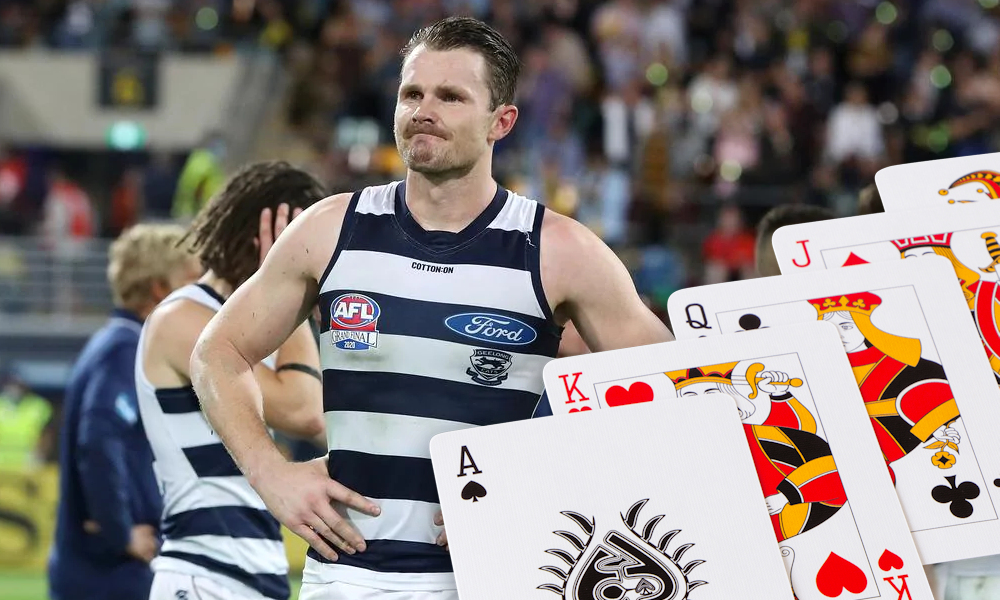 Name: Patrick Dangerfield
Team: Geelong Cats
Position: MID/FWD
Price: $780,000
Bye round: 12
2020 average: 81.7
2020 adjusted average: 101.8
2020 games played: 17
Predicted average: 107
Draft range: 5-15
Click here for 2021 Fantasy prices.
There aren't many players with a fantasy resume as impressive as Patrick Dangerfield's. The Geelong champion has been one of the top scorers over the last half a dozen seasons and owning MID/FWD status should see Danger become a popular pick once again. Although, with his best footy likely behind him is Dangerfield really worth picking in 2021?
Why should I pick him?
At nearly 31 years old, Patrick Dangerfield is STILL one of the best players in the entire league. Last season saw him post his lowest average disposal tally since 2011 and even if you adjust his averages to reflect 20-min quarters, Danger still had his worst output as a Cat from a per-game perspective. Even with a perceived dip in production, the dual-threat talent was amongst the league leaders for goal assists (1st in 2020), inside-50's (2nd), centre clearances (5th), contested possessions (2nd) and metres gained (2nd). In the past, those numbers have been coupled with some juicy fantasy scores, but as Danger transitions into what is likely the final chapter of his career, we all expect him to reside inside-50 more often.
There was a lot of buzz around Patrick Dangerfield's role entering last season, with Tim Kelly's departure leaving a void in Geelong's midfield. Danger spent more time in the middle in 2020 than you probably thought, attending 66% of Geelong's centre bounces, with those numbers hindered by a handful of games (see Rd 10 vs. North when Danger attending 4-26 CBA's). Even when he was thrust forward though, Geelong's midfield maestro became a wrecking ball that was a nightmare matchup for defenders.
Take the semi-final against Collingwood as an example. While Danger spent a large portion of the game teaming up with Tom Hawkins and out of Geelong's CBA mix, the Cats star still managed to dominate from a fantasy perspective – kicking four goals for a score of 99 (adjusted to 123). Kicking a bag is always a handy way for a player to inflate their fantasy scores and even if Danger moves away from the midfield and spends more time closer to goal, he's shown in the past he can hit the scoreboard and bump up his average.
Despite his prowess in front of goal, the arrival of Jeremy Cameron should provide the Cats with another healthy scoring source. Josh Jenkins couldn't feature in a lot of games last year and if Jenkins/Cameron spend a lot of time as avenues to goal, we may see Dangerfield thrust back into Geelong's engine room. An average of 107.6 over the last 6 seasons is almost bang on what I expect him to do again in the upcoming season, and after finishing last season as the highest-scoring forward, it's easy to see him repeating that feat in 2021.
Why shouldn't I pick him?
There are legitimate reasons to avoid Patrick Dangerfield in fantasy this year – at least to start the season. While Danger possesses the ability to take over any contest regardless of position, it's fair to assume his best footy is behind him. With 269 AFL games worth of bumps and bruises already to his name, you could see why the Cats would want Dangerfield to operate out of the forward 50 in an effort to prolong his career.
I've already highlighted how Danger can impact a game no matter where he lines up on the field, but if he does lose some midfield team it will only negatively impact his fantasy scoring. Through the first 16 rounds last year, Danger saw plenty of time in Geelong's engine room – averaging 15.5 CBA's and 82.8 fantasy points from those games (adjusted average of 103.5). However, his scoring took a hit over the final six games of the year (finals included) when the Cats opted to play Danger closer to goal, with his average CBA's decreasing to just 7. His fantasy numbers took a tumble as well, averaging just 74.2 from those half a dozen contests (adjusted average of 92.7) while amassing less than 18 disposals a game.
Danger did kick more goals in his final six matches than he did in the first 15 games of the season and even though they boast a stronger on-paper forward line following the trade/free agency period, it's hard to see the Cats steering away from the idea of Danger as a semi-regular forward. Elder statesmen like Isaac Smith and Shaun Higgins joining the midfield group won't likely impact Dangerfield's role or scoring, however, the next generation of Cats coming through certainly could.
Charlie Constable failed to crack the regular rotation in 2020, but the third-year Cat showed signs in year one, averaging 83.4 points and 21.4 disposals from 7 games. He is just one Geelong player that could be a threat to Dangerfield's midfield clock, with the likes of Sam Simpson, Cooper Stephens, Jordan Clark, Tom Atkins and Quinton Narkle all in line to challenge for consistent MID minutes. That's before you take into account the step up in production Brading Parfitt and Cam Guthrie made last year, only further complicating the idea of Dangerfield as a regular midfielder.
As Geelong's champions like Dangerfield, Joel Selwood and Mitch Duncan continue to age, these aforementioned younger Cats are only going to continue putting pressure on them for opportunities in the middle of the ground. That only strengthens the case to play Danger as a forward and decrease the load on his body, with the Brownlow medalist missing just 12 home and away fixtures in the last 12 years! Despite his elite consistency, Dangerfield hasn't been a stranger to injury, with news breaking just this week that the star Cat is still being slowed by a groin injury that hampered his performance in the 2020 Grand Final. Given the miles on his body already, a more permanent gig inside-50 could be on the horizon for the near 300-game legend.
Deck of DT Rating.
KING
Depending on what side of the argument you fall, you can justify picking Dangerfield to start the season OR ignoring the champion Cat. A season ago, Danger was the best fantasy FWD on offer and if you think he can repeat that feat why wouldn't you start with him? Then again, with some red flags causing coaches to think twice, you wouldn't be blamed for chasing value in your forward line and ignoring the Geelong star to begin 2021.
It comes down to a bit of personal preference, but even with Dangerfield expected to split time between lines, he is one of the best fantasy forwards money can buy for a reason. His previous fantasy success may be enough to convince some and Danger will likely jump in and out of fantasy teams all preseason right up until the first lockout of the season.
Loading ...
FOLLOW US  ON TWITTER: @SportsbyFry for all thing AFL Fantasy (and more). Got something to say about the deck or AFL Fantasy in general? Join the conversation and use the hashtag… #AFLFantasy.