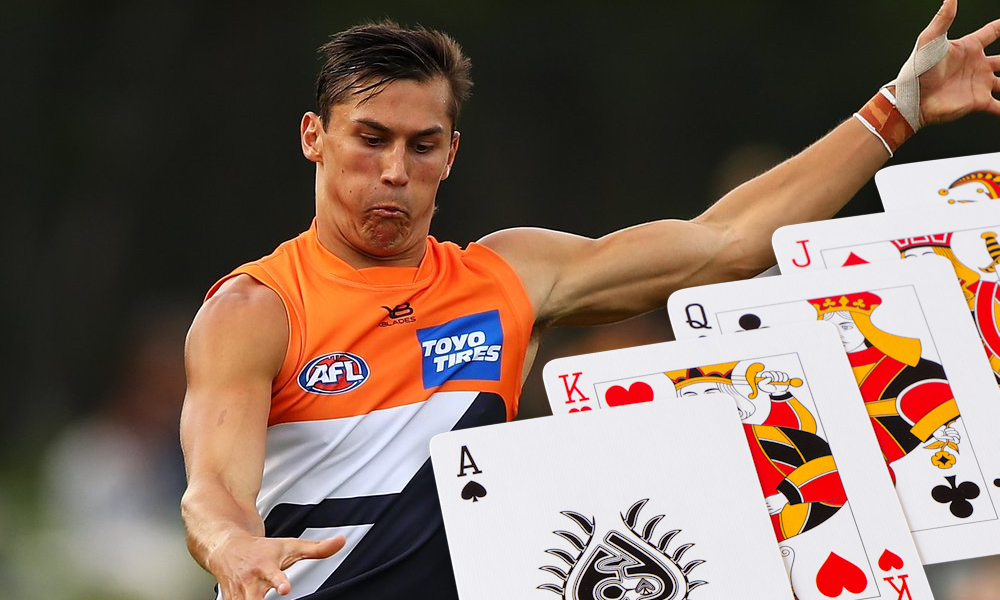 Name: Isaac Cumming
Team: GWS
Position: DEF
Price: $355,000
Bye round: 12 (First Bye)
2020 average: 47
2020 adjusted average: 58.3
2020 games played: 3
Predicted average: 78
Draft range: Very Late. Depending on draft size, your D6, bench cover or not selected.
Click here for 2021 Fantasy prices.
Why should I pick him?
Cumming has been a player of interest in the Fantasy world for a few years now. I was baited into starting him last year for poor results, but you can't hold grudges in Fantasy. I can't empathise this enough. Forget your shitty experiences with a player. Take each year on its merit. And you'd think if Cumming was ever going to break onto the AFL scene, it would have to be 2021. The door is wide open after the well publicised departures of Shaw, Corr and Williams, leaving a gaping hole for opportunity in the GWS  best 22 backline. But what do these departures mean, other than added job security? Here's the 411;
Last year Shaw took 78 marks, Corr took 59 (from 15 games), and Williams took 38 (from 11 games). Meaning there is a total of 175 marks minimum up for grabs in 2021. Minimum because the 175 marks were also taken by the three players in reduced game time and Corr and Williams didn't play the full 17 games. In full game time that works out to be 10 marks a game. Imagine if Cumming only took 2 of those a game. +12.
And are you ready for the big one…
Top-5:

Corr 59
Shaw 24
Whitfield 24
Williams 18
Cumming 12 (3 games)

— Fantasy Freako (@FantasyFreako) January 14, 2021
Lets break this down. Shaw had 24 kick outs in 17 games, Cumming had half that in 3 games…. Cumming nearly had more than Williams in 3 games than he did in 11…. Corr who surprised at 59 has also peaced… All of these guys are gone now… This leaves 101 total kick outs left unattended… 303 Fantasy points over a season if 100% of those are played on. Even if Cumming takes 50% of those added vacant 101 kick ins a year (and plays on from 100% of them) he adds 7 points per game…  Whitfield is also going to be bumped up, naturally (but we can save that for another article), but who in the GWS backline (other than Whitfield) is going to benefit from kick in duties based on that?
…
Before I answer the rhetorical, let me segue into this;
Cumming ranked top 10 in his draft year for the kicking and clean hands tests, he was ranked elite in kicking skills.
…
Isaac Cumming's reserve numbers aren't horrible either, averaging 87 in the NEAFL (Yes yes, only the NEAFL) back in 2019, but that included a two game stretch of 128 and 124. Additionally in the 2020 Marsh Community Series, Cumming posted two decent scores when playing the role forecasted in 2021. He went at 83 and 101, and looked composed doing it. He hasn't been able to put it all together in season proper yet, but in his final game of 2020 he posted a career high 84 which was promising.
I also don't mind Isaac Cumming's price point. Yes you could consider it awkward at $355k, but if it fails, you can jump off early and go down to a DEF rookie you might of missed and generate a lot of cash to fix another line – OR – If you needed to reshuffle a different line, he's at a price that makes him fairly easy to jump up to last years Howe or Haynes. A player you can ride the wave of in that mid range who's started the year strong.
At best. He might perform well enough to be that guy we hold onto until his bye which, conveniently, is first up.
Priced at an average of 46…
3% ownership is the lowest you'll probably see it all preseason.
Why shouldn't I pick him?
I'll tempter the hype train. There is, with any player, a downside too.
Firstly, Cumming's 2020 was derailed by a 10-12 week hamstring injury. Which is never a great sign. Soft tissue issues with a 22 yr old. Especially one who would be constantly testing his hamstring as the designated kicker.
It's also a massive jump from the NEAFL to the AFL. Cumming hasn't really developed as well as they would of liked after winning the Kevin Sheedy award for 'Best Player of the Year' in the NEAFL in 2017. He's really only been able to string together good games in the NEAFL or Marsh Community. And to add to that Fox Sports predicted Isaac Cumming wouldn't be a part of GWS best 22 for round 1 in 2021 (I'd challenge that).
The final negative I'll bring up is Cumming didn't feature in GWS's top 10 for their 2km time trial. Minor, as they have a plethora of elite runners. But it's still always nice to see our players name on that list.
Deck of DT Rating.
Queen
Cumming is $355k. Priced at an average of 46, it's hard to see him not going at least 20 points over that. And 20 points is only a 66 average. If he becomes the number 1 or 2 kick-in guy at GWS, let alone all the other stats that come along with that, he could easily push a 76 average. In what format would you not select a guy who's 30 points under? I'm not sure. There's still risks of course. But at $355k, I look at him as an inflated rookie with job security (and by JS I mean, I think it's his position to lose. It's there, he just needs to grab it), age, and role that's worth all 35500000 pennies.
FOLLOW US  ON TWITTER: @DTTALK for all thing AFL Fantasy (and more). Got something to say about the deck or AFL Fantasy in general? Join the conversation and use the hashtag… #AFLFantasy.