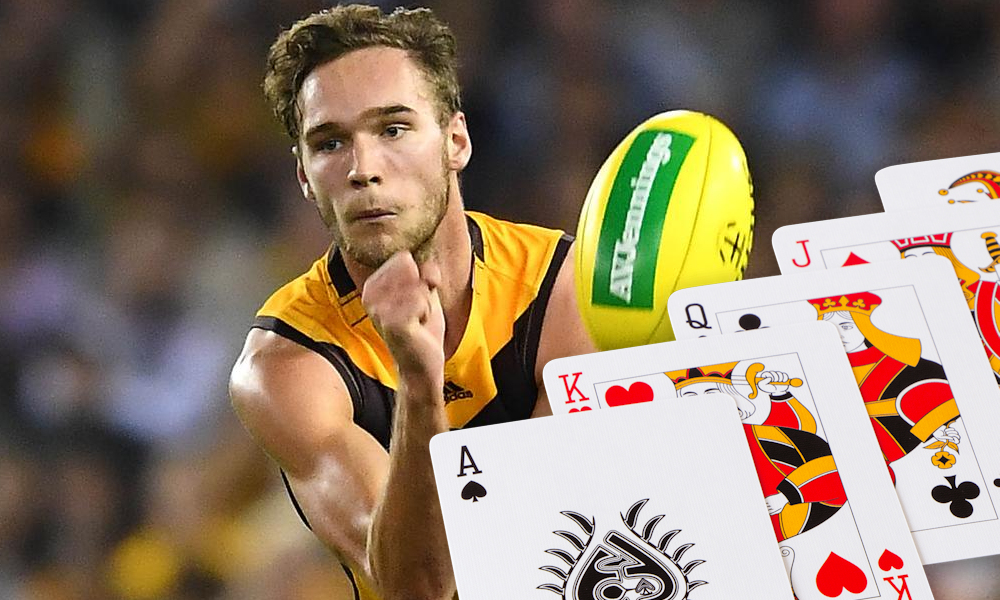 Name: Jack Scrimshaw
Team: Hawthorn
Position: DEF
Price: $557,000
Bye round: 12
2020 games played: 13
2020 average: 58.3
Predicted average: 70.8
Draft range: late selection
Why should I pick him?
Jack Scrimshaw finally got a decent run in the Hawthorn side in 2020.
In previous years, he has been hampered by injury and struggled to find his place in the team. Last year he managed 13 games and produced some good numbers among them, including top scores of 86 (107.5 BCV) against the Crows in Round 15 and 84 (105 BCV) against the Bombers in Round 14.
But it's just not the injury-free run that led to this turnaround, it's also got to do with the injury to James Sicily which came in Round 12. Scrimshaw seemed to be the player that slotted into Sicily's fantasy-friendly role and averaged 68 (85 BCV) after he went down.
According to The Breakout Tracker (an AFL Fantasy resource that lets you compare early career players to the best players in the competition at the same point in their careers – you can learn more about it here) he's tracking well against the top defenders in the competition. Looking at the chart below, when you compare his career average to career averages of the top 10 defenders in the competition, his trajectory is looking positive.
The Breakout Tracker is back for 2021! pic.twitter.com/ApJQdm5Ivq

— The Keeper League – AFL Fantasy Podcast (@keeperleaguepod) January 6, 2021
Why shouldn't I pick him?
How reliable is he?
Scrimshaw showed glimpses in the late stages of 2020, but probably not enough for us to invest in his $557k price tag with confidence. Especially when you can add on another $69k and get Zac Williams, or take the cheaper option of Wayne Milera at $446k who should produce similar scores (if he gets up and running).
There's also the injury concerns that haunt Scrimshaw as well. He's never played more than 13 games in a season, and you don't want to be wasting trades on injured players throughout the year.
Another thing to watch is the players around him and how Hawthron structure. Yes, he is the most likely player to jump into Sicily's role, but Jarman Impey will have a full preseason under his belt and players like Will Day and Damon Greaves should continue to develop. These players could eat into his fantasy scoring.
Deck of DT Rating.
Jack.
There's a lot to like about Scrimshaw – his role and the type of player he is should be conducive to fantasy scoring. But the injury history will always play in the back of fantasy coaches' minds as to whether he can be trusted. He could be one to look at if you want to downgrade one of your currently selected premium defenders to spend cash elsewhere, but you'll need to monitor his preseason closely to see how he is tracking.
Listen to The Keeper League's latest podcast:
FOLLOW US  ON TWITTER: @DTTALK for all thing AFL Fantasy (and more). Got something to say about the deck or AFL Fantasy in general? Join the conversation and use the hashtag… #AFLFantasy.