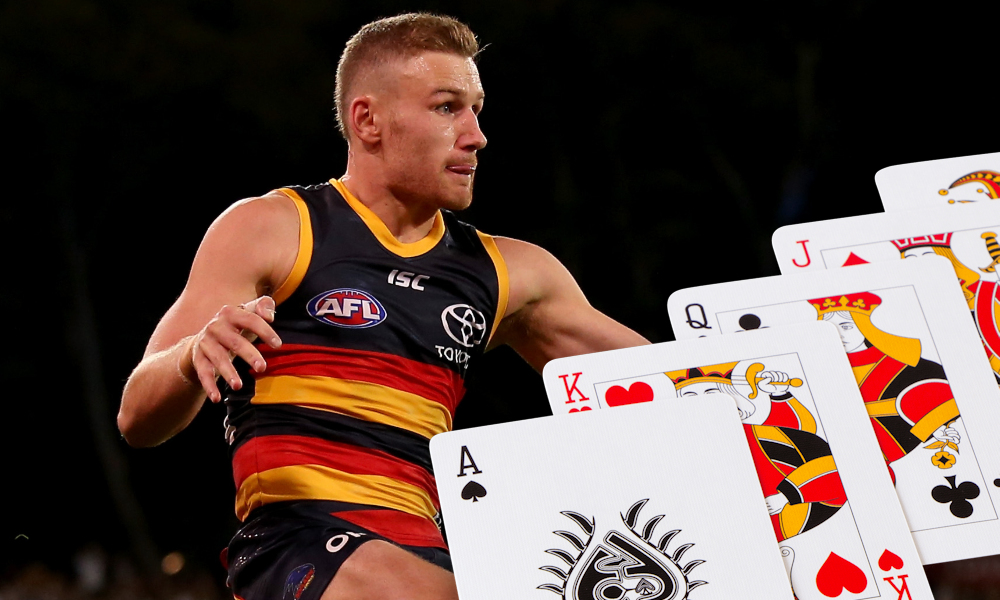 Name: Rory Laird
Team: Adelaide Crows
Position: DEF/MID
Price: $763,000
Bye round: 14
2020 average: 79.9
2020 adjusted average: 99.9
2020 games played: 17
Predicted average: 107
Draft range: Late 2nd/early 3rd round
Click here for 2021 Fantasy prices.
Why should I pick him?
There weren't many positives for the wooden spooners last season, but Rory Laird's performance in the Adelaide midfield was outstanding. He's priced at his 79.9 (99.9 adjusted) season average, but averaged 89.7 (112.1) after he started attending centre bounces in Round 9. That includes a whopping 139 (174 adjusted) in Round 11 against Collingwood.
Laird would've been the second best defender with those elite numbers, and is 12.2 points or $93,000 under-priced if he can repeat it across the 2021 season. That's excellent value, which is especially important when player salaries have increased but the cap's remained the same.
But that 112.1 depended on Laird attending centre bounces. Will he be given midfield time in 2021? Or was it an experiment in a failed season?
Laird was a core part of Adelaide's midfield from Round 9, and by the end of the season it was just him, Rory Sloane, and the Crouch brothers in the guts. Brad Crouch joined St Kilda as a free agent, however, so Laird should be safe while the kids fight it out for that fourth spot.
Why shouldn't I pick him?
Rory Laird was an All-Australian defender in 2017 and 2018. He's an elite half-back and it'll be tempting for coach Matthew Nicks to throw him back there and give the next generation a crack in the middle – such as ex-Giant Jackson Hately, highly-rated second year Harry Schoenberg, or recent pick 11 Luke Pedlar.
It might not be such bad news for his fantasy scoring considering that he averaged 107.8 in 2018, but he only averaged 96.9 in 2019 and was on track for 69.0 (86.3 adjusted) last season before his shift to the midfield. You'd be disappointed to pay $763,000 for that output, and it'll leave you a step behind the rest of the pack.
Rather than taking a punt on Laird's midfield time, it's only $57,000 more to Lachie Whitfield or $110,000 to Jake Lloyd. They'll probably be the top two defenders next season, so you can pay a bit extra to set and forget and sleep easy.
Deck of DT Rating.
KING
Rory Laird is currently my D1, but the jury's out until the Marsh Series when we see who's playing in Adelaide's midfield next season.
If he joins Sloane and Crouch in the guts, then it's full steam ahead. If not, it's time to find the cash to upgrade to Whitfield or Lloyd.
Loading ...
FOLLOW US  ON TWITTER: @DTTALK for all thing AFL Fantasy (and more). Got something to say about the deck or AFL Fantasy in general? Join the conversation and use the hashtag… #AFLFantasy.