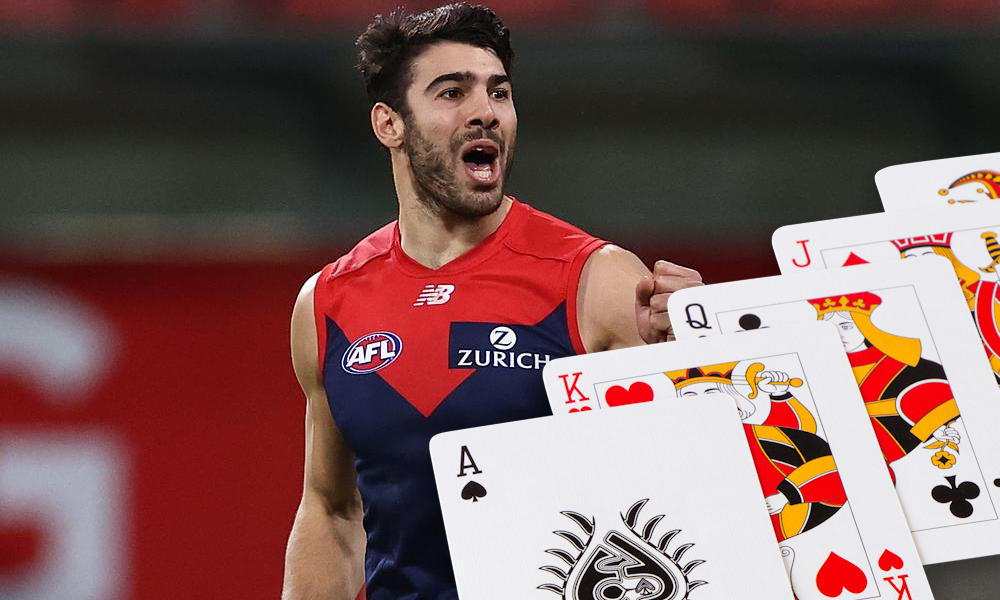 Name: Christian Petracca
Team: Melbourne
Position: MID
Price: $825,000
Bye round: 14
2020 average: 86.4
2020 adjusted average: 107.8
2020 games played: 17
Predicted average: 108.5
Draft range: 3rd round
Click here for 2021 Fantasy prices.
Why should I pick him?
One of the players that really delivered for us in season 2020 was Petracca. His average in 2020 was his best yet, not just his adjusted average, but his shortened game average! His best average prior to 2020 was 80.7 which came in 2018. He was one of the must have players in season 2020 and there is no reason to expect that his output will drop in 2021. Melbourne haven't changed their midfield through the trade period and it will be Oliver and Petracca who are doing the majority of the roving to the talented hand of Max Gawn.
With the tag often going to Oliver this will leave Petracca free to rack up the points in the midfield as he gets in and under. Expect his level of possessions to remain at least at 24 per game with his tackles of 3 per game not likely to decrease either. He was very consistent in 2020 with his highest being a 109 and only 3 scores below 75. If we adjust his scores for the length of games he would have had 12 of his 17 games over 100. This is the level of consistency we want from our midfielders and the two Melbourne key mids will likely deliver again.
Why shouldn't I pick him?
As they say in the real estate industry…. Location, Location, Location! In 2020 we had Petracca eligible as a forward. He starts season 2021 as a pure midfielder and this makes him a very hard sell at an average of 108. If he has (or regains) the forward eligibility then he becomes an easy pick to make and almost a must have, but with all of the quality midfielders we have in the game it is nearly impossible to justify selecting Petracca in your starting squad.
Another reason that I wouldn't recommend starting him is that he is fully priced. Whilst it was great that he had his best season in 2020 it means that unless we are expecting to see another jump in his output in season 2021 we simply can't afford to select him at his price of $825k. One thing we always advocate here at DTTalk is value. If you pick a team of fully priced players in round 1 you simply won't have enough cash to go around which will weaken your starting squad.
He is the 16th most expensive player in the competition to start the season and with players like Tom Mitchell, Josh Kelly, Marcus Bontempelli and Adam Treloar all cheaper than him I just can't recommend putting him in your starting squad.
Deck of DT Rating.
QUEEN
If he had kept that forward eligibility then he would have comfortably been a king and you would have heavily considered him despite his full price. But as just a midfielder he is too expensive for what you will get.
He will go very early in drafts, particularly for those that are just using last year's average as their drafting guide. Having said that, don't leave him too late. If you can pick him up in the third or fourth round as your M2/M3 then by all means jump on him.
If the Demons start to get on a roll and are winning games easily it isn't inconceivable that his average will bump up 5+ points, but a lot of things have to go right for that to happen. Play it safe and leave Petracca for other to select.
FOLLOW US  ON TWITTER: @DTTALK for all thing AFL Fantasy (and more). Got something to say about the deck or AFL Fantasy in general? Join the conversation and use the hashtag… #AFLFantasy.