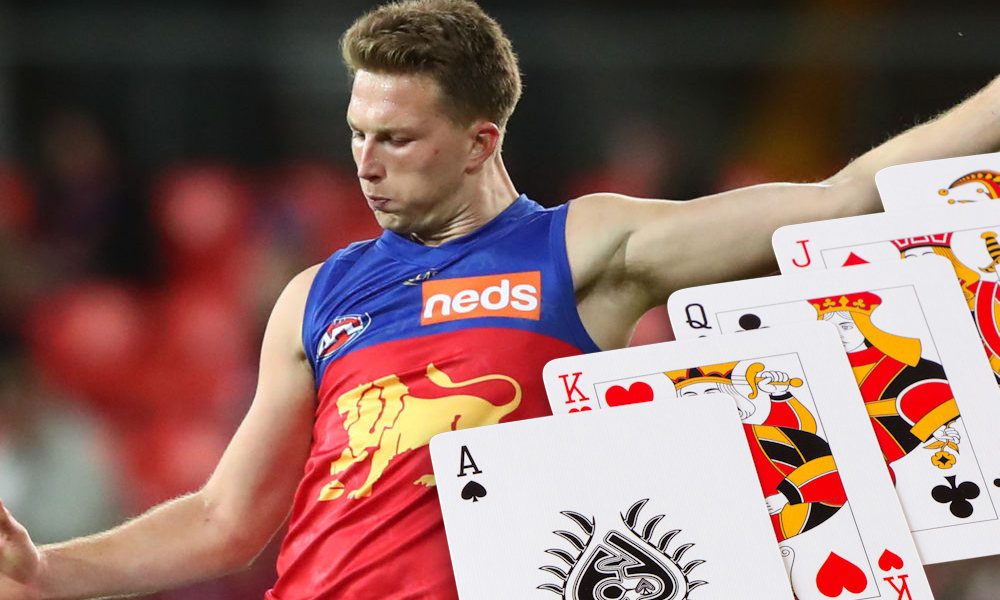 Name: Alex Witherden
Team: West Coast Eagles
Position: DEF
Price: $654,000
Bye round: 13 (Middle Bye)
2020 average: 77.8
2020 adjusted average: 96.8
2020 games played: 6
Predicted average: 95
Draft range: 4th Round
Click here for 2021 Fantasy prices.
Why should I pick him?
After bursting onto the scene in his memorable debut year back in 2017 averaging 88.4 (posting 5 90+ scores and placing 3rd in the Rising Star), Witho has always teased us with the potential of turning into a truely elite Fantasy defender. I believe there are some genuine positives in the move to West Coast for us Fantasy coaches which could see him unlock his full potential in 2021.
Firstly, age. Witherden goes into the 2021 season as a 22 year old which places him in that perfect bracket to take his game to the next level. He's also fairly seasoned, playing 59 games for the Lions (at an average of 21 disposals a game) over 4 seasons. Witherden was a regular in Brisbane's team up until the past season, playing 53 games from a possible 56 games ranging from his debut until the end of 2019.
Fast forward to 2020 and Witho is struggling to crack back into the side after they recruited the likes of Birchall and Ah Chee, plus the focus on development of Starcevich and Zac Bailey. While not ideal for Witherden's development lets remain optimistic here for a few reasons: 1) He wasn't injured, so he's still fit and hasn't had any setbacks 2) it means he comes in at a discounted price… Let's look into this for a moment;
From his 6 games in 2020, Witherden went on to average a career high (adjusted) 96.8. But because he only managed the 6 games Witherden starts 2021 priced at an average of 85 (he's scored over a 85 in 3 of his 4 seasons)… 12 points below his 2020 average making him roughly $80k unders what he could of been. Plus if Witho had continued playing and performing at his 2020 average he would of started 2021 priced as the 5th more expensive defender after Lloyd, Whitfield, Houli & Laird (some genuine Fantasy royalty there). Instead you can bring him in as the 22nd most expensive defender.
He was omitted after round 1 after his season low score of 57 (71 adjusted). If we take this score out (I know, I know… It's not really fair to take this score out as he didn't get injured.. but he was clearly out of sorts at the time) and only look at that string of 5 games, Witherden went on to average a BCV 102… posting (adjusted) scores of 116, 111, 114, 98 and 74 (he was omitted again after his 2nd lowest score of the season). Some incredibly juicy defender numbers.
Witherden also has a ceiling. His highest score was a 138 back in 2018, and additionally posted 3 other 120+ scores in the same year.
Now lets factor in the team Witherden moves to… This is perhaps the line that makes me the most excited;
West Coast love switching the footy through their backline, and play a VERY mark-kick friendly game style which suits Witherden to-a-tee. West Coast averaged 79 marks per game in 2020 (ranking 2nd in the AFL), and averaged 78 more kicks than handballs in each game in 2020 (ranking them 2nd in the AFL for kicks).
Compare this to Witherden's own personal stat line now; Witherden has an incredible Kick:Handball ratio going at 4:1 over the last two years. Also boasting an average of 7 marks a game over his career. These stats are highlighted in round 10, 2020, where Witherden racked up 19 kicks, 0 handballs (ZERO!), and 10 marks.
Just saying, West Coast's two favourite stat lines (marks and kicks) also happen to be Witherden's. It's a very strong fit.
Why shouldn't I pick him?
The same reason why he was so hard/impossible to own in his final and best year (Fantasy wise) at Brisbane… Job security.
It's a tough one to pin as he definitely has the skillset to make it at the AFL level but like Brisbane, West Coast are in a premiership window. And like Brisbane, West Coast have a fairly established backline with multiple All Australians. There isn't a walk-in spot available for Witherden and he is going to need to put his best foot forward with a strong showing at his first West Coast preseason if he wants to secure a spot.
List manager Darren Glass has said "He is in the age bracket where he can grow and develop alongside some of our emerging mid-sized defenders like Liam Duggan, Jackson Nelson, Tom Cole and Josh Rotham in years to come." Add to that list Brander whom West Coast clearly want to get game time into, and eventually move into the backline.
Witherden was brought to the club to help fill the void of Hurn who is likely entering his final season in 2021. It's extremely hard to see Hurn playing a full season, he's has soft tissue issues the last 2 seasons playing 19 & 16 games in 2019 and 2020 respectively. But if Hurn's fit, he's playing. As is Sheppard, McGovern, Barrass and Duggan. Nelson, Cole and Rotham were all regulars at the top level towards the end of 2020 and showed a lot of growth, holding out fit veterans like Jetta (even forced Jetta into playing a forward role).
Witherden is a Victorian and it's been reported that he doesn't have any previous associations with Perth. Not having family or an established friend-base effects some players more than others. He's done an interstate move already, and I'm not concerned with this point as much. Still worth noting.
Deck of DT Rating.
QUEEN
I believe if Witherden plays, he's worth the punt. He's price point is worth the risk for someone who could easily push to be a top 6 defender if things go his way. Plus I really think his game style suits the mark-kick play style the Eagles have been playing. It could be what he needs to unlock a 10 point a game average increase.
Like anyone moving to a new club, there are a lot of uncertainties. It's very likely that during Witherden's development he's in and out of the side, which would make him impossible to own at that price.
The only reason I've sat on a Queen rating here is because of the job security issue. If Hurn had retired at the end of 2020 I'd have a little more confidence in giving him a King. He's definitely capable of a 95 average this year in Fantasy.
FOLLOW US  ON TWITTER: @DTTALK for all thing AFL Fantasy (and more). Got something to say about the deck or AFL Fantasy in general? Join the conversation and use the hashtag… #AFLFantasy.