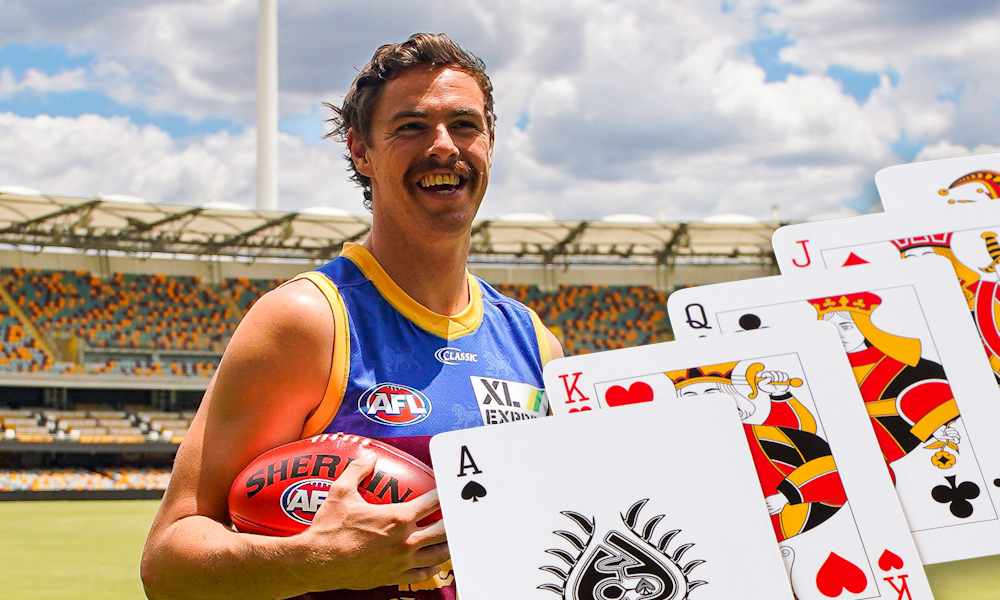 Name: Joe Daniher
Team: Brisbane Lions
Position: FWD
Price: $432,000
Bye round: 13
2020 average: 48
2020 adjusted average: 60
2020 games played: 4
Predicted average: 75
Draft range: Free agent pick up at best
Click here for 2021 Fantasy prices.
Why should I pick him?
Bugger all footy means a discount that prices big Joey cheaper than he's been for around seven years.
In the hunt for value, Daniher ticks a few boxes considering he's priced almost 30 points cheaper than his best season. Back in 2017 he averaged 84.7 and played all 22 games. In fact, he missed just two games in the four seasons between 2014 and 2017. Unfortunately injury has been an issue since then as he's only been able to play 15 games in the last three years.
With injury behind him (Sauces tells me he didn't miss a session before Christmas with many of the senior Lions), there is likely to be a much better return than what he's dished up in the last couple of years.
Daniher will play as a key forward and chop out a bit in the ruck as Oscar McInerney goes into 2021 as the main man with Stef Martin shipped off the the Dogs. These bonus points will help him boost his scoring like it did back in 2017 as he averaged 3.5 per game – that season also saw career-high disposals (15.2) and marks (6.7).
We all know that Daniher at his best is a sight to behold. Even his return game this year was one for the ages. That match, against the Hawks in round 14 at Adelaide Oval, was Daniher's first game in 18 months. He collected 14 disposals, 10 marks and boot three goals for 85 points (106BCV). It could have been even higher had he converted the three behinds he kicked.
There's 15 points upside at a minimum as he should be able to go 70+ without too much of a worry.
Why shouldn't I pick him?
It is going to take massive cojones to go with Daniher from round one.
He's only played 15 games in the last three seasons and many pundits question his commitment/professionalism. Maybe that all changes at the Lions. For his sake I hope he gets a great run at it… oh and for us footy fans as well, when he's up and about, it's exciting to watch.
While Joey has been solid – and that 2017 season was very good, especially for those who had him in Draft – he's not a premium and most likely will never be one. The upside he has only gets him to be a stepping stone to a premium. In saying that, if there was any season where you can take that, this is the one with our tight salary.
You're picking Buddy over him for a much cheaper price and better output. JJK is $1k cheaper, you'd go there first… heck, you would probably back in a dozen others around that price range.
Even if he's 100% fit, the Lions have some talls waiting in the wings to give him a rest if they need to – especially as he's a prized recruit who has missed a lot of footy. If this happens early in the season, then any gains you had with his price increases could put you behind the eight ball.
Deck of DT Rating.
JACK
…or maybe he should be a joker (look at that smile!).
I don't think you can go Joe Daniher. Period. While I want to believe it, the risk is too high for the potential gain. There is a scenario where this works out fine and coaches willing to take the punt can get a leg up, but it's probably 10%… and that might be generous. Put it this way, any sniff of him looking like he's a 75+ guy, I'll be hunting the free agents in my draft leagues to pick him up. 80+ isn't a ridiculous thing to think either.
Anyway, Happy New Year! Here's a Deck of DT that was interesting to research, as I really thought I could convince myself that I'd be keen… but alas, we can go and nurse our hangover and not have to think about Fantasy too much today as Daniher is a pass for me.
FOLLOW US  ON TWITTER: @DTTALK for all thing AFL Fantasy (and more). Got something to say about the deck or AFL Fantasy in general? Join the conversation and use the hashtag… #AFLFantasy.