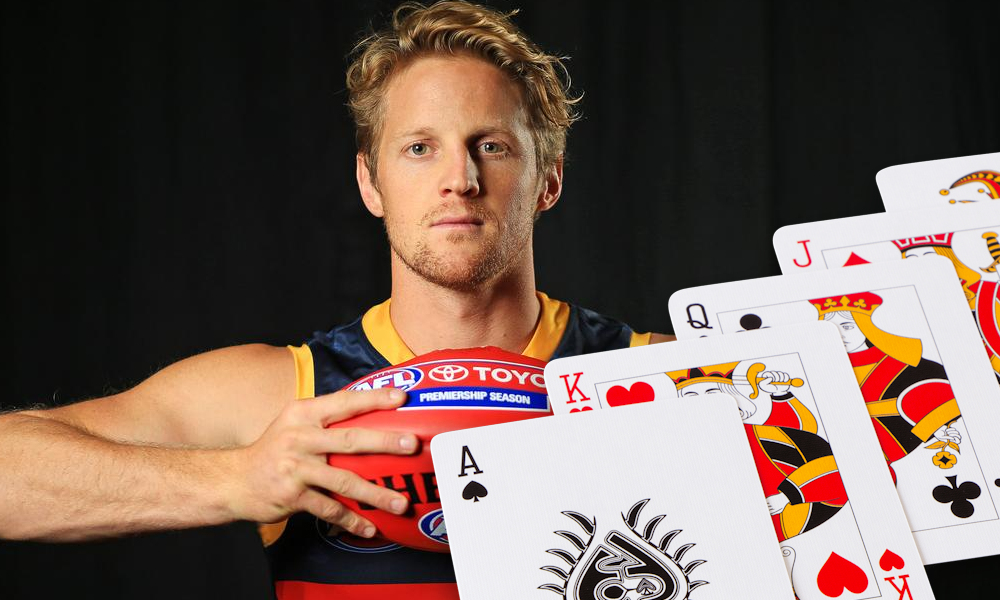 Name: Rory Sloane
Team: Adelaide
Position: MID
Price: $580,000
Bye round: 14 (last one)
2020 average: 61
2020 adjusted average: 76
2020 games played: 12
Predicted average: 96
Draft range: late selection
Click here for 2021 Fantasy prices.
Why should I pick him?
Rory Sloane has been a Fantasy jet for many years. In 2012, he averaged 91 and from that moment, he hasn't averaged less than 90 until the year of Corona-Ball where he averaged 61 (76 adjusted).
The Corona-Ball season effected everyone, but for Sloane he was mega unlucky breaking his hand in a marking contest in round six.
Surgery put the skipper out of action for the next six weeks. The 'good' thing about this is, it wasn't a soft tissue injury. It wasn't a hammy or a calf and at the age of 30, this is always a concern when selecting players who are entering that 'older' bracket.
For a true reflection of what we can expect from Sloane, we only need to look back at 2019, a season where he played all 22-games at an average of 100.
During that year, he was heavily tagged throughout by Harmes (30), DeBoer (81), Steele (82) and Clarke (86). Despite all the attention, he still averaged 100 and hit triple figures 13 times.
Why shouldn't I pick him?
Will he be the Joel Selwood of 2020? Last year at this stage in the pre-season, we were all very interested in the likes of Selwood after he dropped his 2018 average of 101 to 79 making him a 'bargain' in the eyes of many.
Selwood then went on to average 62 (78 adjusted). He dropped further!
Sloane and Selwood have plenty in common. They have both been Fantasy guns for us over the years, but as Sloane approaches his 31st birthday, maybe he is like Sewlood in more ways than we think, maybe his best Fantasy days are behind him.
Despite the fact he was injured, away from his family and so on… in his 12-games in 2020, Sloane failed to register a single score over 80 (100 adjusted) compared to the season before when he did it 59 per cent of his games.
When he returned from his broken hand/thumb he failed to produce averaging 65 (81 adjusted) in his last six-games.
Deck of DT Rating.
KING
Sloane is a proven Fantasy gun and in 2021 he is a steal. If you are with me and believe he can average 96 then he is 20-points under-priced and $160k cheaper than what it would cost you for a guy who will average 96.
We need guys like Sloane in our team. He saves you coin and always you to shop around or spend up in other areas. His injury was a broken hand, that's nothing as he approaches the new season ahead. Hub life wouldn't have suited a man with a young family and this year he will get back to his very best.
Loading ...
FOLLOW US  ON TWITTER: @DTTALK and @CalvinDT for all thing AFL Fantasy (and more). Got something to say about the deck or AFL Fantasy in general? Join the conversation and use the hashtag… #AFLFantasy.