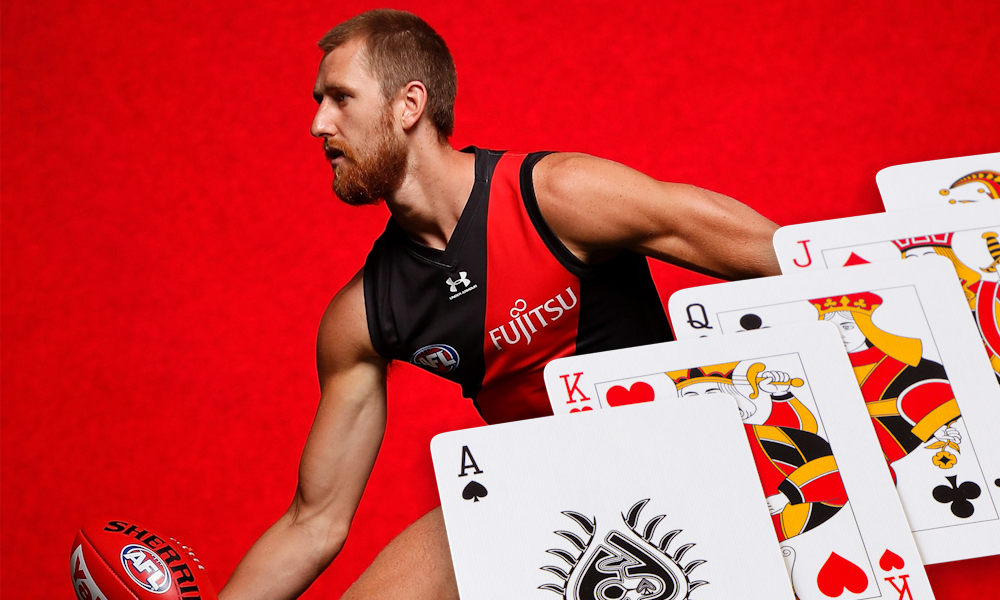 Name: Dyson Heppell
Team: Essendon
Position: MID
Price: $566,000
Bye round: 13 (middle)
2020 average: 41.3
2020 adjusted average: 51.6
2020 games played: 3
Predicted average: 90
Draft range: 10th+ round
Click here for 2021 Fantasy prices.
Why should I pick him?
Dyson Heppell is one of the most underrated Fantasy players going around.
While his numbers haven't scaled the heights of the big premium midfielders, he's been a reliable option in Draft. A career average of 95 is testament to what he's achieved since debuting in 2011 where he played all 22 games for an average of 83.4. HepD only missed 6 games between 2011 and 2018 (he did miss a whole season in 2016… which shouldn't have happened, but I won't go there), making him super-durable over that time.
In 2014, yes *that* season Roy, Heppell averaged 106.9, his best to date, but that started his run of four years of 100+ returns. 2019's 93.8 average came from 17 games before this year's injury affected 41.3 (51.6 BCV). 2020 was a writeoff for plenty of players, and Heppell's troublesome foot injury in the pre-season and then ankle fracture at training meant for a shithouse year.
Due to playing just three games, Heppell receives a 21% discount … which is applied to his 2019 average due to it being the higher of the last two seasons. This prices him at 74.1. Besides our writeoff year, this is almost 10 points lower than his lowest average has been and 20+ points below his career average.
The pre-season is going to be key to considering the 28-year-old in our Fantasy Classic sides. A positive sign is that he was at training on day one of the first-to-fourth years' resumption.
Why shouldn't I pick him?
There has to be some doubt on Heppell's body as he goes into his 11th season.
This time last year he had multiple foot surgeries and then the ankle break means that he's battered, despite being all set to undergo a full pre-season (which is shorter anyway this year). Maybe he is managed during the season.
While we all want value, history says that Heppell's likely average – even his best average – may not make him a keeper. Now, with a bloke priced at 74, we don't necessarily need a keeper but you may need to prioritise who you start as you 'roses' or mid-priced midfielders. There are a few other options around Heppell's price – many will be covered in the Deck of DT – and they may come with less risk.
A risk could potentially be his move to half-back. We can't expect the same numbers that he's posted in the past in that role (although, that's what he did in his first season… so still some value). The positive is the potential DPP he may pick up. You don't really want to be starting him for that potentially happening in Classic and we've all seen that those who take someone earlier than they should in Draft ends up being a bad call more often than not.
If fit, Dyson Heppell is close to a must-have in 2021. Career average of 25 disposals and 95 #SuperCoach and #AFLFantasy points. Could also be handed a role across half-back, a position he played in his debut season.

— Fantasy Freako (@FantasyFreako) December 28, 2020
Deck of DT Rating.
JACK
To steal a phrase from the Draft Doctors, the range of outcomes is wide… but I don't think there's a heap that sees him being 100+. Definitely capable of being around that 90 mark which is enough for those keen to take him as a Classic mid-priced option, but it's coming down to who you prioritise and how much risk you're willing to take. As for Draft, his 52 average next to his name may put a few off, so work out where you need to put him in your pre-draft rankings. I'd feel very safe around the 80-85 mark (taking into account injury risk)… so you could end up with a massive bargain on your hands if you end up drafting for your bench.
FOLLOW US  ON TWITTER: @WarnieDT for all thing AFL Fantasy (and more). Got something to say about the deck or AFL Fantasy in general? Join the conversation and use the hashtag… #AFLFantasy.