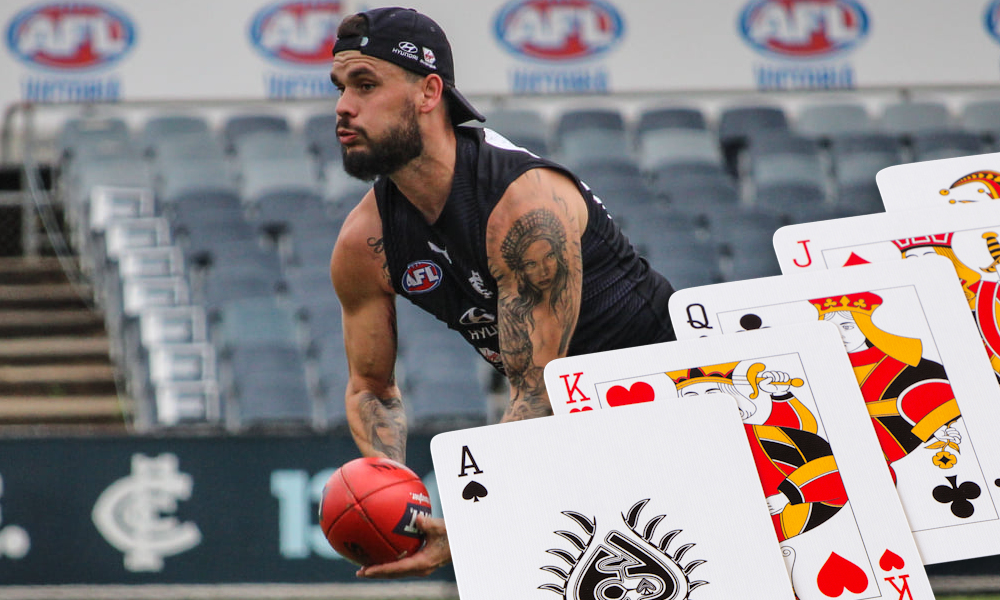 Name: Zac Williams
Team: Carlton
Position: DEF
Price: $626,000
Bye round: 13
2020 average: 65.6
2020 adjusted average: 82
2020 games played: 11
Predicted average: 103
Draft range: Round 2/3
Click here for 2021 Fantasy prices.
Why should I pick him?
Z-Will is not only an easy pick he is your first picked! Unless you go with Matt Rowell and then Williams of course. I know I am often accused of being biased in regard to Carlton, but on this occasion I am doing you a massive favour by pumping up these tires, so bet against me (and Zac) at your peril.
Selecting Williams basically ticks all boxes:
Value: He is priced 11 points under his 2019 average… I mean, he is cheaper than Adam Saad. On top of this, his 2019 average of 93 is much lower that it would have been if his midfield opportunities weren't so few and far between.
Role: He has moved to the Blues with the understanding he will be played as a midfielder. Now cast your mind back to the back end of 2019 when injury forced the stubborn GWS coaching staff to give Williams a run in his natural and preferred position as a midfielder, a position he predominately also played as a junior. In that time, which was basically the last 14 games of their season including finals he proved to be elite with eight big hundreds, including 114, 116, 120, 122 and 142.
Team: The Blues are on the rise and the stars Fantasy scores will reflect that. His role within that midfield is mouth watering alongside Patrick Cripps who will always cop the oppositions number one lockdown player and the undeniably talented Sam Walsh. He will be called upon most frequently for his speed on the outside but with the Blues indicating Cripps will be spending more time forward, Williams is more than capable of having an impact on the inside as well.
Stat filler: When playing as a midfielder, his ability to rack impressive numbers in key stats lines (possessions, marks and tackles) is underrated and he has shown the ability to reach double figures in each of the lines.
Why shouldn't I pick him?
Because he is a great half back and the speed of him and Saad off either side of the defensive square would prove to be one of the most difficult to handle in the competition… Hence why he could conceivably play there.
Always considered to be at risk of injury, especially soft tissue.
The unknown of playing at a new club.
You can't find room after paying up for Lachie Whitfield, Jake Lloyd and Rory Laird in the back line.
Or, you think Warnie knows better than Roy.
Deck of DT Rating.
KING
The 26-year-old was earmarked by the Blues for a number of reasons including speed, hardness at ground level, ability to win his own ball, decision making, tackling, ability to deliver inside 50 and identifying that his career best showing was as an on baller in the 2019 preliminary final against the Pies where he had 25 possessions, six tackles and six marks for 116. See where I am going here? It's a free hit with his defender status. Everything the Blues love about him are the same reasons we love him, his impressive skill set converts to scores and hence why he is going triple figures.
Although his versatility is undeniable and he is great off half back, it's not an area of need for the Blues with the Likes of Sadd and Sam Docherty having those positions covered.
The injury concerns are actually over rated. Discounting last year's 11 games, where he hardly looked interested at the best of times (and I didn't blame him) and of course 2018, the previous three seasons he recorded 20 games on each occasion.
He is going to be awesome and will carry the VC with pride on debut in round one.
FOLLOW US  ON TWITTER: @DTTALK for all thing AFL Fantasy (and more). Got something to say about the deck or AFL Fantasy in general? Join the conversation and use the hashtag… #AFLFantasy.