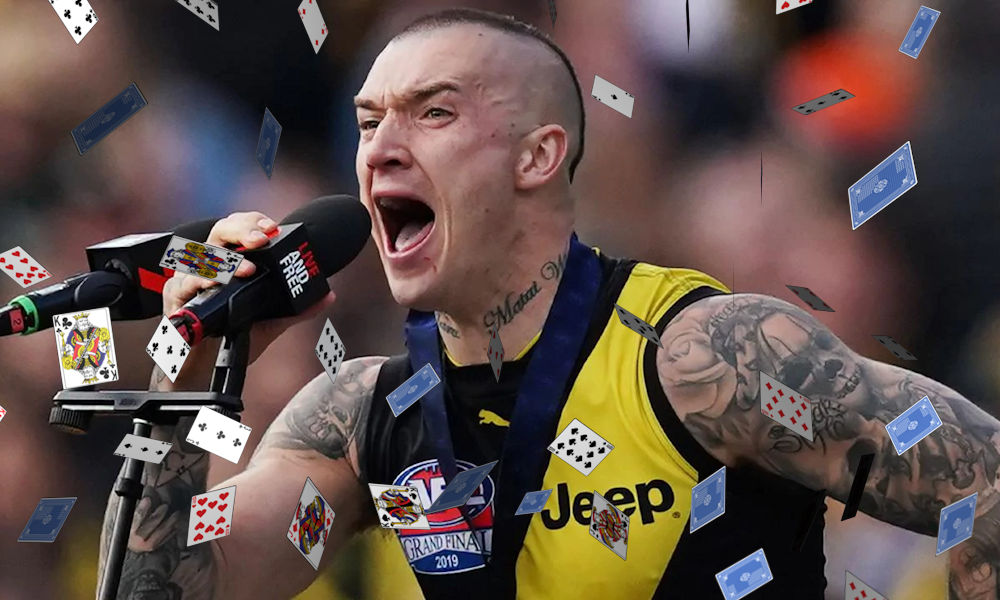 Name: Dustin Martin
Team: Richmond
Position: MID/FWD
Price: $721,000
Bye round: 13
2019 average: 97.1
2019 games played: 20
Predicted average: 98
Draft range: 2nd round
Click here for 2020 Fantasy prices.
Why should I pick him?
Because it's Dustin Martin? I shouldn't need to tell you how good he can be at fantasy, but I'll quickly remind you. He averaged 104 in 2015, 107 in 2016, before averaging a whopping 113.6 in 2017. That's right, you can select one of the most dominant players of the decade as a forward!
His last couple of seasons haven't been at that same uber premium level he achieved in his brownlow year, but as a forward the risk in this selection dwindles. As a pure midfielder you couldn't be blamed for passing on him. As a forward, you know he's a great chance to be in your team come round 23.
The forward line this year is incredibly thin. Dusty sits as the third highest averaging forward behind Whitfield and Toby Greene, and Greene's role is unlikely to replicate what we saw at the end of 2019. A lot of people are chasing value, but I think the extra $50-100k you fork out to get Dusty will save you a lot of hassle.
When Martin gets going, you simply have to have him in your team. Last year between rounds 9-15 he averaged 120, and during that period he was unstoppable. If you stretch that until the end of the season, Martin averaged 107 after round 8 and would clearly be the second best forward. He enjoyed five scores of 130+, explosiveness you're unlikely to get from any other forward option aside from Whitfield.
Last year Richmond suffered an injury crisis, with Tom Lynch beginning the season underdone and Jack Riewoldt suffering a serious injury. This required Martin to sit forward for prolonged spells. He can still score well from the goal square, but he does most of his fantasy damage in the guts. If Riewoldt and Lynch stay fit and form a deadly two-pronged attack, Dusty should spend plenty of time in the guts. If he does, look out.
Why shouldn't I pick him?
His finals series is what concerns me the most. After enjoying 35 disposals and 13 clearances in a crucial win against the Eagles, Martin played most of next weeks game against Brisbane at full forward. He remained in that role in their qualifiying final win, kicking 6 goals. The most amazing part of that game? He only had 14 disposals and 69 fantasy points!
There was no injury concern, it was purely a matchup move, and concerningly it worked. Martin remained at full forward for lengthy spells in both the Preliminary and Grand finals and ended his last 4 games with 14 goals. While his contributions were great for Richmond, he had less than 22 disposals in each of those games and averaged just 81.
Where will Dusty play in 2020? Will he try every game? Dusty knows what it takes to win premierships and he knows when to expend his energy and when to conserve it. His lack of tackling numbers says as much. As good as Martin can be, if you started with him last year it was a disaster. I keep excluding his first 8 games. Well in those contests he averaged just 78 points with one ton! Even as a forward that would be a disasterous selection, especially if everyone can pick him up cheaply when he gets hot.
If Martin keeps rotating between the midfield and full forward depending on matchups he will be up and down enough to pick up later in the season as an underpriced premium…
Will you be picking two-time Norm Smith Medallist Dustin Martin (MID/FWD, $721k)?

With so many of 2019's premium forwards stripped of FWD status, can we expect Dusty to be one of the top available forwards this year?https://t.co/c1Zqa5Fkkj#AFLFantasy pic.twitter.com/dtQKs2vDMh

— AFL Fantasy (@AFLFantasy) January 23, 2020
Deck of DT Rating.
QUEEN
After all it's Dustin Martin. He could start the season averaging 110+ over the first month and make himself a must own player. He could also start the season averaging in the 80's as he has done over the past two seasons. If he does, making him an upgrade target when he looks to be moving into the midfield makes more sense.
At this stage I'm thinking I will play the waiting game. Dusty will get hot at some point this year, and he'll undoubtedly enter my team. However he could also bleed $100,000 before that time, and that's a little too much risk for me. You can't deny it though, the upside is huge and the forwards are lacking. Dusty will be a make or break call with his ownership sitting at a whopping 40%. Perhaps the safe call is to follow the crowd and start him.
FOLLOW US  ON TWITTER: @DTTALK for all thing AFL Fantasy (and more). Got something to say about the deck? Use the hashtag… #DeckofDT.
That's it for the Deck of DT for 2020! Thanks for reading along. It was a cracking series once again and hopefully there was something to take out of every article for you. Big thank you to all of our awesome writers – in order of appearance:  Sparksy, Anthony, Tbetta, Dunny, Fry, Ben C, Ben L, Triggywiggy, Matt, Jelms and Ricontop! Bloody legends. Let's get excited for the Marsh Series and the content that will continue through the pre-season and follow into the season proper. – Roy, Calvin and Warnie.