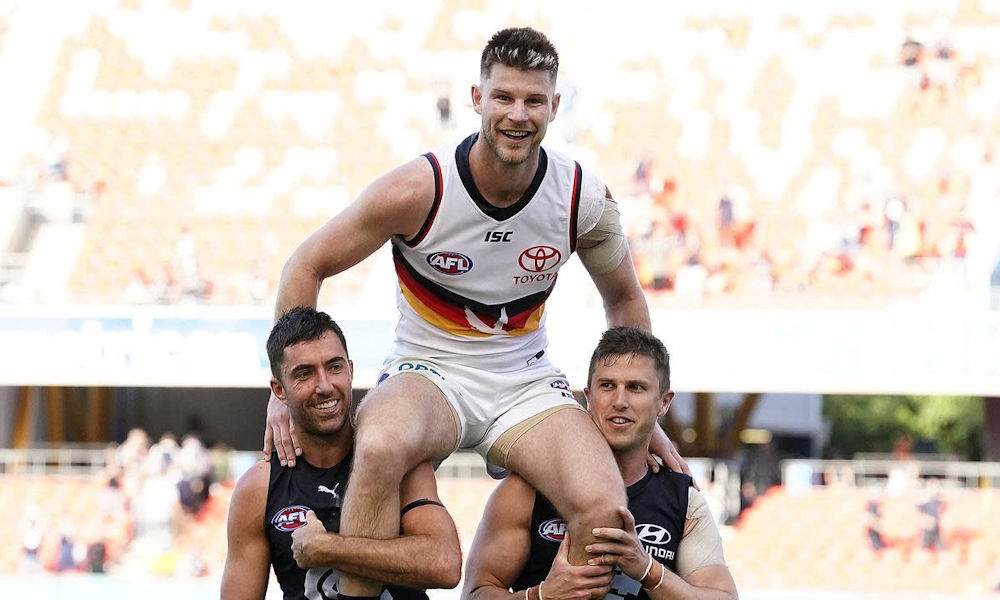 This was a very mixed round for a lot of coaches. Most of us would have had a few guys go 110+, but we also would've had some guys go under 50 in one of the most important weeks of the season being preliminary final week for our leagues. Well without further a do, lets get into the penultimate weekend recap.
St Kilda vs West Coast
+3 Candidates
Tim Kelly (119) – Tim Kelly was massive for the Eagles, gathering 30 touches and kicking a goal on his way to his highest score of the season. He was a solid fantasy player up until round 12, with 4 scores under 56 between rounds 12 and 16. Really cheap around the 600k mark and a good matchup against the Roos to finish off the year.
Andrew Gaff (110) – It is a good game to watch when Andrew Gaff is racking up the touches. Usually Gaff is really reliable and scoring over 85 BCV majority of the season but this season has had 4 scores under 70, including 3 under 55. Hopefully can finish the season off with a bang against the Roos.
Jack Steele (102) – Probably been the most consistent midfielder for the year. Besides that 1 score of 58, has not gone under 70 all year, and only 2 scores in the 70's with the rest being 80+. He has been a machine all year. POD of the year!
Paddy Ryder (95) – You just can't pick which Saints ruck is going to have the big game. More often than not, it is Marshall but this time it was Paddy Ryder. Good game from him but I am steering clear of the Saints rucks.
Nic Naitanui (94) – Both Nic Nat and Kelly were the 2 main reasons the Eagles got the win Thursday night. Nic Nat was epic in the final quarter, with 7 disposals and 8 hitouts, and 38 points to equal his season high of 94 points. In my eyes, should be the All-Australian ruck at the end of the season (sorry Max).
Hunter Clark (82) – One to watch for 2021! Went into the midfield in the 2nd half and scored 49 points but we can see the scoring potential is there if he plays midfield.
-3 Candidates
Jack Billings (59) – Not quite sure what has happened to Jack this season. Just not seeing that consistency that I thought he would build on from last year.
Rohan Marshall (52) – With Ryder in the side, a score like this was bound to happen. If Marshall was the sole ruck, would be a great option for our fantasy sides, but when both are playing, there is always that chance that Marshall will score like this.
Jeremy McGovern *injury* (44) – Unfortunately the Gov went down with a hamstring injury in the 3rd quarter and will miss some time. Hopefully he will be back for the Eagles Finals run.
Brad Sheppard (39) – Unfortunately we are not getting an Eagles defender that can score consistently every week. It has been Hurn for a number of years and I thought Sheppard would step more into that consistent scoring defender role this season. Unfortunately that has not materialised.
Hamish Brayshaw (22) – Not quite the debut that all of us coaches were hoping for. Many people also shuffled their final rookie from Riccardi in the forward line and played him on field.
Geelong vs Richmond
+3 Candidates
Cam Guthrie (113) – Another player that has really flown under the radar. Guthrie since round 4 has averaged 85. A couple of poor scores in there affected it a little but could possibly be a premium midfielder when some Geelong stars move on over the next few years.
Mark Blicavs (94) – If he had a consistent role in the ruck, could be a sneaky option, especially in draft. But one week he will play in the ruck, then the next down back. Just not a consistent role to be an option.
Tom Stewart (91) – Mr. Consistent at it again! Taking out his injury affected game and his first game back, has only gone under 70 twice. This is exactly what we want to see from our so called premium defenders.
-3 Candidates
Tom Lynch *injury* (55) – Tom Lynch had a hamstring injury and will miss a couple of weeks. Should be back around semi final time for the Tigers.
Brandan Parfitt (49) – Jee only 1 tackle! His tackling numbers have really fallen away since the start of the year. Only 2 of his last 7 has he recorded more than 5 tackles. Has still be able to score 60-70 but we need 70+ from the guys priced 550k+.
Tom Hawkins (41) – This is the exact reason why we should not trust key forwards, because a score under 50 is always right around the corner.
Bachar Houli (38) – Why are the Richmond players not giving Bachar the ball? Am I missing something? When your best ball user is open and calling for it, you kick it to him! A chance I bring him in this week but it does concern me that he isn't being targeted by teammates like he has in the past.
Ivan Soldo *injury* (18) – Big Ivan has done both his ACL and MCL and will be out for the rest of the season, and most likely all of 2021. Looked really bad, especially when he tried to walk off and his knee collapsed on him. Speedy recovery Ivan.
North Melbourne vs Fremantle
+3 Candidates
Blake Acres (97) – Continues his strong form to end the season. If he retains his forward status (unlikely as he has played wing all year), could be a real option in 2021.
Stephen Hill (90) – Shoutout to Stephen Hill, who had his first score over 60 all season.
-3 Candidates
Todd Goldstein (50) – Now I will give Goldy his props. 250 games and one of the best ruckman we have seen and playing in a team that are just not showing any effort at the moment. But a 50? Really? I had the choice like many between Goldy and O'Brien and that has cost me a couple 100 hundred points. If I have him in my team for the final game, I pray I get more than a 60.
Jy Simpkin (45) – Has really fallen away the 2nd half of the year. I think one big reason is Ben Cunnington not being there. When Simpkin was scoring well, it was when Cunnington was playing. Then again, North Melbourne players were all playing better when Cunnington was in the team.
Jack Zieball (26) – Will be cheap as chips next year. After some injury issues this year and poor scores, is currently averaging 35.6 and priced down at 378k. Could be priced around this next year so keep an eye on preseason next year as he could be an option.
Port Adelaide vs Essendon
+3 Candidates
Tom Rockliff (122) – It was a wonderful Saturday twilight game to watch. Not because of the game, but because I was able to sit back and watch the pig do his thing as an owner for the first time this year. Back to back 122's and has been really good since being back in the side. One I will most likely start with in 2021 due to his poor start to the year so average is affected by that. Still averaging 90 for the year just quietly.
Devon Smith (100) – Devon's first ton for the year, also his first score over 90. Not the season we expected to see from him but if he keeps this defender role next year, could be another under priced guy in 2021.
Zach Merrett (97) – Continued on his merry way with another big score. Has really rebounded since round 7 where he struggled to start the year.
Dylan Shiel (96) – Again another big score from Shiel, but I still don't trust it. The biggest rollercoaster in AFL Fantasy has to go to Shiel. If he could put a consistent year together, would be around the top 8 mids but always has a 50 or 60 in him.
-3 Candidates
Sam Draper (44) – Another blow to the coaches that may still have him on field with all of the ruck drama this year. Conditions were really bad for the big guys.
Peter Ladhams (41) – Not the score coaches would have liked from his first game back from suspension. Conditions didn't help though.

GWS vs Melbourne
+3 Candidates
Max Gawn (103) – Big Maxy just continues on his merry way. Another ton to add to the total, with 7 for the season. His lowest score for the season is 73, and that was round 1 (complete different season ahaha). Only 2 other scores have been under 97, his injury affected game and his first game back from injury. They are insane numbers and if he can do this again next season, we may well see ourselves with a 2nd ruck pig.
Josh Kelly (96) – It was a welcome sight to see Kelly back after he was Mummified. Bounced back strong with a big score of 96. Underpriced and could be an option this week, but could cop attention from the Saints midfield this week.
Christian Salem (90) – Has generally been quite consistent this season, scoring between 60 and 80 most weeks. Only problem is those couple of 50's. If they were 60's, I think Salem would be in a few more coaches thinking.
Zac Williams (90) – Came back in the side and played the majority of the game in midfield, and boy did he look good. Pushing forward and kicked a couple of goals. I still scratch my head as to why he doesn't get a some midfield time at least? Even just a 5-10 minute patch every game would suffice.
Clayton Oliver (89) – Along with Jack Steele, been one of the most consistent midfielders this season. Only 3 scores below 80, but all of them have been 70's. Looks to have really elevated his consistency and will be a great unique option to start with next year.
Tom Green (86) – 3o disposals from a first year player does not happen very often. And in a shortened game as well makes it even more unlikely but Green of the Tom variety did just that, though it did include 22 handballs. Will be a star midfielder in a few years.
Trent Rivers (76) – Kicked a couple of great goals which were also at crucial times as well for the Dees. Looks a really good prospect off of the back flank.
-3 Candidates
Lachie Whitfield (68) – Not the score I want to see from my guy that I put the VC loophole on. And considering I chose him over Rocky makes it even worse. Been very up and down the last 3 weeks which isn't normally like Whitfield. Hopefully can finish the season off for us with a big score.
Jack Viney (51) – I really don't know what has happened to Jack Viney. Since round 13, 3 of the 4 scores have been under 60. Really has fallen away after starting the year strong.
Nick Haynes (47) – This is his 3rd score under 50 for the year. Really frustrating for a defender that is so expensive. Take a leaf out of Tom Stewart's book Nick.
Jeremy Cameron (46) – He has been putrid this year for fantasy. Why did I bring him into my team again? Since bringing him in after his 94, he has scored 20, 56 and 46 in his 3 games. Only 2 scores over 70 for the year says it all.
Tim Taranto (44) – Another midfielder I sit there scratching my head wondering what has happened. Besides his good patch between rounds 9 and 11, only has 2 scores above 80 in his 8 games.
Neville Jetta *injury* (25) – Suffered an ankle injury during the 2nd half. Not sure on severity, but did sit out majority of 2nd half so keep an eye on injury report.
Carlton vs Adelaide
+3 Candidates
Sam Walsh (95) – Walshy is really having a strong finish to the year. In his last 7 games, has 4 of them have been 90+, and 6 of them have been above 83. His one bad game was a 67 which is not the worst score in the world. After a really poor start to the year, could be another underpriced option, and particularly as we could be seeing early signs of a 3rd year breakout, even though he has already be great to start his career.
Will Setterfield (93) – Another guy that has really come on as of late. In his last 5 games, only 1 score under 86, which was a dirty 54. If he can improve those really poor games, we could be having a different conversation.
Rory Laird (92) – My boy Lairdy just continues to pump out big scores since playing in the midfield. Since playing in the midfield for a full game in round 10, has a lowest score of 67, which also includes 3 tons in that timeframe. I pray he has defender eligibility next season because he will be a top 3 defender.
Bryce Gibbs (90) – What a career Gibbsy! Been an absolute stud for our fantasy teams for his whole career. A highest averaging season of 112 (funny that 90 is 112 BCV) in his last season just shows the player he is. Could have hung it up and sulked his way out of the Blues, but played his heart out every game and only have 1 score below 95 that season. That is insane. As a Crows fan, it was unfortunate that it didn't quite work out, but started off really well for the Crows actually, 139 on debut with 2 goals and 35 disposals. He averaged 123.5 in his first 4 games for the Crows, and ended up averaging 103.8 for the season so shows he did have a solid first year at the Crows but fell away after that. Good luck in retirement Gibbsy!
Lachlan Sholl (89) – I am really excited as a Crows fan to see what he can do. Sholl has an insane week foot. I think he is a natural right footer but you seriously couldn't tell. A big day with 24 disposals and 2 goals. Looks a real find and really reminds me a little bit of Whitfield so keep an eye on him over the next few years, I think he will be fantasy relevant within the next few years.
Harry Schoenberg (82) – Another player that looks a real find for my Crows. Had his best career game with 21 disposals and will only continue to get better.
-3 Candidates
Brodie Smith (46) – Similar to Haynes, too many sub 50 scores for my liking. I love Smithers, but I would much rather watch him as a fan of the Crows and not my fantasy team until his consistency with his scoring improves.
Sam Docherty *injury* (11) – The Doc injured his calf in the first quarter, which will hurt and annoy fantasy coaches as he came into the game with a calf issue. Will be a forced trade for nearly half of the competition.
Hawthorn vs Western Bulldogs
+3 Candidates
Caleb Daniel (128) –
Marcus Bontempelli (124) –
Tom Liberatore (113) –
Josh Dunkley (101) –
Jack Macrae (90) –
Damon Greaves (69) –
-3 Candidates
Tom Mitchell (58) – First poor score from the pig since round 7. Has had an okay return year but just not at the lofty standards we have seen from his in the past. I think he will be better for the run this year and will bounce back in a big way in 2021.
Bailey Williams (42) – The only guy that didn't get involved that I thought would have. Just too many options for the Dogs in the backline.
Toby McLean *injury* (10) – Poor bloke. After kicking the opening goal of the game, Toby's knee got caught underneath Jon Ceglar with unfortunately did his ACL in the process. Another one who will miss the rest of the season and most likely all of 2021 as well.
Sydney vs Brisbane
+3 Candidates
Josh Kennedy (117) – I had a feeling a score like this was coming, and what a week to do it. His first ton of the season and boy was it a big one. After an okay first half, went bang with 75 points in the 2nd half, which included a 49 point 3rd quarter.
Luke Parker (103) – Again, another player that has been a real rollercoaster this season. His last 4 weeks have been 58, 100, 54 and 103. To be at the Uber level, he can't be scoring these 50's. His ceiling is massive, but his floor I quite low.
Daniel Rich (101) – With Witherden out of the team, has been solid over the last 3 weeks. Another guy tat really rewarded his draft owners that played him this week (and his 2.5% of Classic ownership).
Jake Lloyd (92) – Mr. Seagull. Or should we call him Mr. Consistent Seagull. He just doesn't know how to score poorly. Removing round 1, has 2 scores under 80, 65 and 77. Insane numbers for a defender, and unlike this year, I think we all need to start with him next season.
Sam Wicks (64) – I wouldn't usually put a score of 64 in here but I had to. I could be speaking for some other coaches that had a lot of carnage this week, but Wicksy really saved me. After needing to play him with forced trades, injuries and players being dropped/managed, I didn't expect much more than a 50 but went above and beyond with a 64.
-3 Candidates
Zac Bailey (53) – Scoring has really dropped off since round 11. 55, 73, 65 (bye average score), 41, 75 and 53. Hopefully he can work on his consistency and re-enter the conversation as an option for our teams. Until then, I am steering clear.
Dayne Zorko (49) – This is not what we expected when you got forward status Dayne! After gaining forward status after round 13, has gone 80, 56, 124 and 49 after not going under 70 between rounds 6 and 13. Needs a big performance to finish off the year to please the coaches that brought him in. To some extent of pleasure anyway.
Jackson Thurlow (47) – Clearly hasn't had the same wing role since Rampe went out injured. and his scoring has suffered because of it with 36 and 47 in his last 2. Needs to go if you still have him.
Lachie Neale (37) – If you want to be allowed into the pig pen, you CANNOT BE SCORING 37! It just can't happen. After we have been calling him the CoronaPig all year, only 2 score below 80 which were both 70's. 11 tons for the season and then we get dished up a 37 in Preliminary final week?! For a lot of coaches has completely un-done his good work and cost coaches places in their fantasy grand finals. Needs to have a big finish to the year to gain some respect back after that horrid showing.
Lewis Taylor *injury* (0) – Foot injury really early in the contest. Will most likely miss the final game but not sure on severity of the injury.
Collingwood vs Gold Coast
+3 Candidates
Took Miller (103) – Very good for his draft owners (and 1% of Classic owners), with a big ton in the penultimate week of the season. Another player with consistency being the main issue for coaches to trust him.
Brodie Grundy (90) – RuckPig looked back to an extent. Didn't get a heap of the ball around the ground, and still didn't look at his absolute best, but still had 8 tackles. Has still scored well even while looking under 100%, but we normally see him scoring 90+ every week like Max has done this year.
Jack Crisp (88) – Well Crispy has really turned it around. 4 scores in a row above 70 with many coaches still angry at him for leaving it this long to get going.
Adam Treloar (85) – Jee it was good to see Treloar back. Even in limited game time, still found the ball 26 times. I just wish these nagging soft tissue injuries would leave him alone for a whole season because he would be a top 4 midfielder 100%.
-3 Candidates
Jack Lukosius (56) – I thought a matchup with the Pies would have meant good things for Jack. As I have said previously, will be a really good premium defender for us, but at the moment his scoring consistency lets him down.
Sean Lemmens *injury* (49) – Copped a really bad corky to his thigh in the 1st quarter. Would imagine he misses the final game of the season to rest up.
Golden Stubby – Rd. 13
As always, there were plenty of options for the Golden Stubby this week.
Who gets your vote for the Golden Stubby?
Tim Kelly (119) – Was everywhere Thursday night, even while being tagged to help get the Eagles over the line.
Tom Rockliff (122) – RockPig is really cranking it up now. Gets my vote as a new owner!
Caleb Daniel (128) – Bounced back the last two weeks, and with a whopping 128, will be one of the most traded in this week.
Marcus Bontempelli (124) – Exactly like last year, the Bont is finishing the year like a steam train.
Josh Kennedy (117) – After a poor score last week, rewarded his owners with a massive score.
Loading ...
My week
1724. A decent score which saw me move a couple 100 spots up the rankings back to 3050. Would love to crack inside the top 3000, even top 2500 which would shock me considering the bad luck I have had with injury this year. By the way, speaking of injury, another one of my guys went down. I am exactly like West Coast at the moment, copping an injury every week. Sam Docherty I don't think should have played. I would have had to play Sholl, who played really well for his 89 which I would have been over the moon to have. Oh well, I was hoping to get Max into my team but I should realise that nothing is easy in 2020.
My Trades
As for the week final set of trades for the season, again,  I have 2 options I am looking at:
Draper -> Sweet (bench)
Docherty -> Houli or Zac Williams
Wicks -> Josh Kelly/Mitch Duncan or Adam Treloar
(combination of Houli and Kelly/Duncan or Zac Williams and Treloar)
or
Docherty -> Greaves (on field and have double chance with Sholl emergency)
Goldy -> Max
Wicks -> Tim Kelly
Both have their positives as I like all players I am bringing in with both options but will decide later in the week.
As always, I appreciate you reading the weekend recap. Good luck to everyone in the final round of the season. And if you are in a Grand Final in your leagues, good luck and I hope you get those bragging rights for the summer. Will be back for the final weekend recap and then a season recap.
If you have any fantasy questions, feel free to leave them below or hit me up on social media:
Instagram: @baileyirrgang
Twitter: @baileyirrgang