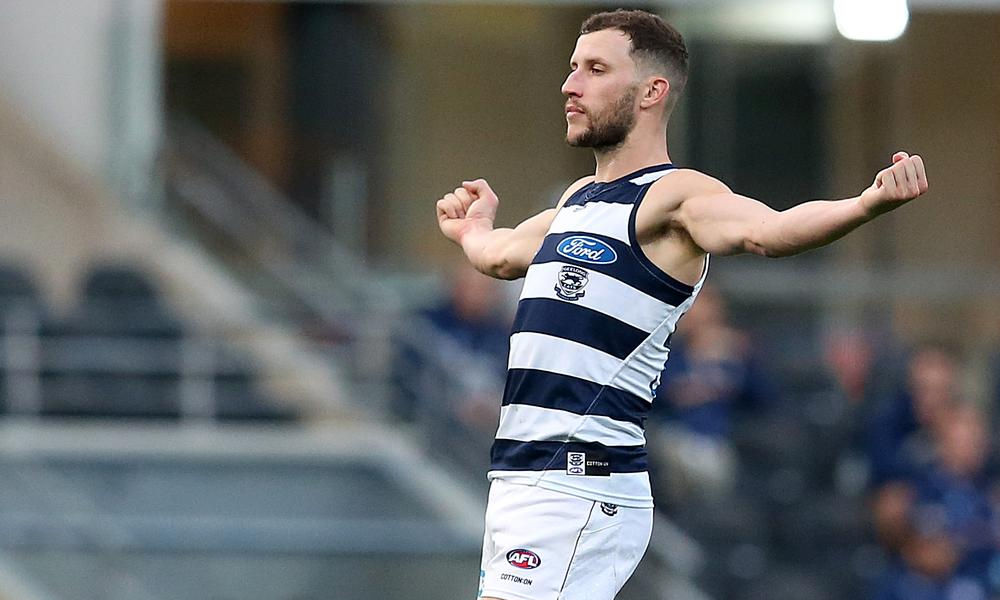 What a disaster for a lot of coaches that was. So many injuries again hit a lot of coaches, but if you avoided them, it was a high scoring week for some and would have sky rocketed you up the rankings. Unfortunately for myself and many other coaches, another 3 trades of fixing up injuries and underperforming players I think will be the go. Let's get into the weekend recap:
North Melbourne vs Port Adelaide
+3 Candidates
Tom Rockliff (122) – Did you know that the Pig is averaging 87.5 points this season, which is 109.4 BCV! After a struggle to start the year, has come back big with 1 poor score of 58 against the Cats (tough to score against), besides that a lowest score of 78. Will be underpriced next year and a great target to bring in for the final 2 games of the year.
Travis Boak (105) – Since Boaky's poor score against the Dogs in round 10, he hasn't gone under 81. One of the guys I would have loved to have brought in if I had the cash but has been a tough year for cash generation.
Ollie Wines (100) – Seems like all of Port's main mids decided to go ham against the Kangaroos. Ollie is a little to up and down for my liking in Classic but again another great reward for draft owners.
-3 Candidates
Zak Butters (73) – Now Zak is in here not because of his score, 73 isn't terrible. BUT DON'T KNOCK OUT ONE OF OUR OWN! 2 weeks was definitely deserved for that. Dirty play. What did Jy do to you for him to deserve that? One move that cost me in my semi final match up. Disgusting.
Todd Goldstein (59) – Now how can Goldy be dominating the first quarter, score 34 points and then only end up with 59?! He has been putrid. Only 2 scores above 80 (not including bye week) and none above 90 since I brought him in at round 8. One of the big decision mistakes I made this year not going O'Brien or Marshall instead. This just shows next year we need to just go with Grundy and Max next year and not worry about rucks.
Luke McDonald (56) – Now I called him a league winner the week before I brought him in after his 121 against the Pies. He has followed that up with a 86, 73 (bye score) and 56! I know they got smashed against Port but still, a 70 at least would have been nice.
Jared Polec (49) – Not the sort of showing you want against your former side.
Jy Simpkin *injury* (31) – Was knocked out in the 3rd quarter by Butters and didn't take any further part. Hopefully he can get up for the next game as it is a 7 day break but just keep an eye on the news throughout the week.
Lachie Hosie (17) – North did get beaten bad so not much you can do if you were a North Melbourne forward.
Ryan Burton *injury* (6) – This guy can not stay on the park at all. Plays then gets injured straight away. Burton injured his quad early in the game and didn't return so will be out you'd expect for a little bit.
St Kilda vs Hawthorn
+3 Candidates
Jack Steele (98) – Jack Steele has been one of the best picks of the year no question. If you started with him kudos to you. 3 scores below 80 all year, 2 of them 70's and that one bad score of 58 but more often then not goes 90+. Only knock on him is he hasn't quite gotten that 115+ massive score but I would have him in the same discussion as Mitch Duncan. Very consistent and will give you 80-100 most weeks.
Nick Coffield (97) – A defender to keep an eye on for the future. Just has to work on his consistency with less 50's and 60's and turn them into 70's and 80's.
Chad Wingard (91) – Watch this space. With Worpel going down with injury, Chad has a lot of CBA attendances. I think it was around 19. Priced at 521k, is a really cheap option to bring in to complete your team if you still have a rookie like Riccardi on field.
Damon Greaves (67) – What a debut by Damon! Came into the team with a score of 67 in your first game is very impressive. Took 7 marks in that as well and will most likely be a popular downgrade target this week.
-3 Candidates
Jack Scrimshaw (55) – A cruel blow to the coaches who brought him in this week. Had been really good for the 5 weeks prior, decent sample size, then you get this dished up? Not good enough Scrimmy.
James Worpel *injury* (43) – Fantasy is just plain cruel. And this year more than any other with the condensed fixtures. Went off in the 3rd quarter with a shoulder injury and will be out for the remainder of the season.
Max King *managed* (DNP) – Max King was a late out due to being managed. Been a decent cash cow and played every game up until now.
Geelong vs Essendon
+3 Candidates
Sam Menegola (115) – Been very good this year. Just one of those players I am not massively keen on. Will give you a good 4 or 5 weeks patch, then dish up a 50 or 60. Been real value for draft owners this year.
Tom Stewart (102) – The first ton of the year from Stewart. You love to see it. One of the most consistent defenders you will find, and he is the sort of guy you just need to eventually get in your team every year. Mr. Consistent.
Tom Hawkins (98) – Tomahawk has had a really good year, not just kicking goals and leading the Coleman medal but for fantasy as well. Averaging 74.8 which is decent for a key forward. Great pick up if you got him in draft.
-3 Candidates
Zach Merrett (68) – Calvin's no.1 captain choice this week let all of his owners down. 68 isn't why he would have cost his owners, but being your captain would have. I thought another 90+ score was coming with the form he was in.
Dylan Shiel (63) – The rollercoaster continues. I have said it over and over again.
Darcy Parish (57) – Fools gold. With some good scores some coaches were tempted, I looked at it. Thankfully didn't go through with it.
Jordan Ridley (49) – A 40, then a ton, then another 40. Not what we want from our defenders even though a lot of them are inconsistent. Just make sure Lloyd, Stewart and Laird are the priorities in the future as they are more consistent.
Gary Rohan *injury* (30) – Was more for precaution but had a tight glute. Should be fine to face the Tigers.
Dyson Heppell (27) – Has been very very quiet since returning to the side. 45 and 27. Will be extremely cheap next year so keep an eye on him if he shows something in the last 2 games.
Michael Hurley (26) – A premium defender of the past, but those days have gone I think. Still has value in draft but not in classic.
Irving Mosquito *injury* (16) – Unfortunately for Mozzy his season is done and more than likely his 2021 season is pretty much done with an ACL injury.
Zach Tuohy *injury* (DNP) – Tuohy was a late out with some soreness with his ribs after that big hit last week. Was going to play him 200th but will have to wait till the next game. Should be good to go.
Rhys Stanley *Managed?* (DNP) – Not sure why Stanley was a late out. Tried to look but couldn't find anything so I assume he was managed?
Western Bulldogs vs West Coast
+3 Candidates
Josh Dunkley (102) – Very underpriced! Down 152k from his starting price, Dunks got his first ton since round 2. A proven guy who can score big so consider if you are a little strapped for cash.
Caleb Daniel (85) – Caleb finally went above 80. Only the 3rd time this year he has done that. Just hasn't been able to get to the same heights he got to last year. Too many 50's and 60's this year but if he has a good end to the year, could be one to keep an eye on next year.
Jack Redden *injury* (78) – Now Jack had a great game. 78 from a guy priced at under 520k, brilliant. Problem is he now needs thumb surgery and will be out for the remainder of the fantasy season. Just another bullet I had to cop, along with a lot of other coaches who brought him in this week.
-3 Candidates
Tim Kelly (53) – Not sure what has happened to Tim, I assume because he doesn't have his other buddies there but cmon Tim, the Eagles need you to stand up.
Bailey Williams (49) – Well this hype train has come to a halt. 3 scores under 70 in a row.
Andrew Gaff (44) – Well not sure what Gaff was doing during the game. How you can play 95% and only get 44 is beyond me. Cmon Gaff you are better than this.
Jeremy McGovern *injury* (34) – Thumb injury again to the Gov could have him sidelined again. Wow Eagles are copping injuries left, right and centre.
Xavier O'Neill (21) – Well I assume if he was on field for you, you were probably knocked out of your semi final.
Mark Hutchings *injury* (21) – Another Eagles mid injured, with Hutchings going down with a hamstring. Will be out also for a little bit.
Nic Naitanui *injury* (DNP) – Was a late withdrawal due to back soreness. He should be good to go however against the Saints.

Melbourne vs Fremantle
+3 Candidates
Adam Cerra (97) – As I said, premium fantasy player for the future! Unfortunately for Cerra I have previously mentioned the only thing missing is consistency, which will come as he continues to improve and get even better. Was everywhere against the Dees, and what a goal!
Max Gawn (96) – Maxy just gets it done. Only ruck along with ROB getting it done. Got my eye on bringing the big fella in this week.
Christian Petracca (89) – While Petracca had a great game and one of the only Dee's to stand up, it could have been a lot bigger. He was on 81 after a massive 40 point 3rd quarter. However, be one of the best buys this year if you started with him.
Caleb Serong (83) – I think this performance for Serongy has finally entrenched him as the rookie of the year. Noah Anderson still getting it done by Serong is scoring just as much as many premiums at the moment. Just imagine if we saw him in the middle the whole year. We could have seen a similar year like Sam Walsh/Tim Kelly. What would have been better would have been to have Caleb in this form and Matt Rowell for most of the year.
-3 Candidates
Taylin Duman *injury* (66) – After scoring a massive 66 points in the first half, he injured his ankle and didn't play much in the 2nd half. Not sure of prognosis but would assume his year will be put on ice.
Michael Walters (56) – Played a great game to help the Docker's win, but with him playing so much time forward, isn't scoring enough to consider him.
Christian Salem (53) – Just another 50 from Salem. Why can't we have enough consistent defenders?
Ed Langdon (46) – Crashed back down to Earth after his ton last round.
Braydon Preuss (25) – Not sure why Melbourne played all of their talls in the wet.
Michael Hibberd (21) – Only 7 touches, no marks and no tackles. Where have the days of Hibberd scoring consistent 80's and 90's gone?
Adelaide vs GWS
+3 Candidates
Matt Crouch (125) – The ridiculous form continues. 4 tons in his last 6, 2 of them 120+. The big thing here is his tackling. In the 2 games where he went 120+, he had 14 and 12 tackles respectively. Now going to be priced over 850k, very expensive but is the in form player of the comp at the moment.
Lachie Whitfield (122) – Made his score massive with a 59 point last quarter! I think I am correct in saying that is the equal most in a quarter for the season? If not I apologise, but it was massive none the less. If you captained him, that last quarter would have been a thing of beauty.
Rory Laird (104) – Absolutely relishing his midfield role at the moment. I think he is one of the reason the Crows have turned their form around over the last month. Just knows how to find the footy. I wonder if he will keep his DEF status, because if he does he will be underpriced and a lock for my team next year.
Sam Jacobs (102) – A battle of the master and the apprentice. The master got the battle in regards to fantasy points just. An all round game from Sauce, which included 7 tackles.
Reilly O'Brien (101) – ROB didn't quite get the fantasy chocolates over Sauce, but helped his team get the win. And more importantly for fantasy coaches, another ton. Back to back tons for ROB, and a lowest score of 77 since round 11.
Brad Crouch (93) – Looking for an underpriced premium midfielder that has dropped over 150k? Look no further than Crouch of the Brad variety. Since his injury early against Essendon, has returned with a 74 and 93. But with those games has had 27 and 31 touches respectively. If he can add a few more marks and tackles in there could end the season with a bang.
Shane McAdam (93) – Been a really under the radar rookie this year. Even though this was his first 80+ score, has still risen over 440k. Under appreciated rookie of the year I think.
Tim Taranto (90) – Was the only GWS midfielder to cash in on a great matchup. Hasn't been the same Taranto that we saw last year, not sure if that is due to the Giant's struggles or form but could be value next year. Also underpriced this year at around 700k.
-3 Candidates
Brodie Smith (57) – Another premium defender, another 50. It was a hard matchup, but if the Crows win usually Smithers gets involved a bit more.
Toby Greene (55) – A lot of people brought Toby in this week with a great matchup. However that didn't result in a good score. Hasn't been a great year for Toby, filled with injury and some poor scores. Will be underpriced next year,
Aidan Corr *injury* (43) – Injured his ankle in the 2nd half. Will most likely miss time so keep an eye on injury reports from GWS.
Jake Riccardi (17) – Well the Riccardi train has come to a massive halt. After massively increasing in price over his first 3 games, dishes us a 17! This is why we can't trust rookies at this time of year. If you can move him on, it wouldn't be a bad idea but for those that can't, has a good matchup with Melbourne this week.
Zac Langdon *injury* (DNP) – Was a late withdrawal due to illness. Should be right for their next game.
Carlton vs Sydney
+3 Candidates
Sam Walsh (114) – Jee he is going to be a star. Has been getting it done as of late. Uber Premium midfielder for the future!
Patrick Cripps (91) – I have always got that fear he could chuck a 40 at you, but Crippa has only had 1 bad score since round 8. An amazing player, but it doesn't always translate to fantasy.
Sam Petrevski-Seton (90) – I would assume coaches would be very pleased with this score from SPS. Majority would be draft owners.
-3 Candidates
Josh Kennedy (61) – Not the sort of effort I was expected from Kennedy. One of the many players I had in my matchup that cost me this week.
Sam Docherty (55) – I am not quite sure what has happened to Doc. Since his opening 5 games, has really struggled to regain that form. He isn't playing the same role as he was which is reflecting his scoring at the moment. Hasn't cracked 90 since round 4 and has only gone above 80 once since round 5.
Nick Blakey *injury* (55) – Injured his shoulder but played out the game. Should be fine but keep an eye on injury news.
Luke Parker (54) – Very similar to Shiel, too much of a rollercoaster for a premium midfielder.
Jack Martin *injury* (50) – Injured his calf in the 2nd half and took no further part in the game. Probably means his season is finished a couple of weeks early.
Jackson Thurlow (36) – Well the honeymoon has quickly turned into a nightmare for owners. Hasn't been able to crack 65 since his 82 against the Giants in round 12. Needs to be traded to a premium defender if possible.
Sam Wicks (29) – A popular trade next week will probably be him down to Hamish Brayshaw from the Eagles. Has done his job but time to cash out.
Brisbane vs Gold Coast
+3 Candidates
Dayne Zorko (124) – What a way to respond for all of your owners? After his lowest score of 56 since round 4, he went bang with 124. Reaffirms why he is one of the top 2 forwards. Let's hope he keeps his FWD status for next season.
Lachie Neale (101) – The CornaPig with another ton. Can you believe he is still averaging 102.6! That is massive, 128.25 BCV average. I tell you what, if he has another year like this next year we will have a new pig officially snouted I think.
Charlie Cameron (98) – This score could have been much bigger for Charlie if he kicked straight. 2 goals 3 behinds. Did a bit of everything which would have pleased draft owners that played him on field.
Hugh McCluggage (97) – Another one of those midfielders that is very much a rollercoaster. Just too many Brisbane mids that doesn't allow McCluggage to play as a full time midfielder which reflects in his volatile scoring.
Zac Bailey (75) – He looked destined for the -3 column, for him to only go and have 46 points in the final quarter! Only 7 points in the first half, then went nuts with 68 points in the 2nd half.
-3 Candidates
David Swallow (58) – Since that 4 week patch between rounds 5 and 8, has really struggled. No scores over 80 since then, and only 2 scores in the 70's. If you can trade him this week, I would move him on.
Jack Lukosius (54) – This was the one thing I was worried about, consistency.
Jarrod Witts (45) – He has just completely fallen off of a cliff.
Oscar McInerney (54) – Another ruckman that has burnt all of the coaches who brought him in after his good 3 game patch. 3 of his last 4 have been 50's (one being his bye score). If you move him on to ROB or Max, I would make that a priority move.
Jarrod Berry *injury* (31) – Popped his shoulder out and didn't play at all in the 2nd half. Not sure on severity but will miss some time you would imagine.
Brandon Starcevich *injury* (0) – Was ruled out of the game with concussion after a nasty fall in the 2nd quarter.
Golden Stubby – Rd. 13
If you were not aware, the Golden Stubby is back and we have a few options this week.
Who gets your vote for the Golden Stubby?
Tom Rockliff (122) – The pig is back at it again, another 120+ score.
Matt Crouch (125) – In form midfielder, and player in the comp. Been in ridiculous form.
Lachie Whitfield (122) – I think that 59 point final quarter is enough to get a vote, but a 122 on top of that gets mine.
Dayne Zorko (124) – Bounced back for his coaches with a massive score this week.
Lachie Neale (101) – Just continues to get it done, and racks up another ton.
Loading ...
My week
1704. Not sure how I got there with all of the bullets I copped this week. McDonald's poor 56, Docherty 55, Gaff 44, Kennedy 61, Redden injury, Goldy 59, Simpkin injury and Riccardi 17. I know a lot of coaches also feel my pain, but it seems the last few weeks I bring in a value player like Redden, Shuey and Brayshaw because I have been strapped for cash, then they get injured. But unfortunately that is what this year has been, CRAP. I have been knocked out of my main league as well which was also another fun thing that happened this week.
My Trades
As for the week ahead, I have 2 options I am looking at again:
Draper -> Sweet (bench)
Goldy -> Max
Redden -> B Crouch
or
Wicks -> H Brayshaw
Redden -> B Crouch
Simpkin (if injured) -> RockPig
As always, I appreciate you reading the weekend recap. Good luck to everyone in their semi finals this week.
If you have any fantasy questions, feel free to leave them below or hit me up on social media:
Instagram: @baileyirrgang
Twitter: @baileyirrgang