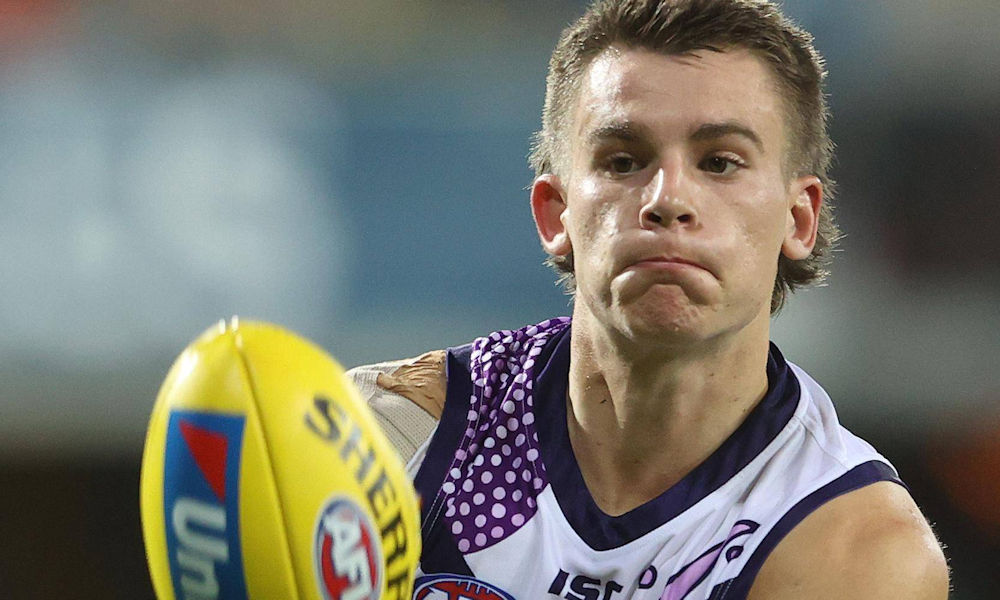 I don't think I have seen many weeks like this one. There were insane number of bullets fired at coaches this week. So many of our premiums went down with either injury or just didn't perform. And it was an important week for many coaches as fantasy finals this week. Without further a do, lets get into the weekend recap:
Hawthorn vs Adelaide
+3 Candidates
Matt Crouch (102) – Continues with his insane form over the past, not going under 70 since round 3, which has included 3 100+ scores in his last 5. Priced at 828k and only 1.5% ownership, could be a great POD for you league finals.
Reilly O'Brien (102) – Has clearly entrenched himself as the no.3 ruck behind the 2 big boys. If you can't afford to get to one of the top 2, O'Brien should be your main target.
Jack Srimshaw (86) – Scrimmy has now risen to 535k so getting quite expensive now, but had another good performance on the weekend even though it was against the Crows. Looks like the main guy back there but this would be the last week if you are looking at jumping on.
-3 Candidates
James Worpel (62) – When people saw Worpel, his form and playing the Crows, this would have equalled a massive score. This was the complete opposite, not even getting to 70. I know they were bad, but cmon Worp, we expected better…
Ben McEvoy (35) – Just not considered a premium ruck anymore, probably not even a mid priced ruck at this point. Can't even crack 40!
Myles Poholke (13) – Didn't even notice him besides when he had a shot at goal. Non existent.
West Coast vs Essendon
+3 Candidates
Kyle Langford (113) – I wasn't able to watch a heap of the game because I was at work, but I assume he played midfield? Especially with McGrath getting injured, had to step up for his team, and did with 29 disposals and a massive score to reflect that. Good result for owners in draft.
Dylan Shiel (110) – The rollercoaster has changed for Shiel. First half of the year he went one good game, one bad game. Now he is doing 2 good games, 2 bad games. You won't see me getting him in my team anytime until he becomes more consistent but credit where credit is due, had a good week.
Jordan Ridley (108) – What a turnaround from the Riddler! 47 last week, 108 this week, 61 point turnaround. Makes me nervous with a floor of 47, but not many defenders have a ceiling of over 100. Been really consistent besides last week so you could do worse in defence.
Zach Merrett (106) – The in form midfielder of the comp at the moment. 3 100's in a row and no score under 85 since round 9. Comes at a price at a hefty 869k and Geelong are a hard matchup this week, but looks unstoppable at the moment.
Shannon Hurn (98) – Wow I haven't seen a score like this from the former Eagles captain for a while. Was definitely a sight for sore eyes. Don't think he is an option but at 541k, could you do it?
Liam Ryan (94) – Great game by Ryan with Kennedy being out. Needed to step up for his team and did with 4 goals to help his team win. Amazing player and love watching him every week. Not an option in fantasy, but great game none the less.
-3 Candidates
Luke Shuey *injury* (51) – As a Shuey owner, this is a brutal one to take. Not only did he do one hamstring, he did both! Will be out for the rest of the regular season so for all of his owners, you and me both have to find other arrangements.
Nic Naitanui (45) – Surely a rest coming for Nic Nat. Has struggled the last 2 games and isn't having the same impact as earlier in the season.
Sam Draper (42) – Massive bullet for a number of people that were playing him on field. I considered trading Goldy out and putting Draper on field to upgrade other spots. I thank my lucky stars I didn't…
Dom Sheed (40) – The Eagles midfield as a whole struggled besides Gaff. I expected the Eagles midfielders to feast but all really struggled. I think Sheed scores really well when one or two of their midfielders are down, but when 3 or more are out, just doesn't have the same effect.
Tim Kelly (38) – Back to back scores under 50 for Kelly. Not what you paid for, more so in draft. I think if you could offload him to someone I would do that with a Seb Ross tag coming in round 17.
Andrew McGrath *injury* (25) – Ankle injury for the gun Bombers midfielder and confirmed will be out for the rest of the season. Premium mid for the future though!
Jake Stringer (5) – Well, the package certainly didn't reach his destination. Look like he wasn't even there.
Richmond vs Fremantle
+3 Candidates
Blake Acres (108) – This score certainly came out of nowhere. Back in the team, leading disposal winner on the ground and a massive score. Currently priced at 520k, he is certainly someone I am looking at bringing in this week.
Caleb Serong (94) – My boy Caleb continues to shine, and wants that rookie of the year title. He has now score 3 times over 90 this season, whereas Noah Anderson hasn't been able to go over 81. I think it is between him and Noah Anderson. Will be a tight finish I think, let's see how this plays out.
Jayden Short (87) – Well Jayden has certainly proved me wrong. When Houli came back, I didn't he would score many times over 70. Back to back 80's for him, but did have a 50 three weeks ago. Too much of a rollercoaster for my liking, even though every defender does this, he has Houli in the team to compete with touches.
-3 Candidates
Bachar Houli (54) – What a massive disappointment. Both Whitfield and Lloyd had massive games against Fremantle so it all added up for Bachar this week. Had 20 something points in the final quarter to save an even bigger embarrassment for his owners.
Michael Walters (51) – Just not getting that midfield role at the moment, and his scores are reflecting that. Draft owners would have been very happy with his start to the year, but since the injury, his scoring has gone south and I am not sure he is going to be playing a heap of midfield anytime soon.
Dustin Martin (28) – I love Dusty, one of the best players in the league. But I am not his biggest fan at the moment. He scored 28, 28! One of the players who cost me in the Qualifying final, and he would have cost a heap of other people obviously. His bye score has now taken a hit also with his average going down 4 points. Rage trade of the week for sure.
Sydney vs Melbourne
+3 Candidates
Ed Langdon (106) – First ton for Ed since round 1! Draft owners have been waiting a while, but it looks like Ed has finally figured it out. Back to back scores over 97, and if you were to take out his 57 in round 13, hasn't gone under 77. Not an option in classic, but great reward for his draft owners after his up and down year.
Max Gawn (100) – Big Max is back! After an 83 last week (low by is standards but was his first game back), he bounced back with a ton. He has now dropped a further 23k and is now 857k. Still a massive price but I think everyone needs him with an insane run to end the season. I will be getting him either this week or next at the latest.
Luke Parker (100) – Parker bounced back this week with his first ton since round 12. After a 58 last week, bounced back for his owners in an important game for many owners this week.
Ryan Clarke (100) – Finally he wasn't being a pest tagging and actually went and found a bit of the footy with 22 disposals and a ton.
Clayton Oliver (99) – Clayton has been one of the most consistent midfielders all season. Just knows how to find the footy, and the great thing about him is he knows how to do a little bit of everything. Unfortunately for me will be one of the players I wanted all year but I was never able to get in. Gun.
-3 Candidates
Jack Viney (58) – What has happened to Viney? All year he has been able to mostly score minimum 60, but back to back weeks under 60. Needs to go to someone capable of actually scoring.
Angus Brayshaw *injury* (56) – Gus was having a decent game, until an ankle injury had him off the field for the majority of the 3rd quarter. Came back on in the last which was a positive, but we will have to see if he will be ok for Melbourne's next game.
Christian Salem (52) – Just another one of those defenders that constantly scores around 70, then throws you a 50. Could be another player that cost owners this week.
Nathan Jones *injury* (36) – Nathan just can't get a good go of it at the moment. Late withdrawal a couple of rounds ago, and now another injury looks to sideline him. Hope he can get to his 300th.
Sam Weideman (7) – Another player that didn't even show up for his team this week. I only remember him getting one handball so I don't know where he got his other 5 points.
Callum Mills *injury* (DNP) – Late withdrawal from the game due to a calf injury. Not sure of the severity of the injury, so just keep an eye on the news to see what is happening with him.

GWS vs Carlton
+3 Candidates
Sam Walsh (96) – This game was very low scoring for fantasy, but Walshy didn't care. Just did his thing to be the top scorer of the game with 96. Hasn't quite had as a good a year as last year, but nothing to be ashamed of with an average of 73.1. Will definitely be one of the best midfielders in the comp over the next decade, and would be one of the top 3rd year breakout candidates next year.
Nick Haynes (87) – Seemed to be the only Giant besides Toby Greene that seemed capable of scoring. Loves a +6, but those couple of low scores turn people off a little. But at the end of the day, all defenders not named Jake Lloyd do it at some point so will still finish around the top 6 defenders, and more likely will be a top 6.
Toby Greene (85) – As I said, look liked one of the two Giants player capable of scoring. Had a little bit extra midfield time with Josh Kelly being out of the side. I would assume that Kelly comes back in so maybe that midfield time isn't still there, but can still score when playing forward and priced at 600k, could be a tasty option.
-3 Candidates
Lachie Whitfield (52) – Besides the game where he was KO'd in the first quarter, this was his worst score of the season! We can't have this from you Lachie, we need consistent scores from you like Jake Lloyd. Will surely bounce back next week against the Crows.
Zac Williams (52) – Is he allergic to scoring points in the 3rd quarter? Only scored 2 points in the 3rd last week, and 0 points this week! If I didn't have bigger issues, he could be on the chopping block but he will survive. Again, surely bounces back against the Crows next round.
Jeremy Cameron (20) – Wow, what a blunder this was! I brought him in for Noah Anderson. Noah Anderson's bye score was 57. He still outscored him by 37 points! I don't know what I was thinking. I thought a good run coming up, looked good last week, and had Riccardi taking pressure off of him which would allow Cameron more freedom. Oh how wrong I was. Even with the Crows coming up, not sure if I can even look at him in my team again.
Brisbane vs Collingwood
+3 Candidates
Jack Crisp (121) – Aha there will be so many people that love Crispy at the moment for finally turning his season around. But there will also be a number of people that hate Crispy after trading him out before last week. Looks to be a great target in defence, but could turn back to bad Crispy at any point.
Scott Pendlebury (108) – Pendles just knows how to get to done each and every year. Finds a way to average around 100 points or more (averaging 86 which is 107.5 BCV). If you are looking for a guy that will never let you down, I think he is your guy.
Lachie Neale (95) – After a really quiet opening quarter with only 5 points, the Corona Pig kicked into gear, with 90 points in the final 3 quarters! He just knows how to get it done, each and every week. More than what a lot of other premiums can say at the moment.
Jarrod Berry (95) – If you picked him in draft this year, you would be over the moon from what he has produced. Besides his 2 bad scores in rounds 1 and 12, only 4 other scores under 70. Even though it might not be amazing, has paid back his owners who drafted him.
Jarryd Lyons (94) – Needed to get this sort of score after his embarrassing 47 against the Saints before his bye. I think his bye might have saved some owners from trading him out, but besides that score of 47, hasn't gone under 70. I think we can look at the 47 as an anomaly, and will be in the mix for a top 8 midfielder spot.
Taylor Adams (92) – Very similar to Clayton Oliver, just knows how to score and does a little bit of everything as well. One of the top 4-5 midfielders at the moment, and if you want a good bye score this week, a 91 from Taylor is a good option.
-3 Candidates
Tom Phillips *injury* (66) – Phillips injured his hamstring in the 2nd half and would be in doubt to play in Collingwood's next game after the bye.
Dayne Zorko (56) – Another shocker from one of the top players at their respective position. 56 against the pies if not good enough from Zorko, especially since he hadn't gone under 70 since round 4 when he got injured during the game. I think we need more trades per week just so we can rage trade all of these under performing premiums.
Brayden Maynard (56) – Another down week in the yo-yo that is Maynard. I think Crisp looks to have taken the no.1 fantasy defender spot in the Pies side and this is showing in Maynard's last couple of scores, but could switch back to Maynard at any point which is why I am probably staying away from the two of them this year, but Crisp would be the pick.
Zac Bailey (41) – A lot of his coaches held him after his bye score of 65 last week. Many coaches watching tonight would have been wondering why they held him. Had been really good since round 6, only going under 60 once which was a 55. A lot of premium defenders have been scoring around 60 this year so it was fine to hold, but I think it is time for his coaches to think about other alternatives.
Harris Andrews *injury* (19) – Injured his hamstring in the 3rd quarter which would put the All-Australian's regular season in some doubt.
Tom Fullarton *injury* (4) – Fullarton injured his quad early in the game so I would assume he will miss some time.
Golden Stubby – Rd. 13
If you were not aware, the Golden Stubby is back and we have a few options this week.
Who gets your vote for the Golden Stubby?
Jordon Ridley (108) – The Riddler bounced back this week with a big ton for his owners.
Blake Acres (108) – The under-priced forward came out with a bang against the Tigers. 
Caleb Serong (94) – Big score from one of the best rookies of the year.
Max Gawn (100) – The big fella is back and back with a ton! Fantasy coaches rejoice!
Jack Crisp (121) – Another 115+ score the defender that has largely disappointed all year.
Loading ...
My week
1595. Even though it wasn't my lowest score, it seemed like my worst week of the season, which would have been the case for the majority of coaches. A number of players need to look at themselves, and those include Zac Williams, Stephen Coniglio, Lachie Whitfield, Dustin Martin and Jeremy Cameron. Luke Shuey and Angus Brayshaw get passes due to injury, and were both scoring alright before they got injured. Too many players not pulling their weight and that needs to change with my do or die semi final this week. I am sure that these players and many others also cost coaches either a spot in their respective prelims or eliminated them completely from their league.
My Trades
As for the week ahead, I have 2 options I am looking at:
Draper -> Sweet (bench)
Shuey -> Fyfe or Brad Crouch
Goldstein -> Gawn
or
Draper -> Sweet
Cameron -> Acres
Shuey -> Fyfe or Brad Crouch
I am torn between the two options as I need to win this week. I really want big Max in my team but I think I am leaning towards the Cameron to Acres trade as I think Goldy/Acres will score more than Gawn/Cameron but I could be wrong as Cameron could be big against the Crows this week. Not sure what I will do but I will figure it out ahaha.
As always, I appreciate you reading the weekend recap. Good luck to everyone in their semi finals this week.
If you have any fantasy questions, feel free to leave them below or hit me up on social media:
Instagram: @baileyirrgang
Twitter: @baileyirrgang