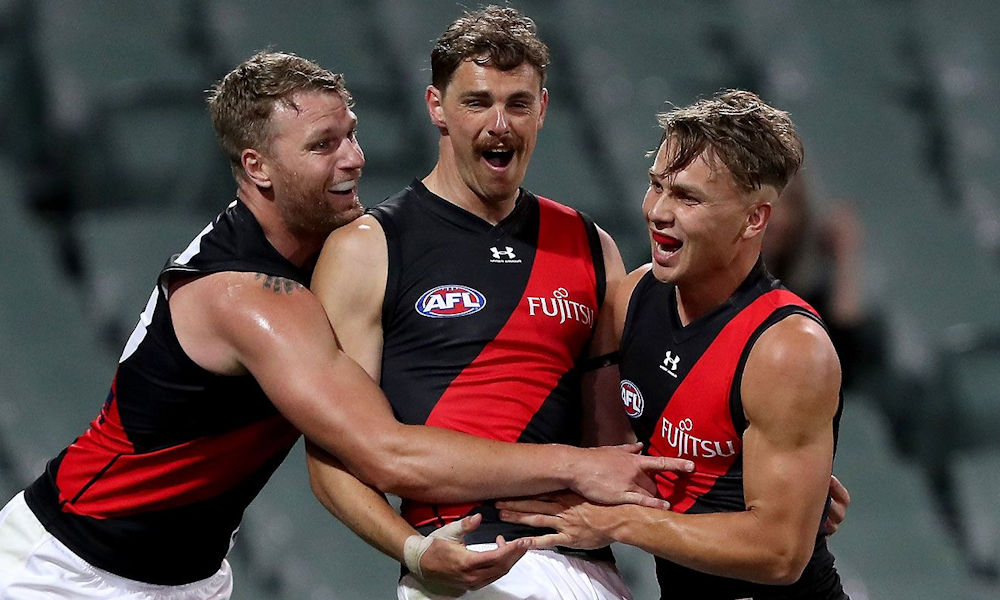 A really high scoring round, with the highest score for the round being 2120, which I believe is the highest score for the year. A ton of guys went big this week, with a number over 110. But with the good also comes the bad, with a number of premiums not coming to the party in what would have been a very important week for coaches fighting for a place in their league's finals. Well, let's get stuck into the weekend recap:
Hawthorn vs Essendon
+3 Candidates
Zach Merrett (122) – Continues on his merry way with yet another 120+ score. Gone up to a 91.3 average for the year with a slow start, and averaging 110.7 in his last 3 and 105 in his last 5. Insane form, and paying a price for him now but is worth every bit of it.
James Worpel (107) – Great reward for all of the coaches that have jumped on him over the past couple of weeks. Hasn't gone under 92 in 4 games and has the Crows this week. Still a great target to bring in.
Tom Mitchell (96) – I have been saying for a couple of rounds now that the pig is back. Another 95+ score. Jeez it is great to watch the Pig each and every week.
Andrew McGrath (95) – Salt in the wound for a number of coaches who traded him out this week. Hopefully you brought in a guy that scored more than this!
Joe Daniher (85) – Turned the game on its head in the 2nd half. Cost me a damn tip! Ahaha nah well played Joe. Was great to see you finally back in action.
Jack Scrimshaw (84) – Been really consistent since the SicDawg went down with injury. A great score of 84 this week and has the Crows on the horizon. If you are looking for a cheap defender, I think Scrimmy is your man.
-3 Candidates
Jordan Ridley (47) – Been one of the most consistent defenders all year, not going under 60 all year. Unfortunately for his coaches, he may have cost them a finals place in their respective leagues. Really disapointing but even though there are defenders that could score better, most people have bigger priorities. But if you don't, going him to Houli wouldn't be a bad shout.
Chad Wingard (36) – I am starting to wonder if Chad can score over 70 anymore…Never again list!
Liam Shiels (31) – I would have thought with Jaeger out and with an easier matchup, Shiels may get involved. Not the case…
Irving Mosquito (31) – I love watching Mozzy play, and he is on my bench but I just want a few more points. A 40 would suffice.
Jonathon Patton *injury* (3) – Another injury for big Jon. He can't catch a break at all. Brandon Ellis, who was in the same draft class, has played double the amount of games. Hope the big fella can start stringing some games together soon.
Michael Hurley *injury* (DNP) – Was a late out before the game. Ankle injury, not sure of the extent so if you are an owner just keep tabs on the Bombers injury report through the week.
Richmond vs West Coast
+3 Candidates
Andrew Gaff (107) – My boy Gaff looked back to his best against the Tigers, with 32 disposals and A WHOPPING 6 TACKLES for Gaff. Also his first Corona ton since round 8. A great option to bring in.
Luke Shuey (100) – Great bounce back after last week. First ton since round 1. Currently priced just over 600k, down almost 150k from the start of the year due to a hamstring injury against Port early in the game. If you are strapped for cash trying to get one of your last rookies off of your field, or trading Brayshaw to someone, I think Shuey is your man.
Bachar Houli (98) – Bachar is back! Great bounce back score after his horrible 42 last week. Now under 700k, is probably the best option in defence to bring in (if you don't have Lloyd) as he has the Crows in most leagues Grand Finals!
Tim Kelly (93) – Another guy bouncing back after a putrid score last week. Timmy was back to his best, and could be another underpriced option to consider.
Jamie Cripps *news* (72) – Had a solid game for the Eagles on Thursday night, but is flying back home to WA for the birth of his kid. If you are an owner in draft, make sure you have a plan for this.
Xavier O'Neill (64) – Really solid score and at a great time as there are not many rookies scoring well at the moment for cash generation. A great downgrade option for the bench.
-3 Candidates
Nic Naitanui (57) – A down game for the big man and could even get a rest this week with this condensed fixture so just be careful if you are an owner.
Shannon Hurn (40) – Where has premium defender Shannon Hurn gone?
Kane Lambert (39) – Seriously, not even joking, if you looked up rollercoaster in the dictionary, it would say Kane Lambert's name!
Marlion Pickett (35) – Another rollercoaster. If you still have him, time for him to be upgraded.
Jarrod Brander (27) – I almost pulled the trigger and went Anderson to him this week for cash generator. All I can say is glad I didn't. But it didn't help with Kennedy going down early and having to play more forward.
Nic Reid (20) – A great footy story, but unfortunately won't be making any more money…he is not even 200k.
Josh Kennedy *injury* (8) – Got a really bad knee to the head towards the end of the first quarter and didn't take any further part. Would be very unlikely to play against Essendon on Tuesday night with a short turnaround.
Dylan Grimes *injury* (8) – Unfortunately the Tiger star defender went out of the game early as well with a hamstring injury. Will be out for a couple of weeks and maybe more with a soft tissue injury history earlier in his career.
Western Bulldogs vs Geelong
+3 Candidates
Lachie Hunter (104) – Another great score, increasing his average to 95.3 with his bye coming up this week. Great trade in target, especially with a 95 guaranteed score.
Patrick Dangerfield (101) – Danger had another great game, and has been really consistent over his last 4 games. With his bye you get a score of 82 this week, and a decent run home, could be another option to consider in midfield.
Tom Stewart (99) – Mr. Consistent does it again! A shame he couldn't get 1 more point to get that ton but a lot of very happy Stewart owners out there. Has done a good job to increase his average from 62 up to 73 with the bye this week.
Marcus Bontempelli (90) – Not usually is there a player that only gets 14 disposals and is in this section apart from key forwards. But the Bont was able to get 10 tackles to get a very good score for this owners. This is exactly what we want to see from our players. If you can't touch the ball, get some hugs instead.
-3 Candidates
Jack Steven (57) – With an average over 70 and a score of 110 last week, a few people jumped on Jack Steven hoping he could continue his good form and have a great average for his bye week. Unfortunately he couldn't deliver with only a score of 57, bringing his average back down to 69.8. It doesn't help when he only played 58% game time.
Bailey Smith (57) – If it wasn't for his 70 average this week and having a couple of other holes to fix up, he would probably be gone. 1 mark and no tackles. Cmon Baz, you are better than that!
Tim English (49) – I think "Speak a no" has forgotten how to football.
Brad Close (35) – Has been a great cash cow for us this year but unfortunately it is time for him to go.
Zach Tuohy *injury* (41) – Went off of the ground after a big hit. Played out the game so he should be fine, especially with an extended break with the bye.
Easton Wood *injury* (15) – Hamstring injury for the former captain. Assume he will be out for a couple of weeks, which couple be his season over if the Dogs don't make finals. Keep track during the week.
Laitham Vandermeer *injury* (2) – Hamstring injury early in the game and will be out for a couple also, which may also be the end of his season.
Port Adelaide vs Sydney
+3 Candidates
Jake Lloyd (120) – What more can I say about Mr. Seagull! In his 150th game, he went and had his season high score of 120. No.1 defender, could be the very first defender pig if he keeps this up.
Robbie Gray (98) – Big game from Robbie, which included 2 goals to go along with 27 disposals. Unfortunately he doesn't play midfield every game, because if he did he would 100% be a top 6 forward. Nice reward for draft owners.
Josh Kennedy (97) – All I wanted to see was this. I was looking at him this week to potentially be my next midfield premium and he delivered. After a knee injury in round 6, he has now dropped to 667k with a lowest score of 76 from a full game (14 due to injury and 65 with limited game time) so looks like the value pick in the midfield along with Shuey.
Ollie Wines (95) – Another good score from Ollie, but is too up and down for my liking to take a midfield spot in my team.
-3 Candidates
Luke Parker (58) – Another player that could have cost his coaches big time this week! After being pretty consistent all year, has had 2 stinkers scores in a row. Could be an option to trade if you have no other problems. Still expensive so you can pretty much get to anyone you want.
Scott Lycett (55) – You would have thought Lycett would have been a good option with Ladhams out for 3 games, especially with Sydney this week and the Dogs next week. Turns out that was a wrong option.
Jackson Thurlow (46) – Now I know this one hurt a lot of people this week. I traded because Port Adelaide are tough to score on, especially for defenders. But some people didn't have the luxury of doing that, and it hurt with a low score of 46 meaning that the Thurlow train has stopped and it is time to get off.
Brad Ebert *injury* (28) – I think Brad needs to start being a bit more careful and not always get hits to the head. I know he did hurt his cheekbone but he should be ok with Port's bye this week so extra time to rest up.

Fremantle vs GWS
+3 Candidates
Lachie Whitfield (111) – Whitters just continues to get it done. Can you believe he is averaging 84.9 after 2 60's to start the year and being knocked out in another game on 10! Showed this week why he is the no.1 forward. It is going to be fun to own both Lloyd and Whitfield in defense next season.
David Mundy (99) – Turned back the clock on the weekend, with a vintage performance showing the young Freo midfielders how it is done.
Andrew Brayshaw (99) – He would have had all of his owners worried after a 3 point first quarter. But boy did he turn it on. 96 points in 3 quarters! Will finish as a top 6 forward. Just hope I can get him back in my team after trading him out after round 1.
Jeremy Cameron (94) – Jezza bounced back to form against the Dockers, kicking 4 goals and 18 disposals. Could be a really sneaky option to bring in. You probably think I am crazy but hear me out. He is priced at 450k, you can make money by going a rookie like Anderson, Serong or Pickett to him. He has Carlton, Adelaide and Melbourne in his next 3 which are pretty good match ups. Riccardi coming in looks to have really help him and allow him to get further up the ground like he did on the weekend and get plenty of +6's. Could be a move I consider.
Adam Cerra (94) – Another big game from Cerra. Will be a premium for the future but just a little up and down at the moment.  When he improves his consistency, watch out!
Jake Riccardi (83) – We may be seeing a late riser in the Cash Cow of the year award. After scoring 87 on his debut, he backed that up with 83, including a 47 point 3rd quarter with 3 goals. He has risen 78k this week and will be 350k+ more than likely after his next game.
Nick Haynes *LAST QUARTER (69) – Now I had to put this in here (I am not an owner). 26 points at 3QT. Another score under 40 looked like it was coming. But a MASSIVE final quarter of 43 points completely saved his owners this week.
-3 Candidates
Toby Greene (57) – Almost brought him in this week as well. All I can say is Toby stop this nonsense during games and focus on the footy.
Josh Kelly *injury* (56) – A massive score was incoming for Kelly owners, but unfortunately copped big Mummy's knee which resulted in him being concussed and ruled out of the game. Highly unlikely to play next week with a short turnaround which is shame for owners with great games coming up.
Nathan Fyfe (54) – Was completely shut out of the game by De Boer. He had his lowest disposal tally (4 disposals) since his 2nd career game. Next year if he becomes a forward will be a great option, and discounted as well.
Caleb Serong (47) – Unfortunately for those that held him after his good score last week, it is now probably time to part ways on good terms. Will be in the conversation for rookie of the year honours.
Luke Ryan *injury* (33) – Unfortunately hit the ground hard in the 3rd quarter after trying to take a mark and was ruled out later in the 4th quarter with a bruised hip. A big bullet for those smart coaches that own him or traded him in this week, and I know Roy was one of them. May not play this week as well just to add more salt to the wound.
Connor Blakely (30) – Again, only 60% game time. My biggest question is why is he out there? He is a good player and I like him, but playing 60% is just baffling.
Melbourne vs St Kilda
+3 Candidates
Ed Langdon (97) – Great reward for draft owners and the 0.6% of Classic owners.
Rowan Marshall (90) – Was clearly the better choice over Goldy when I had the choice between the two. Has been very consistent for his owners. More than Goldy can say for me and the rest of his owners.
Jack Steele (90) – Continued his great form this year. And is still under appreciated in the fantasy community, with a season average of 90. Gun and a great POD to bring in for finals.
-3 Candidates
Michael Hibberd *injury* (59) – Tweaked his ankle in the 2nd half but came back on and played out the game. Should be fine but just keep tabs on it.
Seb Ross (53) – Still baffled. Where has 2018 Seb gone?
Angus Brayshaw (50) –  Why does this not surprise me? A 3 week patch of us thinking "Oh Gus is back!" And then we get a 50 thrown back at us again. Has made some good money but will be on the chopping block for a lot this week, me included.
Jack Viney (46) – Was this just due to St Kilda games being low scoring for fantasy or are Viney and Gus just not good options?
Max King (24) – Will be a great player, and has already shown signs of how good he will be. But his time as a cash cow this year I think has come to an end.
Carlton vs Collingwood
+3 Candidates
Ed Curnow (119) – Another massive score from Ed! Lowest score of 95 in his last 3. Really expensive so a pass for me but another one for the draft owners.
Jack Crisp (116) – This one hurt a lot of coaches this week, around 1.1k, and Roy was one of them, and went Crisp to Luke Ryan which added even more pain to it. After not scoring over 82, he goes monster this week!
Jamie Elliott (103) – Now if it wasn't for Collingwood still to have their bye, he could have been a really sneaky option to bring in. Played midfield today with no Sidebottom and Treloar. But season average is only 55.8 so big enough to really be an option. Check the waiver wire in draft to see if he is there.
Brodie Grundy (90) – Big final quarter by the Ruck Pig to get to a pretty good score. Hopefully we see a Corona ton from him before the end of the season.
Isaac Quaynor (84) – Finally I was able to see a big score from him. He is such a good ball user coming out of defence and finally got the ball a bit more today.
Patrick Cripps *injury* (80) – Fantasy owners and Carlton fans would have had a sigh of relief when Crippa got back up and played on after it appeared as if his knee buckled. Played out the game and looks all good.
-3 Candidates
Marc Murphy (60) – A far cry from the Murphy we saw against the Suns.
Chris Mayne *injury* (56) – Was involved in a massive hit with Cripps and has a possibly fractured cheekbone so will be out for a while if so.
Tom De Koning (25) – I know he was playing the ruck pig but that is not acceptable. People brought you in to make cash, not be a bench fodder.
Darcy Cameron (15) – A massive fall from grace after his 87 a couple of games ago. I know we didn't expect 87 every week, but 15?
Gold Coast vs North Melbourne
+3 Candidates
Ben Ainsworth (107) – Was involved in absolutely everything for the Suns, particularly in the first half with 9 score involvements out of their first 12 scores.
Hugh Greenwood (89) – This was the score owners had been waiting a few weeks for. First score above 80 since round 8 and with an average of 77.3 heading in to his bye.
Luke McDonald (86) –Slowed a little in the 2nd half but another 80+ score for the Vice-Seagull. Now really expensive at 773k. Glad I jumped on board this week and could be a potential league winner as he is only owned by 3.3%.
Noah Anderson (80) – Well I didn't think I would writing about Noah as an owner still. But I held him for one more week and didn't he deliver for me and the rest of his owners! Still my pick for rookie of the year just ahead of Serong. Will be traded for me this week, at least we leave on a much better note than the 25 last week.
-3 Candidates
Jy Simpkin (61) – Was disappointing after a 27 point first quarter and 44 point first half. Very similar to Bailey Smith, but a little better, if people had less issues he may be on the copping block but with an average of 73.4 heading in to his bye, he survives but needs to come out firing if he wants to finish as a top 6 forward.
Jack Lukosius (52) – A reminder as to why Jack isn't quite a premium defender yet. 2 good scores followed up with a bad one.
Brandon Ellis (47) – Putrid score from a guy who hadn't gone under 60 all year. Bitter pill to swallow for draft owners.
Luke Davies-Uniacke (47) – Will be a great midfielder in the future, but just too inconsistent at the moment to be a solid option for our teams.
Aaron Hall (44) – Why can't Aaron Hall score anymore?
Shaun Higgins (38) – Wow I didn't see a score this low coming, but actually looking at it, already had a score of 41 and 34 earlier in the year…
Darcy MacPherson (31) – Mr. 2020 Preaseason was back in the team this week…and another sub 50 score. Averaging 45.4 for the year…
Lachlan Hosie (27) – Can't be trusted on field if he was there for anyone. Very much a yo-yo and if he doesn't gave a good game next, could be done making cash for owners.
Ben McKay (14) – I really hope all of his owners had already traded him out before this score?
Nick Larkey *injury* (5) – I hardly spotted him out there. Was completely shut down by the Gold Coast defense. Had an ankle tweak late in the 3rd quarter, but played out the game.
Golden Stubby – Rd. 13
If you were not aware, the Golden Stubby is back and we have a few options this week.
Who gets your vote for the Golden Stubby?
Zach Merrett (122) – Makes a strong case for back to back 120+ scores. No.1 midfielder based on form.
Lachie Hunter (104) – Going at an average of 95.3, will be really pleasing his owners who will get his big bye score this week.
Jake Lloyd (120) – Mr. Seagull gets it done, week in, week out. He will get my vote just over Whitfield.
Lachie Whitfield (111) – Similar to Lloyd, just knows how to get it done. Unlucky not to get my vote.
Jack Crisp (116) – For all of the owners that held, I would imagine that he gets your vote.
Loading ...
My week
1966. My biggest score of the season, and my first 1900+ score for the season and saw me move up inside the top 3000 to 2557. I have been able to salvage my season where I had a number of injuries earlier in the season with some players coming into my team and playing their role. Still had a couple of players perform under par but with a few of them like Goldy, Simpkin and Bailey Smith all having solid averages, they will most likely all hold their place in my team. I got kissed a bit with holding Anderson this week and getting an 80.
My Trades
As for the week ahead, I will finally move on Anderson, but on better terms than we would have done if I traded last week. Trades at this stage are:
Sholl -> B Williams (eventually trade Draper and put him on ruck bench)
Anderson -> Sloane
Gus Brayshaw -> J Kennedy (Sydney)
or
Sholl -> O'Neill (DPP move Butler back to DEF bench)
Anderson -> Jeremy Cameron
Gus Brayshaw -> J Kennedy (Sydney)
The Sholl to Williams trade is the only trade where I have enough money to fund my other 2 moves. As I stated before, I think Kennedy is a great underpriced option for me to bring in and hope we can make up for lost time after he got injured on 14 with him on my field. I also think Sloane and Jeremy Cameron are both really underpriced for what they could both potentially do. Only costs me 29k to go Anderson up to Sloane and I make 45k going down to Cameron which I think both are good value. With these trades it means my only rookie on field is Riccardi, who is performing better than some premiums anyway.
Again, I appreciate you all for reading the recap. I hope you enjoyed and good luck for the upcoming week.
If you have any fantasy questions, feel free to leave them below or hit me up on social media:
Instagram: @baileyirrgang
Twitter: @baileyirrgang