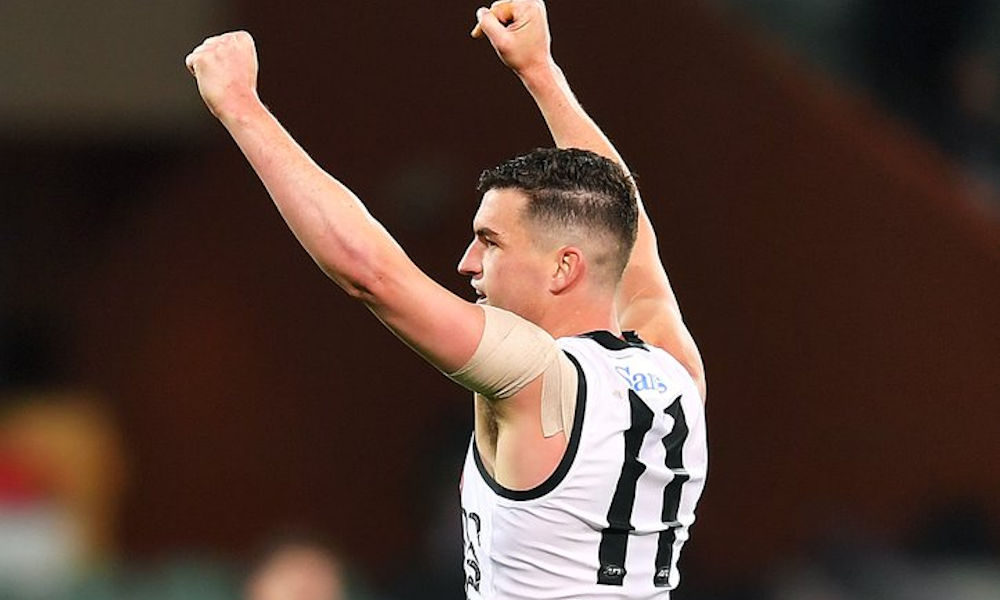 Very up and down round this week. A few guys went bang with some big scores, but there were also a number of stinkers which cost fantasy coaches big time, and may be on the chopping block for a number of coaches this week. It was also a week for celebration, with the pig Tom Rockliff celebrating his 200th doing it only how he knows, scoring a ton. Let's get stuck into the weekend recap:
Gold Coast vs Carlton
+3 Candidates
Patrick Cripps (95) – Big Crippa looked at his bulldozing best, collecting 23 touches and having a really food all round game. Underpriced at around 680k-690k with some good fixtures to come. Consider.
Ed Curnow (95) – Back to back good scores for Ed. Rewarding draft owners. Better options to consider in Classic.
Michael Gibbons (95) – Oh yeah I remember you Gibbo. First big score since round 4. Scored 24 in a full game 2 rounds ago, that pretty much says it all.
Will Setterfield (92) – I guy I considered around the 500k price bracket a few weeks ago. Much better options but credit where credit is due.
Marc Murphy (90) – Looked back to his best in this game playing purely in the midfield, and was probably best a field for many. Proven premium in the past and priced at around 580k, could be an option for coaches who are strapped for cash.
Jack Martin (90) – Good game for Jack in a high scoring game for the Blues, with plenty scoring 90+. Too much of a rollercoaster for me, but as a forward under 570k, another underpriced guy due to injury you could consider.
Jack Lukosius (87) – Gold Coast's one shining light from the game. Controlled the backline, similar to what Lachie Whitfield does for GWS. Has really become an option down back. I said premium defender of the future, but it is looking like premium right now.
-3 Candidates
Jarrod Witts (54) – Sorry WarneDawg, but unfortunately Witts is garbage at the moment. 4 scores of 60 or under in the last 6 games. Needs to go, Draper is performing better for 300k less!
Lachie Weller (46) – Wow, it has been a long time since a really good score, round 3 to be exact. Good player but doesn't translate to fantasy.
Izak Rankine (44) – I love Izak. A fellow South Aussie and one of the best young talents going around. We will all still enjoy watching him, but unfortunately his time as a cash cow has come to an end.
Connor Budarick (34) – Surely no one still has Budarick floating around?
Marc Pittonet (29) – What a fall from grace for Mr. Worldwide…
Noah Anderson (25) – Okay well this one hurts. After setting a PB for disposals last week in the first half, and ended up scoring 80, TO THIS! Chosing to keep Anderson over Serong this week and Pickett last week has come back to haunt me. I love Noah, but will be out of my team as soon as lockout lifts. 50 points difference from him and Serong, and 45 point from him and Pickett. What a blunder!
Western Bulldogs vs Melbourne
+3 Candidates
Jack Macrae (104) – Jack is back! After an under par performance last week against Adelaide, back with a ton. A lot of very happy VC loopers this week, myself included. Top 2 midfielder.
Marcus Bontempelli (101) – DeJa Vu. The Bont is doing it again. He stormed home like a steam train last year, and is doing the same again this year. We need to get on board if we can, but will cost 100k+ more than he did 2 rounds ago.
Lachie Hunter (99) – Quietly floating under the radar. Going at an average of 93.6 this year, and hasn't gone under 95 since round 1 (has only played 4 games since round 1). Comes at a cost, but a really nice POD, owned but just 0.9% of the comp, and they are all jumping for joy at the moment, as well as draft coaches.
Angus Brayshaw (79) – Gus is back, this is 3 games now. Even though this isn't an amazing score, it is still very solid for a guy we paid only 556k for (some only paid 505k). Still a great option to bring in next week. Underpriced for next year as well.
-3 Candidates
Caleb Daniel (52) – Failed to really get involved in the game. I know that most defenders score 50's, but Caleb scores too many of them this year to be a top 6-8 defender.
Laitham Vandermeer (40) – Nearly brought him in after his back to back 70's earlier in the year but majority of his scores are in the 40's so if you still have him, cash in as he will start to bleed cash.
Tim English (33) – I know "Speak a no" had an ankle issue last week and may not have been 100%, but 33! Solo ruck with only 6 hitouts in 84% game time. Not good enough for owners. Trade with a few value options to go down or even a couple of options to go up to.
Tom Sparrow *injury* (18) – AC Joint injury for Sparrow. Will be out for an extended period you would imagine as he looked really sore. Only owned by 0.7%.
Nathan Jones *injury* (DNP) – Quad injury in the warm up. Melbourne say it was just tightness so he should be all good for next game.
Port Adelaide vs Hawthorn
+3 Candidates
Travis Boak (119) – Massive score by Boaky. Really nice option under 700k with 3 scores of 90+, 2 of them 100+. Just be prepared for a bad score every now and again as he does sacrifice himself at times for the team, but a really nice run of games to end the season.
Tom Mitchell (108) – Battle of the pigs! and Tom just came out on top. Definitely back to his best, as shown by his 11 tackles this week, just needs to add some more marks. Could see a big 140+ score before the end of the season.
Tom Rockliff (100) – Happy 200th Rocky. Even though he didn't come out on top in the battle of the pigs, he did get to the ton. Expensive now, but only one bad score of 58 against Geelong since coming back into the team, so take that score with a grain of salt.
James Worpel (92) – Another value guy in the midfield. Looked really good, and he is doing it alongside the pig. 3 score above 90 in a row. Seriously consider at around 700k if you are looking in this price bracket with favourable matchups against Essendon and Adelaide in the next 2.
-3 Candidates
Chad Wingard (54) – Another 50 score for Chad. Has really fallen away since opening the season with 4 really strong games. An option to really consider training in classic, frustrating for Draft owners.
Mitchell Georgiades (43) –What about that dribble kick from 5-10 metres out. The Chief won't be happy with that one. Anyway, has made as much cash as he can, and will start to bleed cash so he needs to go.
Conor Glass (31) – I hope no one brought him in after his 75 last week. If you did you a really now in a pickle…
Steven Motlop (27) – Really surprised he is even in the team. Has had little to no effect since his game against the Crows in round 2. 0.3% either really love Steven, or just aren't taking Fantasy seriously. And in draft, if he isn't on the scrap heap, I would get him there ASAP.
Essendon vs Richmond
+3 Candidates
Zach Merrett (125) – Zach is back, and in a big way too. Not many players can score 120+. He has done it twice in 6 weeks, with only 1 score under 80 since round 8. Expensive now at around 800k, but looks like a top 8 midfielder at the moment, and unique as well. Only owned by 4.6%.
Dustin Martin (105) – That was the best I have seen Dusty look all year. Commanding through the middle of the ground. He is back to his 1-2 play with his teammates and his scoring is now reflecting that. Has was priced near 600k so if you haven't jumped on you need to soon. Will be over 700k very soon, if not this week.
Shai Bolton (96) – Silky smooth display, and was rewarded with Man of the Match in Dreamtime in the NT. What a spectacle the game was. Is it just me or should the AFL consider moving the dreamtime game to Darwin in future years? Maybe not every year, but every 2nd or 3rd year. Just a thought. Anyway, Bolton is a really good player, but it doesn't always translate into high scores.
Sam Draper (79) – Looks like my little rocket worked wonders! Big score for a rookie. Well played if you has this score on field. Going to make a truckload of cash over the next couple of games. Could be risky as an on field prospect because their is always a chance of him being managed with Bellchambers and Phillips both healthy but it is an option to consider if you need the cash.
Marlion Pickett (70) – As mentioned before, I could still have Pickett in my team, and be really pumped about this score. But after trading him after his 35 against Port, I am regretting that the more and more I see him play. Just silky smooth will ball in hand, and besides that 35, has been consistently over 60 points after his transition onto the wing. You can still hold onto him, unless he is one of the final rookies you have and you can get to an Uber premium.
-3 Candidates
Andrew McGrath (63) – Has started to fall away since his massive score against Adelaide, failing to surpass 80 in 5 straight games which is not what we want our premium midfielders doing. He also handballs too much which would be frustrating for owners. Still priced around 700k, can easily go up to an uber premium or even go down to a Gus Brayshaw or Luke Shuey.
Dylan Shiel (61) –The rollercoaster continues.
Jayden Short (56) –The Jayden Short experiment has come to an end. With Houli back in the team, he goes back to his 50-60 scores. Bleeding cash fast now, but still over 600k so a move to another premium defender looks like a good move.
Bachar Houli (42) – First game back so not going to get too angry with him, but he could he at least got to 50 surely? With a massive breakeven, will be really cheap in a couple of rounds so keep an eye on him.
Jake Aarts (34) –As I said last week, he needs to go.
Aaron Francis *injury* (13) – A right hamstring injury so will be out for a couple of weeks you would imagine.
Fremantle vs Sydney
+3 Candidates
Jake Lloyd (102) – MR. SEAGULL! Oh how I love watching Lloyd rack up his cheap possessions across half back every single game. Could very well be the first defender pig the way he is going. Docherty needs to take a look at what Lloyd does and start doing the same thing because Lloyd is on fire! (I still love Docherty)
Andrew Brayshaw (97) – There was a time at the start of the year where a lot of people not wanting to associate their Fantasy teams with either of the Brayshaw's. Now it looks like we need them both. Finally their coaches are playing them like proper midfielders getting 75%+ game time instead of that 60% game time crap at the start of the year.
Lachie Schultz (93) – Was everywhere during the game. Would have been good to see this score a lot sooner, as many people started with him.
Luke Ryan (88) – Looks the real deal, All-Australian year in my opinion and looking more and more like a top 6 defender. Only scored under 80 once since round 8. Expensive now but looks as good as anyone…apart from Jake Lloyd.
Caleb Serong (75) – Very bittersweet this one. My boy Serongy, why oh why did I trade him. I should've just remembered he is my boy. 75 is a great score for all of the owners that held this week. The Gus Brayshaw trade for many only got you 4 points this week. Oh well, I still love him so we may be apart, but he will always stay in my heart <3 (ahaha might go Anderson to him just to get him back in). Takes over rookie of the year honours.
-3 Candidates
Michael Walters (64) – Just not getting the same opportunity with the likes of Cerra, Brayshaw and Serong playing so well through the midfield. Keep an eye if it changes, as he will be cheap.
Nathan Fyfe (55) –Surprising he only had 1 tackle and 0 marks. Still was able to get 22 possessions though. But not as good an option as others at the moment. Potential for Forward DPP next year so lets hope he continues forward.
Callum Mills (55) –Yet another premium defender that is a rollercoaster.
Jackson Thurlow (55) – Not exactly what owners that traded him in were hoping for. He will still make cash, but every defender does this but wouldn't argue with anyone if they wanted to trade, but would be a low priority as he still looks to have a good role.
Connor Blakely (37) – What is the point of playing a player when they only play 54% game time?!
James Bell (31) – Is probably now a fattened cash cow so could be time to off load.
Zac Foot (24) – Not the best score for the no.1 traded in player for the week. I hope you didn't play him on your field?
Stephen Hill (12) – Was he even out there?
Adelaide vs Geelong
+3 Candidates
Matt Crouch (122) – Gee hasn't Matt turned it around 100's in his past 3, and hasn't gone below 90 in his past 4. He looks back to his form of previous years and looks a nice safe option, but you are paying nearly 800k for him so I will let you decide that.
Cam Guthrie (120) – Here is one guy who has really flown under the radar this year. Since round 4, he has only one under 80 twice, a 61 and a disgusting 46. Take those 2, especially the 46 and I think we would be having a different conversation. Very rewarding pick for those that went with him in draft.
Jack Steven *injury* (110) – If it wasn't for the possibility of him always getting rested and playing only 65-70% game time I think he would be a real option. Just think what he would be doing if he was playing 75%+ game time. Had a knock to his knee in the final moments in the game so just worth monitoring.
Mitch Duncan (108) – Another midfielder taking advantage of the Crows, ahaha 3 Geelong mids over 105. Ridiculous! And talk about junk time for Mitch. 84 with 2 minutes to go wasn't the worst score but were hoping for a little more, then 2 +12's came along.
Rory Laird (105) – My Boy Lairdy! People weren't even thinking about him much earlier in the year and I have been a proud owner all year. Then he went in the midfield and is really turning it on now. 2 100's in his last 3. Don't want to step on anyone's toes but I would have to say surely no.2 defender on Roy's Rolling 22?
-3 Candidates
Chayce Jones (43) –Remember when he was an option people were considering at the start of the year? Glad I didn't start with him, only averaging 32.8 for the year. I like Chayce and think he will be a great player but just not quite ready for the fantasy side of it yet.
Brad Close (38) – Was hoping for a little bit more from Brad, especially with such a good matchup. At least he won't be on my field this week.
Lachlan Sholl (35) – Hope he wasn't on your field. Scores better with McPherson in the team I think.
Shane McAdam *injury* (49) – Says he had a hamstring injury. Don't actually remember seeing it but again if you own him worth monitoring the situation.
Brisbane vs St Kilda
+3 Candidates
Jack Steele (110) – Wow what a game from Jack Steele. He was everywhere. I don't remember seeing much of the game when he wasn't involved. Really strong bounce back after his 58 last week and demotion out of Roy's Rolling 22. Really under-appreciated this year with only 3 score below 80, the 58 was the only score below 70 as well.
Dayne Zorko (81) – Not many big scorers in this game, as these were the only 2 gentlemen that went over 80. Dayne had a quiet start to the game, but came home strong, particularly in the 2nd half to get over 80 for all of the new owners that brought him in after his Forward DPP added this week. One of the top forwards in the game so make sure you grab him before the end of the season.
Rowan Marshall (79) – This score isn't usually anything to ride home about, but when it comes to ruckman it does. Been one of the most consistent ruckman recently, not going below 75 since round 7, and considering he plays large portions of the game forward, not bad. If you grabbed him when big Max went down, well played.
-3 Candidates
Lachie Neale (71) – I don't usually put guys in here that scored 70 but when we are talking about a guy averaging 103.3 for the year, and had 20%+ of the competition captain him, we expect better. This is the exact reason you should take a good VC captain when you get one (many people would have had Macrae 104 or Lloyd 108). If you didn't then this was just bad luck, it could have been a lot worse if not for his good last quarter. Can't wait for his guaranteed 103 as captain this week (could have been 106 or more!)
Alex Witherden (59) – Got some cheap +6's in the final quarter to boost the score a bit. Not exactly what owners were hoping for but he is a defender, and they all do it except for Jake Lloyd as I have mentioned before.
Jack Billings (55) – I can't believe mid way through the 3rd quarter he only had 3 DISPOSALS! Holy how. Surely I could even get more touches than that. Did finish strong to paper over the cracks.
Brad Hill (54) – I swear every time a player from St Kilda gets the ball they avoid Brad Hill like the plague. Not sure why as he os one of their better ball users. GET HIM THE BALL!
Oscar McInerney (50) – I almost pulled the trigger and brought him in this week.
Seb Ross (46) – Again just remember he was winning people cars a couple of seasons ago. Averaging 57.5 for the year and priced a 483k. I'm not sure even if we see anything we could even look at bringing him in but you never know, he could do a Brayshaw.
Jarryd Lyons (41) – What the hell was that? 41 from a so called premium. He hadn't gone below 76 all year until this week. Only thing saving him from being rage traded is owners get his guaranteed bye score of 88 this week. At least you don't get the 41.
Grant Birchall (18) – I know Birch isn't what he used to be, but 18. What sort of effort is that?
West Coast vs GWS
+3 Candidates
Josh Kelly (97) – Just continues to get it done. His lowest score since round 7 was a 78. One of the best midfielders in the comp and even though you are paying 803k,  you are getting what you pay for.
Lachie Whitfield (94) – I honestly love watching Whitfield and Lloyd rack up the ball in the back half, but Whitters does it all over the ground as well. I assume he will be a Defender next year, maybe even a DEF/FWD. Either way, I think I am picking him regardless.
Nic Naitanui (87) – Gee Nic Nat is absolutely dominating at the moment. Has to be the All-Australian ruck. At 605k, I would love to bring him in and I am considering it, but with West Coast's next 4 games where they don't have longer than a 5 day break in between any of them, could we see a rest for Nic Nat?
Jake Riccardi (87) – Wow what a debut! He was everywhere, getting right up the ground helping teammates and then getting in the 50 and scoring goals. More than what Jeremy Cameron can say at the moment. At 218k, he is the must have cash cow of the week.
Jeremy McGovern (82) – Not many people own him in classic but what a game he played!
-3 Candidates
Tim Taranto (58) – Back to back disappointing weeks. He is now down to 738k and regardless of the 2 bad scores, looks a real nice option with a great run of games to end the season. POD League winner maybe?
Tim Kelly (55) – He has been Mr. Consistent all year, but back to back bad scores of 49 and 55 is not what we want to see. Hard pill for the 7.4% of owners and all of the draft owners but he should bounce back this week.
Luke Shuey (54) – This was a shame as I brought him in 2 rounds ago. Was really surprised that Hopper ended up tagging him but hey you win some you lose some. I expect a bounce back from him as well this week.
Stephen Coniglio (52) – I don't quite know what to say to Cogs at the moment. Really crap effort I think would hit the nail on the head. Surely bounces back this week?
Callan Ward *injury* (28) – I know he wasn't scoring great, but that injury looked awful. If you haven't seen it and don't like looking at uncomfortable things, don't look at Callan's finger. Compound fracture during the 3rd quarter, which means season most likely done for him. He can't catch a break at the moment.
Collingwood vs North Melbourne
+3 Candidates
Luke McDonald (121) – Wow McDonald is going bananas at the moment! Another 121, his 3rd 118+ score in 5 weeks! That is insane for a defender. In form defender in the comp, but has risen to 744k now and really expensive but hey, not sure if he will slow down any time soon.
Brayden Maynard (117) – The guy that cost me my league matchup! Haha, he was everywhere during the game and the points kept adding up. Really inconsistent which I don't like (117 this week and 34 last week), but hey all defenders are like that.
Jed Anderson (113) – Jed just continues to get the job done at the moment. Back to back 110+ scores and really rewarding draft coaches at the moment. I think there are better options in classic but if you like him then I guess go ahead, scoring well at the moment.
Taylor Adams (107) – Another great score from Taylor. He really loves playing without Treloar doesn't he? Goes to another level but has been amazing all year even with Treloar in the side, but hasn't gone under 95 since Treloar got injured and now Sidebottom is out so can he go up another gear? I think he can.
Shaun Higgins (100) – The ever reliable Shaun Higgins is getting it done as well at the moment. Take out the Geelong game where he scored 69 (not the worst) he hasn't gone below 77 since round 6. Unique with only 1.3% ownership and at 716k you could do a lot worse.
Scott Pendlebury (99) – Another reliable champion, Pendles know how to get it done year in year out. Just one bad score of 63 for the year, and with Sidebottom out of the team is an option I am really considering at 717k.
Steele Sidebottom (89) – Another great score by Sidebottom, but unfortunately that will be his final game in the regular season as he returns home to Melbourne to have his first kid. Congrats to Steele and his partner and looking forward to hopefully seeing you in finals and as a MID/FWD in 2021.
-3 Candidates
Brodie Grundy (71) – A little under par for the ruck pig but I imagine there is a little game management here. He has bursts of 15-20 points then don't see his score tick over too much after that.
Jy Simpkin (63) – Gee he gives a few free kicks away doesn't he? Cmon Jy, we need these points.
Jack Crisp (59) – Not sure if Crispy knows how to score anything other than a 70 or 50 at the moment. Glad I am not an owner, otherwise I think I would have pulled all of my hair out by now. A trade definitely has to be on the cards for owner as we approach fantasy finals.
Todd Goldstein (58) – All I needed Goldy was 15 more points for my league matchup. WAS THAT SO MUCH TO ASK?! Not many rucks getting it done at the moment. I want the days back of ruck pig and Max dominating, but we may not see those days until next year with Max injured and not 100% and Grundy not performing on the level we are used to.
Tom Phillips (48) – When I saw Phillips get FWD status, I got excited when I saw his name. Was having a good run of 3 games then this happens…
Darcy Cameron (39) – I really hope people that had him on field last week patched up their mistake.
Jack Mahony (26) – Copped a hard tackle from Greenwood which injured his shoulder in the first quarter. Played on and continued to go in hard at every contest, included a contest straight after coming back on to the ground. Will have scans I would imagine some time this week.
Golden Stubby – Rd. 13
Who gets your vote for the Golden Stubby from this round?
Loading ...
My week
I scored 1758 this week, which was somewhere around par. I did however move up a couple of 100 spots up to 3491. Not a bad ranking, especially with so many bullets this year that have ruined trades/team planning. Got a couple of stinkers this week as well, included Shuey's tagged 54, Coniglio's 52, Goldstein's 58 and worst of all, Noah Anderson's 25. I really do wish I kept Serong, would have exactly 50 more points, moved into the top 3000 I would imagine and easier trades to make this week as I would probably hold Serong and get Close off of my field. But all in all, not the worst week in the world. I know people copped more bullets than me, but all we can do is put one foot in front of the other, use out 3 trades and get stuck into the next round.
My Trades
As for the week ahead, I need to get Anderson and Close off of my field. So I am looking at either:
Close -> Riccardi (play on field where I can Emergency loophole him)
Watson -> Mosquito
Anderson -> Lukosius
or
Goldstein -> B. Williams (play Draper on field)
Anderson -> Pendles/Boak/Andrew Brayshaw
Close -> Lukosius
At this stage I will probably go with the first option as Goldy has the bye the following week with hopefully a guaranteed 80+, so getting Riccardi and Mosquito sorts out my bench cover which hopefully will make a few dollars over the coming weeks to finishing upgraded a few players. But I don't mind the 2nd option either. Gets all my rookies except Draper off of my field, and because no rucks are performing isn't a bad move but means I don't get Riccardi which I am not the biggest fan of. I also have looked at Goldy to Nic Nat or Lycett but not sure with doing that either with a possible Nic Nat rest of Ladhams more than likely coming back in 2 games once he serves his suspension. Will decide later in the week because there may be some resting coming up for teams that don't have a bye so make sure you keep up to date with all of the selection news.
Anyway, I appreciate you all for reading the recap once again this week. I hope you enjoyed and good luck for the upcoming week.
If you have any fantasy questions, feel free to leave them below or hit me up on social media:
Instagram: @baileyirrgang
Twitter: @baileyirrgang