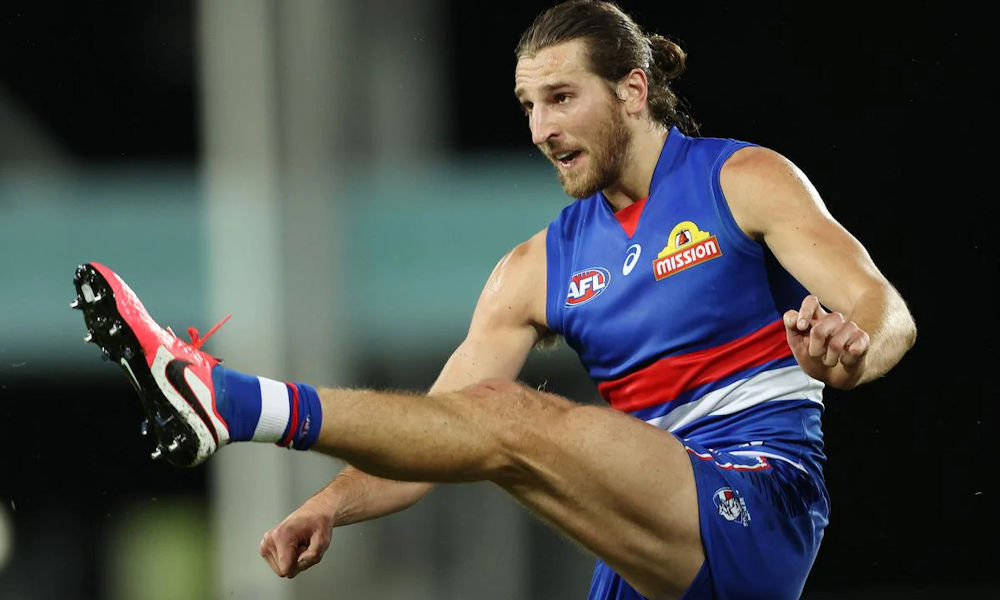 What an interesting round. Apart from the Tigers and Suns game, either the game was a 5+ goal blowout or the game settled by less than a goal. In such a high scoring round, there were plenty of winners, but there were also a number of losers from the round, including some key rookies people had on their field. Let's get stuck into the weekend recap:
Sydney vs GWS Giants
WINNERS
Luke Parker (108) – Another big performance by Parker, with his third 100+ score of the year. Has been really solid since his poor effort against the Tigers in round 6. Certainly a good option to bring in as he gets it done more often than not.
Jake Lloyd (108) – The Seagull himself! Mr. Jake Lloyd is clearly the no.1 Defender in the game. If you don't have him on your team, you need to do it ASAP, as he has had three 100+ scores in his last 5.
Josh Kelly (103) – Really starting to heat up now, with another 100+ score. Really solid and unique option to bring in and could reward instantly with his next four matchups looking really juicy.
Nick Blakey (90) – You couldn't could you? Played a great role on the wing and scored 90. At 396k as well, way too risky but it is Coronaball, anything can happen.
Jackson Thurlow (82) – What a trade in he was for the 6.3% of people that own him. After having his bye, with a guaranteed score of 80, he backed it up with an 82. Has a great role and playing as well as I have seen him. Maybe you have missed the boat, but could he be in the mix for a top 6 defender spot? Too soon to say but I like what I am seeing.
LOSERS
Tim Taranto (62) – Very underwhelming for those that brought him in. Will bounce back this week against the Eagles.
Nick Haynes (25) – Putrid! Best word to describe it. Not what coaches would have wanted to start the round on a Thursday Night. Rage trade of the week!
Sam Wicks (22) – Poor score from Wicksy. A shame for all of the coaches who started him or had him cover. Hopefully Horse gives him another go.
Geelong vs Port Adelaide
WINNERS
Tom Hawkins (123) – The big man obliterated Port on Friday night, and just quietly averaging 95.7 in his last three, thanks to this massive score, and hasn't gone below 79 since round 9. I couldn't do it, but has a very tasty matchup against my Crows (or broken witches hats to many) so could be massive this week.
Cam Guthrie (98) – He just continues to get it done, with only two scores under 80 since round 4. A little bit inconsistent and scary for my liking, but he has the Crows this week…
Patrick Dangerfield (95) – Patty has bounced back in his last couple after a couple of rough games for his owners. Great matchup this week and he always plays well against his former side.
Mitch Duncan (95) – Just continues to get it done, hasn't gone under 70 (apart from injury affected 11) at all this year.
LOSERS
Tom Rockliff (58) – Disappointing for the Pig in a poor loss for the Power. Should bounce back this week against the Hawks.
Joel Selwood (47) – What has happened to Jelwood? 3 straight scores of under 55.
Sam Simpson (34) – Heartbreak for those that held onto one of the better rookies of the year after being managed. Fantasy is just plain cruel.
North Melbourne vs Brisbane
WINNERS
Jed Anderson (119) – Massive score from Jed, but is like a rollercoaster, so not for me but props to Jed.
Dayne Zorko (107) – We can now enjoy him as a FORWARD! Moves to one of the top forwards in fantasy, and will be looking to bring him in. I envy those that already have him.
Lachie Neale (104) – Just another 100 from the Coronaball Pig! I finally got to enjoy watching him after finally pulling the trigger after bringing him in last week. Just gets it done week in, week out and is averaging 106 for the year, that is an average of 132.5 (BCV), that is INSANE! You need him for his bye next week, a free captain next week thank you very much.
Jy Simpkin (104) – The return of Jy. Massive score to reward the owners that held him after his injury.
Luke McDonald (88) – Could Luke really be an option in defence? Averaging 93.8 in his last 5. Does similar things over this span like Lloyd, just being a seagull back there. Really expensive now at nearly 700k, but could be a serious option.
LOSERS
Zac Bailey (55) – Poor score from Zac, and may need to go with bye next week and a current average of 64.4. Should hold him but something to think about.
Mitch Robinson (46) – What has happened to Mitch?
Lachie Hosie (28) – Not the best score from a rookie you bring in. But hey, he was on my bench, and hopefully for all of his owners.
Melbourne vs Collingwood
WINNERS
Steele Sidebottom (105) – Even in a bad loss, still cracks the ton. Clearly one of the top 3 forwards. We need to have him by seasons end.
Brodie Grundy (101) – With all of the drama in the ruck department, the Ruck Pig stepped up again for us. All hail the Ruck Pig!
Angus Brayshaw (100) – Is Gus back? After back to back 100's, and playing over 80% game time in both games, he may well and truly be back, but could it be a trap? With such a low break even, and at 556k, I will be taking the leap, but it could come back to bite me and everyone else bringing him in this week.
Christian Salem (98) – Talk about junk time footy! Had six +6's in the final few minutes as the Dees just played kick to kick in the last quarter. Been relatively consistent with 60's, which is a little low but I am keeping my eye on him.
Taylor Adams (95) – Gets it done again. No score below 70 all year. Top 4 midfielder for sure.
LOSERS
Jack Crisp (54) – What has happened to Crispy this year? All of the rockets he has received hasn't changed his output which must be frustrating for owners.
Brayden Maynard (34) – I had a feeling this was going to come sooner or later. Not sure if he played a lockdown role or if it was because the Pies were terrible, but I don't trust lockdown defenders and this is why.
Darcy Cameron (22) – I don't need to say anything. All I give is my condolences to anyone that played him on field.
Fremantle vs Carlton
WINNERS
Ed Curnow (101) – Great score from Ed, but way too inconsistent. Good for draft owners.
Luke Ryan (83) – Just quietly is one of the more consistent defenders. With no scores under 65 since round 4, could be a really nice POD in defence.
Jack Newnes (66) – NEWNSEY! We know why he is on the list. What a kick that was, regardless if it was his or not. Ice cool under pressure. Didn't even tip Carlton but you need to appreciate the big moments of the game we love. What a kick!
LOSERS
Caleb Serong (45) – My boy has done me dirty. Poor score from one of the rookie of the year contenders, just behind Noah Anderson. Could be on the chopping block for a lot of people wanting to get Gus.
Michael Walters (37) – Wow I didn't even realise Walters was back, and his scored showed it too. Didn't attend any centre bounces.
Kade Simpson (37) – It is sad to see. One of the best premium defenders of the best decade. Only gone over 70 once.
Brett Bewley (36) – Lowest score for the year. Needs to go ASAP!
Western Bulldogs vs Adelaide
WINNERS
Marcus Bontempelli (145) – Mammoth score by the Bont! And Selby brought him in! Selby must have a cheat code. A serious option to bring in now as he finished last season like a steam train. Could he do it again? I reckon he just might.
Bailey Smith (125) – Finally Baz, what we have been waiting for! Great reward for those that held, stinger for those that folded. Can he back it up?
Rielly O'Brien (113) – Big score from ROB. Great run home for those in need of a premium ruckman.
Ben Cavarra (66) – VC and Emergency loopers  = loser. Bench cover = winner.
LOSERS
Jack Macrae (76) – 5 straight 100's. Playing the broken witches hats. It was meant to be a given he scored minimum 90. Unfortunately no. Not a massive disaster, but there would have been many coaches kicking themselves after not taking their loophole if they could have. Just shows we need to play it safe if possible when our VC gets the job done.
Rory Sloane (49) – Been a tough year for the Crows skipper. At this stage will be cheap as chips next year.
Lachlan Sholl (22) – Gotta feel for Roy on this one. Near 60 last week. Couldn't even crack 30 this week. Can't trust him on field again.
Andrew McPherson (22) – Now this one hurts. Went Jayden Short down to Sholl and played McPherson on field to finally get Neale, and copped a massive bullet in the process. Massive blow to the owners that had him on field.
St Kilda vs Essendon
WINNERS
Dylan Shiel (105) – Another ton, but really way too much of a rollercoaster for me to get excited, but nice reward for draft coaches.
LOSERS
Seb Ross (55) – From winning someone a car a couple of years ago, to averaging under 60. Oh how times have changed.
Sam Draper (45) – Tough matchup last week. Should be better vs Soldo this week.
Jack Bytel (27) – A lot of people jumped on and a lot of people disappointed. And if he was on your field I don't think you would have been too happy to say the least.
West Coast vs Hawthorn
WINNERS
Tom Mitchell (104) – The Pig is back! And he said he is feeling like his old self, which is good for everyone in fantasy land. Been a long time but it is great to watch Hawthorn again and see the Pig dominate. Wouldn't be surprised if he averages 100+ for the rest of the season.
Jaeger O'Meara (101) – Props to Jaeger, but unfortunately now he is injured. Bittersweet for draft coaches.
Liam Shiels (101) – Great score, good for draft.
Brad Sheppard (96) – Could be another good option in defence. Don't like it too much though. Very similar to Maynard who could play a lockdown role at any point.
Will Day (75) – Great score by the first year Hawk, with his biggest score for the year. And now with SicDawg out, could really help owners with some good scores and cash generation over the next couple of games as one of the final rookies on field.
LOSERS
Chad Wingard (58) – Very frustrating for owners with another sub 60 score.
James Sicily (51) –Gotta feel for the SicDawg, after a torn ACL on the weekend. Another injury to a premium. Forced trade for owners. Too many bullets being fired this season.
Tim Kelly (49) – Where was Timmy on the weekend? Needs to bounce back for owners this week, especially draft owners.
Richmond vs Gold Coast
WINNERS
Jack Lukosius (107) – Isn't the WarnDawg happy about this one. Big score from Jack, Premium defender for the future. Maybe even sooner than expected.
Noah Anderson (80) – My Boy Noah with his first score of 80+. Feels good to be an owner but unfortunately may be sacrificed for Gus this week. Rookie of the Year!
Marlion Pickett (70) – The rollercoaster continues. Too bad a lot of owners traded him out last week, me included!
LOSERS
Izak Rankine (39) – Was going to cry when I saw him on 4 points at Half Time. Came back somewhat to salvage it a little, but still disappointing.
Jake Aarts (28) – Needs to be traded, his time is up.
Brayden Fiorini (24) – He scored 166 in his second game. Remember that.
My week
A score of 1864 was definitely a high score, but not without some bullets headed my way. The week had many players that stood up, highlighted by the likes of Bailey Smith's 125, Lloyd, Neale, the Pig, Ruck Pig, and Simpkin tons. You could also throw in there Jackson Thurlow's score of 82 after I held him following his bye. None of my players had scored below 70 entering the Fremantle and Carlton game (excluding Whitfield who was on 74 at the time and had 2 tackles taken away when lockout was lifted). Then the bullets starting hitting me. Serong's 45 ensured my disappointment on Saturday night. It was followed up by McPherson being injured on 22 and on my field, and then Izak Rankine's sub par 39 on Monday night. Unfortunately as Fantasy coaches it is never likely we get through a weekend without copping at least one bullet, especially in this crazy old year.
My Trades
As for the week ahead, I need to deal with this McPherson issue and also try and target Gus Brayshaw so my trades are as follows:
Rankine -> Foot
McPherson -> Houston
Serong/Anderson -> Brayshaw
Rankine goes down to Foot which gives me the cash to do my other 2 trades, and I will play Close on my field providing he plays. Houston comes back in for me this week (traded him after his 55 in round 3) as it gives me flexibility to get Witherden next week as he is on a bye and gets his average, and Houston has a great run of fixtures coming up also. And then the tough call needs to be made of who goes to Gus out of Serong and Anderson. I am honesty torn as I love both of them but Anderson at the moment is the one that will go as Serong has a higher ceiling, but then Anderson has a lower breakeven. I AM STUCK. Not sure. Trades could change if Close is not named though, and with the way injuries and outs have affected me this year, that will probably be the case.
Anyway, I appreciate you all for reading the recap this week. I hope you enjoyed and good luck for the upcoming week.