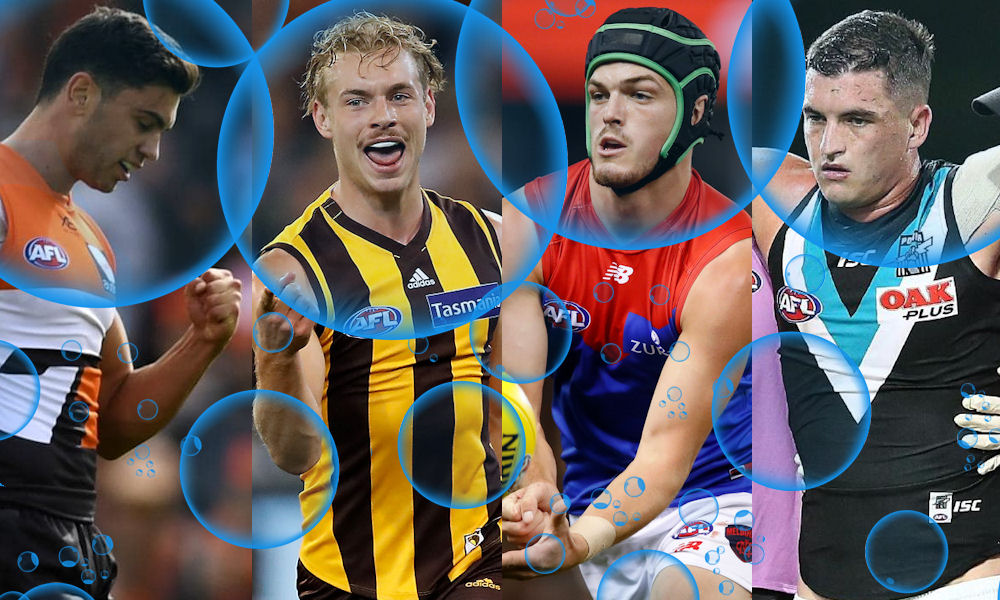 That brings to an end the 2019 AFL Fantasy season, and what a season it has been. Not really, there has been more bullets fired than… Ok that's potentially not the best way to start. There's no denying it has been a season of carnage, and after we finished 2018 so sweetly, the polar opposite is happening this August. Our most reliable premiums are anything but, and we were posting bigger scores pre-byes than post. It's time to highlight the legends and losers from 2019, while casting an eye onto what may transpire in 2020. If you're in a grand final this week, screw you… It's time for the 2019 season wash-up!
Legends
Grundy (122.1) – The top averaging player for 2019 and worth every damn dollar, deserving of his pig status. Well played Brodie Grundy. There's not much I can really add here, he's a gun. Do we pay up next season with new talents such as Rowan Marshall on the scene? That's a question for next year…
J.Kelly (115.9) – Injuries may have played their part, but Josh Kelly was supreme when fit. He was averaging 121.7 before getting injured on 89 against Brisbane, sitting out the last quarter. It was his first score below 100 for the season and his first score under 120 for 2 months! His 120 in Round 23 served as a reminder to his status as an uber premium midfielder. He'll be expensive, but worth every cent next season.
Whitfield (113.8) – Where do we rate this season from Lachie?! Given his starting price was just over an average of 100, he was sensational. Even with an injured 39 and 74, he averaged 117 before that broken collarbone. In fact when remaining injury free he had averaged 130 in his first 10 games, those are pig like numbers. Given he will be classified as a pure midfielder in 2020, we have a tough decision on our hands. He's a jet, and capable of some monster 150+ scores. But he's also made of glass. The potential to average 120+ is clear.
Treloar (113.1) – Or you can just pay for reliability. Adam Treloar is just that. Given the nightmare season that Angus Brayshaw had (Get ready for his name to keep popping up), it goes to show why it's often better to spend up for proven quality. I never owned him this year and that probably explains a lot.
Taranto (112.5) – Taranto certainly has an argument to be voted pick of the year. Having averaged 91 as a forward in 2018, a third year breakout was on the cards. Did anyone expect him to average 112 and become a top 5 midfielder?! Surely not. What a legend!
Dunkley (111.1) – If not for Luke Beveridge, those of us who started Josh Dunkley would have been flying and he'd be a brownlow favourite. After Round 6 he was averaging 77.5 and hardly looking like it. In his final 16 games, get ready for this… He averaged 124. Dunks was a lock for 120, and occasionally he'd pig out and drop a 150+. Can he keep avoiding tags? With Bontempelli and Macrae next to him, there's a good chance… Dunkley has to be considered as a midfielder next year, he's at least 10 points undervalued! One of the great fantasy seasons.
Merrett (108.2) – Given his starting price and Round 1 capitulation, Zach Merrett has to be considered a successful pick, even if there was a few bumps along the road.
B.Crouch (107.9) – Brad Crouch also has his name high up the list for pick of the year, the only problem is that anyone with half a brain for AFL fantasy knew he was going to be a lock. When fit anybody with the last name Crouch is going to be a fantasy jet. Even his biggest fans may not have seen an average of 108 coming, and that was let down with a shocking grand final performance! He can be forgiven, what a year.
Lloyd (107.1) – Jakey Lloyd may have hit the wall late, but he was a must have from Round 1 and one of the few reliable defenders this season. You'll have to pay up for his services next year, but it should be worth it. King seagull.
Boak (105.7) – Ok, so Boak's final few rounds wasn't what we'd hoped for. It seems that teams finally decided to tag Port Adelaide's most influential player from Round 20. He was a huge differential at the start of the season and a pick I'd say nearly everybody up the top of the leaderboards made early. Jet.
Bontempelli (104.7) – It's easy to forget Bont was priced at just $671k before Round 1. He outperformed that price by at least 10 points and certainly justifies those coaches who prefer to chase value rather than pay top dollar in midfield. Hot Brownlow chance.
Houli (103.2) – If you told me Bachar Houli would average over 100 at the start of the season, I'd have you escorted to the nearest mental asylum. It's still a head scratcher for me, but kudos to anyone who ran that gauntlet early.
Marshall (99.2) – It may not be an easy choice in the ruck department next season. There was two clear standouts this year, and you'd be brave to go against Gawn or Grundy. However Rowan Marshall is the new age ruck midfield prototype and could get even better. He was a flyer in both draft and fantasy this season and can consider himself unlucky to have not averaged 100. A mainstay for the next decade.
Worpel (96.7) – I traded out Worpel because I didn't think he had the ceiling. Jokes on me. He may have only scored 67 in the Grandy but forget that, he was a lock for the whole season having been a risky midpricer at $480k. Remember, he was $480,000!!! Another pick of the year contender.
O'Brien (95.5) – Speaking of which, ROB has to be up there. I've pumped him up enough this year, but never forget where he came from. A ruck rookie priced at $232k. At his peak he averaged 99 and had risen $511k. I don't think that will ever be beaten. He was also a differential! Incredible. Hopefully Pyke is out the door and Reilly gets to dominate as a solo ruck in 2020. I look forward to it.
Newman (93.4) – He made his charge late, but Nic Newman ended up amongst the top 6 defenders. After the byes he averaged 104 and more than justified his starting price. He gets a massive tick.
Williams (92.7) – Williams was in a similar boat. His hamstring injury burned a few early, but after the bye he was unbelievable. It coincided with Kelly and Coniglio's injuries and considering Callan Ward is still to return, he's not much chance of getting in the rotation in 2020. Even so, his average of 105 after the bye has to be applauded. Who would have thought Brodie Smith, Zac Williams and Nic Newman would steam home as top 6 defenders. It's a confusing game we play.
Walsh (92.2) – Last but certainly NOT least, Sam Walsh. He played his role to perfection heading into the byes, averaging 91.9 and increasing his price to $600k. That's more than double his original value, and to think there were some people questioning whether he was worth paying up for at the start of the season. A fantasy gun for years to come.
Losers
Brayshaw (88.0) – Sometimes it's hard to put your frustration into words, and everytime I try to speak about Angus Brayshaw I vomit a little in my mouth. I took him first pick in my draft… At pick 7. Ahead of Andrew Gaff. I spent $763,000 for his services in my fantasy team. He had averaged 115 after the bye in 2018 and scored 150 and 140 in the JLT pre-season games… From 67% TOG. He was a fantasy phenomenon. A small price to pay for a bloke I thought could average 120+, and the only thing stopping him was the potential tags that would follow his dominant form. Well then. That did not go as planned.
I still can't explain what happened. His first month was amazing, I actually had him skipper (!!!) twice. His 129 against the Dons from just 69% TOG was frustrating, purely because it should have been 150! After getting tagged against Sydney, Brayshaw was shafted shifted out onto a wing. Why, only Simon Goodwin could tell you that. What happened in the final 16 games of the season goes beyond any logical explanation. He averaged 81 in that time, and I'm actually shocked it was that much. Will I consider him again next season? If Simon Goodwin rightly gets sacked, of course I will! I'll probably do it anyway, a few cheap touches in the JLT will have my head turned.
Wear the helmet out in public Gus because there's a few coaches who will rightly want to clock you one in the head, what a disgrace.
Sicily (83.6) – Sick Dawg. Deary me. He had 6 scores below 60 in his last 10 games having averaged 94 previous to that. He was a prime upgrade target coming off his bye, and this is just an example of how sh*tty this game is. It was a logical pick. Value next year anyone?
Blakely (74.8) – Having had to ride the Blakely train(wreck) this season, I am in two minds. On one hand, he is a gutless coward. On the other hand, he's a ball winning midfielder being made to play as a back pocket. If I was him I wouldn't be trying either. Ross Lyon is gone and Blakely becomes a prime JLT watchlist candidate in 2020. He will be classified as a midpriced defender, we can only pray that he gets to play his natural role. A 35 in the Grand Final says enough about Blakely's 2019. Horrific.
Cripps (101.5) – Harsh? Maybe. But Cripps was meant to be this unstoppable beast, yet on so many occasions he was completely shut out of games. You have to love how he goes about his footy and the attention he cops is rough. But he still burnt SO many with scores that can't be forgiven. Six scores under 70 as a premium midfielder? Yeah, no thanks*.
Laird (96.9) – This is more of a shot at the champions who thought picking Rory Laird for nearly $800k was a good idea. He's a reliable 100 average player, nothing more nothing less.
Heeney (89.8) – After all the hype pre-season, Isaac Heeney's move into midfield did not eventuate. At all. He was overtaken by at least 12 other players, HOWEVER. At least Heeney will maintain his forward status. I can't say the same about any other top 10 forwards. It's going to be a tough scene finding those new diamonds, at least you can rely on Heeney for his boring old 90. It wasn't good enough in 2019, not even close.
Westhoff (77.3) – Some things are best left unsaid. Picking Justin Westhoff is one of them. Pick yourself up and go again, but learn your lesson.
Menegola (77.6) – From premium forward to left right out, one draft coach from each league around the country will want his head on a stick. Just nine games all year… It makes for tough reading.
Witherden (74.8) – I tell you what I nearly ran a poll for loser of the year, and Witherden would have had one hand on the trophy with Gus Brayshaw on the other. I don't care if his average is dragged down by a 3. Do you know what else dragged his average down? That same number of tons in a FULL SEASON! Given all the hype,, Brisbane's resurgence and the fact he supposedly knows his fantasy this is hard to explain. I don't think it was a bad pick… It was a shocker.
Rockliff (99.3) – Considering I had pig Rocky for his 166 on the opening weekend, this feels slightly wrong. Those who jumped on late were burnt to a crisp, but if you got to enjoy that old school Rocky pig feast in Round 1 don't ever forget it. We won't see it again. Late in the year Rocky came down harder than Cousins during his first night back in jail. He looks fat, slow and quite frankly sh*t.
As a draft owner I gave him plenty of leeway, but his last three rounds of 62.3 is nothing short of a disgrace. His 48 in my Preliminary final cost me the game and for that he will never be forgiven. He can park himself next to Scott Lycett as blokes I can never forgive, and Lycett helped win my team a Premiership. So I don't know what Rocky can try and do. 2014 was still awesome though…
It's a weird thing to say, but it's hard to find that many 'losers' this season. Have certain players let us down at times? No sh*t. Liberatore had one of the worst months of all time. But he also averaged 83 for me having been priced at $392k, an average of roughly 55. That's still a win. The same can be said for many other players that hit a barrier, but having looked at my Round 1 team there wasn't really a shocker… Brayshaw aside, obviously. Disagree? Let me know which players let you down!
*Definitely in my first draft next season.
Grand Final Specials
While some players may have escaped the gun based on the entire season, there was a few heroes and a LOT of villians in Round 23.
J.Kennedy (150) – If you managed to carry JPK to a final in your draft league, he is the Norm Smith by the length of the straight. What a performance!
Billings (55) – You either die a hero, or live long enough to become the villain…
Gawn (154) – Munter Gawn's season was derailed by injury, but to scare people into trading him out and follow it up with a 154 in grand final week is as good as it gets. Genius.
Heeney (57) – You pull a Houdini? I pull a Heeney.
Dangerfield (150) – My bet on Danger for the Brownlow has started looking very good in the last few weeks. He didn't have his best season, but when Paddy turned up he went bang.
Rockliff (68) – Not to rub salt in the wounds of this pork chop, but he is bad. Really quite bad.
Witts (154) – 69 hitouts, nice.
Cameron (154) – I honestly couldn't stand Ben Brown Bradbury'ing another Coleman medal, so thank god.
B.Crouch (62) – It would have been nice for his brother to share the disposals around! Sometimes it only takes one shocker to ruin a season of love, hopefully Brad didn't let down too many last weekend.
M.Crouch (150) – Matt Crouch, the king of grand finals. Remember for future reference, he always finishes the season like a steam train! Shame he can't ever go on with it.
D.Martin (68) – Standard Dusty. It's all or nothing, and this performance was seriously nothing. Does he keep his forward status? Prayers up.
Neale (162) – When you see Lachie Neale produce these types of performances, you wonder where he goes hiding some weeks. He may not deal with a tag, but 51 disposals in a Grand Final heals just about anything. Bloody legend.
Casboult (6) – A draft differential turned draft disaster. There has undoubtedly been a grave dug for Levi somewhere around the country, hopefully they calm down and don't go through with it. You just have to sit back and laugh.
The 2019 Golden Stubby
Who has been your best pick of the season? It's time to cast your votes, and here are the nominations…
T.Taranto – Tim Taranto wasn't just a successful third year breakout, he ended up being the fourth highest scoring player overall. He was the fourth highest averaging midfielder, averaging 112.5 with a ridiculous seven scores of 130+. He was available before round 1 for $660k. L.E.G.E.N.D.
J.Dunkley – His burn for some at the start of the season may hurt his chances, but let's look at the facts. He ended up averaging 111 as a forward, someone needs to help me out here. Has that ever happened? Macrae, Dangerfield and Dusty have had incredible seasons classified as forwards, and I know 'defenders' have done it. One did it this year. However I think Dunkley could be top. His average of 124 from his last 16 will surely never be beaten by a forward again. In my opinion he was the best fantasy performer of 2019, unfortunately Luke Beveridge waited two months to unleash him. Incredible year.
B.Crouch – And that ladies and gentlemen, is what a fit Brad Crouch can produce. His Grand Final may leave a bitter taste for some, but let's not forget he started the year priced at $524k. For context that's approximately an average of 74. 15 tons later with an average of 108, Crouch finished the season as a certified top 8 midfielder. Midpriced mayhem wins again.
J.Worpel – It seems crazy to think now, but Worpel seemed a risky pick before round 1. Selecting a young forward at $480k with the hope of a role change and extra midfield minutes is always a huge risk. I didn't start Worps in round 1, but you better believe he was in my side come round two. He bumped his average up by 30 and stormed home in the final month of the season, averaging 110 in his last five. Yes, that includes his poor grand final effort. He still deserves all the applause.
R.O'Brien – I could only pick one of Sam Walsh or ROB, and it just has to be Reilly. Guys, he increased OVER $500k. He is just about the best rookie of all time. And hardly ANY of us picked him!!! If there's anyone out there who was starting O'Brien I want them knighted. Still underrated in my books, he's a chance to become an uber premium ruckman in the next year or two. A run away for rookie of the year for mine and worthy of his spot here as a chance for the pick of 2019.
So, who gets your vote?
This Game Sh*ts Me
I think you've heard enough of me ranting for one year. So here's one more. What is the point? Truly. Maybe 10% of us walk away from the fantasy season feeling good about ourselves. Some may have snagged a league victory, others took out their draft comps and a select few get to take home a cap. What do the other 120,000 of us have to show for it? My season was over last week, big shoutout to Tom Rockliff and Travis Boak for doing their club proud, and Dom Sheed for the most gutless finals performance you'll see outside of a Port Adelaide jumper. That's a low blow, I'm sorry. We get a nice 6 months off before we torture ourselves with hope next pre-season. I look forward to it. This game sh*ts me…
The Other Bits and Pieces
I ended up ranked at 1801, but in fairness I didn't check teams and traded Marc Murphy out instead of Toby Greene, so let's add 123 points and call it 1500. Still average. I felt my fantasy team never really got a good run at it thanks to injuries, although some trades post byes really need to be questioned. The board will be conducting a thorough review of our operations over the summer and we'll look to rectify the Connor Blakely type decisions next season.
The one that hurts the most is my draft team. Once again I have the best side in the comp, but what good is it being the top scorer for the season if your cowards won't ever rock up when it really counts. It's four years we've been running the comp and I'm yet to reach a grand final, having top scored in three out of four. Questions need to be asked.
As always I've loved venting my frustration for you legends each Monday evening, Tuesday morning, or whenever I actually bother to write it. It has been a pleasure, hopefully we'll be back to do it all again in 2020. Signing out.
Ffs. #AFLFantasy pic.twitter.com/IfeFTeZTd1

— Matt Craig (@MattCraigDT) September 27, 2018