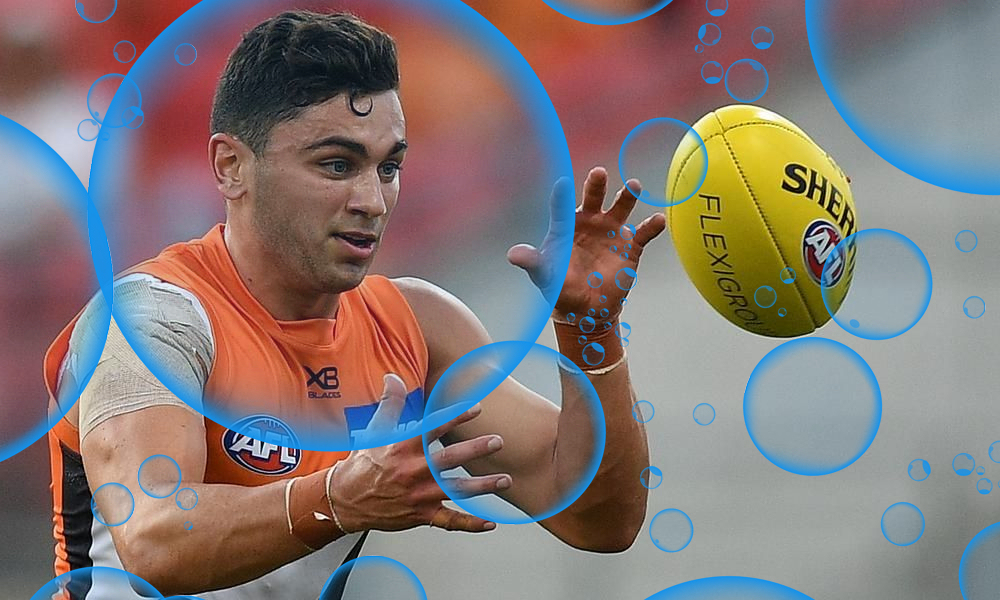 Full disclosure. I don't really want to be here, but my people need me! My Fantasy season has de-railed, so I've turned to my draft league… where I sit with a negative record as the second highest scorer in the league. This game sucks, let's talk about it. Short and sweet is always best, it's time for the weekend wash-up!
Legends
O'Brien (134)– Sam Walsh may be the rising star, but Reilly O'Brien has to take the fantasy rookie of the year award now. Get this, ROB has a 5 round average of 122. COME AGAIN?! Has anyone ever risen $500k in a single AFL season? I'd love to know, I don't reckon they have. Goated.
Smith (133)– I had seen Brodie Smith transition into the midfield over the past couple of weeks. Why did I trade him out? My head is gone. He was everywhere on Friday night with 31 touches, 7 marks and 3 goals. Similar to Zac Williams, he's now in better form than most of our premium defenders.
Crouch (130)– I'm going to miss Brad Crouch next season. He'll cost you an arm and a leg! Reliable, durable, gun.
Merrett (126)– Zach Merrett was an obvious trade target last week, and his second half was massive. Having sat on 43 at HT, he carried Essendon to victory and proved why he's worthy of a top 8 midfield spot.
Curnow (125)– Ed Curnow was in the conversation last week, and he was the only Carlton mid to deliver against Gold Coast. I had him at the bottom of my list, but kudos to anyone that backed him in. I always have an uneasy feeling that a 30 is just around the corner for Ed, but there's no doubting he's a gun when allowed to roam free!
MacPherson (122)– Check out Darcy MacPherson! The forward line is littered with fantasy gold, since Round 8 MacPherson has gone below 93 once. He has averaged 98 over that period, and this is his fourth ton in a row. 2% of the competition are laughing…
Taranto (145)– Here's another player I'm going to miss big time in 2020. Tim Taranto has averaged 115… Let's not forget he started the year priced at 90. If a third year breakout is staring you in the face, don't pass on it.
Williams (122)– Zac attack Williams is on fire. His 5 round average is 106, including 4 tons! Similar to Jaeger O'Meara last season, a mid-pricer gets injured, then decides to return in career best uber premium form. Well done if you held on during the byes, or if you got him back in!
Greene (115)– I think the right answer last week was Toby Greene. He's back in the midfield and looks like he belongs there. He won't hold his spot there when GWS are full strength, but for the remainder of this season he should be getting plenty of time in the guts. Huge.
Grundy (181)– There's not much more I need to add that you don't already know about the newest pig pen. Sorry, pig in the pen. What a bloody legend! What a score.
Lloyd (132)– The seagull was in awesome form in his sides loss to Fremantle. Brad Scheer aside, Lloydy has been simply awesome. The easiest 42 disposals you'll ever see.
Sheed (125)– Still averaging just 1.6 tackles per game, Dom Sheed continues to dominate regardless. Seriously if he ever figures out how to get some hugs he'll be unstoppable. Absolute midfield jet.
Salem (123)– After a couple of quiet weeks, Salem re-paid his owners faith and took his 5 round average back to 95. It doesn't matter how you get there, he'll reach his average regardless. That's more than I can say for most of the so called 'premium' defenders.
Macrae (132)– I think it's fair to argue that Jackson Macrae is underpriced heading into next season. He has averaged 134 in the last 6 weeks since moving back into the guts, just let your players play in their best position. It's not that hard!
Dunkley (123)– Josh Dunkley is a testament to that. He has gone from half forward flanker to the in-form midfielder in the competition. He has averaged 35 disposals per game after the Bulldogs bye, not dropping under 119 in that period. Out of this world.
Billings (110)– Last but certainly not least, Mr Reliable also known as Jack Billings. Any concerns a new coach would do his scoring any harm was quickly quashed with this game. He has averaged 122 after the Saints bye, enjoy him as a forward while you still can!

Listen to the AFL Fantasy Podcast with The Traders at Apple Podcasts, Spotify and Google Podcasts.
Losers
Laird (79)– Rory Laird is still doing enough to sit in the top 6 defenders, but that's hardly saying much. This makes it a month without cracking the ton, he just doesn't have the same ceiling he did last season. Even so, it could be worse…
Hartlett (39)– I lost my draft league matchup by 4 points. Hamish Hartlett scored me 39. Hamish Heartless is back.
Cripps (55)– That was hard to watch. Is he injured? I bloody hope so. He scored -2 in the second quarter… NEGATIVE. 5 frees against, I don't see any injuries forcing you to become incapable of laying a legal tackle. He was slow, his brain was slow, yet Carlton looked awesome… That makes me think he goes on ice for a week. For his sake I hope he does, because if he's fit it's a performance that only belongs on the Gold Coast.
Murphy (74)– Why did I trade in an old man? I really don't know. I think he'll be a solid 95-100 average, but Toby Greene looks 10x as dangerous. He'll be in and out for me, confirmation that I'm a moron. Cheers Marc.
Mumford (25)– Value next year anyone…?
Witherden (60)– Witho is just withering away, at this rate he'll be nothing more than a glorified rookie for the rest of his career.
Ziebell (75)– Yikes. I don't think it's a role change, it's just Jack Ziebell. I have been trying to figure out his ridiculous scoring all season, perhaps it turned out to be a hot 2 months.
Blakely (79)– To be fair, this score almost belongs in the legends section for Connor. Where did he play? Was it midfield? I struggled to watch that game and eventually gave up. Whatever, he's gone this week anyway. Awful.
Heeney (76)– Isaac Heeney started the season as the most reliable forward option. He has ended it outside the top 10. Sitting in 13th, I feel like he's lucky to be there. With Horse Longmire signing a new contract, Heeney has signed a fantasy death warrant.
Kelly (81)– Not happy. I've been on Kelly's case a lot, perhaps unfairly, but his last 3 games have averaged 78. He's getting a bit of opposition attention, and maybe we can blame the media hyping him up… But pull your finger out Tim.
Dahlhaus (54)– Luke Dahlhaus' transformation from gun half forward flanker to run of the mill forward pocket is complete. Good on him for applying some pressure, enjoy being a system player. Never to be mentioned in fantasy again.
Sicily (61)– Unexplainable. Inexplicable. Only James Sicily. Vomit dog.
Brayshaw (70)– I need to see something… SOMETHING. To pick Gus next season. Don't worry, I'll do it to myself if I get the chance. He started tagging on the weekend, even with Jack Viney concussed. Simply bizarre.
Steele (62)– Jack just can't get any consistency together. A popular pre-season pick that hasn't got enough attention. He has been extremely disappointing, nearly as bad as Seb Ross. Remember that guy?
Hind (22)– After coming flying out the blocks, Nick Hind has a 3 round average of 28. That is Nathan Brown sort of areas.
Lipinski (41)– The Bulldogs finally have their midfield sorted, and that's bad news for their multiple outsiders.
Bontempelli (65)– Not all heroes wear capes, and Bont taking the opposition taggers attention cannot go unnoticed. Cheers for your hard work mate.
For the second week running, the stubby is a no brainer. You have 362 reasons to love Brodie Grundy this week, his numbers were off the charts. 31 disposals (22 contested), 10 clearances, 48 hitouts, 9 tackles and 'that' goal for his "One Hundred and Eighty!" Oink. For whatever reason I just feel so much more comfortable captaining a pig, and Brodie Grundy is a deserving, official pig. This Friday night could be anything. Get excited.
This Game Sh*ts Me
Can a man just catch a break? Shannon Hurn a late out for a donut summaries my 2019 season. I can name the two bullets I dodged all season, Zac Williams and Josh Kelly. Every single other relevant injury you could name, I've had them. Seriously. I am up to 16 injuries and that's all since round 6. SIXTEEN. Whitfield twice, Matt Crouch, Rocky, Ellis, Yeo, Hurn, Liberatore, Daniel, Coniglio, Gawn, Ross, Dangerfield, Boak… You can call them all significant. If anyone can match that kudos to you, I'd guess 8-10 of those names including Kelly and Williams would be average. It hurts.
The only hope I have left is my draft league, where I sit mid table with a negative record as the second highest scorer. A Dunkley post siren +4 cost me the game this week. Yep, this game sh*ts me…
The Other Bits and Pieces
2352. It's all a bit whatever from here on, and to be fair as much as I've had some shocking luck, I've also made some shocking calls after the byes. Blakely in was a disaster, then trading Brodie Smith out over Blakely due to my pride was even worse. Marc Murphy over Toby Greene, Rory Sloane, not captaining the ruck pig and going Macrae over Dunkley, it all stinks and has cost me a hat. But that's the way it is, we reset and go again in 2020.
My focus goes onto my draft league, but I'll still aim for a top 1000 finish. Currently sitting just outside, it should happen as long as there's not a complete capitulation.
If Hurn doesn't get up he becomes Whitfield, otherwise Blakely can go and stick it.
Blakely/Hurn -> Whitfield
Clarke -> Snelling
Good luck legends, especially those fighting for those top spots! All the best.