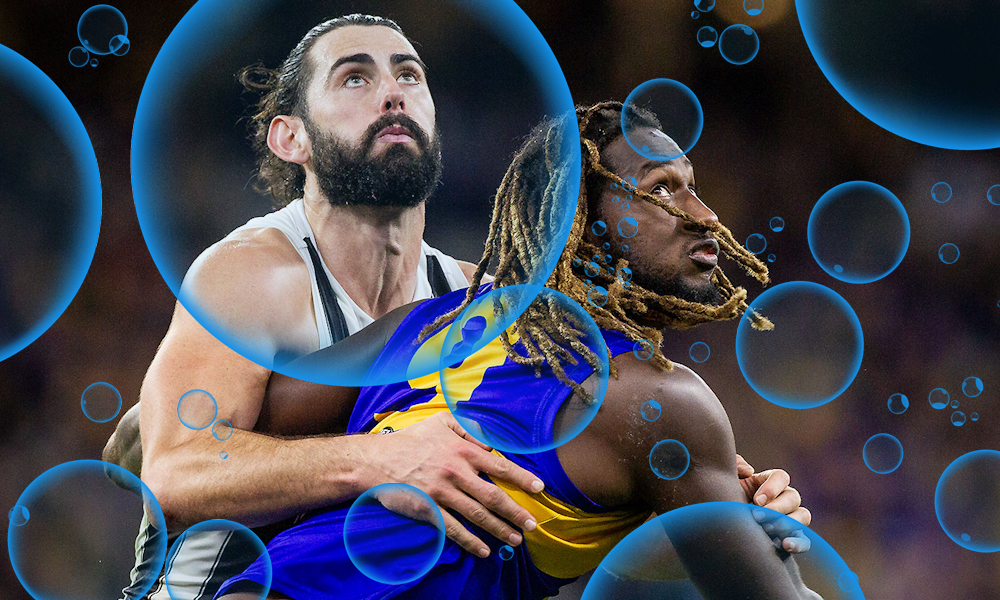 Hello and welcome back to the weekly wrap up of everything that went wrong in AFL Fantasy. Didn't it just. It was actually a very high scoring round, but 34% of the competition had their weekends ruined by one of the more bizarre decisions I've seen. Don't get me started, it's time for the weekend wash-up!
Listen to the AFL Fantasy Podcast with The Traders at Apple Podcasts, Spotify and Google Podcasts.
Legends
Yeo (120)– Amazing stat, Elliot Yeo has had 30 disposals just once all season. After Round 6 Yeo has averaged a whopping 113. That's while only averaging 24 disposals (Best 28) and 3 marks per game. 10 tackles per game is ridiculous, and if he can just up his disposal numbers slightly the sky is the limit. He averaged close to 120 in the final 5 rounds of 2018, so let's hope he finishes the season like a house on fire once again this year. His draw suggests he should, and his ownership is still low (7%). Great POD.
Grundy (129)– What a last quarter. Nic Nat clearly won the head to head battle while they were matched up, but an ankle injury left Hickey to carry most of the load, and Grundy absolutely slaughtered him. That's just what a ruck pig does. Set and forget.
Crisp (110)– Collingwood went bang in the fourth quarter, and Jack Crisp was a major part of their surge playing in midfield. It's not necessarily a role that has guaranteed better returns for Crisp in the past, but 9 tackles and 30 disposals is eye catching. He's locked into the top 6 defenders now, and he's right at the top.
Treloar (121)– Consistency personified. Taylor Adams is Treloar's only worry, but I wouldn't be bothered. He's too hot at the moment.
Lloyd (117)– Jakey Lloyd was on fire from the kickouts on Saturday, he just knows how to fantasy. Good man.
Newman (129)– Nic Newman played the game of his life against his former side, taking 13 marks to go with his 32 disposals. That makes it three consecutive tons for an average of 115 since his bye. Unfortunately he really sucked before his bye, so if you held him I'd be concerned.
Murphy (119)– *Bargain alert* Murph has averaged 109 since Carlton's bye and is thriving under David Teague. He's in the guts, he's discounted thanks to an injury affected 10, and he faces the two easiest sides for midfielders over the next two weeks. I'm on board.
Henderson (123)– Don't tease us Ricky.
Worpel (118)– Of course the week I upgrade Worpel he notches his highest score for the season. I moved him on because his ceiling wasn't high enough, and he's already broken through it. If he grows further in confidence, he could be close to a top 6 forward.
Fyfe (128)– Nat Fyfe went beast mode in the second quarter, kicking three of Fremantle's four goals for the half. It has been all or nothing for Fyfe in recent weeks, and I'm not convinced he's fully fit. Gutsy.
Merrett (114)– Zach has two awesome fixtures ahead, is under $700k thanks to a 57 which we can safely describe as an outlier due to a heavy knock, and screams pick me this week. Get on board.
Brown (133)– There's probably a rogue North fan (Do they exist) in your draft league operating with Ben Brown in their forward line. I'm sorry if you played them.
Crouch (128)– Three quarters of Adelaide's team scored over 80, yet none of their most popular fantasy players scored much above 100. Aside from Brad Crouch of course. 16 tackles?! What a guy. Never forget when he was $546k…
Dangerfield (123)– Gun. Gift. Next.
Duncan (122)– If you're looking for a POD, look no further, Mitch Duncan averages 110 yet he only sits in 7% of teams. Head scratcher.
Billings (112)– You can't argue it, I've backed Billings in every step of the way. I defended his China belly, I held the faith after Richo burnt us all in 2018, and Jack has delivered in spades. Beast. Let's just hope Ratten doesn't move him forward…
Marshall (122)– OK. Rowan Marshall is more than Fantasy relevant, he's locked into my team and not going anywhere! To be honest he's nearly operating on Max Gawn's level at the moment, averaging 115 in his last 6 games with a lowest score of 106. Insane. LEGEND!
Clark (119)– Hunter Clark is certainly one for the future, don't forget to check your draft waivers! He's racking them up from half back, and is still only 20. Worth a punt.
Bolton (115)– Talk about a punt, Shai Bolton has returned from the VFL a man possessed. He has been moved into the midfield for a 115 and 116 having averaged 55 until Round 15.  To put it into perspective, his career best disposal count was 17 until two weeks ago. His last two games? 26 and 29 touches. Significant.
Houli (113)– About time… He's not forgiven until I see at least one more big score. This was a promising sign, I was concerned he may only average 85. This puts Bachar back amongst the top 6 defenders which is all we can really ask.
Taranto (117)– How will he travel without Coniglio and Kelly? It surely shouldn't hurt. Look to their next line of midfielders to see the biggest improvement.
Whitfield (117)– He's back, and his second quarter reminded us exactly why he has averaged 130 while fit this season. Of course he got another big hit and that's a concern, but are you really going to say no to the perfect fantasy player because he "might" get hit? Make him a priority.
Greene (144)– *Role change alert* Let me take you back to the end of 2014. In the final 5 games of the season, Toby Greene (20) averaged 132 (Yes you read that right) including a 42 disposal, 30 kick, 7 mark effort of 165 and a low score of 116. Sure he couldn't really kick, but he has improved out of sight since then. With Coniglio out for the season, this score is huge. Greene scored 127 after quarter time! He's capable of averaging 115-120 with a pure midfield role, and he's currently a $581k forward. It's so risky, but it could be SO worth it.
Hunter (154)– I was baffled by Lachie Hunter's mid-season drop off, however his last two weeks suggest he's back in a big way. This score follows a 124 last week, and the Bulldogs are playing some unreal fantasy football. He's a valid differential.
Dunkley (189)– Wow. Just wow. The bloke hasn't gone under 118 for 7 weeks, and has a 5 round average of 141. Those are numbers only ever matched by pigs, yet I haven't captained him once. I said two weeks ago I would start captaining Dunks every week, yet here we are. Fool. Huge pat on the back to anybody who got his 378! I have little doubt a snout is forming. 39 disposals and 15 tackles is just disgusting…
Mood #AFLFantasy @RoyDT @DylCubWarren pic.twitter.com/iQclct7HDr

— Luke Tepper (@TepperLuke) July 15, 2019
Wines (131)– Ollie Wines had finally rocked up to season 2019, and as soon as he did his finger has busted again. It's good news for Robbie Gray owners, his run in the midfield should continue for at least another week.
Byrne-Jones (116)– DBJ is quietly enjoying himself a great season, averaging 89. That's invaluable as a late draft pick!
Lyons (140)– I was big on Jarryd Lyons in pre-season, yet his first month was nothing short of a disgrace. That form is far behind him, he has averaged 113 in his last 6, including three scores of 130+. Onto the 2020 watchlist.
Losers
Hurn (77) –Why is Shannon Hurn suddenly getting a tight tag every week? I already know the answer, I just wish teams had figured it out before I traded him in. Frustrating. Thank god for his kickouts!
Mayne (27) – Bizarre. Chris Mayne couldn't have cared less about getting the ball, but you can't argue that it didn't work! Let's hope that defensive forward tag was a one off, otherwise look out Zac Williams.
Ronke (29) – Talk about living off the back of one game, Ben Ronke is under investigation for fraud at the moment. Will Hayward isn't far behind him.
Parker (72) – Welcome back Luke Parker. If you were after consistency, you came to the wrong place. He was shut down after a dominant 12 disposal first quarter, scoring just 34 for the rest of the game. Yuck.
Sicily (64) – Vomit Dog. Don't feel bad, I thought Sicily was back after his BOG performance against Collingwood too. The Hawks won, it was down in Tassie and the conditions weren't wet. Yet here we are. How many times does one man have to burn us before we learn our lesson?! The Grant Birchall effect could be real, and that's a massive concern.
Walters (77) – Friendly reminder that the potential top 6 forward Michael Walters hasn't scored a ton for a month. Shame.
Hurley (29) – Draft day disaster.
Ziebell (65) – There it is, welcome back Jack. I was about to ask for Ziebell to be drug tested, I don't know where this consistent dominance has come from. Don't worry he was still around the ball, and should be better next week. But you can't be having these scores in the forward line this season!
Cunnington (47) – Sending a tagger to Ben Cunnington is just bullying. Let's not forget how we were being told he's one of the best inside midfielders of this generation a month ago? Eh. He has never been given the attention that others do, and if he did then this would be the result. Three kicks and zero impact. Just accept him for what he is, a solid midfielder.
Fiorini (63) – Where have the Brayden Fiorini fan boys disappeared? This would be fun. One ton in 6 weeks and an average of 86 in his last 5, not pretty. In fairness it's not all his fault, that's always the risk when the Suns inevitably turn to basket cases.
Edwards (39) – I'm actually really struggling for some relevant losers this week, so here's All-Australian gun Shane Edwards.
D.Martin (83) – Oh great. Richmond have got their players back, the Tigers are flying again and Dusty has packed it in for the season after one great month. He averages 111 against Port, so it's go bang or pack your bags for Dusty this week. That's how good the forward line is.
Williams (71) – Just when you give a bloke a pump up. Was it the Whitfield effect? That doesn't really add up, and I didn't see the game… However I also don't believe in co-incidence. Give him one more week.
Lipinski (56) – If anyone did gamble on Lipinski then you've made a brilliant play! Just know when to cut the cord, and that's this week. He has topped in value and isn't a top 6 forward. Done his job.
McLean (16) – Who fills Toby McLean's half forward role? Libba on return? It's a scary thought. Surely Dunkley and Macrae are safe… Surely. Bevo…
Oliver (69) – Just when you think Clayton Oliver seems like a reliable option, move onto your next idle thought. Out of interest, who did the tagging job for the Bulldogs? I find it hard to believe he managed just 17 possessions without close attention.
Brayshaw (44) –
K.Dunkley (36)– The next family dinner might be a bit of an awkward one… That game must be a tough pill to swallow.
Burton (43) – Burton's string went ping for a second time this season, as a former draft owner fear not. You move on quick and sleep far better at night.
Westhoff (60) – I was all aboard the Hoff train last week, and just like Port it came crashing down. Again. I cannot believe I tipped them….. Oh, and Hoff sucks.
Lycett (74) – Lycett was solid… But he was no Rowan Marshall. I hope the few extra bucks was worth it!
Martin (81) – Stef Martin was solid… You get the idea. He has to go this week, Max is going big.
Neale (83) – He has done it again. Perhaps a little harsh seeing as Neale was clearly targeted, but it happens way too often. If you show you're susceptible, you'll get more attention more often! He's a gun, but I'll pass in fantasy.
Coniglio (0) – That's right, zero. A big, fat, f**king zero. You had emergency cover? So did I. Thank you so much GWS. You have to feel for Cogs, at least he has escaped an ACL and we should see him back Round 1 next season. Lock and load.
Josh Dunkley. Take a bow son, take a bow. It was the most perfect midfield game you could imagine. 39 disposals (24 contested), 9 clearances, 6 marks, 2 goals and 15 tackles. It was almost too good, because he can't keep escaping the tags now. Friendly reminder that a lot of us traded him out. What an absolute star, I hope the umpires have been taking note too. Bevo might have cost him a Brownlow! You can screw your vote, Josh Dunkley is walking away with this weeks stubby no questions asked. Bloody legend.
This Game Sh*ts Me
Another bullet shot, another hits my team. Therefore my rank stays steady once again, no matter who performs. I think a lot of us are over 2019 by now, will we ever get a luxury trade again? All I can say is thank god these premiums are going down like flies once our teams were finished, hopefully it's fourth time lucky and I can actually upgrade to Whitfield next week. Probably not. No chance. This game sh*ts me.
The Other Bits and Pieces
2389. It should have been 2500, but that's the way it is. What hurt more for me is I have Dylan Clarke sitting as my emergency, mostly because I haven't had the chance to cash him in yet. Even so, his 81 would have been great cover! Should the 25% TOG rule apply to fantasy like it does to a lot of draft leagues? Eating a donut with a good emergency tastes even worse, screw this game.
It seems we're doing this nearly every week, but it's replacing and injured premium with some value, freeing up some cash for an actual upgrade.
Coniglio -> Murphy
Smith -> Crisp
Going Blakely over Crisp keeps me up at night, so that error gets fixed this week. I'm big on Marc Murphy, he's got a great role under Teague, carrying a 3 round average of 109. His injury affected score of 10 masks how solid he has actually been this season, averaging 99. With Gold Coast and Adelaide at home in the next two, no chance of a tag and a breakeven of 57, I think he's a great differential at 4% and a gamble worth taking.
Toby Greene runs a close second, and although his forward eligibility plays no part, I think he has a bigger ceiling than Murph. I'm tempted.
Everyone cross their fingers and hope, we need to get through Round 18 injury free! Good luck legends.