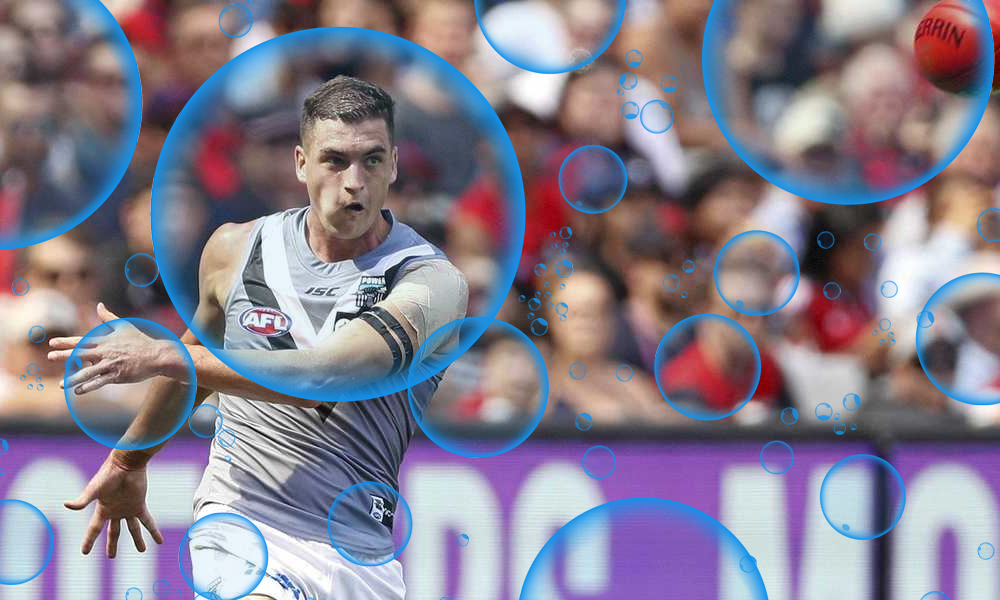 I was just about ready to sit down and give up on season 2019 after Saturday's fixtures, primarily thanks to one trade I made to ruin my whole year. I did a pretty good job of it, but as it turns out people fared a whole lot worse than I did. It was complete carnage over the weekend, and donuts were being eaten across the country. I feel like my people need me. Strap yourselves in, it's time for the weekend wash-up.
Legends
Sicily (121) – Welcome back Sic Dawg! Last week he was looking like a must trade, this week he's a bargain. Given the Hawks won and he was man of the match, you'd think he'd down back for good. Surely. Hopefully. Who knows.
Crisp (117) – I think it's fair to say that Jack Crisp has put his inconsistent ways behind him. He has scored 90+ in 9 of his last 11 games, averaging 100 over that period. Top 6 defender for sure.
Heeney (118) – That's consecutive triple doubles for Heeney, who looks to be back in the midfield and dominating. 33 disposals and 10 marks is obviously eye catching, but the top 6 forwards are so hot it's hard to squeeze him in. On the radar again next season…
Rockliff (150) – The trip back to the SANFL may have annoyed some, however the pig has got his mojo back. The last quarter was disgusting, I reckon 90% of his touches were in the back 50. He's back, and I think it's worth the risk. He's the fifth averaging midfielder, and that includes injury affected scores of 43 (45% TOG) and 91 (52% TOG). I know there's a clear injury risk there, but if he doesn't go down he's averaging 120+. Risk > Reward.
Westhoff (132) – I think Angus Brayshaw could use a trip back to the VFL looking at Port's success! Charlie Dixon was also back and it clearly helped the Hoff, playing most of the game floating around in the defensive half. Under different circumstances, he'd a be a great buy. The forwards and rucks are just too good.
Dunkley (120) – Will this man ever score below 118 again? It's one thing to consistently score 100, it's completely another to score 120 every week! I said last week I should captain him every round, and I obviously didn't do it. I'll be captaining a Bulldog midfielder this week, that you can guarantee. What a legend!
Bontempelli (120) – After struggling for form, the Bont is back and his draft owners must be delighted. The Bulldogs are playing the most beautiful brand of fantasy football… It's a free for all.
Stewart (108) – I had my doubts, but Tom Stewart has crushed them over the past couple of weeks. Given the struggles in defence, I'll take his consistency over ceiling any day. Mr reliable.
Dangerfield (114) – He has had his ups and downs, and the Danger show can sometimes get out of hand. But his 5 round average is 117, so I'm not asking questions. Lock and load.
Shuey (114) – Shuey is no longer only draft relevant. Take note, his last 9 games are unbelievable. He's averaging 112 over that period, that's top 8 material. You couldn't do it, but don't ignore his form line. He has been huge!
McDonald (127) – As soon as Tom McDonald was back, he was gone. That score was from just three quarters, his injury is a damn shame for his draft owners. The winners column is almost empty, so he sits here. But he's out for the season.
Oliver (116) – You know exactly what you're getting from Oliver week to week, as reliable as they come. That's 3 x 110+ in a row.
Fritsch (121) – Draft waivers anyone? He's worth a punt.
Ziebell (111) – The real deal, no question about it. Any other season I would have got him weeks ago, he's a gun in midfield. Enjoy the ride if you own him, what a pick he was @$540k.
Simpkin (110) – If he's still on your draft waivers, change it! Jy Simpkin has been graduating into the midfield, and over the last two weeks he has gone back to back 30+ disposals. It's going to be a bumpy ride, but one worth taking.
Steele (132) – Realistically, it's about bloody time. he had been bitterly disappointing this season, the 18 tackles is only part of what he owes his owners.
Billings (128) – How many times can I say it, he's a fantasy gun. I've been on Jack Billings v Tim Kelly watch lately, well guess what. The difference is now 8 points. Give Billings the respect he deserves!
Marshall (108) – He's the new prototype ruckman, and it's awesome to watch as an owner. I got him for Max Gawn last week, and it was mainly for his next two matchups. If he can score 110's against good ruckmen with 30 hitouts, what is he going to do to Rhys Stanley and Tim English. Have mercy, he should be awesome!
Neale (134) – Credit where it's due, Lachie Neale has dominated the last two weeks and as much as he's inconsistent, he's now averaging 107. When I compare him to my Angus Brayshaw pick, it's apples and oranges. If only he could scrub those shockers…
Zorko (121) – When Dayne Zorko gets on a roll it's a fun time, this brings his 3 round average to 128. Massive! I couldn't do it to myself though, he can be a headache. Trust me.
Martin (106) – I wasn't fully on board with coaches getting Stef Martin, but his second half come back was awesome. His next two fixtures aren't great, especially when he plays Max in two weeks time. Have a get out plan ready, but one more good score and it's a big tick!
Williams (120) – Zac Williams hasn't got the attention he deserves since that hamstring injury. In fact he's averaging exactly 100 in his last 8 games, that hamstring (43 from 37% TOG) game excluded. That puts him in the top 6 defenders on form. Much of his improved scoring could be attributed to Lachie Whitfield's absence, so next week could be a good test. I love Zac as an option regardless.
Coniglio (146) – I hope whatever sent him hobbling down the race after the final siren wasn't serious, he was dominant all game. That's three big weeks in a row from Cogs and takes his 5 round average to 131. It will be interesting to see if no Josh Kelly helps or hinders him if Kelly does miss games with that calf injury. Regardless, he's a top 8 midfielder.
Losers
Henderson (45) – Ah Ricky… We hardly knew you. His scores combined over the last two weeks only just constitutes a passable midfield premium… for one week. It was fun while it lasted.
Gunston (45) – Talk about a fall from grace, Jack Gunston's last 5 weeks are as bad as it gets. 59.2.  You wouldn't even take that from a rookie.
O'Meara (79) – I just don't know where to place Jaeger O'Meara . He comes out and dominates with a tag, then he crawls to 80 without anyone going near him. Maybe this is his ceiling.
Cox (34) – You would see more elegant Giraffes, and they'd probably be better at football too.
Clarke (37) – If Mason Cox is a Giraffe then Zac Clarke is… I'll let your imagination run wild.
Merrett (57) – He sat on the pine for most of the second quarter, but that happens 2-3 times per season. Zach's form feels like it has been dipping for a while, but this is actually his first score below 95 since Round 1. That's great consistency, but he hasn't scored over 110 for 5 rounds, averaging 93 in that time. Meh.
Mills (61) – I must have missed the part where Callum Mills became relevant. Same old.
D.Martin (58) – Dusty gets tagged, say no more fam. You just have to accept he's not going to try. As an owner for the past 6 weeks I can cop this score, his new owners won't be so pleased. Gold Coast tagging, what a fantasy piss take.
Houli (75) – Richmond get their team back, we get our old Houli back. This is Whitfield's fault. $730k for an 85 average plonker. Value.
Scheer (28) – I get your playing for your career mate, but please… Leave us alone.
Seedsman (24) – All Seedsman wanted in his half time interview was a kick… He got three!
Sloane (86) – Given Rory wasn't tagged at all and his previous history of dominating showdowns, this score hurts even more. The whole of Adelaide's midfield can join him in the losers, and I was considering getting three! After watching that performance, I wouldn't.
Boak (-) – Back spasms? I want Port Adelaide's medical staff sacked. This non-score was a donut for a lot of coaches, thanks mainly to the severe lack of rookies after the first month. I get the feeling we might be in for some more late out pain if we don't fix up our emergencies, tough.
R.Smith (16) – Who? He took Will Hayes' spot.
Guthrie (39) – 65% TOG, that's about average for Cam. The score however… Maybe it was old mate Zach Guthrie out there.
Duncan (75) – OK, he's allowed one off game. The Bulldogs are tough to score against, they just own the footy. I'll give this a soft pass.
Kelly (65) – NOPE. I'm not having it. Another 12 point half, in fact after the 5th minute mark of the second term, Tim Kelly managed 17 points. Uber premium Tim Kelly. Too many shockers.
Yeo (83) – Sigh… It seems it's 80 or 130 for Yeo, and he better score at least that next Friday. His inability to get involved in any link up play AT ALL is seriously frustrating. I got too excited, thank god he still tackles.
Logue (30) – Sweet, sweet justice. Cash him in and thank him for that freakish start.
Blakely (42) – … I don't think I have ever traded in a Fremantle player, and not been absolutely crippled by it. Nathan Fyfe, more injuries or suspensions than I care to mention. Michael Walters. What hasn't he done to me. However Connor Blakely's 42 on debut nearly takes the cake. What was I thinking? I don't know. As much thought as Ross Lyon puts into putting a pure on baller and one of the clubs best midfielders in a back pocket because he's a good ball user but he's actually not and they hardly give him the ball so he's basically a glorified Dylan Grimes. It doesn't work as well with Dylan dominating and Blakely nearly back in the two's. Season ender.
Fyfe (61) – Just don't do it to yourself. Never pick a Docker.
Hore (18) – I understand those whose luck has been in the pits may not have been able to get rid of Hore. This score is just salt in what would have to be a gaping wound. If it makes you feel better, he was probably on track for 100. It didn't? Sorry I tried, I don't think there's any helping you.
Finlayson (15) – Good pickup in draft this week… Back to the waivers with you.
Witherden (59) – Sheesh. Could you even consider him next year? Surely no one still has Witho now.
Brayshaw (65) – As I travel through this list of losers, I build up a head of steam. It's bubbling when I reach the end, and I'm going to stop right now before it blows off the f**king roof. I am so sick of looking for his bloody helmet, only to see it 5 metres off the ball crabbing around pretending to be interested. And that's only for 50% of the game. The other 50% he spends on the bench, probably where he belongs. Get back to the VFL and remember how to football. I'm finally dropping him, 3 months too late.
It's nominations time…
T.Rockliff – Take note people, this is how a real pig plays! Rocky has had tougher days, collecting 27 uncontested disposals, 11 uncontested marks and a huge 103 point second half to be the top scorer for the round. Oink!
L.Neale – That's back to back 120+ scores for Neale, and his owners were certainly owed these kind of performances. He added 6 marks and 6 tackles to his 31 disposals this week, that's more like it…
S.Coniglio – Coniglio laid 11 tackles to go with his 34 disposals and 6 marks for this massive score. Amazingly Coniglio had been averaging just 3.5 tackles per game this season, having averaged 5 per game in 2018 and 6.5 in 2017. It's the difference between him being a top 5 midfielder and struggling to make the top 8, keep hugging Cogs!
Z.Williams -Did anyone hold Zac?! He has had 21 kicks and at least 6 marks in each of the last 3 weeks, taking his 3 round average to 113. He's now a great POD!
Who gets your vote?
This Game Sh*ts Me
This game just chips away at your for months, not enough carnage for you to give up but just enough to keep you frustrated every week. Then a weekend like Round 16 happens, and it crushes all your hopes and dreams. Or, something like that. Thank you to Melbourne for being clear with Gawn's chances, if they had been overly optimistic and said he was likely to play I might have blown up. On a weekend where there's hardly any decent rookies, two big guns out and a lot of teams stretched to breaking point, we DO NOT need Travis Boak's back to go into spasm. You can't tell me there isn't a higher power when things like that happen.
I feel pretty bad for asking Josh Kelly's calf to pop now, you didn't need that. Not this week. Word is that Cogs limped down the race at the full time siren and I don't even want to hear about it. I think I might be sick. This game sh*ts me, and I keep coming back for more. I've said it before and I'll say it again, I must be a masochist.
The Other Bits and Pieces
2148. I have to be honest, having complained all season this was the week I finally got kissed. Hanrahan covered Boak, I traded Max and Josh Kelly got injured. I repaid the fantasy gods by trading in Connor Blakely. That one is on me. Sunday couldn't have gone any better for me, after Saturday couldn't have gone any worse. I had to reverse my trade of Worpel to Rocky (as skipper) thanks to big Max's ankle. But trading Max was the right call. Trading in Blakely (Over every defender) was the WRONG CALL. That pretty much waves goodbye to any chance of getting a hat, but it got me into the top 1000. Jesus it was a bad week.
Brayshaw -> Gaff
Worpel -> Rockliff
Sure my trades gave me cash in the bank, but with the choice of any defender not choosing Crisp is a head scratcher. Anyway… I can grab Whitfield next week, and the slow climb up the rankings continues.
For the love of god, can next week be a high scoring one… Please! Good luck legends.