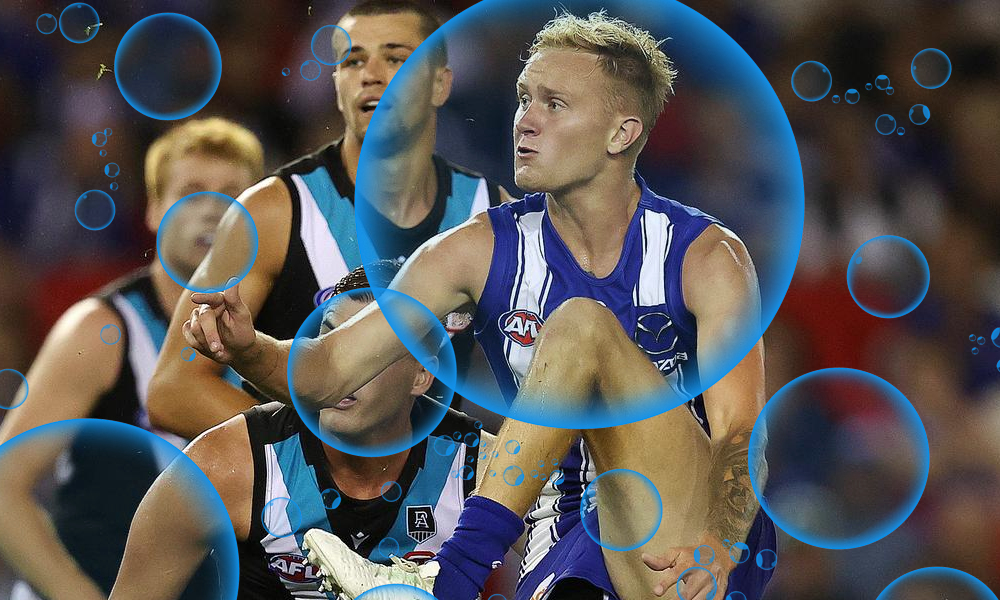 In the words of Conor McGregor, and hopefully a little more successfully, the king is back. Modest introduction given my ranking last season was so bad, and I mean so bad, that for the first season ever I threw in the towel. 16 minute quarters and a whole bunch of COVID non-sense are hopefully behind us, touch wood. What we didn't have going for us this weekend was any resemblance of luck in our fantasy squads. Shock. Sure it's great to have the footy back, but lord have mercy I haven't missed the stress AFL Fantasy causes. There's a lot to complain about, this game sucks, it's time for the weekend wash-up.
Legends
Martin (131) – We are witnessing greatness. He was largely overlooked in fantasy circles, but if Thursday night was anything to go by Dusty could be in for a career year. Now that's a scary thought. I'm sure there will be ups and downs, but getting Dusty at a discount this season might not eventuate.
Macrae (135) – 2021 is going to be largely dominated by transition football, which luckily for us is where Jackson Macrae thrives. He's a pure on ball midfielder, tackles hard, collects cheapies and plays on a fantasy friendly team. It's looking like a home run for Macrae this season, I will be surprised if he doesn't average over 120. There isn't much threat of a tag either playing next to Bont, a lock and load captain when we need it the most.
Smith (131) – Bailey Smith may not have been in the centre bounces, but this kid is good enough that it doesn't matter. The tackles are down but they've just been replaced by more +6's. A great draft steal and potential even holds value in fantasy if he keeps this up.
Daniel (111) – Caleb Daniel was mostly unsighted for the first half, yet he managed to scramble his way to 111! These half backs look like they should continue to rack up disposals, I'm hoping Daniel doesn't leave my team for the rest of the season. Gun.
Laird (119) – The defenders playing in the guts also dominated! Laird is a tackling machine, and we know he can find the pill. Having averaged 110 in the back half of 2020 I would expect to see a similar average throughout 2021. Lock and load.
Sholl (102) – Wow. Lachy Sholl was on my pre-season watchlist but I didn't have the guts to start him. Less than 10 minutes into the game, I tweeted his praises. I didn't need to see the last three quarters, he was already a must get for me this week. They love the ball in his hands, he runs through the midfield and wing and I can't see a way this goes wrong at a price of 60. I shouldn't have said that. He's a priority add for me this round.
Rowe (84) – James Rowe is my new favourite footballer. I'm not sure that Adelaide game will become a trend, but wow it was fun to watch! Don't worry if you have his score on your bench, at least you have him! I'd like to see another solid score before rushing him onto my ground. Must get this week if you missed out.
McGrath (141) – 33 touches, 11 tackles. It was a massive game from Andy McGrath, he looks ready to take the next step this season. Priced at around 100, he could make the leap into uber premium territory this season.
Caldwell (104) – My first big miss of the season. I wasn't convinced Caldwell had the ceiling to push his average towards 90 this season, that call is looking very wrong. Great pick.
Hind (100) – My second big miss of the season. And my second priority add for the week. Nick Hind was awesome in his half back role and he's making his way into my side for Round 2.
Mills (121) – There's nothing worse than loving a player and not being able to pick him because you're short $3,000. People jumped off Mills because of his poor pre-season game, let this be a lesson learnt. He was dominant in the midfield and looks in for a huge year.
Gulden (108) – Having watched most of our premiums struggle to get a touch, Gulden came in on debut and showed them how it's done. What a gun. He should be 100% owned in teams that actually care about their fantasy team.
Stephenson (128) – Massive. Jaidyn Stephenson had a career game on debut for North, racking up 33 disposals, 7 tackles, 5 clearances and 128 fantasy points. Collingwood have bottled it. Borderline must have.
Flynn (99) – I think we have our answer to the ruck dilemma. Having said that, we also saw exactly why it's such a massive risk. Matthew Flynn is the best value player in the competition this season hands down. Yes the conditions helped, but he had his 99 in just 68% time on ground!! However when he went down with an ankle injury in the third term, my ruck line was suddenly looking like a total disaster. His ankle probably blew up last night and I'm keeping my fingers crossed for next week. Meek could be in trouble and Hunter wasn't great, it could be a Flynn or bust scenario. And bust won't look pretty.
Sheed (138) – It was an uncontested mark fest in the final game of the round, mainly due to the ridiculously hot conditions. Dom Sheed loved it, but I'm not getting carried away. Yet.
Hurn (129) – Where was this for the entirety of 2020 Shannon. Outlier.
Bowes (135) – 28 kicks at 100%?! Jack Bowes had a field day. I loved watching Gold Coast's ball use off half back, their defensive unit was awesome for the first three quarters. Don't get carried away though, the wide open spaces of Optus are built for the chip mark game and the conditions forced both teams to slow it down. Monitor.
Markov (108) – Oleg Markov was clearly a bargain at just $370k, he was breaking the lines and looking awesome. Role, tick. Scoring potential, tick. I'll be watching him closely next week, even if he's priced at an average of 60 he may still be a great pickup.
Lukosius (105) – I'll admit it, I had to double check who number 13 from the Suns was. But only because he was absolutely dominating! He looked so classy and was a brilliant draft pick. Once again, those Suns scores may have been inflated. Let's see how they go next week.
Losers
De Goey (61) – Disgraceful. Jordan De Goey is pushing to be the most overpaid AFL footballer in history if he keeps this up. Don't forget the Magpies gave up Treloar and Stephenson because they signed this guy. He has to move into the midfield this season and he has to lift, they need him to. When he sat forward in the third quarter Collingwood got blown out. I'm holding strong for now, but he doesn't have long to prove me wrong.
Grundy (85) – Brodie Grundy looked out of it last year. Brodie Grundy looked disinterested in pre-season. And Brodie Grundy looked average in Round 1. To compound matters, Buckley wants to push him more forward and play him less time in the ruck. Could that help him? I guess, if Collingwood can actually get the ball into their forward line. Huge concerns, but he is a low priority trade in my opinion. It's just too hard to re-structure your rucks.
Adams (68) – You just have to scratch your head at some of the premium scores this week. Taylor Adams with no Treloar should be a walk up captaincy option. Instead he became your teams seventh rookie. Collingwood got absolutely towelled up, and I had them near my bottom four. That's definitely a concern, hopefully they can show something.
Daicos (19) – This bloke will show nothing. I was never even a fan of this pick in the first place, yet somehow he made his way into my draft team. I can guarantee you it will be his first and last ever game for me in any format. Seriously, you can't be this bad. He ran through the middle too! It's a contender for one of the worst individual performances I've ever seen, and I watch Jack Petruccelle live every week. Get out.
Treloar (59) – Many coaches were freaking out about who's midfield time Adam Treloar would take. The answer was poor Toby Mclean may not get his forward pocket role back. Talk about an embarrassment of riches. You're relying on an injury for Treloar to get anywhere near his value for draft coaches, hopefully he can manage to pick up DPP. Even then, I'll be hesitant. The Dogs midfield was just too damn good. Yuck.
Gawn (73) – Ok. I was somewhat confident Max Gawn wouldn't live up to his $950k price tag. I did NOT think he would play against Lloyd Meek and cover the ground like a glorified Sandilands. When he was resting across half back and teams were forced to go long up the line, Max could have a field day. Resting forward while the game moves at a hundred miles an hour in transition with 45 degree kicks through the middle? Not such a pretty scene. It's early days, but ruckman look like they may suffer this season. Coaches may still figure it out though so try and hold strong…
Meek (26) – As much as Max Gawn was held in check, I don't think you can suggest Lloyd Meek offered much.. if anything at all. Even if he gets dropped this week, I won't mind. Fremantle have 4 consecutive Sunday games, opening up the opportunity to not only emergency loophole Flynn and Hunter, but captaincy loophole too. If you avoided him, I don't think you missed much.
Clark (54) – Will Geelong swing the axe after their loss against Adelaide, or will they back in their stars? The problem is, Jordan Clark doesn't exactly classify as a star and Mitch Duncan is about to return. Yes I'm extremely worried. Clark had a golden role on the wing and if he keeps his spot he definitely stays for me, but it will be nervous times come team selection. Fingers crossed.
O'Brien (51) – Rucking hell. I don't know what else to say at this point. ROB owners were probably ecstatic watching Gawn capitulate, only for O'Brien to produce something even worse. Impressive stuff really. If I had a luxury trade and owned him, he just played his final game for the club.
Dangerfield (96) – Knobhead. Seriously how many times has Danger bottled it for our teams. "But he didn't leave the ground." He did. Blatantly. Yes it was an accidental head knock, but Danger had just been chased down and that bump was out of frustration, pure and simple. He didn't have to do it, and the tribunal will rightly punish him for it. Chris Scott should shut up. Anybody suggesting that was a footy act and he shouldn't be suspended is living in an ancient time. Anyone with a brain has moved on from that archaic thought process. Hopefully Jake Kelly is alright. Take it as a positive, I don't think he was a great pick anyway. Danger can pack his bags.
Daniher (45) – Speaking of bad picks. Key forwards hey. I hope Daniher owners didn't cop the Danger and Rowell double, because he needs to go. I'm not denying he'll go off once in a blue moon, but you don't want to deal with this tripe. Don't let the door hit you on the way out Joe.
Neale (68) – I just don't know anymore. Zero tackles? That just about sums up Brisbane's effort on Saturday night. It was a gutless performance and Lachie Neale was at the forefront. Having said that, I'll be ready to swoop when he gets cheap. Which he will. Never start with the most expensive premiums!
Lloyd (76) – Another prime example of where it is just better to chase value and upgrade to the big guns when they get cheaper. Jake Lloyd will still be great this season. Let's just calm our expectations though. Big bounce back coming.
Rockliff (27) – Is this going to be a value pick (pig) down the line, or is this just a sign that Rocky's career could be coming to an end? At Port Adelaide at least. Their team is unreal, and the extra pace through the middle with guys like Butters and Rozee when he returns is absolutely more valuable than what Rocky offers. They have Boak and Wines on the inside, so I think it will take a long term injury for Rocky to have any real relevance. Maybe I'm wrong, that's just how I saw this unfolding when he was on the outer during pre-season.
Green (49) – Tom Green fan club where you at? I'm absolutely sure I would have seen thousands of "I'm a genius" tweets had he scored well. He didn't. And it was all quiet on the Tom Green front. I won't make you admit what you did, just fix it up. Please.
Webster (48) – I had Webster on my watchlist and he came flying out of the gates. He also scored just 10 points from midway through the second term. It wasn't a bad pick, but I would be on the hunt for a replacement as soon as you can. Shooters shoot.
Brodie (50) – Same principle. I started Will Brodie over Jye Caldwell, in hindsight an absolute howler. But I can live with it, as if he had turned in a big performance I wouldn't have forgiven myself. Call it a mistake and move on. Will Brodie is packing his bags for me, I had to sit at the game and witness him look absolutely lost in the 64% time he spent on the ground. I'd almost rather Joe Daniher. Almost.
Gaff (70) – Sometimes this game just sucks. And you have to accept that. There was no good reason for Andrew Gaff to be the gutless wonder he became on Sunday. He'll probably bounce back next week. Unfortunately for those who started him, the rest of the competition may get a chance to get on board at a much cheaper price. Full priced premiums. Bad idea.
Rowell (16) – This sucks, and not just in Fantasy. The kid is a gun. You could tell being at the game he was a level above, his strength in tackles is just unfair. To hear him go down with a serious knee injury is just bullsh*t. Fingers crossed it's not too bad and he can get back this season. Unfortunately a lot of cowards will keep their spots this week because a bloke who actually shows some ticker has to be traded. Prayers up!
This Game Sh*ts Me
Last minute changes. All pre-season we'll have our structure, yet for whatever reason chaos ensues in the final 24 hours before lockout. Guys like Jye Caldwell and Jaidyn Stephenson can sit in your sides for two months, but somehow they find themselves left out when the whips get cracking. We do it every year, and we never learn. This one is on us. This game sh*ts me.
Also a quick shoutout to Fanhub's shambolic draft website that has done it's best to ruin my draft and keeper league's. If anyone is suffering from endless glitches and unable to change league settings, you're not alone. Embarrassing really.
The Other Bits and Pieces
1999. I was flying until the final game of the round, where everything came crashing down. Will Brodie was running around like he had never played a game of football, and that was for the few minutes he wasn't on the bench. Rowell went down and it took just an extra 24 hours for the confidence to be sucked from my squad too.
I'm happy with the structure, avoiding big rucks and spending up on my midfield. My advice would be for you to prioritise the two biggest fliers you missed in Round 1 and get them in no matter who you need to trade out. For example if you're trading Danger, I would be downgrading to a value pick like Hind and using the cash elsewhere.
Sholl and Hind were the priority for me this week, I would have downgraded Docherty to cash up but of course Rowell has to go instead.
Rowell -> Sholl
Brodie -> Hind
That leaves me with $130k in the bank to hopefully upgrade a Paddy Dow or Darcy Parish next week. Good luck everyone, let's hope for less of a sh*t show in round 2. Unlikely, I know.