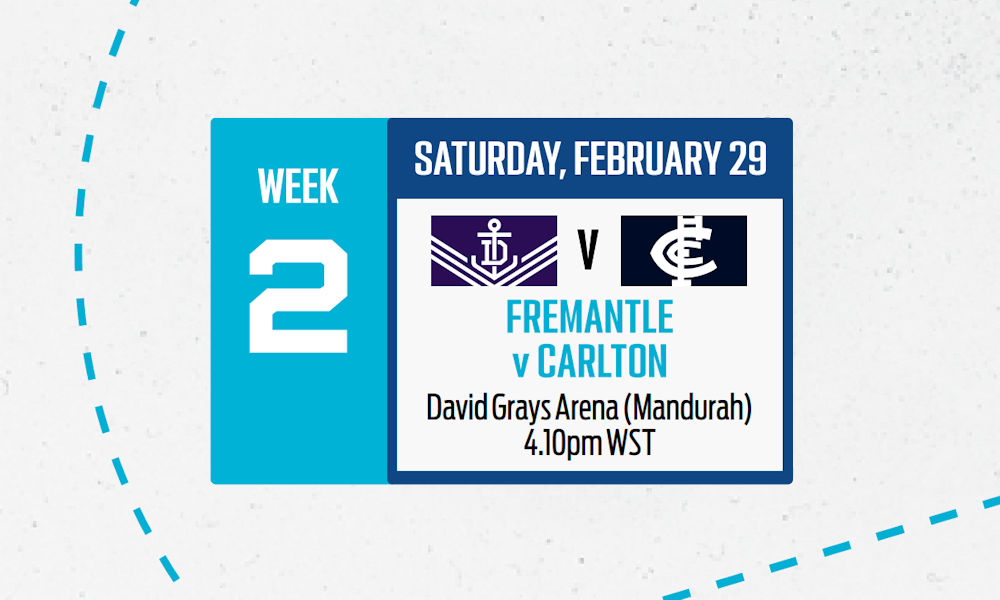 It won't be the most attended Marsh Series match in 2020, but that didn't stop fantasy coaches from flocking to David Grays Arena or firing up their Kayo subscriptions to get a good look at Fremantle and Carlton in their first preseason hitout.
Both teams were missing key personnel, either through injury/management or the Bushfire Relief Match, however, there was still plenty to take away from this clash. A lot of eyes were focused on Freo's midfield rotation, while also monitoring the 6th most popular player in the game – Sam Docherty. The Dockers controlled the tempo early and were able to build some scoreboard pressure with a 2-3 goal buffer, hovering around for a lot of the game before eventually kicking away and running out 47-point winners.

Listen to the AFL Fantasy Podcast with The Traders at Apple Podcasts, Spotify and Google Podcasts.

Team as named
B: L.Ryan 13 B.Cox 36 E.Hughes 15
HB: J.Aish 11 G.Logue 2 T.Duman 44
C: A.Cerra 5 R.Conca 6 T.Colyer 33
HF: S.Sturt 27 M.Taberner 20 L.Schultz 28
F: C.McCarthy 23 R.Lobb 37 B.Matera 3
Foll: S.Darcy 4 B.Acres 9 A.Brayshaw 8
I/C: T.Watson 45 C.Serong 22 M.Crowden 12 B.Banfield 41 B.Bewley 34 C.Blakely 19 M.Frederick 43 H.Dixon 17
Emerg: J.Carter 35 J.Pina 47 L.Valente 29 T.North 24
Andrew Brayshaw (MID/FWD, $516,000)
For 20% of fantasy coaches (this number has probably increased since the time of typing) Andrew Brayshaw ticked every box, regularly chewing up minutes in the engine room for the Dockers and looking good while doing it. The former No. 2 overall pick finished the contest with 19 touches, four clearances, four marks and seven tackles in only 60% time on ground (TOG) for a score of 90 – tick. Fyfe's absence surely contributed to a lot of players receiving more minutes in the midfield, but even when's he's back in purple, I expect Brayshaw to stay close to the pill and in turn post some impressive point totals.
Rory Lobb (RUC, $588,000)
Easily the standout performer, Rory Lobb has the fantasy community abuzz after his showing against the Blues. Through two quarters he looked 'fine', but an injury to Sean Darcy saw him take the reigns as Freo's lead ruck and his fantasy score skyrocketed as a result. No player took more marks than Lobb (13) as he helped himself to a game-high 130 fantasy pints, fuelled by 18 hitouts, 23 disposals and a goal. Don't fall into the trap and expect this week-in, week-out, but Lobb deserves our attention, especially if Darcy fails to stay on the park forcing the former Giant into a fantasy-friendly role.
Blake Acres (MID/FWD, $501,000)
Blake Acres' first game as a Docker was one to remember, with the intriguing MID/FWD hardly putting a foot wrong in 69% TOG. Only 2.9% of fantasy coaches have currently taken the punt on Acres and I won't be surprised if he locks down a regular role on one of Freo's wings following the departure of Ed Langdon and Bradley Hill. There was plenty to take away from this match, but the form of Acres was one trend I expect to continue in 2020, as the WA-born product carves out a niche as a fantasy staple. He won't push for a top-6 FWD finish, but with a starting price of 67.5, Acres has the chance to be one of the best value picks around.
Other notes
Aside from the aforementioned trio, both James Aish (100, DEF, $496,000) and Adam Cerra (83, DEF, $451,000) were high on people's watchlist, with the Freo pair performing admirably. Both Aish and Cerra rotated through a number of positions during the contest, benefitting from the Dockers' dominance against the Blues. If you're considering either for your starting 30, I'd want to watch them closely against West Coast in their second Marsh Series game before pouncing.
Luke Ryan (100, DEF, $594,000) did his usual thing marshalling the defense and he shouldn't take much of a step backwards from his 80.1 average a season ago. I'd be interested more in Draft than Classic with Ryan, but he should still be a fantasy factor in the upcoming season. A lot of things went the way of Lachie Schultz (107, FWD, $320,000) against Carlton, finishing with four goals from 14 touches. I wouldn't throw him on my watchlist just yet, but credit where credit's due.
Rookies Caleb Serong (46, MID, 256,ooo) and Tobe Watson (51, DEF, $170,000) did their best to put their hands up for a debut to start the year, with the young duo certainly worth keeping an eye on. Neither of them really dominated the contest, with Serong working his way into the game over the latter three quarters and Watson showing some flashes of notoriety. Wait and see if they crack the Round 1 side before making an investment.
Fremantle @AFLFantasy Grades:
Brayshaw ⏱, ?, ?
Cerra ⏱, ?, ?
Darcy #️⃣1️⃣?, ?, ?
Lobb #️⃣2️⃣?, ?, ?, ?
Acres ?, ?, ?
Blakely ?, ?, ?
Serong ?, ⏱
Bewley ?, 2️⃣2️⃣❓
Conca ?
Aish ?, ?, ?
Schulz ✅2️⃣2️⃣, 4️⃣?
Sturt ?
McCarthy ❌?
Ryan ?, ✅
Frederick ?, ❌2️⃣2️⃣

— Tbetta (@Tbetta9) February 29, 2020

Team as named
B: N.Newman 24 L.Jones 14 L.Plowman 20
HB: S.Docherty – C 15 J.Weitering 23 K.Simpson 6
C: J.Newnes 32 S.Walsh 18 E.Curnow 35
HF: J.Martin 21 L.Casboult 41 J.Silvagni 1
F: M.Gibbons 40 T.De Koning 12 D.Lang 16
Foll: M.Kreuzer 8 W.Setterfield 43 Z.Fisher 25
I/C: T.Williamson 31 D.Cuningham 28 P.Dow 2 M.Kennedy 7 C.Polson 29 S.Philp 34 M.Pittonet 27 C.Moore 47
Emerg: R.Sturgess 48 M.Owies 44 J.Honey 36 S.Ramsay 33
Sam Walsh (MID, $684,000)
Sleep on Sam Walsh at your own peril. Full disclosure, the Carlton ball magnet has rotated through my midfield at times this preseason and on the back of this effort, he can only expect a spike in ownership. He paced the way for the Blues by chalking up 10 first-quarter touches and playing 90% of the first half, finishing with a score of 97 from his 28 disposals. I'll be keeping a close eye on the reigning Rookie of the Year for the rest of the preseason and I'd advise you to do the same.
Jack Martin (MID/FWD, $619,000)
With former Sun Jack Martin set to spend his time switching between the forward 50 and Carlton's midfield, his spot in our starting sides has come under fire. Currently residing in 3.3% of teams, Martin played just half the game in Mandurah, posting 52 points from nine disposals in 45% TOG. In an encouraging sign, Martin did register five tackles in the first-half and he could work his way into fantasy relevance if he's allowed to roam free through the midfield/forward line – as unlikely as it seems.
Sam Docherty (DEF, $563,000)
You and I both know you only came here to read about Sam Docherty so here's the quick wrap – you should have no doubts in picking Doc, despite the heavy amount of rust he had to shake off during the match. The former defensive stalwart ended up with a respectable 79 fantasy points in his 80% TOG looking every bit like the Sam Docherty we wanted in the second half – registering five +6's while scoring the bulk of his points (53 points). There's a reason he is one of just six players in over 40% of teams right now with Doc must-own property in my opinion.
Other notes
While I'm very high on Zac Fisher (79, FWD/MID, $469,000) as an actual footballer, I have my doubts over his fantasy pedigree. He tied Doc as the second-best scorer in Carlton's outfit, regularly bobbing up wherever the footy was, but he wasn't prolific enough for me to advise picking him.
It may sound harsh, but there wasn't a lot else to love about the Blues' fantasy output, with Ed Curnow (74, MID, $667,000) doing his usual thing and Kade Simpson (73, DEF, $595,000) posting a solid score in just three quarters. It's also worth talking about the performance from Carlton's ruck duo with Marc Pittonet (65, RUC, $305,000) outscoring  Matthew Kreuzer (40, RUC, $614,000) despite the second-half dominance from Rory Lobb. Pittonet is too risky to start in your Classic side, but given Kreuzer's injury woes there's plenty of merit in drafting both (or maybe even just Pittonet) in case you unearth a diamond in the rough.
Carlton @AFLFantasy Grades:
Walsh ?, ?
Kreuzer #️⃣1️⃣?, ?
De Koning #️⃣2️⃣?, ??‍♂️
Pittonet #️⃣3️⃣?, ?
Martin ✅?, ?
Docherty ?, ?
Simpson ?, ?‍♂️
Newman ?, ?
Newnes ?
Fisher ?
Gibbons ?, ?
Polson ?, ??‍♂️
E. Curnow ?, ?‍♂️
Cunningham ?
Dow ?
Williamson ?, ?

— Tbetta (@Tbetta9) February 29, 2020