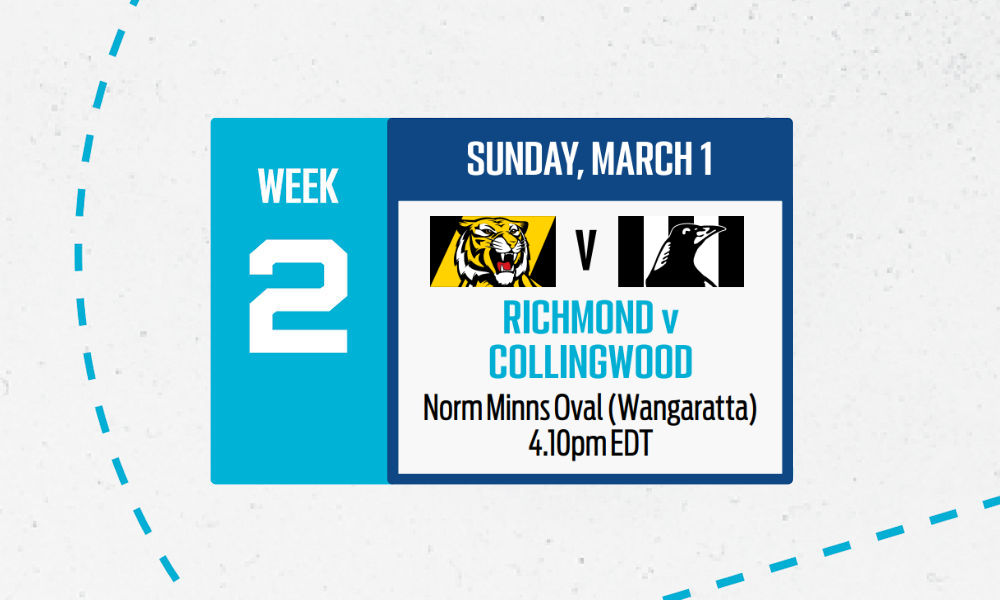 Due to the State of Origin match Friday Night and the talent on these two club's list there were a lot of the big guns missing. Houli, Martin, Lynch, Cotchin, Edwards, Riewoldt, Moore, Sidebottom, Pendlebury, Howe, and Grundy were all ruled out, but most importantly all got through the Origin match scathe-free. Having all these players out makes it hard to properly analyse how they will line-up for round 1 but was also a good chance for fringe players to really push their case for a round 1 place in these final-bound teams.

Listen to the AFL Fantasy Podcast with The Traders at Apple Podcasts, Spotify and Google Podcasts.

Team as named
B: N.Balta 21 D.Grimes – C 2 D.Astbury 12
HB: S.Stack 44 N.Vlastuin 1 J.Short 15
C: J.Caddy 22 D.Prestia 3 L.Baker 7
HF: D.Rioli 17 K.Lambert 23 J.Castagna 11
F: M.Chol 41 C.Coleman-Jones 40 O.Markov 31
Foll: I.Soldo 20 J.Ross 5 M.Pickett 50
I/C: P.Naish 6 J.Higgins 13 R.Collier-Dawkins 26 T.Dow 27 S.Bolton 29 N.Broad 35 J.Aarts 39 R.Garthwaite 42
Emerg: W.Martyn 36 B.Miller 46 D.Eggmolesse-Smith 43 L.English 32
Marlion Pickett (MID, $170,000)
One of the easiest selections of the year was on show. He started well, and faded late. Was getting his hammy's worked early in the 4th quarter but it was only tightness, he played out the game. Finished with 44 points from 79% TOG, which doesn't set the world on fire, but he did plenty of 1%'er sort of stuff, had a big 12 contested possessions and looked better than his score suggests. If anything, I'm edging towards paying up for 3 midfield rookies and moving Pickett to the bench. He finished 3rd for the Norm Smith and only had a score of 73 which to me suggest scores in the 50's wouldn't be uncommon when he's not polling Brownlow votes… Regardless, he's a lock for my team.
Jayden Short (DEF, $522,000)
Short had a decent game, finishing with 103 from 84% TOG. He had his usual kick-in duties role and as always had a huge kick:handball ratio going at 18:7 including a trademark bomb from outside 50m goal. We all probably expected him to get a boost in his numbers after the new kick-in rule was introduced, but he actually went backwards. I'd say he's definitely under-priced, but he'd need to push his average of 70 into the 90's to be worth it. I just don't think Richmond play the style of game here for him to do it. They move the ball too quick, and we've got to consider Houli will be back taking the seagull +6's.
Other notes
I just wanted to say a quick thing on Dustin Martin (MID/FWD, $721,000) even though he didn't play here (was BoG in the State of Origin match just quietly though). I actually think Martin is potentially the safest pick in the FWD's this year. Yes, even safer than Whitfield purely based on the fact Whitfield misses games and Martin doesn't. I also think Martin's 37% ownership is misleading and boosted. There are thousands of teams out there that are created by non-competitive coaches and who do you think they're picking first? I believe to start the season in the more competitive teams Martin could actually be a little more unique than at first glimpse. He's also priced at 97 thanks to a 90 point average in the first half of the season and three sub-70 scores in the first 5 rounds, but saved his average with a 105 average in the second half of the season and a 111 average in his final 5 games. Could be 10 points under which makes him a potential under-priced premium. He will definitely be a top-6 FWD. He doesn't miss games. And if you needed an extra reason, he's a loophole option round 1. Set and forget. The only flag I'd raise is in recent history he's started the season slow, by his standards.
Riley Collier-Dawkins (MID, $170,000)
I'm really struggling to confidently fill my bench positions with $170k players this year so I was hopeful Collier-Dawkins would be around the mark, especially with the midfield opportunities he had today. Although he's highly rated at Tigerland and he's shredded 6kg's from his frame (source) it appears he doesn't have a super lucrative fantasy game only averaging 62 from his 20 VFL appearances with only one 100 score in that too.. He'd potentially see a small point rise purely because of the talent around him. But it's a no for now. Finished the day with 23 points from 55% TOG.
Dion Prestia (MID, $738,000)
Had a career best year last year playing every game and winning the B&F. He finished on 73 from a cruisey 68% TOG. Finished the year with a 108 average suggesting there might be some value here. I just don't like Richmond's fantasy game (with a very select few exceptions), Prestia could be one of them, but it's just not for me.
Jack Higgins (FWD, $497,000)
Was great to see Higgins back out there after a horrid 2019! Biggest tick for him was getting through his first game back, but unfortunately 18 points from 65% TOG isn't worth a look. Hopefully he gets a good run at it, he's a junior's fantasy pig, but he's far from that status at AFL level currently.
Kane Lambert (FWD, $643,000)
Having owned Lambert in a previous season I can tell you it's an absolute headache. Has those monster games, but he's inconsistency will give you many sleepless nights. 59 points from 79% TOG was unexciting.
Richmond @AFLFantasy Grades:
Prestia ?, ⏱
Lambert ?
Pickett ?, ?
Soldo #️⃣1️⃣?
Coleman-Jones #️⃣2️⃣?
Short ?, ?, ?
Baker ?, ?, ?
Ross ??‍♂️, ⏱
Stack ?, ?
Dow ?
Higgins ?
Bolton ?, ❌?
Markov ?, ?
Naish ?
Balta ?, ?
Aarts ?, ⏱
Collier-Dawkins ⏱, 2️⃣2️⃣❓

— Tbetta (@Tbetta9) March 1, 2020


Team as named
B: J.Crisp 25 J.Roughead 23 J.Madgen 44
HB: B.Maynard 37 M.Keane 47 C.Mayne 16
C: T.Brown 6 A.Treloar 7 W.Hoskin-Elliott 32
HF: J.Elliott 5 B.Reid 20 B.Mihocek 41
F: J.Stephenson 1 M.Cox 46 J.De Goey 2
Foll: D.Cameron 14 R.Wills 33 T.Adams – C 13
I/C: J.Noble 9 A.Bosenavulagi 40 C.Brown 17 T.Phillips 21 J.Thomas 24 J.Daicos 26 N.Murphy 28 T.Bianco 34
Emerg: B.Sier 36 J.Rantall 35 W.Kelly 27 T.Ruscoe 39
Taylor Adams (MID, $706,000)
I've been keen on Adams all preseason due to his price, and he seems to be over what ever had him in a moon-boot around Christmas time. Priced at 95 he comes in 20 points under his 2017 average, which is huge, but being realistic I think that 115 average is beyond him again. He can definitely take his average back to a 105-109 though which makes him an interesting prospect, especially if he can play out a season like he's done once in his career (the same year he averaged 115). Adams is also carrying an injury effected score of 49 from last year, take that out and his average back to 100. Played true inside mid all game and I'm confident this is his role once the other names are back. Finished with 99 points from 75% TOG. I rate the pick!
Jack Crisp (DEF, $725,000)
Had an absolute field day… 124 points with 12 marks from only 63% TOG, yes… 124 from 63% this is a guy that normally plays 90% TOG or more… Crisp also never misses games, the guy's indestructible having played 122 consecutive games, which is the longest streak in the AFL and a massive tick for Fantasy coaches. Like Martin, Crisp should be a top 6 position player, and he'll be there all year, another set-and-forget option. It seems most coaches aren't willing to pay up for the big defenders this year, including myself, with most opting for Houston as their D1. If you were willing to pay up, Crisp is a safe option, and it would be a nice POD too, currently only selected by 9% (which will rise now).
Other notes
Adam Treloar (MID, $839,000)
HAMSTRING AWARENESS ALERT (queue Cal's alarm noise)!! Late in the 4th quarter Treloar got down low for a mark and clutched at the left hammy. He didn't silly salmon, but it didn't look comfortable either. He still took the kick and didn't look too distressed when he was in the hands of the trainers. He went down to the rooms and surfaced with it iced up. Early word is it was just tightness or cramp, at worst a small strain, I'm still optimistic he's there round 1. Let's hope! Currently owned by 13% of teams, Treloar was doing Treloar things before this incident to end the day early with 103 points from 71% TOG and 34 disposals.
Jamie Elliot (FWD, $502,000)
Had 62 from 79% TOG (which was a little surprising he felt more lively than that). The off-season rumours of Elliot getting a run in the mids appear to have some truth to it. He looked fit, definitely had an influence and he attended the first center bounce as one of the preferred midfielders. He seemed to be the biggest beneficiary of no Pendlebury and Sidebottom, no doubt at times in the season he'll be thrown back in there as a bigger body, but I think he'll spend majority of his time as a forward which will result in volatile scores. Plus he doesn't have a great history with injuries, and is awkwardly priced. You'd be brave to start him!
Jordan De Goey (FWD, $626,000)
Played predominantly as a forward and only moved to mids around the time Treloar was iced up. Finished with 60 from 72% TOG which was helped by 3 goals. He can score when he runs through the mids but it seems this is going to be a game-by-game trend so it's a pass from me.
Darcy Cameron (RUCK/FWD, $170,000) 
Didn't look bad at all today for 107 points from 75% TOG and 91% disposal efficiency! Competed well in the ruck and was able to go forward and provide a contest. Even kicked 2 snags. One slight concern was that big Cox started in the ruck at the first center bounce of the game and the first bounce after half time, but that might of been a ploy to get Cox into the game early. Can't see him playing in the same team as Grundy and Cox obviously, BUT if (heaven forbid) the former was injured or suspended Cameron looks ready to fill the gaping void. Can sleep a little better having him handcuffed to Grundy as R3.
Trent Bianco (DEF/MID, $182,000)
Similar to what I said with Collier-Dawkins, I'm really struggling to fill my bench with reliable names at the moment, ESPECIALLY in DEF! He didn't come on til Q4 which is disappointing, and probably suggests where he sits in the current pecking order. 15 points from 23% TOG. If you have Bianco on your bench, I'd be moving him on.
Jay Rantall (MID, $192,000) 
Collingwood's #1 drat pick of 2019 came in as a late replacement for Stephenson. He's an endurance beast not only did he win Collingwood's 2km time trial on his first day of training, but he also broke the combine record. Unfortunately he's in a team that has one of the most stacked midfields in the game so he'll be way down the pecking order. 30 points from 24% TOG.
Collingwood @AFLFantasy Grades:
Treloar ?, ?
Adams ?
Phillips ?, ?
Wills ?, ⏱
Cameron #️⃣1️⃣?, ?, ?
Cox #️⃣2️⃣?
Crisp ?, ?, ?, ?
Noble ?, ?
Mayne ?, ?
Madgen ?, ⚡️?
Elliott ?
De Goey ?
Daicos ?, 2️⃣2️⃣❓
C Brown ??‍♂️
T Brown ??‍♂️
Bosenvulagi ??‍♂️
Keane ?, ?

— Tbetta (@Tbetta9) March 1, 2020