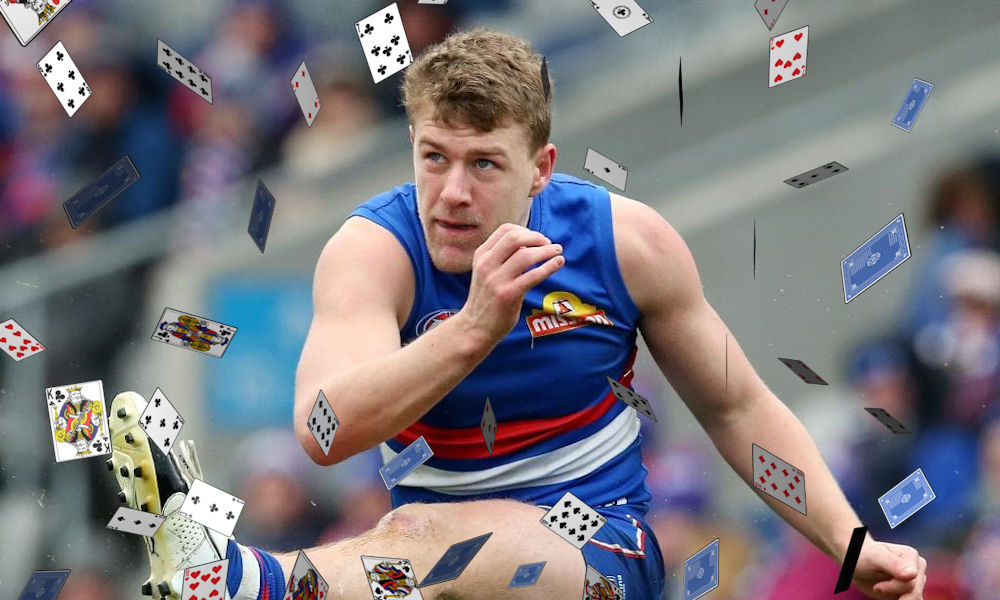 Name: Jack Macrae
Team: Western Bulldogs
Position: MID
Price: $858,000
Bye round: 14
2019 average: 115.6
2019 games played: 22
Predicted Average: 117
Draft Range: Top five pick
Click here for 2020 Fantasy prices.
Why should I pick him?
Jack Macrae is a proven fantasy asset who deserves a spot in your starting team as an uber premium midfielder. When building an initial squad at the start of a new season, nailing those initial premium selections can go a long way towards overall success. Macrae has what it takes to start in your team and stay they for the duration of season 2020 with his elite combination of durability, huge scoring ceiling and an uncanny ability to churn out consistent scores over an extended period of time. Select this fantasy dreamboat in your initial side and enjoy the ride.
Firstly, there's no point spending 800k + on a bloke who you can't trust to play a majority of games in a season. Thankfully, Macrae has shown his impressive durability over the past six seasons to entrench himself into the top echelon of fantasy midfielders. Over the past six seasons, the gun Bulldogs midfielder has managed to play at least 18 games each season, playing an impressive 20 or more in four of them. Over the past three seasons, he's also been going at roughly 86% time on ground, showing he's as fit as a fiddle and knows how to keep himself out on the park. He may not play footy in the same explosive and ballistic manner as teammate Josh Dunkley, but his gut running and spread from contest to contest is surely playing a role in keeping him injury-free. Such durability helps fantasy coaches sleep at night, knowing they've got a bloke who will show up and play games week in, week out.
Secondly, Macrae has shown us on multiple occasions that he can produce astronomical stat lines akin only to those achieved on AFL Live. He simply accumulates the footy for fun. Following his bye in round 12 last season, Macrae racked up 30 or more disposals in each of his last 11 games to close out the home and away fixtures. These stats translate to some even more imposing scores, with a 140 and 180 in rounds 13 and 14 respectively, complimented further by a 151 in round 20. More impressively, his 151 came against 2019 semi-finalists Brisbane, and his 180 against fellow Victorians Collingwood. To produce such scores even when playing powerhouses of the competition is a testament to his scoring abilities, where others prefer saving such ravenous performances for weaker opposition. His monster scores don't just come from a recurring bout of leather poisoning, with healthy output in both marks and tackle columns aiding his innate ability to keep putting up such captain worthy totals.
Finally, Jack Macrae brings both his durability and remarkable ceiling to the party, combining the two with great effect to demonstrate elite scoring over an extended period of time. Over the past six seasons, Macrae has a combined average of 108.3 through the home and away fixtures, highlighted by his 122.6 average in 2018. Polishing off his 2019 season with class, the doggies superstar didn't drop below 100 points in a single game post-bye. Priced at 115.6, he's arguably unders given what we've seen him produce in the past. Jack Macrae seriously knows how to fantasy footy and will tear it up again this season. All that's left to do is to make sure he's in your starting squad come round one lockout, bathe in the tidal wave of points and laugh at your mates who didn't start with him.
Jack Macrae (MID, $858k) is regarded as the No.1 midfielder for many Fantasy Draft coaches, but will he be a starter for you in Fantasy Classic?https://t.co/hTjnmx3Wx6#AFLFantasy pic.twitter.com/JKvH1KkvUX

— AFL Fantasy (@AFLFantasy) January 9, 2020
Why shouldn't I pick him?
Look, at 858k he's not exactly cheap, second only to the most recently anointed pig and Magpies big man Brodie Grundy. Representing an outlay of 6.6% of your initial salary cap, the argument could be made that the money may be better spent on guys showing more upside; think your Tom Mitchell, Callan Ward, Joel Selwood and Bryce Gibbs types. For coaches looking to go against the grain of predominantly guns and rookies, this is your opt-out card. Roll the dice and select a bunch of previously injured or former stars as highlighted by Matt in his essential reading fantasy article, Defining Value. Take an educated risk and spend the cash elsewhere, hoping that said risk will lead you to a 2020 top 100 AFL fantasy cap.
The only other real knock on Jack Macrae is his lack of scoreboard impact. Last season he only managed to kick a paltry 5.2, hardly boosting his fantasy scores with such input. Although accurate, this lack of goal sense can be frustrating to watch when you compare him to other premium midfielders in the competition who get forward in chains of play and finish off with a snag. His largest bag consisted of three goals, a feat that he's only achieved once to this point in his carer, averaging a measly 0.2 goals per game. It would be great to see him develop this part of his game and impact the scoreboard more regularly like his teammate Marcus Bontempelli. Consider the bottom of the barrel scraped.
Deck of DT Rating.
ACE 
Jack Macrae is a bonafide Ace when it comes to Deck of DT ratings. Macrae can produce elite scores even when spending extended periods of time out on the wing, a lesson for Gus Brayshaw. His ability to consistently play great fantasy footy is irresistible when building an initial squad, with Macrae entrenched at M1 in my own. It's worth paying up for the best player in each position at the start of the season to lock in their scores and save yourself the upgrade later. Jack is certainly one of, if not the best midfield option as reflected by his flashy price tag and he's priced at seven points below his career-best 2018 season. At the time of publication, just over 30% of coaches have already selected Jack Macrae, locking the Bulldogs superstar into their midfield, will you be joining them?
FOLLOW US  ON TWITTER: @DTTALK for all things AFL Fantasy (and more). Got something to say about the deck? Use the hashtag… #DeckofDT.