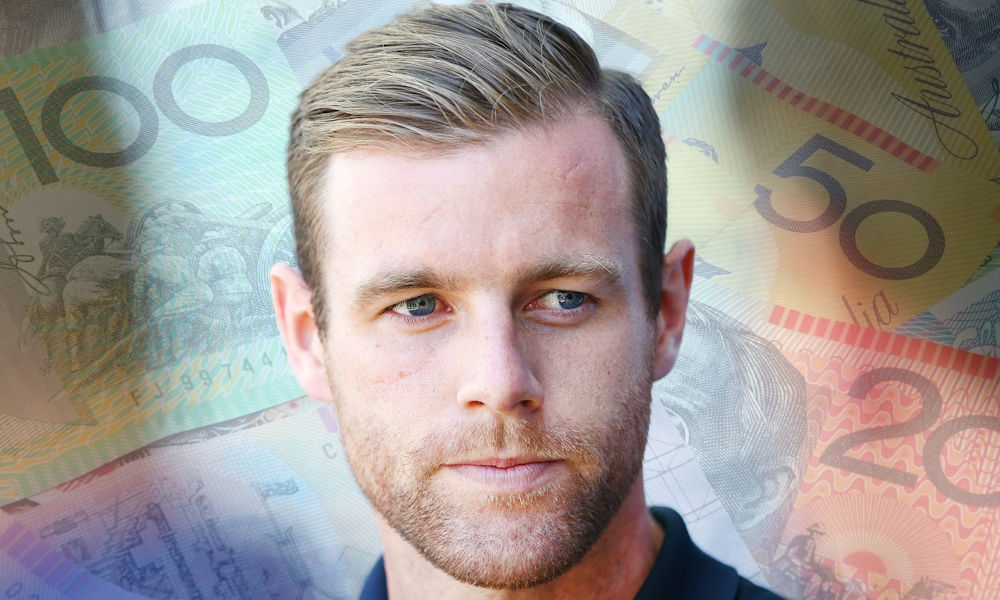 I lasted until late-January, a new PB for me. But just like the sad sack of shit I am, I'm back here trying to help others while I waste hours upon hours studying to build my fantasy team.
There is one major difference that separates the best from the rest in AFL fantasy. It's a coaches ability to find the best value for money in their teams. There are all kinds of ways a player can be considered 'undervalued', and some bets are safer than others.
In doing some pre-season research I have defined five different categories of undervalued players that I look for in my starting squad. I'm unlikely to pay top dollar for more than 3 or 4 players in my initial starting squad, so picking the best value for money players is critical.
I won't go into too much detail about any players I bring up, that can be saved for their deck of dream team write-ups or other analytical articles written by our talented team of writers. It's simply a guide to the types of players you should be keeping an eye out for during the 2020 pre-season.
The 'Role Change'
Not to be confused with the pre-season, "training the house down with the midfield group" role change. No, I look for players that have already been tried and tested in their new roles successfully at the top level. It's my favourite value pick. You can't really classify them as breakouts because they have already 'broken out' so to speak. However they're not yet trustworthy fantasy options as they are yet to put it together for a full 22 game season.
There have been many recent examples. Back during the days of the green vest, guys like Lachie Hunter were handed to us on a platter after moving onto the wing in the back half of 2015. Toby McLean was a bargain selection at the start of 2018, before passing the baton onto Josh Dunkley at the backend of 2018. I'm starting to see a bit of a Bulldogs pattern here… So who makes this list this season?
Dan Houston is prime example number one. Primarily a half back flanker to start his career, he saw a move into the midfield at stages last season. In the final 5 games of 2019 Houston averaged 25 disposals, 6 marks, 4.5 tackles and a goal for an average of 103.2. That's a significant improvement on his average of 73 beforehand. Michael Voss has already spoken about Houston seeing that role change becoming more permanent this season. Aged just 22 and potentially OOP (Out of position), Houston is a close watch during the pre-season. If he's in the guts, lock him in.
Chad Wingard seemingly finds himself in this category every second year. He dominates at every opportunity to charge into the midfield, yet his ability as a forward sees him sit deep far too often. In the last 4 games of 2019 Wingard moved into the guts and averaged 26.5 disposals, 6 tackles, 5 clearances and 7 inside 50's for an average of 107. The question here is did he finally build his match fitness to a level where he could play in the midfield, or was he filling a need at the time? His fitness levels have always raised questions, he averaged just 70% TOG over that last month when in the middle. Maybe he's just not capable of spending an entire season in the centre. The fact that Wingard played a critical role in the Hawks convincingly winning their final three games, two against the Giants and Eagles, can't be ignored. He's another for the pre-season roles watchlist.
There are certainly others out there, but I'll finish with this. Don't be too put off by their scores during the pre-season. You have already seen their scoring ability given the right role. If I see Houston posting solid 70's as a midfielder, that's enough for me.
The 'Future Star'
There are some guys you can just tell will be fantasy stars one day. The only problem is you don't know whether that's going to happen in 2020, or 2025. That's a slight issue. However the rewards can be astronomical if you can nail it.
Let's take the example of Patrick Dangerfield and Nathan Fyfe. It was fairly obvious from early on that they were going to become two stars of the competition. Does anyone remember the painful wait we had for Dangerfield to breakout? For two seasons straight we highlighted him as a potential bargain forward if he makes a permanent switch into the midfield, yet for the first four years of his career he never averaged above 70. Then 2012 arrived. Danger's average jumped from 71 to 102, it was in the Round 5 derby against Port Adelaide where he went nuclear for 39 disposals, 14 inside 50's, 7 clearances and 140 fantasy points that his career as a superstar began.
Nathan Fyfe on the other hand didn't mess about. In just his second season in the AFL he was shifted into the midfield and he made an instant impact, increasing his average from 69 to 99 in his sophomore year.  Both are contested beasts and Brownlow medal winners, they just developed at different rates.
We had to wait until Dustin Martin's fourth season for him to push his average past 85, jumping up to 97 and becoming a top 6 forward. Clayton Oliver on the other hand took his average from 69 to 102 in just his second year.
Are you seeing a pattern here? Me neither. Third year breakouts are a complete myth. There is no real pattern, and perhaps it's a good idea to wait for these types of players to have breakout games before jumping on board mid-season. There is a long list of breakout candidates again in 2020. Andy Brayshaw is a future midfield premium, there's little doubt in my mind about that. Can he break into the guts and average 90+ this season? Of course he can, but it's just pure speculation at this stage. Connor Rozee and Hunter Clark both fit this bill, although Clark can find himself somewhere between the new star and role change category. Clark didn't drop below 70 after his return to the team in Round 14 off half-back.
I certainly get the hype in selecting these players. The upside is huge. However I would proceed with caution. There's a lot more risk with these breakout candidates and you could find yourself paying top dollar for a player averaging close to a rookie. Callum Mills and Andrew McGrath have been supposed to breakout for half a decade. Maybe this is the year?!?! I'd need to see some significant scoring potential from these players in pre-season to be convinced. Brayshaw currently sits in my team but this category is where the pre-season madness can ensue. I just hope I don't lose the plot.
The 'New Star'
For some reason if a player enjoys a breakout season the year before, they are quickly written off and no longer considered good value. These guys are the uber premiums of the future, and there's no reason they can't make another significant step forward that very next season.
The prime example here is Tim Taranto. He had already enjoyed his breakout season in 2018, averaging 91 while being squeezed out of the midfield group at times thanks to GWS' star studded lineup. Spending over $650,000 on a player who has never averaged over 100 can be daunting, I get it. However you just look at Taranto's 2019 season for inspiration. The writing was all over the walls, and he duly delivered with an average of 113 making him a lock in the top 8 mids. That may have been a better return than even his most optimistic fans hoped for, but the point still stands. Selecting these young stars is exciting, and often they take another leap after their breakout season.
Clayton Oliver was completely ignored in 2018, before he pumped out an average of 109 and took himself into the uber premium category. This year I see one player ticking all the right boxes. James Worpel. Not to give away too much but he'll pop up in the Deck at some point before all is done and finished, and there's no reason we shouldn't be considering him in our midfields this year. He averaged 103 in the back half of 2019 as he grew in confidence as a permanent midfielder. You're out of your mind if you think Tom Mitchell returning will kill his scoring. I can't see anything other than a Mitchell, Worpel and O'Meara midfield trio at the Hawks opening centre bounce. Titch could even help him by getting first supply of the footy.
I don't really remember a player going backwards after their breakout season. The worst case scenario is that they stall for a season or two before making the next jump into uber premium status. Scratch that, I just remembered Angus Brayshaw happened. It's all too raw. This game is all about risk v reward, and there's plenty of merit in bringing back a young star set to grow in their third or fourth year in the system. Taranto was a competition winning call for some, and someone is going to make that leap again in 2020. Keep an eye out.
The 'Former Star'
Perhaps the biggest key to success if you look at the previous three overall winners. These are the players that have been at the top level for closer to a decade, have averaged in triple figures and for whatever reason endured a poor season or two. It can happen to the best. That's no reason to write them off entirely. Until Marc Murphy blossomed a few years ago, these players were firmly on my DO NOT touch list. Oh how times have changed.
Murphy peaked in 2011 with an average of 111.5, however his scoring dropped off a cliff. This culminated in his worst season to date in 2016, averaging 79.8 in 10 games while suffering from niggling injuries. In 2017 he wound back the clock in incredible fashion, averaging 111 to not only become a top 8 midfielder, but a top 8 midfielder at a $200,000 discount.
Sloane had averaged 107 in 2017, before struggling with injuries in 2018 resulting in an average of 90. The savvy coaches who started him last year were rewarded instantly, Sloane averaged 112.5 over the first 10 rounds in 2019. His hamstring injury in round 11 was devastating, but he still averaged 105 and made himself an easy stepping stone to a fallen premium around the byes.
I'm not sure whether Travis Boak classifies as he had never averaged over 100, however he was clearly underpriced given a return to the midfield was touted.
There is a huge list of these names this season and I will be starting with at least half of them. Call it crazy but these former stars we've labelled as "roses" have been the key to winning the car. It's probably worth a shot! Bryce Gibbs, Joel Selwood and Lance Franklin have all been dominant forces and are worth tracking during pre-season to see if their fitness or role is back to normal. Lesser names such as Sicily, Blakely, Witherden, Brayshaw and Jacobs are also seasoned players who have averaged far higher than their substandard efforts in 2019. They shouldn't have a line through them this early in the pre-season. All should be high on your watchlist and can certainly become top 10 players in their respective positions if all goes to plan.
The 'Injured Star'
Last but not least, these are usually a gimme pick if the price is right. The biggest locks each year are usually coming back from a long term injury. Think Brad Crouch last year. O'Meara in 2018. Tom Liberatore burst out of the gates and was way too cheap. The biggest concern is the fact they might not play 22 games, but this game is hard enough as it is to worry about who might or might not get injured during the season. Especially in Libba's case you don't always need them to play 22 games for them to do their job! Take more care in draft, but in Fantasy I'm a big believer of picking the best players available.
Fantasy HQ (Warnie…?) are giving us the middle finger by taking the injury discount from a players best season in the past two years, rather than averaging out the two seasons. That means Devon Smith doesn't make the list, even though he should have been an early candidate for pick of the year. Never mind… There are still some great bargains on hand if they can make it through pre-season and into Round 1.
Docherty, Roberton, Mitchell and Ward are all locks if named in Round 1 in my opinion. At their respective prices it's hard to see how anything can go wrong, although that's when it usually does. I also like Naitanui and Daniher if they can get their bodies right. You just need to see them out on the park during pre-season and it's time to lock and load.
So there you have it, my five different categories I'm always looking for when hunting value. Some players fall somewhere in between two. Jordan Dawson falls into the future star category, however his scores on the wing are extremely promising. Good luck playing with your early pre-season teams, may they change another 100 times before thing get real in March. Hopefully this have given some food for thought!