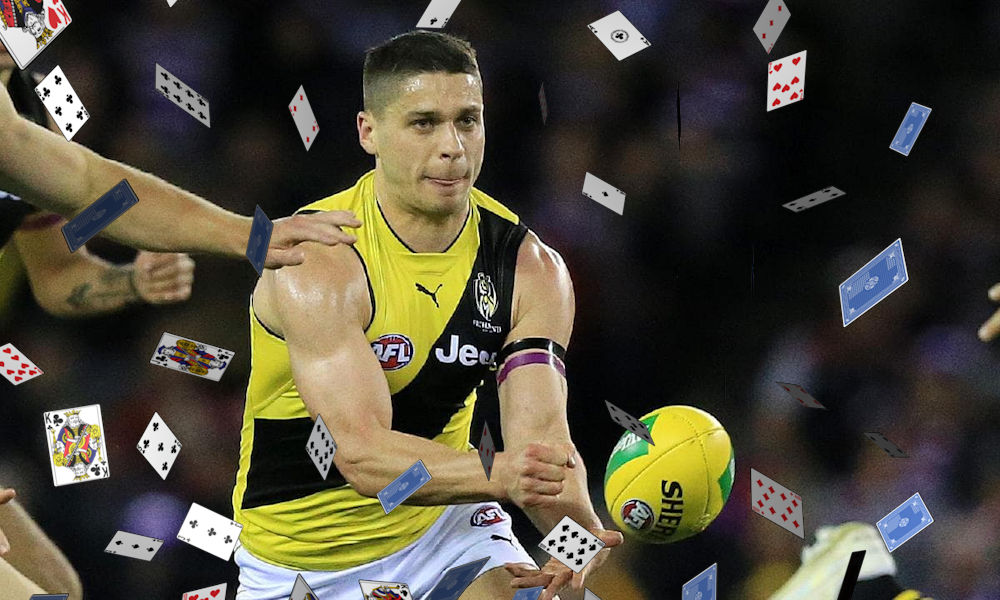 Name: Dion Prestia
Team: Richmond Tigers
Position: MID
Price: $738,000
Bye round: 13
2019 average: 99.4
2019 games played: 22
Predicted average: 103.5
Draft range: 5th-6th Round
Click here for 2020 Fantasy prices.
Why should I pick him?
I can guarantee you that there wasn't a lot of people who rushed to their computer's to add Dion Prestia to their midfield when the AFL Fantasy site came to life over the weekend. However, that doesn't mean the two-time flag winning Tiger should be a mere afterthought.
Traditionally throughout his career, Prestia hasn't posted immense fantasy numbers, rather complimenting the others around him and playing his role in a dominant Richmond outfit. However, with Trent Cotchin struggling to stay healthy in 2019, Presita did a lot of heavy lifting in the Tigers midfield, emerging as a game-changer for those few coaches who were brave enough to take the punt late last year. Through his first 11 games of the season, the former Sun averaged 24.9 touches, and just 91 fantasy points, a fairly pedestrian number by elite midfield standards. He turned that around in the second half of the season though with an average of 107.7 fuelled by 30 disposals a game, helping Richmond roar to life to end the year on a 12-game winning streak.
You may remember his name popping up through the finals also as the Tiges went on to secure another flag too. Prestia was a huge contributor for the club, posting back-to-back 123's in the Qualifying Final against Brisbane and then the Preliminary Final against Geelong. His score of 74 on Grand Final day won't excite a lot of coaches, but remember, the contest was virtually over at half-time and Prestia was a catalyst in setting up Richmond's success with 11 touches and 41 points in the first quarter alone.
Prestia's value in 2020 more likely lies in Draft where he can provide a consistent triple-figure score across 20+ games week in, week out. There is a world where he elevates and nudges the valuable 110 mark more often, coming off a career-best year eclipsing that score 8 times (6 times in the final 10 games). For that to happen, we would need to see Dustin Martin continue to split time between the midfield and forward line and for Trent Cotchin or other Tigers mid's to miss games or have a reduced role. However, in an effort to keep their premiership window open, Richmond may be inclined to do just that, keeping both Dusty and Cotch cherry ripe for the finals and a tilt at back-to-back flags.
There is enough young talent on the rise (Jack Ross, Marlion Pickett, Riley Collier-Dawkins for example) to one day take the reigns from these veteran types, but until they develop and play consistent AFL footy, Prestia has the opportunity to continue improving and become a regular in fantasy sides around the globe. He tackles, gathers plenty of the footy (career average of 24.2 disposals from 155 games) and he plays in a dominant team with premiership aspirations. The only thing left is for Prestia to piece it all together and emerge as a truly elite fantasy midfielder
Why shouldn't I pick him?
When you dig into Dion Prestia's previous fantasy seasons, there isn't a lot to get excited about. Falling 14 total points short of a triple-figure average last year ago leaves Prestia with just one campaign averaging 100 or more fantasy points in his nine AFL seasons to date. That came back in 2014 when the then Gold Coast Sun averaged 100.4 points and recorded 20+ disposals in 13 straight games to start the year – eventually finishing 3rd in the clubs B&F count.
That 2014 season was commonly viewed as Prestia's best footy season until last year when he joined an elite fraternity by winning the best and fairest award in a premiership side. At the age of 27, it's not insane to have seen Prestia put forth the best season of his AFL career, but it's hard to see him improving and besting his 2019 successes by going up another level. His price grew almost $100K over the duration of last season and for Prestia to do that again under the current salary cap construct, he would need to put up numbers commonly associated with Tim Taranto and Adam Treloar. I can't see that happening.
Last year a lot of things broke right for Prestia and STILL he failed to crack the triple-figure average. Granted, as I pointed out above, his second half of the season was much more captivating than the first 11 games, leaving coaches confused as to which Prestia will rock up in 2020. My guess is he'll put forth a 100+ year, but given that he is priced at 99.4, there isn't as much value in starting with the bullocking Tiger.
Deck of DT Rating.
JACK
There's a reason why Prestia currently finds himself in less than 1% of fantasy Classic sides as not every midfielder can be fantasy relevant. It's still worth keeping an eye on him and the rest of Richmond's midfield as Round 1 draws nearer to see if there really is some value in picking the reigning B&F winner. Draft is where he'll be a factor, but if the uptick in scoring over the second half of the year wasn't a flash in the pan, we could see a spike in his ownership as he becomes a tempting selection.
Loading ...
FOLLOW ME ON TWITTER: @SportsbyFry for all things AFL Fantasy (and more). Got something to say about the deck? Use the hashtag… #DeckofDT.