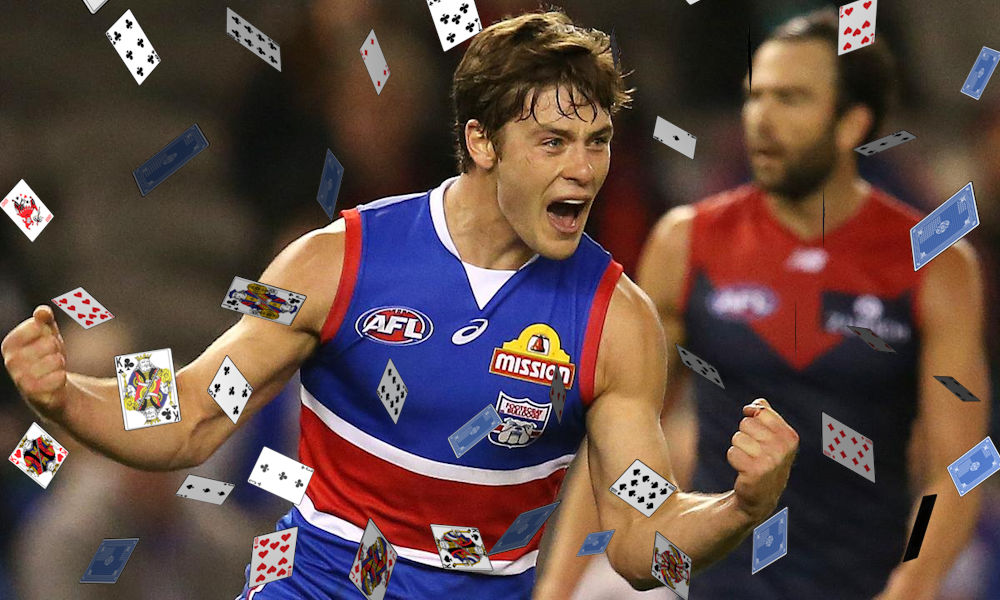 Name: Josh Dunkley
Team: Western Bulldogs
Position: Midfielder
Price: $824,000
Bye round: 14
2019 average: 111.1
2019 games played: 22
Predicted average: 121
Draft range: Top 10.
Click here for 2020 Fantasy prices.
Why should I pick him?
Damn it feels good to have AFL Fantasy back, that was enough excitement alone. That excitement turned into arousal once I started researching Josh Dunkley's prospects in 2020. Strap yourselves in because I'm not one to sit on the fence, so let's see if I can ruin your current team structure in under 2 minutes.
Why should you pick him…? Hello? Here's a recap of Josh Dunkley's scoring prowess once he moved permanently into the midfield after Round 6. He scored 14 tons in 16 games. That's a level of consistency rarely ever seen.
Of those 14 triple figure scores, 12 of them were over 118. Do not scratch your eyes, Dunkley really did score 120 (close enough) or more in 75% of his games to end the season. This included a period of over two months where he didn't drop below 118. If we're talking upside, scoring higher than the best averaging midfielder for 2019 in 75% of your games in the guts seems a decent place to start.
It wasn't just his consistency. He has the ceiling too. Dunks posted three scores of 150+ including a ridiculous 189 points against the Demons on the back of 39 disposals and 15 tackles. He had over 30 disposals and 10 tackles in each of those monster scores.
To become a fantasy legend you need to do it all. Some players are natural ball magnets, others thrive on their defensive work and tackling. Rarely do you get players that do both. This guy does.
He averaged 33 disposals, 4.5 marks and 6.8 tackles per game over those final 16 rounds for an average of 124. One hundred and twenty-four. Dunkley is the ultimate fantasy player.
A lot of the time our most dominant fantasy midfielders can get held back by tags. Titch could have averaged 140 in 2018. However Dunkley finds himself in a midfield group next to Jack Macrae and Marcus Bontempelli. He has already proven that he can score beside them. It should also mean that hard tags will be few and far between. Regardless, you can't stop him from tackling.
Last year's level of scoring was no fluke either. Over the final 9 rounds of 2018 he moved into the midfield for an average of 112 with a lowest score of 96. This guy is a bonafide fantasy star, and a downright star of the competition.
The scariest part is that he has only just turned 23. Dane Swan, Tom Mitchell and Tom Rockliff were all yet to average over 110 at that age. There is absolutely no reason why Dunkley can't get even better, let alone match the numbers he produced last season.
I don't think paying full price for your premiums is a great idea. So why spend $824,000 on a midfielder? It's crazy to say it, but I think he's at least 10 points under priced. The sky is the limit.
Why shouldn't I pick him?
OK, so no selection is ever without its cons. Josh Dunkley comes with one major drawback, and it will be enough to put off a lot of coaches. Luke Beveridge. I don't know if he just wants to keep his best midfielders on their toes, if it's a load management plan or he just likes keeping them affordable in Fantasy, but it seems any Bulldogs midfielder can be shunted forward at any given time.
Last year we could afford to take that risk. Dunks was a forward priced at an average of 95. Even so, his average of 77.5 in the first six rounds of 2019 was an unmitigated disaster. We can gloss over that now given how he finished the season, but if you pay $824,000 for an uber premium midfielder and they sit forward for an average of 70, you can kiss your season goodbye as the rest of the competition snares him for a bargain once he returns to the guts.
The 40 point downside is a big one, and definitely a reason to shy away from picking Dunkley, or any Bulldog midfielder for that matter.
I would normally say that role is my only concern, but there is some serious Angus Brayshaw vibes here. I was thinking at this time last year there was no possible way that selection could go wrong! He still hasn't put together a full 22 game season as a midfielder, and there's always the possibility he could forget to play football altogether. I'm laughing as I type that paragraph. It's complete rubbish.
Josh Dunkley (MID, $824k) averaged 111 last season, but a key stat is that he averaged 127 in the final 11 games following the bye.https://t.co/HIsP4k7h4j#AFLFantasy pic.twitter.com/s2v0DC5y3m

— AFL Fantasy (@AFLFantasy) January 10, 2020
Deck of DT Rating.
ACE.
Come on people, Josh Dunkley is nothing short of a Fantasy ace. Currently selected in just 15% of teams, if Dunkley comes out of the gates hot he could be averaging 130 and priced at nearly $900k after the first month. There's upside here, which I love in a premium. His numbers don't lie, I think you can make a legitimate argument that he was in the top 5 midfielders in the competition by the end of last year. It's a spell at fine leg for anyone who thinks he's not going to be a permanent midfielder in 2020.
He will be in the guts, and he will be in my team. An average of 120+ is not out of the question at all.
FOLLOW US  ON TWITTER: @DTTALK for all thing AFL Fantasy (and more). Got something to say about the deck? Use the hashtag… #DeckofDT.