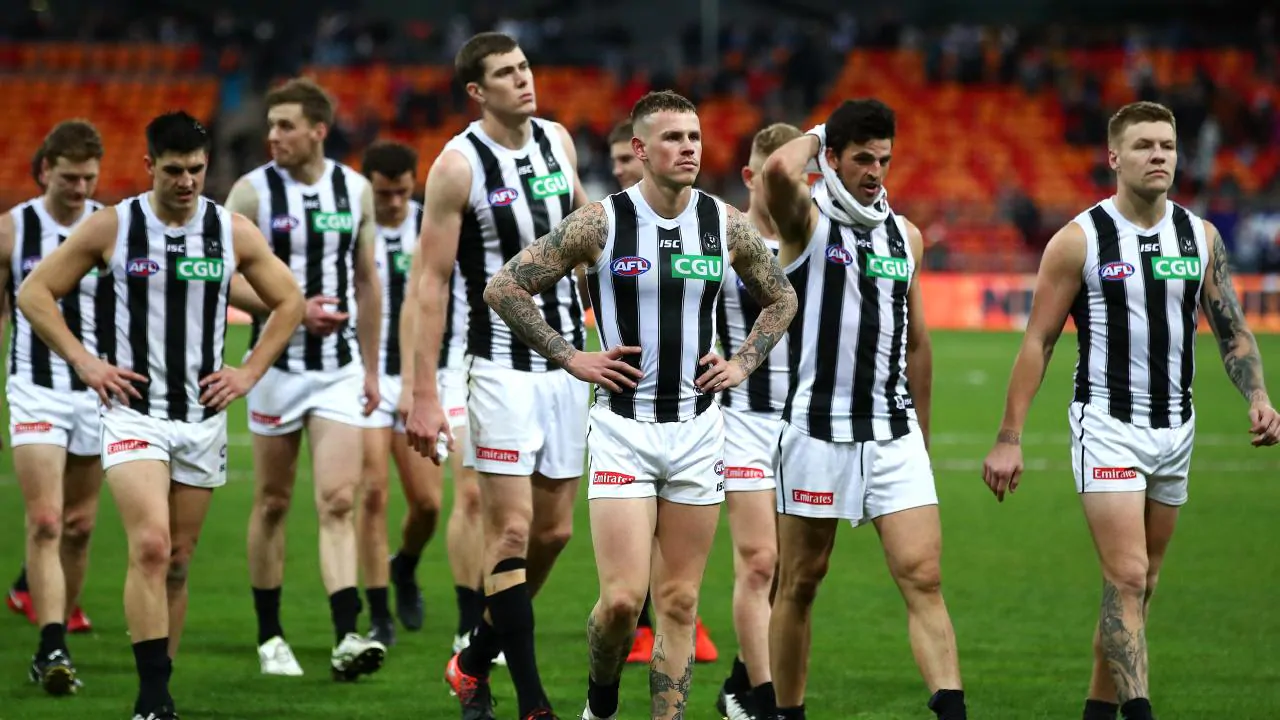 Collingwood coach Nathan Buckley is searching for answers after his side's 47-point loss to GWS at Giants Stadium on Saturday night.
It caps off what has been an inconsistent couple of months for the Magpies as Buckley's men have struggled to find the form that took them to last year's Grand Final.
After beginning the season as one of the favourites in the competition, the Pies are now out to $13, which has them behind five other sides in the pecking order.
Not only that, but the Pies are now $6 to make the Grand Final and are behind the same five times, although only two months ago the market would have been a completely different read.
The past month is where things have turned real sour for the Pies, with just one win from their last four games, including losses to non-finalists as it stands in North Melbourne and Hawthorn. What's more, Collingwood have not kicked over 11 goals in that period and have not scored 100 points in a game since its round nine win over St Kilda back in May.
The Pies' latest loss in Sydney came after conceding seven goals to the Giants in the first quarter, a buffer that was ultimately too much to recover form. And against a Giants side missing several stars, including Phil Davis, Stephen Coniglio and Josh Kelly.
Instead, a makeshift midfield with the likes Toby Greene (27 disposals and two goals), Zac Williams (26 disposals and 10 tackles) and Daniel Lloyd (16 disposals and three clearances) tore the Pies apart.
The odds are not in their favour to bounce back as the Pies have fallen to fourth favourite to win the premiership, behind Geelong, Richmond and West Coast. And if things continue as they have, they will fall behind Brisbane and GWS soon too.
Collingwood were up there as one of the flag favourites for the majority of the season next to the Cats but now find their chances slipping, along with their top four spot.
However, if you believe the Pies are still a chance to turn their season around, be sure to check in with these sports betting tips.
The engine room is usually Collingwood's greatest strength, but former Kangaroos great David King says they were taught a lesson against the Giants' lesser names.
"Their midfield was humbled on Saturday," King told SEN's Whateley on Monday.
"For whatever reason they could not get a hold of Lachie Whitfield. They couldn't get a hold of Toby Greene and they paid a price.
"They'd been scratching their heads I'd imagine.
"They got beaten where they're strong. Their midfield is the core of their strength. That's their point of difference and it got totally disintegrated against a group of about half a dozen Giants midfielders who said 'not on our watch'."
King added that the Pies' injury concerns were making it difficult for them to find consistency in their brand.
"They're seriously unhealthy as well. Over the last five weeks, Collingwood has only had 15 players play all games," he said.
"They're really unhealthy. Darcy Moore is really big hole. Jeremy Cameron just got off the chain.
"They didn't have the luxury of being able to make a change down back, they were inexperienced and undersized.
"There's no way they can go into a final with that kind of backline. We know that."
Just as it looked like Collingwood were going to turn their season around after recording a thrilling one-point lead over West Coast in Perth the week prior, they were handed their heaviest loss of the season.
Buckley lamented his side's inconsistent form, likening it to a "patchwork quilt."
"We're not at all as consistent as we'd like to be," Buckley told reporters after the loss on Saturday.
"We weren't as clean inside as we'd like to be. We're a bit of a patchwork quilt at the moment, some good bits, some bad bits.
"Regardless of who we play or where, or what stage of the year, or where we sit on the ladder, if we don't find that consistency in our own performance, in our own brand, it makes it pretty difficult to find your best."
The Giants loss marked the first time this this season the Pies have conceded more than 100 points in a poor defensive effort, as Jeremy Cameron got off the leash and bagged six goals.
"The Giants were generally harder and cleaner around the contest which gave them better access when they went forward," Buckley said.
"The margin (was big) in the first quarter, so we just didn't turn up unfortunately."
So where to here for the black and white?
A blockbuster clash at the MCG against Richmond on Friday night awaits where we will learn plenty about this Collingwood team. The equation is simple. Win, and they reinstate their heavyweight status and premiership credentials. Lose, and it could be a lost year for the black and white.