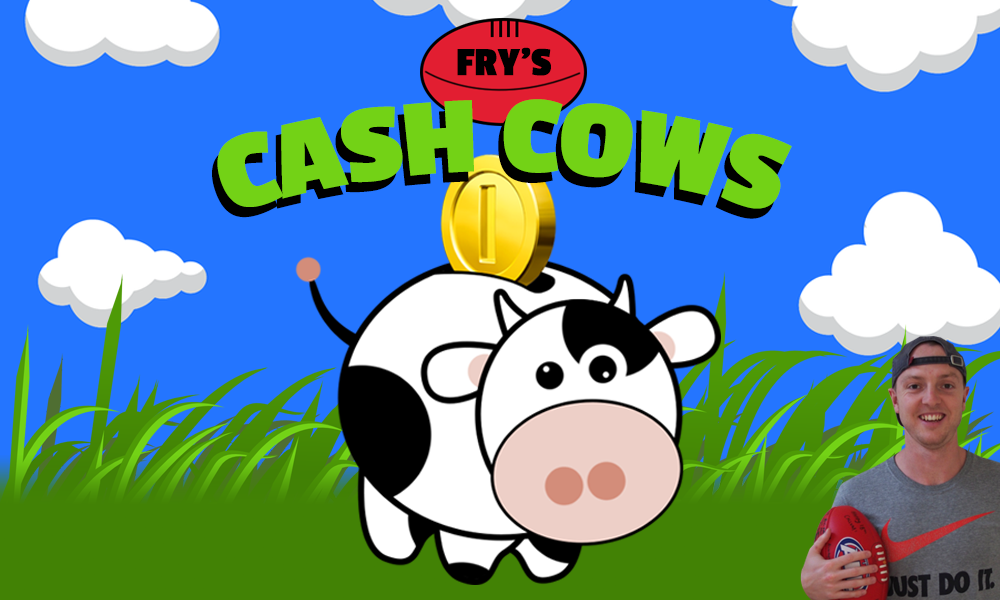 A whirlwind weekend is behind us and by the time you are ready this we'll be straight back into footy! With new dual-position players (DPPs), two more partial lockouts and a handful of fresh cash cows emerging give us plenty to talk about with a fast turn around forcing coaches to act quickly. Let's not waste any more time…
Defenders
Get 'Em
Jack Scrimshaw, Hawks ($371K, 60, BE 26)
Scrimshaw keeps doing his job for coaches, producing on a consistent basis while chaos rules around him. His spot on the field isn't guaranteed forever, but a fortnight against Carlton and Melbourne moving forward sure is appealing.
Callum Wilkie, Saints ($305K, 76, BE 2)
I'll be honest, I didn't see this coming from Wilkie. The Saints mature ager snapped his streak of 40's with two straight scores in the 70's offering 16.7% of coaches a viable starter moving forward. I still have some doubts over Wilkie and if you're a non-owner there are higher priority rooks, however, if he delivers against Adelaide I'll be forced to change my opinion.
Marty Hore, Demons ($298K, 99, BE -30)
The second most traded in player last week and now the proud owner of the lowest breakeven in the competition, Marty Hore is here to stay. Back-to-back 90's have him emerging as the must-have defender right now and with his price tag still under $300K, there's still time hop on the bandwagon.
Sydney Stack, Tigers ($242K, 41, BE -2)
Ding, ding, ding, we have a new defender. Give the influx of relevant talent in our midfield's, I – much like a bunch of coaches – have flicked Stack into defense for this article. A three-round average of 68.3 means Stack is worth playing on your field today against a Dees side who bleeds points.
Watch 'Em
Jordan Ridley, Bombers ($384K, 65, BE 34)
The consistency from this man is unreal! The bummer is Round 6 might be the last time he sees a noteworthy price boost should the 65-70 scores continue. Ridley could seize his moment on the Anzac Day stage, but I can't see him hanging around for too much longer.
Sam Collins, Suns ($320K, 57, BE 27)
Talking about consistency, Collins' second 57 in a row means he's still providing coaches with a good emergency option who can make money moving forward. He'll likely hold his spot in the Suns backline for the entire season and that sky-high job security could see him stay in team's until after the byes.
Lachlan Young, Bulldogs ($188K, 57, BE 5)
Young showed plenty on debut to warrant a spot in our backline's – preferably on our benches. Matthew Suckling's injury setback (2-4 weeks) could see him hold his spot for a few more rounds, but I wonder how he'll go when Suckling comes back. For now, he looks like a decent money maker for at least the foreseeable future.
Drop 'Em
Xavier Duursma, Power ($390K, 50, BE 55)
The time has come to axe topped out cash cows and Xavier Duursma might be at the top of the pile. His awesome 101 and 78 to start the season has been backed up by three straight 50's and he's in trade thoughts for a lot of coaches this week. A game against North could see him right the ship, but if you can upgrade it's time for him to go.
Jordan Clark, Cats ($332K, 48, BE 50)
Another popular starting pick is ripe for the picking this week as his breakeven overtakes his projected score. A few coaches may have moved Clark on a week ago and the Eagles this week isn't exactly a fantasy friendly for the youngster. Zac Tuohy's return could see him sent to the two's so it might be wise to be ahead of the curve.
On The Outside Looking In
Isaac Cumming (Giants, $204K) – 33 disposals, nine marks and 128 points surely has Cumming on the cusp of a game. Keep an eye on him.
Jay Lockhart (Demons, $203K) – Returns from injury this week, much to the delight of owners.
Noah Answerth (Lions, $170K) – Hits to the Lions defensive stocks could see Answerth make his debut this round. Going at an average of 53 from three games I'd take a wait and see approach though.
Harrison Jones (Hawks, $170K) – As the injuries continue to pile up for Hawthorn, Jones may be given a chance, but it appears unlikely.
Lachlan Sholl (Crows, $170K) – Another decent game, but still a while off. Second half of the season seems more likely.
Midfielders
Get 'Em
Sam Walsh, Blues ($552K, 113, BE 20)
His third straight ton came in memorable fashion as Walsh helped the Blues top 100 points for the first time since 1978 (may or may not be an accurate stat). Never leave us Walshy.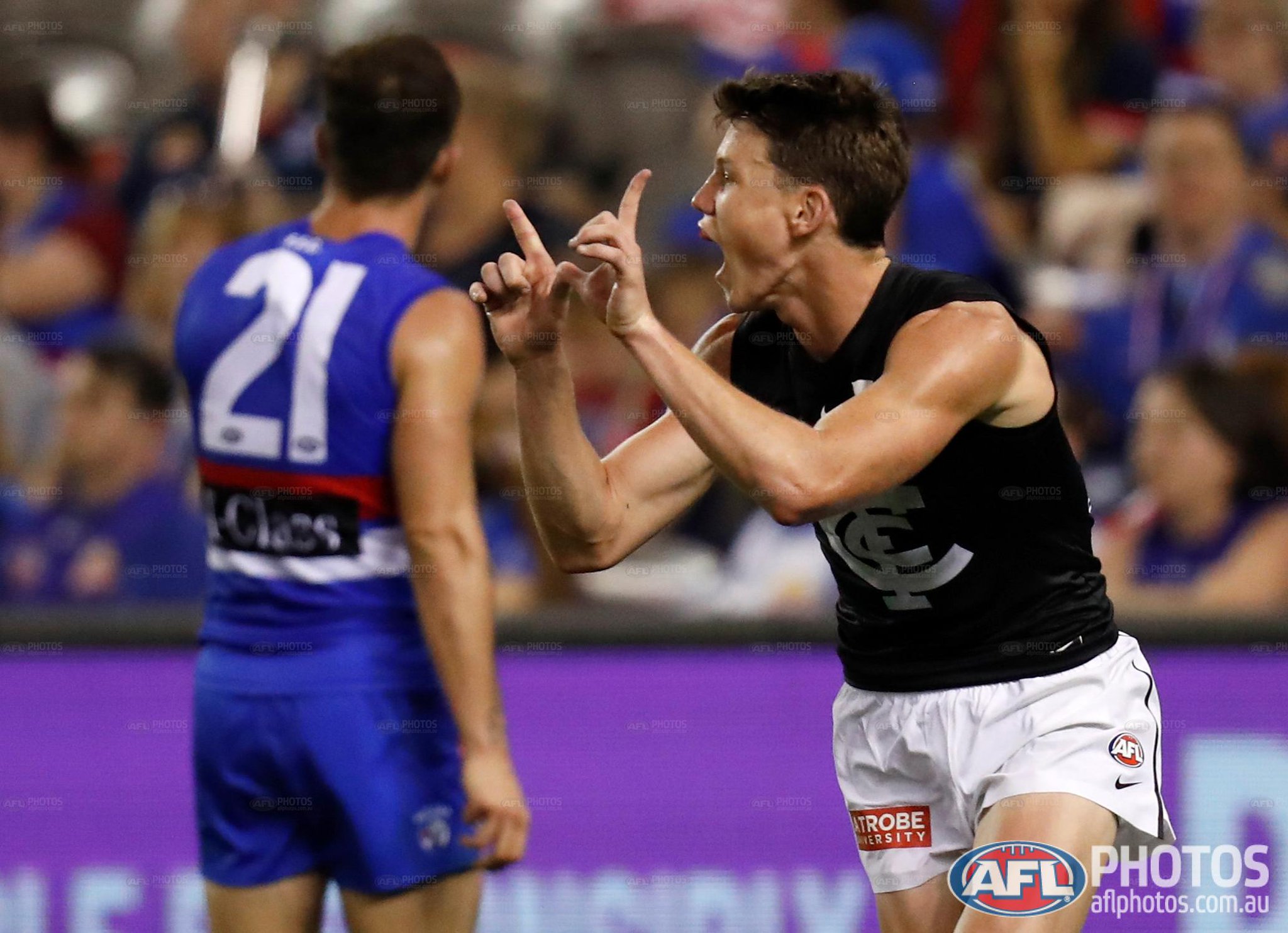 Charlie Constable, Cats ($411K, N/A, BE 9)
A week off saw some coaches ditch Constable with an upgrade/downgrade to better help themselves in the long run. If you're still an owner I'd be slightly concerned of his scoring output against West Coast, but fingers crossed its business as usual for everyone's second favourite cash cow.
Jackson Hately, Giants ($271K, 84, BE 5)
An awesome debut from Hately has him firmly in the mix for a lot of coaches this week. It will be interesting to see how he goes against the Swans this weekend, but Hately has put up numbers in the NEAFL (97 AVE from 2 games) and SANFL (84 AVE from 12 games) in the past, justifying the thinking behind a lot of coaches trade plans.
Jack Ross, Tigers ($263K, 63, BE -10)
I'm a big fan of the role that Jack Ross is playing for the Tigers right now, so much so that he could even hold his spot in Richmond's side once Trent Cotchin is fully healthy. According to Fantasy Freako he's tied with Dion Prestia for the most centre bounce attendances since he came into the side in Round 4. Boardline must have property IMO.
Will Hayes, Bulldogs ($196K, 71, BE -5)
My man crush on Will Hayes talked his debut into existence, with the Dogs mid showcasing his talents right away. He doesn't have the highest fantasy ceiling, but there's no doubt Hayes could be a decent cash cow moving forward. If you're chasing a downgrade target this week, the extra money you can get from landing Hayes is very appealing.
Watch 'Em
Bailey Smith, Bulldogs ($350K, 69, BE 20)
He doesn't have a huge ceiling, but there's a lot to like about Bailey Smith's fantasy game. In a midfield that boasts a lot of relevant fantasy players, Smith seems to be getting better with every game he plays. He isn't at the top of the trade targets list, but the 5% who do own Smith can happily keep him in their teams for the foreseeable future.
Michael Gibbons, Blues ($293K, 93, BE 1)
Michael Gibbons finally pieced it all together against the Dogs dropping a career-high 92 on the weekend. He played much further up the ground in Round 5 compared to weeks' past, giving those who own him cautious optimism moving forward. Either way, he's not a trade candidate any more and his new FWD status offers coaches another string to their bow.
Tom Atkins, Cats ($290K, 67, BE 10)
Ditto can be said about Tom Atkins who posted another decent score following his miserable game against the Crows in Round 3. Now that Atkins has gained forward status, he'll prove to be a handy link in between lines moving forward, but fielding him comes with risk.
Drop 'Em
Luke Davies-Uniacke, Kangaroos ($373K, 54, BE 52)
The time has come to part ways with LDU. There are decent downgrade options out there and the Roos second-year player has had his chances. If you need further convincing Davies-Uniacke has a three-round average under 50. No thanks.
Zak Butters, Power ($363K, 60, BE 44)
By no means do you 'have to' trade Butters this week, but he continues to etch closer to being chopped. If moving him on helps you in the long run it's a wise move, however, a matchup against North and added FWD status could see him hold his spot for another week or two.
Bailey Scott, Kangaroos ($289K, 43, BE 32)
It's beginning to look like Bailey Scott's Round 1 score was the anomaly in his box scores. It's a shame because we were all expected him to reach great heights, but not even a week off could see him top 50 points. Time for him to move along.
Corey Wagner, Demons ($279K, 37, BE 27)
After managing just six touches and 37 points, Wagner has copped the full force of the Demons axe, being dumped from Wednesday's side to take on Richmond. Given his shaky job security moving him on seems like the right option.
James Rowbottom, Swans ($237K, 60, BE 15)
Some awesome form in the NEAFL saw Rowbottom rewarded with a debut game against Richmond. His inflated starting price saw most coaches avoid Rowbottom and his 60 won't see his ownership vault anytime soon either.
On The Outside Looking In
Tarryn Thomas (Kangaroos, $283K) – Could come straight back in after being rested, but I wouldn't go chasing him.
Patrick Wilson (Crows, $278K) – Not even a 136 points, three-goal, 10 tackle game can see Wilson squeeze into the Crows mid-rotation. He'll need someone to cop an injury to break through at this rate.
Chayce Jones (Crows, $247K) – Could come back from a concussion, but I'd avoid after his earlier scores.
Ned McHenry (Crows, $240K) – Outside chance to make his debut, but I wouldn't bank on it.
Trent Mynott (Bombers, $170K) – Won't come in this week, but more scores like the 25-touch, 113 he had last week could see him become a relevant option.
Tom North (Freo, $170K) – Did his chances no harm with a respectable 27 disposal, 88 point outing.
Brett Bewley (Freo, $170K) – 127 points from Bewley could see him put his hand up for selection soon. Freo's a tough outfit to break into right now, but if he gets a game Bewley is a good downgrade target.
Nick Hind (St Kilda, $170K) – Is still progressing towards a senior berth, but I can't see him being included this week. Geary's injury might open the door though.
Nick Shipley (Giants, $170K) – Racked up 32 touches for his 105, but will stay on the outside looking in.
Zachary Sproule (Giants, $170K) – Sproule has his work cut out for him to upseed Toby Greene, who'll likely come in this week. The rookie small kicked five on the weekend though, giving him 10 goals for the season.
Ruck
Get 'Em
N/A – No relevant rookie/cash cow rucks are must have
Watch 'Em
Reilly O'Brien, Crows ($344K, 77, BE 1)
It might be an unwise option to spend all your hard earned cash and chase O'Brien, but with Jacobs going on ice for a month plus, there are crazier moves. Already rising $112K in price those who took a chance on O'Brien on their bench have been rewarded and there's a chance (albeit a small one) that he's worth playing on your field moving forward. I wouldn't have the kahuna's to pull it off.
Drop 'Em
N/A – No relevant rookie/cash cow rucks need to be dropped
On The Outside Looking In
Archie Smith (Lions, $217K) – Stef Martin continues to struggle and if Archie posts more games like he did on the weekend (17 touches, 26 hitouts, 83 points) he could come in.
Darcy Fort (Cats, $170K) – There's a chance Fort comes in to support Stanley against West Coast's two-pronged ruck attack though. However, Fort might be sitting behind Ryan Abbott in the pecking order.
Forwards
Get 'Em
Connor Rozee, Power ($438K, 62, BE 52)
He's nearly there, but I'd look to hold Connor Rozee unless you're moving towards a top-6 FWD/DEF. Rozee put an average game behind him and returned to the 60's against West Coast and North Melbourne should help him keep the cash generation going for at least one more week.
PACE, REAL PACE!

Take a bow, Connor Rozee! #AFLEaglesPower pic.twitter.com/kOjQKnt4uE

— AFL (@AFL) April 19, 2019
Willem Drew, Power ($377K, 78, BE 35)
Rozee's Power teammate Willem Drew performed admirably against the Eagles as well, much to the delight of 61% of the competition. His time is coming, but another good score will likely see Drew survive in our forward lines for a few more weeks.
Gryan Miers, Cats ($353K, 82, BE 11)
Miers' handy 80 came at a great time for coaches on Easter Monday. A career game from the Cats small boosted his price above $350K, making it difficult for non-owners to bring him in.
Jack Petruccelle, Eagles ($350K, 115, BE -1)
A lot of coaches were caught off guard by Jack Petreculle's score on Friday night. An enormous 115 from Petra was sitting wasted on a lot of coaches benches, as none of us expected him to go so large against the Power and snag the Rising star nominee for Round 5. He's a risky play on your field against Geelong this weekend, but he still has room to grow moving forward.
Watch 'Em
Liam Baker, Tigers ($273K, 74, BE -1)
Two solid scores against decent opponents have Baker emerging on a lot of watchlists. I have some doubts, given his potentially uneasy job security, but he's doing enough to hold Dan Butler at bay right now. Worth considering.
Brayden Ham, Bombers ($189K, 58, BE 5)
Ham on Good Friday is usually a big no-no, but the Bombers youngster did enough for the handful of teams he came into to warrant a spot moving forward. The tough thing is Essendon might disagree with heavy hitters David Zaharakis and Devon Smith set to come back into the fold this week. If he holds his spot he's a worthy downgrade target, most likely for your bench.
Mitch Lewis, Hawks ($187K, 56, BE 5)
I'm not convinced that Lewis can hold his spot in Hawthorn's side this week, but he performed 'fine' in his first game for the year. A lot of coaches would have pocketed the cash by snagging Lewis and he could play more games down the line in the latter parts of this season. He's worth waiting a few more weeks on though, even if he's named for those coaches who aren't owners.
Drop 'Em
Will Setterfield, Blues ($348K, 70, BE 28)
Still suspended and now that you (most likely) have a link to your midfield via Atkins/Gibbons, go ahead and turn Setterfield into Hayes/Hately/Ross.
Matthew Parker, Saints ($308K, 47, BE 48)
A trio of average performances have Parker at the forefront of the rookie/cash cow chopping block ahead of team selections. I can't blame you, and personally, it's a move I'm also considering, with the Saints mature ager, failing to top 50 since Round 2. A matchup against Adelaide isn't likely to see that trend change.
Shai Bolton, Tigers ($252K, 42, BE 20)
Dropped for today's game and with Liam Baker ahead of him on the depth chart, you can look at moving Bolton on. However, he isn't a must trade with a re-inclusion to the team leading to some future earnings. I wouldn't be holding my breath though.
Chris Burgess, Suns ($227K, 24, BE 35)
I didn't think it was possible for Burgess to get worse, but he continues to astound in his first pro season. Brisbane won't pose an easier task and I'd look at ditching him ASAP.
Noah Balta, Tigers ($200K, 52, BE 9)
This man has played four games this season and only gained $30K from his starting price. Let the axe swing.
On The Outside Looking In
Lachie Schultz (Dockers, $268K) – Had 27 disposals, but it's unlikely he earns a recall this week.
Toby Wooler (Lions, $170K) – Wooler's NEAFL numbers this season are becoming hard to ignore. 125 points and four goals on the weekend keeps him on the watch list.
Josh Corbett (Suns, $170K) – Is definitely in the mix for Gold Coast this week and could be a decent cash grab. Averaging 96 from two games so far this year, but don't expect him to reproduce those numbers.
Cash Cow King – Round 6
I hate to sound like a broken record, but it's hard to ignore the piglet yet again. If I had Jack Petrecculle on my field instead of sitting on the pine, I'd give him the nod considering his huge outburst came out of nowhere. However, once again, Sam Walsh proved he's head and shoulders above the field.
Ranking Rookies
Taking price, scoring potential and job security into consideration, here are my top 3 ranked rookie/cash cow options for Round 6 at each position. It goes without saying that if these players aren't named in their respective sides then they fall out of the rankings.
DEFENCE
Marty Hore

Sydney Stack

Jack Scrimshaw
MIDFIELD
Sam Walsh

Charlie Constable

Will Hayes
RUCK
Reilly O'Brien

N/A

N/A
FORWARD
Willem Drew

Liam Baker

Gryan Miers
Rookie/Cash Cow Q & A
Would love a retweet legends, which rookie would u put in for matty Parker! @WarnieDT @RoyDT @CalvinDT @AFLFantasy @DTTALK @sportsguyfry @MoreirasMagic

— JT (@DonoAidan) April 23, 2019
Let me first go on the record and state that Hately, Hayes and Ross are all great cash cow picks right now and if you can bring in a combination of them this week, by all means, go for it. The extra coin you can pocket by landing Hayes has me making him a priority pick, just slightly over his peers though. Baker is still a fine selection, doing enough in the last two weeks to hold off Dan Butler.
@sportsbyfry @JeppaDT gday rookie gurus, is it a perfect week to double downgrade with guys like Hately and Hayes on the radar?

— Matthew Pham (@Matty_Pham) April 23, 2019
Not a bad play at all. If you can chop out Butters in the MID or Clark/Duurs (sending Stack back) and Parker (sending Atkins/Gibbons forward) I say go for it.
@sportsbyfry thoughts on Duurs & Parker (currently F6) -> Hately (M8 via stack DPP) & Dusty? Is dusty a trap? I could get up to Heeney/Billings but would mean getting rid of say Scrim instead of Parkerpr getting in a cheaper rook. What do you think?

— Tom Dallimore (@dallimoret) April 22, 2019
I think getting rid of Parker is the smart play and Dusty does concern me slightly. Although he should go well against Melbourne and become very relevant again, it's not a terrible move by any means.
@sportsbyfry @sportsguyfry Is Mitch Lewis worth bringing in at F7/8? Looking at going Parker down to him and turning Libba into Zerrett.

— Jason Rossi (@jr27hbl) April 22, 2019
I question whether he'll keep his spot in the Hawks side, but if he does it's a solid move to land Merrett. 
Hey mate, Ross or Hately? Cheers. @sportsguyfry @sportsbyfry

— Billy Elsum (@_billyelsum) April 22, 2019
Needs to be settled @AFLFantasy @RoyDT @CalvinDT @WarnieDT @sportsbyfry

— Jacob Millar (@jacob_millar_) April 23, 2019
Hately might have higher scoring potential, but I love Ross' role right now. A matchup against the Swans could see Hately struggle somewhat, but Ross should be good for a score nudging the 80's tonight against Melbourne.
---
Feel free to shoot your rookie/cash cow questions through on Twitter at @SportsbyFry for me to answer in the article. If Twitter isn't your preferred domain hit me up on Instagram or Facebook and I'll get back to you as soon as I can.
Good Luck for Round 6!
✌️