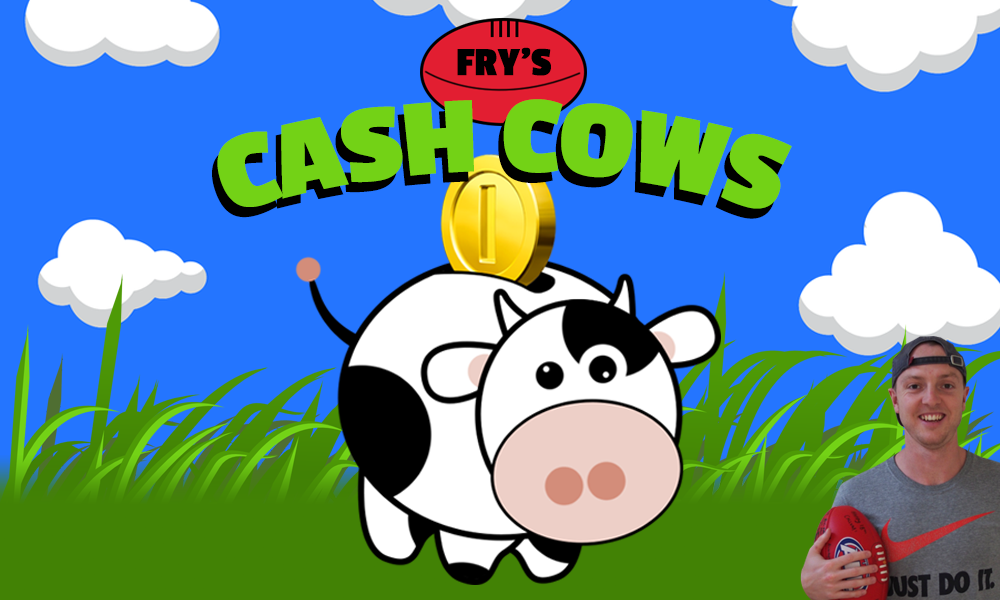 Let's all take a deep breath.
Fantasy hysteria ensued over the last two weeks and after an insane time in the calendar, coaches can now afford to take a well earned day off. We can't afford to snooze for too long though, with the VC loophole luxury behind us, every point on our field is worth its weight in gold.
A reader made a valid point in the comment section last week, and for that reason, I'm including a new category this week titled "Hold 'Em". As the name suggests, players in this category have likely been sitting in some teams for a while rising into the $350K-$400K price bracket and while trading them in probably isn't a smart move, they can still be held onto for a few more weeks.
Here we go…
Defenders
Get 'Em
Lachlan Young, Bulldogs ($215K, 51, BE 2)
Another fine showing from Young has his ownership slowly ticking upwards. He's still at a reasonable price to warrant selection, especially if Matt Suckling's groin injury keeps him out for a few more games. If you want in, now's the time.
Noah Answerth, Lions ($198K, 75, BE -7)
I'll be the first one to admit I wasn't expecting great things from Answerth on debut. He proved me and a lot of people wrong with his 75 on the weekend, and if he can hold his spot when Brisbane's more popular defenders return from injury, he'll be a great cash cow through the next portion of the season.
Hold 'Em
Sydney Stack, Tigers ($320K, 54, BE 19)
Can we get points for a bump and speckie added to Sydney Stack's score? The excitement machine lit up the MCG last Wednesday, but unfortunately only just scrapped his way to a 50. I'll back him in to be better than that against the Dogs, but he'll likely be a DEF emergency for the 26.5% that own him.
He didn't get a stack of the footy, but Sydney definitely left his mark at the MCG tonight ?? #AFLTigersDees #AnzacEve #AFL #GoTiges pic.twitter.com/rHcF64UAy8

— SportsbyFry (@sportsbyfry) April 24, 2019
Jordan Ridley, Bombers ($418K, 86, BE 32)
Ridley sure did 'seize his moment' on Anzac Day and as a result, warrants holding on to for a few more games. Hopefully, he can put forth more of these 80's to keep his price rising up over the $450K mark.
Jack Scrimshaw, Hawks ($400K, 77, BE 34)
Fielding Scrimshaw for Stack wasn't a great move in hindsight for the Large Fry's & Coke, with Scrim racing out to a good score against the Blues. He faces a Melbourne team this week that gave up huge scores to Brandon Ellis and Bachar Houli in Round 6, giving him the green light for your field.
Marty Hore, Demons ($355K, 68, BE -2)
Are we really disappointed with a 68 from Hore? Kind of. However, his three-round average over 85 gives us hope that he can hang around until the byes. He still has a negative breakeven and room to grow, so it's wise to stick with him.
Watch 'Em
Xavier Duursma, Power ($410K, 90, BE 47)
Whether you're a fan of his celebrations or not, Xavier Duursma is proving to be one of the best cash cows to date this season. He snapped his streak of 50's with an impressive 90, earning him a few more weeks in a lot of teams. Be wary though, if he struggles against the Pies this weekend, he'll be very close to topping out in price and it's not crazy to look for an upgrade.
Jordan Clark, Cats ($332K, N/A, BE 50)
There is no certainty that Clark will come straight back into Geelong's side after his week off. Zach Tuohy (18 touches, 75 points) did his job for the Cats on the weekend and he was considered to be Clark's main competition for his spot in the team. See how Thursday afternoon unfolds, but if Clark isn't named, I'd be trading him out.
Callum Wilkie, Saints ($329K, 44, BE 26)
Uhhh what the hell was that Wilkie? I was just beginning to trust you after your back-to-back 70's in Round 4 & 5. In every other match this season he has scored under 50 points. He's risky to play on your field against the Giants and it's nearly time to consider a move.
Drop 'Em
Sam Collins, Suns ($330K, 45, BE 43)
We all knew this day was coming and it only took six rounds for Sam Collins to top out in price. With his breakeven and average very close to each other and a matchup with the Eagles out West this week, it's time for 13.8% of the comp to move Collins on.
Jay Lockhart, Demons ($228K, 42, BE 8)
I know that last Wednesday was a long time ago, but let me remind you Jay Lockhart sucked against the Tigers. Yes, I'm well aware he got off to a flyer, but he came back to Earth in the final three quarters with a resounding thud. Don't let the door hit you on the way out Jay.
On The Outside Looking In
Isaac Cumming (Giants, $204K) – There's every chance that if Whitfield sits, Cumming will be his replacement. Another good showing included 115 points and 28 disposals (22 kicks) on the weekend, inching him closer.
Harrison Jones (Hawks, $170K) – 111 points, 22 touches, two goals and eight tackles. Surely Harrison Jones' hat is in the ring?
Lachlan Sholl (Crows, $170K) – 19 disposals and 76 points. Keeping plugging away Sholl.
Midfielders
Get 'Em
Jack Ross, Tigers ($322K, 92, BE -13)
I'm usually against bringing in a rookie who costs you over $300K, but Jack Ross isn't your ordinary cash cow. He has his dull moments, but a 90+ against Melbourne, that included 47 in the last quarter makes me think he's still worth trading in for one more week. Trent Cotchin/Jack Graham's hamstrings are going to keep them sidelined for a few more weeks and Ross could average 80-85 in that stretch, but this genuinely is your last chance to nab the Tiger cub.
Jackson Hately, Giants ($271K, 84, BE 5)
A quick moment of silence for all the coaches who traded in Hately and were unable to reverse the trade thanks to Wednesday's partial lockout. No-one saw that coming, but if Hately regains his place in the side, he looms as yet another gun midfield cash cow. Of all the midfielders priced under $500K only Constable has a higher average, and yes, I know it came from one outing, but if Whitfield misses anytime, expect Hately to be in line for an instant recall.
Will Hayes, Bulldogs ($241K, 72, BE -14)
Need a midfield downgrade? Here's your man. Will Hayes put up another 70+ against Freo, backing up his performance on debut vs. Carlton. Those two teams aren't the most noteworthy opponents and the Tigers, while they have been premiership contenders in recent times, are leaking points right now. Trade in and enjoy.
Hold 'Em
Sam Walsh, Blues ($583K, 74, BE 61)
For the first time in his AFL career, Sam Walsh looked mortal on the weekend. We were spoilt by Walsh's start to his career and a slow game against the Hawks nudged his average under 100. A matchup with North should help his return to normality.
Charlie Constable, Cats ($454K, 83, BE 33)
He's back! Over half the competition welcomed Charlie Constable back into the fold and, of course, he responded with a characteristic 80+. He'll likely get his way to $500k in no time.
Bailey Smith, Bulldogs ($390K, 90, BE 17)
I copped it from a few people in the preseason when I said that Smith could be the best player in this draft class and the early signs weren't good. However, the seventh overall pick excelled against the Dockers for a career-high 23 disposals and 90 points and in turn earnt a few more weeks in coaches' squads.
Watch 'Em
Michael Gibbons, Blues ($323K, 54, BE 18)
Ice, thin. If you have Michael Gibbons in the firing line, by all means, go ahead and pull the trigger, but the intriguing midfield role he played against the Dogs in Round 5 gives me pause. If he can find himself entrenched in the Blues' midfield again, there's no reason why Gibbons won't go 80+. Monitor his positioning against North.
Tom Atkins, Cats ($314K, 52, BE 24)
Constable one week, Clark last round; is it Tom Atkins' time for a spell? He resorted back to the 50's we all know and love him for in Round 6 and he's a bench only option at this rate. There is still some room for Atkins to grow, so if you want to really squeeze all the juice out of the orange he can probably stay for a week or two longer.
Tarryn Thomas, Kangaroos ($310K, 65, BE 27)
There is plenty of room on the TNT bandwagon if you want a membership, however, I would advise against it. 65 was the highest score of his fantasy career to date and while he might be in the Roos' team for a while, Thomas hasn't shown off the ceiling to warrant paying up for him.
James Rowbottom, Swans ($254K, 45, BE 18)
There's not a lot of reasons to axe Rowbottom if you're in the 1.0% of coaches who currently own the young Swan. I'm not sure if he did enough against the Giants to justify staying in their 22, but he can still increase in price if he does.
Drop 'Em
Luke Davies-Uniacke, Kangaroos ($376K, 59, BE 55)
There aren't many coaches still on the LDU train, but if you're one of them, make the smart move. One score over 60 in the past month isn't going to cut it.
Zak Butters, Power ($370K, 57, BE 50)
Ditto can be said for Zak Butters, who finds himself in just under 15% of teams. I'm usually against a sideways trade, especially on the rookie front, but Jack Ross is a perfect replacement.
On The Outside Looking In
Patrick Wilson (Crows, $278K) – Another week, another 30 disposals and 130 points for Wilson. Can't really do much more in an effort to get called up.
Tom Sparrow (Demons, $257K) – Having featured in two games earlier this season, there's a chance Sparrow comes back this week after a 12 tackle game, totalling 100 points for Casey.
Chayce Jones (Crows, $247K) – After being the travelling emergency last week, if the Crows want to make a move, adding Jones will be at the forefront of their minds.
Ned McHenry (Crows, $240K) – Hardly put a foot wrong with 28 touches, 11 tackles and a game-high 139 points. Should make his debut at some stage this year.
Matthew Allen (Eagles, $170K) – Has been consistent in West Coast's best at the reserves level and could earn a debut if they swing the axe following his 24 disposal, eight tackle effort (106 points).
Corey Lyons (Lions, $170K) – Huge game from Lyons with 38 touches, continuing to press his case for a debut.
Nick Hind (St Kilda, $170K) – After a VFL bye, Hind could get a berth to replace the injured Jack Lonie. The mature age Saint is averaging 95 points and 26 touches from three games thus far.
Nick Shipley (Giants, $170K) – If Hately isn't recalled there's a chance that Shipley will get the nod, averaging 28 disposals (105 points) to start the season in the NEAFL.
Ruck
Get 'Em
N/A – No relevant rookie/cash cow rucks are worth bringing in at this stage
Hold 'Em
Reilly O'Brien, Crows ($390K, 81, BE 13)
Averaging 77.8 points on the season, the coaches that nabbed O'Brien back in Round 3 deserve a tip of the cap. I had my concerns over his production level, but he's held his own against the likes of Todd Goldstein, Rhys Stanley and Jarrod Witts. He looks like a playable option, but I'd still advise against it. Besides, it must be a nice feeling to have some insurance on your RUC bench.
Watch 'Em
N/A – No relevant rookie/cash cow rucks are must have
Drop 'Em
N/A – No relevant rookie/cash cow rucks need to be dropped
On The Outside Looking In
Archie Smith (Lions, $217K) – THESE are the types of numbers we want to see from Archie. His 101 fantasy points came from 23 hitouts, a pair of goals and 18 disposals as he continues to put pressure on Stef Martin.
Darcy Fort (Cats, $170K) – With Geelong's VFL side having a bye, Fort was named as an emergency, with a lot of the competition hoping he gets a chance ASAP. Don't hold your breath.
Matt Flynn (Giants, $170K) – 73 points isn't a great score, but hopefully Flynn can keep putting up solid numbers to bring himself into selection contention.
Sam Draper (Bombers, $170K) – After smashing 47 hitouts against Collingwood (part of his 109 points), Draper continues to inch closer to a debut.
Darcy Cameron (Swans, $170K) – A 27 hitout, 24 touch game saw Cameron score 126 on the weekend. Hopefully, he can string a few games together now.
Forwards
Get 'Em
Mitch Lewis, Hawks ($212K, 47, BE 5)
It's not a score that you want on your field, but Hawks forward Mitch Lewis is trending in the right direction. His 47 came from only 60% time on ground and if he can get amongst the action against Melbourne there's no reason why he can't keep his breakeven in single-digits.
Nick Larkey, Roos ($202K, 82, BE -12)
Let me start this by stating that the next two forwards in this group aren't 'must-haves' by any means. However, Larkey appears to be the best of a bad duo after a strong showing against Port, which included three goals. I wouldn't be surprised if he dropped a sub-50 this week though.
Josh Corbett, Suns ($174K, 33, BE 21)
I'll be honest, my gut tells me that Josh Corbett is going to be a decent option moving forward. Of course, for this to happen he can't afford to dish up too many 30's and become Chris Burgess 2.0. If he holds his spot and the Suns give him better supply half a dozen marks are coming his way this week.
Josh Corbett's first AFL goal is this week's @Hostplus Super Play! pic.twitter.com/cPVikMumQ6

— Gold Coast Suns (@GoldCoastSUNS) April 28, 2019
Hold 'Em
Connor Rozee, Power ($462K, 94, BE 50)
This kid, can football. We expected the rookies to score well for Port against North and boy oh boy did Rozee deliver. His 94 forced the quarter of the competition who own him to keep Rozee in their sides for the foreseeable future as the Power's schedule opens up nicely after this week heading into their Round 12 bye.
Gryan Miers, Cats ($399K, 91, BE 16)
I'm one of the 16.3% of coaches who was pleasantly surprised with what Miers dished up against West Coast. His Easter Monday 80 appears to be no fluke, with the Cats small helping himself to 20 touches and a pair of goals on the weekend. He's a viable starter moving forward.
Willem Drew, Power ($391K, 60, BE 48)
Things could have been a lot worse if it hadn't have been for a couple of late touches for Drew. His breakeven continues to creep higher and there's no doubt his time could nearly be up. Here's hoping that Drew bucks the trend and drops a big score on Friday night footy against the Pies.
Liam Baker, Tigers ($321K, 82, BE -4)
Baker continues to improve with every game he plays. Literally. He boosted his score into the 80's against Melbourne and we're all eager to see if he can keep trending upwards this weekend. Bravo if you opting to bring the Tigers small in, he doesn't look like he's going anywhere anytime soon.
Watch 'Em
Jack Petruccelle, Eagles ($350K, 35, BE 39)
Petrucelle put his 115 behind him by scoring 80 points fewer on the weekend, luring some coaches into thinking he was a good choice to play on your field. Wrong. He gets another chance with the Suns coming to town in Round 7, but with the threat of another 40 incoming, I'd leave him on the pine.
Will Setterfield, Blues ($348K, N/A, BE 30)
Well well well. There is still a big chunk of teams that held Setterfield through his two-week suspension and he'll likely slot straight back into the Blues side to take on North Melbourne. If he's still in your team then he could help to make you a few more dollars.
Drop 'Em
Matthew Parker, Saints ($315K, 61, BE 41)
There may be more pressing trade issues out there, but if you're moving a rookie on this week, Parker will likely be the most popular one to cop the full force of the fantasy axe. He did his job against the Crows, kicking a few goals and topping 60, but his money making days are virtually over.
Nick Blakey, Swans ($241K, 29, BE 45)
Blakey came back into the Swans side last round, with Lance Franklin succumbing to injury and Sydney in need of another tall target up forward. It appears that they're still looking for that player…
Noah Balta, Tigers ($214K, 34, BE 17)
I promise I won't crap on Balta every week, but here's just a weekly reminder nearly 40% of coaches have him riding their pine right now. Get him out.
On The Outside Looking In
Shai Bolton (Tigers, $252K) – Could come straight back into the side after 25 disposals, 11 tackles and 110 points.
Chris Burgess (Suns, $227K) – No scoreboard impact and just 16 disposals will likely see Burgo stay in the 2's for a stint of time.
Brayden Ham (Bombers, $189K) – You wouldn't think one goal from 13 touches and just 69 points earns Ham an instant recall.
Robbie Young (St Kilda, $170K) – May get his chance to debut this week, but I'd take a wait and see approach.
Toby Wooler (Lions, $170K) – Averaging 111 from four games has Wooler firmly in the selection frame, but most likely, still destined for reserves duties.
Cash Cow King – Round 6
Sam Walsh once agai…wait what? What do you mean Walsh didn't top 80 points this week? Did he play the whole game? Was he tagged? Huh, well that means I had better do some actual thinking behind the Cash Cow King this week. Professor X needs recognition for his great score, as does his fellow Port rising star in Rozee. However, a miniature Cat gets my votes this week, with Gryan Miers's score proving to be very helpful for his owners. He might not have the most attractive name going around, but there's a lot to like about Geelong's young goalsneak.
Ranking Rookies
Taking price, scoring potential and job security into consideration, here are my top 3 ranked rookie/cash cow options for Round 7 at each position. It goes without saying that if these players aren't named in their respective sides then they fall out of the rankings.
DEFENCE
1. Xavier Duursma
2. Marty Hore
3. Jack Scrimshaw
MIDFIELD
1. Sam Walsh
2. Charlie Constable
3. Jack Ross
RUCK
1. Reilly O'Brien
2. N/A
3. N/A
FORWARD
1. Connor Rozee
2. Willem Drew
3. Gryan Miers
Your Fantasy Questions Answered
@CalvinDT @RoyDT @WarnieDT @sportsbyfry Can I get an RT

— Jordy (@jRothfield23) April 29, 2019
When I'm facing decisions like this I look at which player is most likely to finish as a top scorer in their respective position. The case can be made for Houli, but my vote goes to Worpel.
@sportsguyfry Hey Fry! Which trade- Rozee to Stewart or Scrimshaw to Houli. The rookie I don't trade will be on field.. Thanks mate!

— Anthony (@toanmcnugget) April 30, 2019
Given Rozee's sustained success I'd have to lean towards keeping him, especially if they have a cushy schedule leading into the byes. Scrim goes ?
@sportsguyfry Setterfield a sneaky option at F6 this week? Better option than Atkins/Petruccelle IMO

— Fonc (@Fonc133) April 30, 2019
If you held him, I'd definitely play him over those two.
Who would you fellas get in? @DTTALK @AFLFantasy @RoyDT @CalvinDT @WarnieDT @JeppaDT @sportsguyfry

— Jaylen Brown (@jaylenbrown210) April 30, 2019
I'm a bit against getting Ross this late in the piece, now priced at $322K, however, he's a safer pick than Answerth.
Thoughts on Whitfield and Parker to Answerth and Boak? Basically means I field Duursma instead of one of Drew/Miers. Gives me $144k in the bank towards an upgrade next week

— Punchy (@MpPunchy) April 30, 2019
I don't mind it, if you're moving on from Whitfield landing Boak is a good consolation prize.
---
Feel free to shoot your rookie/cash cow questions through on Twitter at @SportsbyFry for me to answer in the article. If Twitter isn't your preferred domain hit me up on Instagram or Facebook and I'll get back to you as soon as I can.
Good Luck for Round 7!
✌️