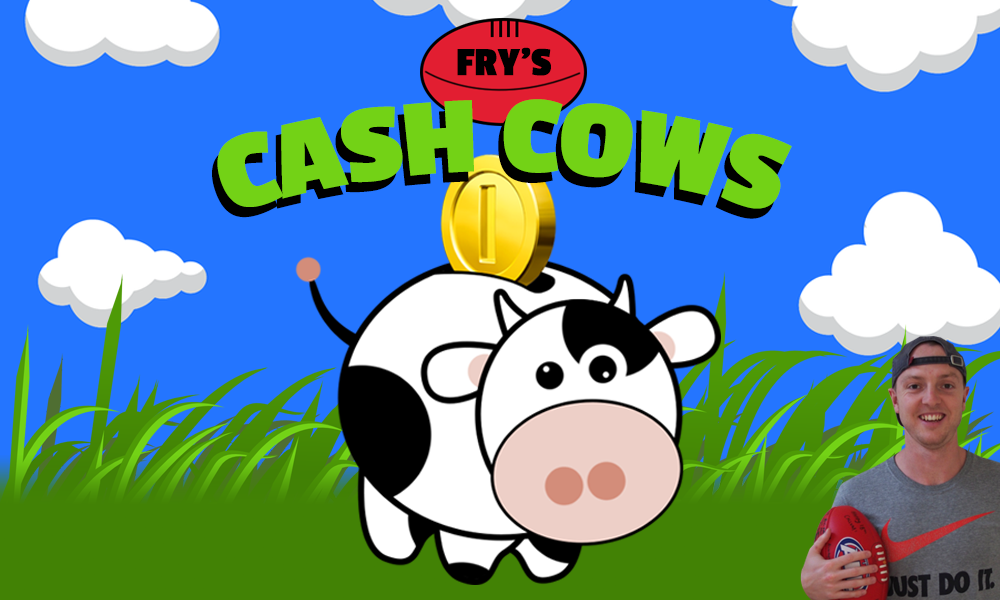 One month of the AFL Fantasy season is in the books and we can now make some fairly educated assessments, quickly determining which players are legit and which players need to be moved along. With the first month of the season behind us, a top-heavy rookie class continues to cause us headaches with popular cash cows knocking each other out, copping bans and dropping 30's like it's no big deal. Oh, the joys of being a fantasy coach. With some rooks ready to be culled, team selection could force our hands when it comes to rookie shuffling and the number of safe cash cows that we can field seems to be decreasing by the week. Thank god for Sam Walsh.
Defenders
Get 'Em
Xavier Duursma, Power ($381K, 58, BE 34)
This is not the Xavier Duursma we all know and love. Back-to-back 50's have him teetering on a knife's edge and this weekend he plays a West Coast team that isn't known for giving up lofty point totals. He holds his spot in the get 'em category on reputation alone and if he dishes up one more average performance he might have to go.
Jack Scrimshaw, Hawks ($340K, 79, BE 7)
Even though he was robbed of four points after the final siren, Scrimshaw still put up his best score of the year against St Kilda. The former 7th overall pick is playing just like that to start the season, rewarding the 33% of coaches who have him slotted in their backlines. If he keeps this up he could even hold his spot until we reach the bye rounds.
Marty Hore, Demons ($228K, 93, BE -20)
As a late inclusion, there weren't many coaches who benefitted from Hore's huge score. I have my doubts over his long-term job security with Jordan Lewis and Jay Lockhart set to be in the mix for selection. If he holds though, cash in while you can.
Watch 'Em
Jordan Ridley, Bombers ($361K, 76, BE 26)
Just quietly plugging about his business, Ridley's job security still has me tentative about trading him in. If there were guarantees he won't be dropped again like in Round 1, then he could earn another $70-$100K on his current price. As a non-owner, I'm watching him closely.
Jordan Clark, Cats ($329K, 33, BE 42)
It's getting to that time of year when culling cash cows is upon us, and unfortunately, Jordan Clark's time might be up. Zack Tuohy may still to be a week away from being a week away, but with a reasonable breakeven, Clark could now be moved on.
Sam Collins, Suns ($299K, 57, BE 22)
Bench cover is crucial throughout the year and with Collins quietly posting 50's he could be a safe option until after the byes. He won't set the world on fire, and if you need to, send him packing for an upgrade, but by no means is a must-trade.
Callum Wilkie, Saints ($262K, 72, BE 3)
After snapping his streak of three straight 40's, Wilkie's form boost comes at a great time for coaches. There are no guarantees he'll keep it up against the Dees this week, but if some of the more popular cash cows are omitted from our backlines, you can do worse than considering Wilkie.
Josh Rotham, Eagles ($216K, 72, BE -7)
Another late inclusion who put numbers on the board, Rotham's scoring binge might be short-lived. Lewis Jetta is a good chance to return this week and Will Schofield is also knocking on the door. 5% of the competition will hope I'm wrong.
Drop 'Em
Justin McInerney, Swans ($175K, 13, BE 36)
I guarantee McInerney won't score 13 again this week. How am I so confident you ask? Because he'll be back in the two's after the teams are announced for Round 5.
On The Outside Looking In
Isaac Quaynor (Magpies, $246K) – 20 touches for just 72 points indicates Quaynor still has a ways to go.
Oleg Markov (Tigers, $233K) – Suffered a knee injury after chalking up 46 points in Richmond's VFL win.
Harry Petty (Demons, $239K) – Can't see him squeezing Hore, Lewis, Jetta AND Lockhart out following a 17 touch game.
Ben McKay (Roos, $215K) – Injured in the first half with just one disposal to his name.
Jay Lockhart (Demons, $203K) – Apparently suffered from back spasms in the lead up to Friday night's game and could be in the mix against the Saints.
Harrison Jones (Hawks, $170K) – If the injuries keep piling up, Jones might be thrust into the Hawks on-ball rotation. Might, but not likely.
Lachlan Sholl (Crows, $170K) – Gathered 25 touches (19 kicks) for his 97 and if he keeps this up Sholl could be handed his debut. I think he'll have to string a few more games together first.
Midfielders
Get 'Em
Sam Walsh, Blues ($486K, 119, BE 1)
I know I sound like a broken record, but there is still nearly 30% of the competition that doesn't own Walsh. Bonafide star and looming as a season-long keeper at this rate.
Charlie Constable, Cats ($411K, 77, BE 7)
As star Cats around him struggled to score, Constable hardly put a foot wrong, using seven tackles to do the heavy lifting from a fantasy perspective. His lowest score of the season is hardly cause for concern.
Bailey Smith, Bulldogs ($319K, 60, BE 16)
I'm caving, Bailey Smith needs to be looked at long and hard. He burst onto the scene in Round 3 and scored 51 points up to half-time. It might be a bit premature slotting him in this group, but I'm expecting a 70+ outing against the Blues. Consider.
Sydney Stack, Tigers ($242K, 41, BE -2)
We all got sucked into a debut score of 89, but Stack proved that he can junk his way to respectability. 41 points is hardly acceptable, but he managed to gather half his touches in the final frame. It's also worth pointing out that he's recorded nearly 80% of his possessions in the defensive half of the ground, potentially throwing his hat in the DPP ring.
Jack Ross, Tigers ($220K, 86, BE -11)
Speaking of fantasy debuts' Ross became the second consecutive Tiger to drop 80+ in his first AFL outing. The former Oakleigh Charger had 25 touches in his first taste of action and with Trent Cotchin's hamstring still dicey, he should hold his spot for the next fortnight at least.
Watch 'Em
Luke Davies-Uniacke, Kangaroos ($366K, 61, BE 41)
Look, Luke Davies-Uniacke isn't going to light the fantasy world on fire, but if you're an owner you could do a lot worse. He'll have the odd horror score, which makes playing him on your field a risk. That being said, he can earn you enough cash in the meantime to make the pros outweigh the cons.
Tarryn Thomas, Kangaroos ($283K, 44, BE 33)
The news isn't as promising for Thomas, who could find himself dropped this week as Bailey Scott returns. Not worth the punt at this stage.
Corey Wagner, Demons ($260K, 54, BE 5)
Wagner is a player in a similar boat as LDU. He's more consistent than the Roos youngster, but if you're a non-owner he probably isn't worth considering. If you're a part of the 9% who own him though, Wags should ride your pine and become a sound money maker in the leadup to the byes.
Tom Atkins, Cats ($255K, 70, BE 8)
So Tom Atkins CAN AFL Fantasy. It's a good sign for those who held him, but a lot of coaches weren't so lucky sending him packing after a miserable Round 3. It's not the end of the world if you've offloaded Atkins, with the allure of FWD status in a week's time potentially the only reason he resides in 24% of teams.
Drop 'Em
Zak Butters, Power ($350K, 44, BE 37)
Let me preface this by saying if Butters makes Port's 22 to take on the Eagles he isn't a must trade by any means. However. West Coast is the 6th hardest team to score against and a trip to Optus Stadium doesn't sound like a fantasy-friendly fixture. If you can turn him into something decent this week, seriously consider it.
Michael Gibbons, Blues ($251K, 49, BE 21)
A 49 sounds like an alright score given the other muck around the grounds, but Gibbons is nearly cooked. He gave away four free kicks against the Suns and could be sent down a level to build his confidence as he struggles to find consistency in his role for the Blues.
Chayce Jones, Crows ($249K, 12, BE 58)
It's unlikely that you are one of the 4% of coaches who own Jones, but if you're reading this take my continued advice and remove him from your team (life).
On The Outside Looking In
Patrick Wilson (Crows, $278K) – Wilson can't do much more to stick his hand up following a monster 42 touch, 11 mark game that saw him score 151 points. With Gibbs still ahead of him in the pecking order though, he misses again.
Bailey Scott (Kangaroos, $275K) – Set to return from a week of 'rest', Bailey Scott owners will breathe a little easier. He should return, but it's no certainty.
Jackson Hately (Giants, $244K) – Let me give you my two cents on Jackson Hately, who looms as the likely option to replace the injured Callan Ward. The 14th overall pick last year went at an average of 84 from 12 senior games in the SANFL last year and has two scores of 100 and 94 to date this year in the NEAFL. He's worth considering, especially if you're offloading a Butters or Setterfield type, but just remember there are a lot of mouths to feed in that Giants midfield. Chances are he'll play more of a half-forward role and pinch hit in the guts with scores in the 55-60 bracket my prediction.
James Rowbottom (Swans, $222K) – Rowbottom might be a straight swap for McInnerny this week after another impressive match. 109 with three goals to his name will put him firmly in the mix should the Swans opt to make changes.
Tom North (Freo, $170K) – 111 points, 27 disposals, seven tackles and most likely destined for another week in the WAFL. Do us a favour Ross!
Nick Hind (St Kilda, $170K) – Preseason favourite Nick Hind is making waves in the twos, sticking his hand up for selection after a 39 disposal effort and a mammoth 146 points. If he strings a few performances like this together he could come into calculations.
Will Hayes (Bulldogs, $170K) – The Accumulator had a quietish day with just 19 possessions and 85 fantasy points.
Kai Pudney (Power, $170K) – There are others ahead of him on the list, but Pudney had another good score of 105 that included 11 marks and 33 touches. Watchlist material.
Ruck
Get 'Em
N/A – No relevant rookie/cash cow rucks are must have
Watch 'Em
Reilly O'Brien, Crows ($296K, 84, BE -5)
I can't justify putting O'Brien in the get 'em group based on his price, but I'll admit I was wrong. His two scores so far have seen those who took a chance on him pocket a chunk of change and even if he makes way for Sauce in the next week or two, he has served his purpose.
Drop 'Em
Zac Clarke, Bombers ($277K, 40, BE 36)
The same can't be said for Zac Clarke though, who is reminding us why the Dockers let him go in the first place. It is worth mentioning that poor Clarke has gone against Max Gawn and Stefan Martin to start the year and if the Dons keep winning they aren't likely going to change much. Things won't get any easier with Todd Goldstein and Brodie Grundy in the next fortnight though…
On The Outside Looking In
Archie Smith (Lions, $217K) – Letting me down at this stage with just 57 points that included 15 touches and 14 hitouts.
Sam Draper (Bombers, $170K) – Had a bye, but could steal Clarke's spot if he sets the world on fire this week.
Jordan Sweet (Bulldogs, $170K) – 29 points with just 10 hitouts. Moving along.
Darcy Fort (Cats, $170K) – Showed promise with two goals among his 64 points, however, don't go expecting him to play anytime soon.
Matthew Flynn (Giants, $170K) – One of GWS' better players in a drubbing but can't see him breaking through.
Darcy Cameron (Swans, $170K) – Could we see John Longmire swing the axe after Callum Sinclair's miserable performance? Cameron did his chances no harm managing 17 disposals, seven marks and 25 hitouts for 112 fantasy points. Hmmm.
Forwards
Get 'Em
Connor Rozee, Power ($420K, 44, BE 31)
Talk about crashing back to Earth. Rozee was the second most traded in player last week and he dished up a miserable game against Richmond. Still, with his DPP flexibility and previous scoring capacity, he's worth considering, even given the Power's unfriendly fantasy fixture.
Gryan Miers, Cats ($309K, 58, BE 6)
You know times are tough when a 58 is the second best score to take among the forward rookies. I think Miers has shown enough in the last few rounds to hold his spot in Geelong's outfit, with a lot of their players posting low point totals against the Giants. He'd better hold his spot this week or we'll be in a world of hurt.
Watch 'Em
Willem Drew, Power ($349K, 49, BE 30)
Drew's lucky the forward rookie situation is so dire, otherwise, he'd be on the chopping block. A 49 against the Tigers is his second straight lacklustre effort and there's a chance he could find himself pushed out of Port's 22. Please god no.
Matthew Parker, Saints ($304K, 30, BE 39)
As if we needed more issues, Matthew Parker's right ankle could see him put on ice for a week or more. He did manage to play out the game, but featured in just 66% of the contest and now his breakeven is rising. If you can upgrade then I'd be pulling the trigger on Parker.
Jack Petruccelle, Eagles ($295K, 33, BE 22)
The pain continues with another sub-par performance, this time from Jack Petrucelle. He was off to a blistering 28 point first quarter, giving a lot of coaches a reason to cheer. Unfortunately, he added just FIVE points to his score over the final three-quarters of the contest. Thin ice Petra.
Shai Bolton, Tigers ($237K, 58, BE 16)
Another young Tiger who saw his first AFL action of the year last week was Shai Bolton. He has spent a bit more time on Richmond's list than the other youngsters, but his previous fantasy numbers aren't a great indication. Dan Butler didn't do enough to force his way back in, but Bolton could be pushed out to allow Dusty back into the fray.
Liam Baker, Tigers ($236K, 64, BE 11)
Baker could also make way for Dustin Martin to come back into the side this week, but if not he'll likely see a boost in his ownership purely out of desperation. Let's not forget, he did average 38 from his three career games to date.
Drop 'Em
Will Setterfield, Blues ($348K, 70, BE 28)
A two-game suspension has forced our hand with Will Setterfield. He managed to do us right by scoring 70 in what will likely be his final game for a bunch of coaches, but it's time to move on.
Wil Powell is currently undergoing a medical assessment after this tackle from Will Setterfield. #AFLSunsBlues pic.twitter.com/tOKQDJESuN

— AFL (@AFL) April 14, 2019
Jack Lukosius, Suns ($279K, 42, BE 40)
I would be surprised if Lukosius held his spot in the Suns' side after failing to fire against the Blues on the weekend. Not good enough.
Lachie Schultz, Dockers ($268K, 38, BE 16)
After a week's hiatus, Schultz came back in much to the delight of owners. I'd expect him to be sent packing just as quickly though, making way for Nat Fyfe's return following his eight touch game in the Derby loss.
Nick Blakey, Swans ($251K, 22, BE 44)
40, 20, 40, 20, catch ya later.
Chris Burgess, Suns ($227K, 27, BE 24)
Ditto for Burgess. It might not even be worth trading him, with his DPP a handy tool for 57% of the competition. There are only so many 20's we can take though.
Noah Balta, Tigers ($181K, 35, BE 19)
I'm almost against trading Noah Balta given how low his price still is. There aren't any basement players putting their hands up this week, forcing owners to hold onto Balta for the time being. Here's hoping a 60 against the Swans can repay the faith.
On The Outside Looking In
Sam Sturt (Dockers, $238K) – Almost not even worth mentioning scoring just 57 from his 17 touches.
James Rose (Swans, $223K) – After being the life of the party last week, Rose was much more human this week scoring 72 points from 22 possessions.
Dylan Moore (Hawks, $181K) – Probably didn't do enough to earn a recall, finishing with 16 disposals and 62 fantasy points.
Mitch Lewis (Hawks, $170K) – Just one goal and eight touches will keep him on the outside looking in.
Josh Corbett (Suns, $170K) – Coaches around the world will be hoping Corbett is given a berth, potentially for Lukosius or Burgess. With just one game under his belt, I don't view him as more than an outside chance, even though he snagged 3.3 in his 100 point outing.
Cash Cow King – Round 5
First place Sam Walsh, second place daylight. This kid is as good as advertised and can't be stopped right now. There were a few lesser-known names who bobbed up for a nomination this week, but Walsh gets the votes from me.
Ranking Rookies
Taking price, scoring potential and job security into consideration, here are my top 3 ranked rookie/cash cow options for Round 5 at each position. It goes without saying that if these players aren't named in their respective sides then they fall out of the rankings.
DEFENCE
Xavier Duursma

Jack Scrimshaw

Marty Hore
MIDFIELD
Sam Walsh

Charlie Constable

Jack Ross
RUCK
Reilly O'Brien

Zac Clarke

N/A
FORWARD
Connor Rozee

Gryan Miers

Willem Drew
Rookie/Cash Cow Q & A
I tried to get back to everyone who hit me back on Twitter and Instagram, but if you ever have a question I'm only a DM away ?
Hately close to a debut? Tom North?

— NFCN Champs (@JackJova) April 16, 2019
Atkins is my only viable downgrade option to Ross. Worth it? Or should I wait a week and hope Atkins gets DPP to switch forward then I can get Ross for say Burgess/Balta etc. next week

— Matt Gent (@_MattyGent) April 16, 2019
Personally I'd wait, but Atkins is no certainty to hold his spot 
Should I trade out burgess or Clark to hore and do I trade out Atkins gibbons or Scott to Ross

— Kate Fennell (@FennellKate) April 16, 2019
If Clark is dropped he goes, and Gibbons to Ross
Via Instagram – antonio.miccelli
Ross Ross Ross. Does he keep a spot when Cotchin comes back?

— A Very Stable Genius (@topherstreet) April 16, 2019
I bloody hope so, but I have my doubts. We may know as early as next week with Trent Cotchin's hamstring on the mend. For though, don't let that stop you from being Ross in.
Miers, Baker or Bolton?

— Jake_Pizzuto (@Jake_Pizzuto) April 16, 2019
I'd rank them in the order they're listed
JS of rookies seems low right now. Hore, Rotham, Stack, Ross. Do you feel this is the case or is there some security around?

— Michael Berry (@michaelberrydt) April 16, 2019
There are always a few fence sitters and the four you listed fall in that category with sketchy job security at best. Stack might be okay, but Hore and Rotham being late inclusions has me thinking they'll go straight out this week.
Via Instagram – daniel_kotronis
Any good forward rookies on the horizon?

— Daniel Brown (@Brownfact101) April 16, 2019
Best rookie selection for Setterfield? @DTTALK #AFLFantasy

— Bernd Meyer (@Burnt1961) April 16, 2019
Join in the chorus, find us a forward rookie please.

— Dale (@dpc888) April 16, 2019
It's the million dollar question this week and unfortunately, I don't have the answer you all seek. As I've said above its slim pickings when it comes to forward rookies. Dylan Moore and Mitch Lewis from Hawthorn don't fill me with confidence and Josh Corbett is still a few weeks away. Snap up Gryan Miers if you're not an owner, maybe Liam Baker, otherwise cross your fingers, toes and arms for team selection to unearth a gem. 
Get rid of Rozee or Drew first?

— dave (@dave69262980) April 16, 2019
I think given his low scoring since Ollie Wines has come back into the side Drew takes priority in being shown the door.
---
Feel free to shoot your rookie/cash cow questions through on Twitter at @SportsbyFry for me to answer in the article. If Twitter isn't your preferred domain hit me up on Instagram or Facebook and I'll get back to you as soon as I can.
Good Luck for Round 5!
✌️